Recipes
Vegan Pasta e Ceci
4min read
This pasta e ceci, which translates to pasta and chickpeas, is just that - pasta cooked in a pot of creamy, brothy, deeply flavoured chickpeas. The result is a creamy, hearty, rich yet simple dish that is Italian comfort food at it's finest.  
This dish, like most Italian stews, soups and sauces, starts with a soffritto (a mix of very finely diced carrots, celery, onion and/or leeks which is slowly fried in oil). As mentioned in this bolognese recipe, soffritto is typically diced by hand, however I tend to pulse all of the ingredients for my soffritto bases in a food processor, which ensures that the aromatics in the base are broken down into small enough pieces to add flavour ( but not be detected) to the final dish. If you don't have a food processor or aren't in the mood to use it, it can easily be made by hand, just make sure the pieces are very finely and evenly chopped before being added to the pot.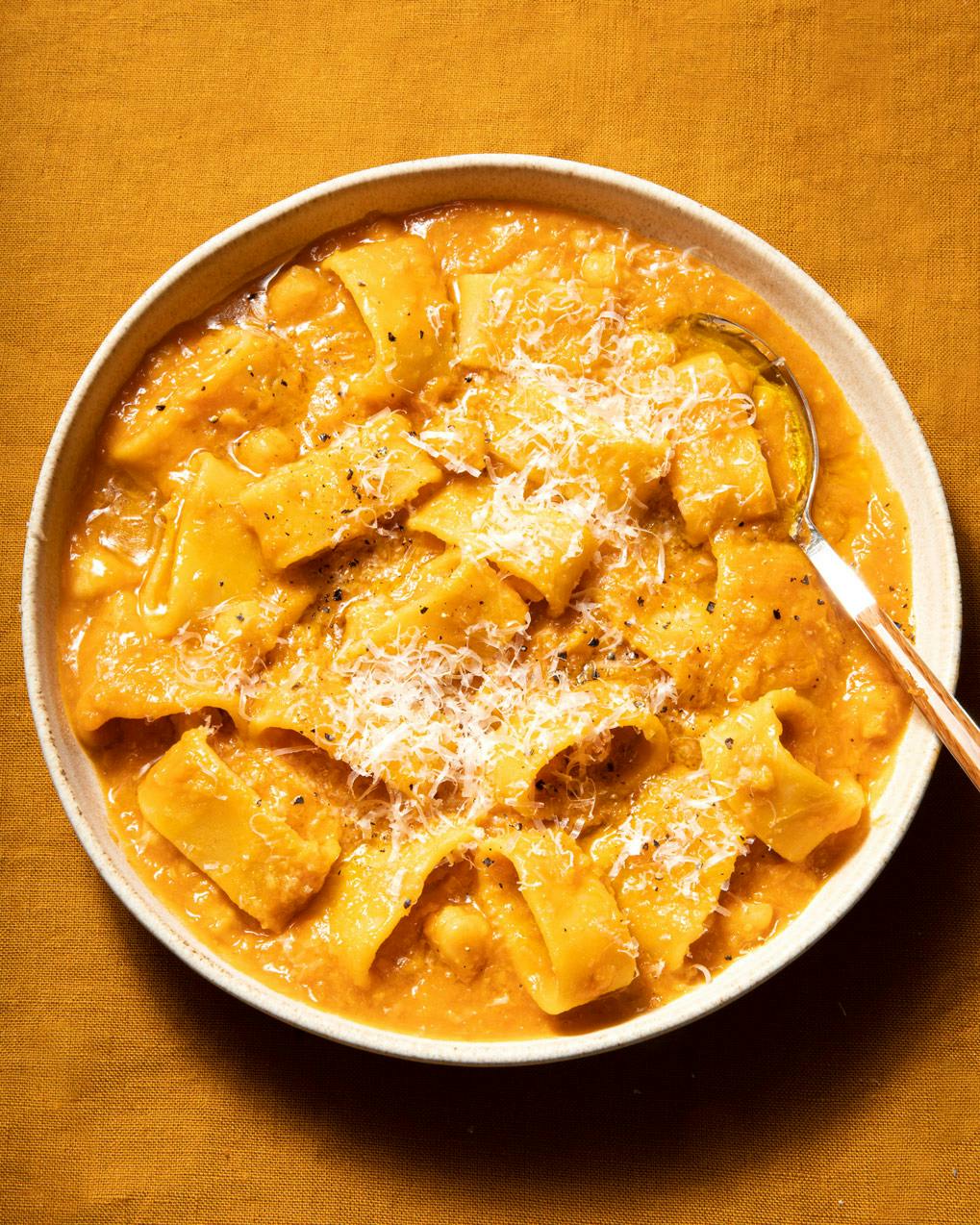 Ingredients
4 carrots (around 250g), roughly chopped 
1 large yellow onion (250g), roughly chopped
50ml olive oil
2 cloves of garlic, minced
1 tsp salt 
35g tomato paste 
350g chickpeas 
1 bay leaf
800ml water or vegetable stock
200g pasta (like ditalini, calamarata or mezze maniche)
Method
STEP 1
Start by making the soffritto base. Add the chopped carrots and onion to a food processor, and pulse them until they are very finely chopped. You can also do this by hand, but using a food processor is a really easy and hands-off way to achieve a uniformly finely chopped soffritto base.  
STEP 2
Heat the olive oil in a large heavy-set saucepan over medium low heat. Add the carrots, onion, garlic and salt and stir to combine. Cook the soffritto for 18-20 minutes, stirring occasionally, until it has hugely reduced in size. 
STEP 3
Add the tomato paste and cook it down for 3-4 minutes, until it darkens in colour. Next, add the chickpeas, bay leaf and water.
STEP 4
Simmer the chickpeas for 8-10 minutes, then transfer a few ladlefuls of chickpeas and liquid into a blender. Blend until smooth and creamy, then stir it back into the rest of the chickpeas.
STEP 5
Next, stir the pasta into the pot of chickpeas. Cook the pasta, stirring occasionally to ensure it doesn't stick to the bottom of the pot, until it's cooked through but still has a bite to it. Taste the pasta e ceci for seasoning and adjust to taste. 
STEP 6
Serve the pasta e ceci topped with a drizzle of olive oil, freshly ground black pepper and vegan parmesan (optional) 
---
By Valentina Concordia
Valentina is our Food Editor, who dreams up our tasty dishes and recipes for our social channels. She has loads of experience cooking up a storm in Italian kitchens, so it's no surprise she can't live without good-quality olive oil (don't come between her and her olive oil) and fresh pasta.
---
Let us take care of dinner
After getting creative in the kitchen, give yourself the weekend off by letting us take care of dinner. Check out our delicious meals here.