Recipes
Pistachio Pate
by Iona Berry
5min read
The perfect light starter to a 3 course meal or simply served as a part of a vegan cheese board. This indulgent, creamy and vibrant green pistachio pâté is sure to make a statement on the dinner table.
Not only is this pâté delicious, but it has some big health claims which need to be showcased. Raw pistachio nuts are a great source of plant-based protein, Vitamin B1, B6, manganese and potassium. Pistachios also contain high levels of unsaturated fatty acids, which along with the potassium can have antioxidant and anti-inflammatory traits. 
If you haven't used agar powder before then don't be afraid of it, as long as you dissolve the crystals in the saucepan then you should not have any issues with the pate setting. Also if you are serving the pâté in a jar or small pot then it's ok if you get a softer set. You can get creative with the herbs you use in the pâté, I have used basil before and I have done a mix of 50/50 chives and parsley which was delicious. I do think it's worth spending your money on some good quality pistachios and the Iranian variety will give the best vivid green colour. 
I was inspired to make this pâté after seeing chef Richard Buckley's pistachio pâté in his book 'Plants Taste Better'. To put my own twist on this recipe, I use 50/50 combination of almonds and pistachios to give a slightly different flavour (whilst also making this a less costly pâté but just as delicious!).

This pâté goes excellently with crackers, crudités, bread or served plated as a starter with a side salad. The choice is all yours.
Enjoy!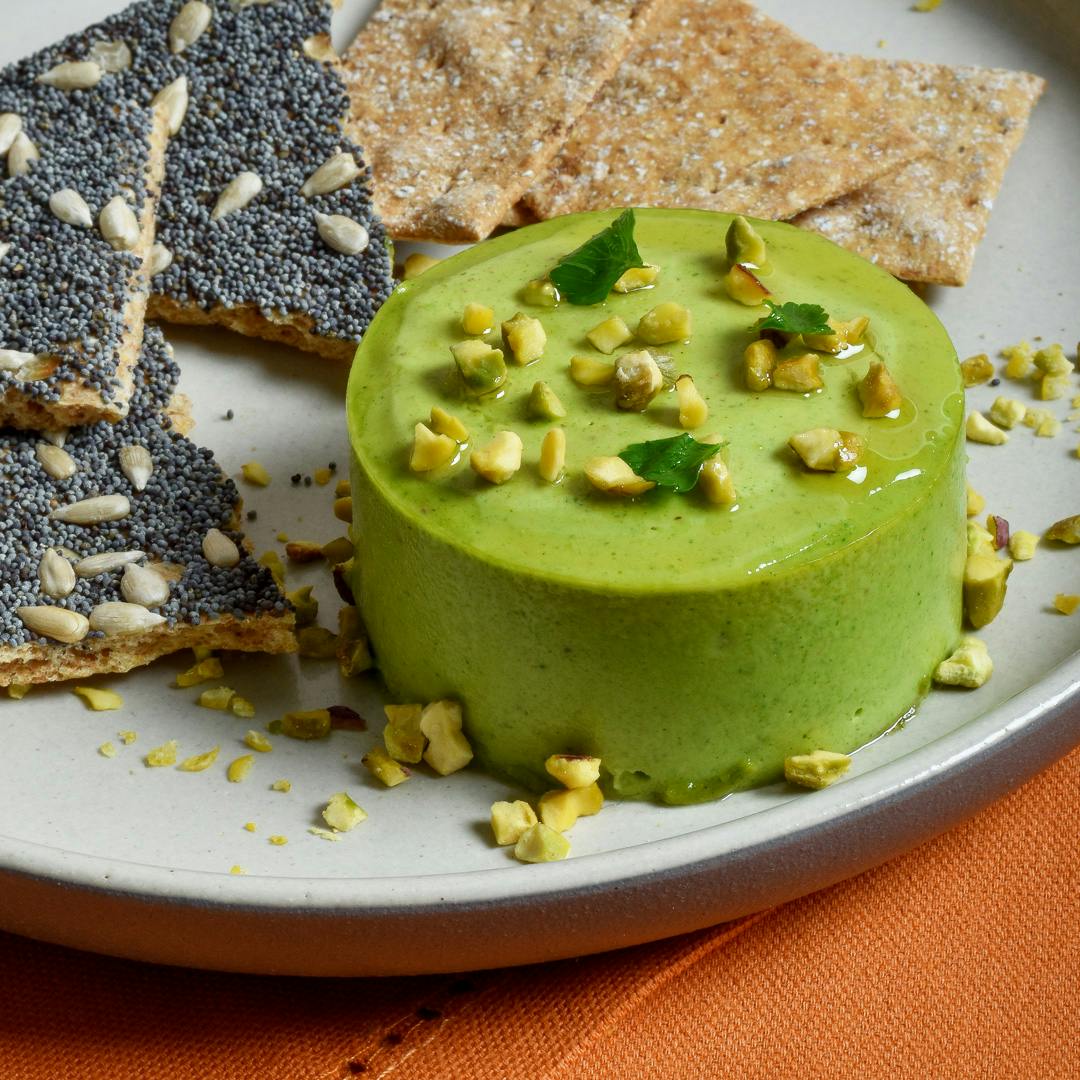 Ingredients
90g pistachios 
90g ground almonds 
180ml extra virgin olive oil 
30g parsley 
Zest of 1 lemon (or more if you want it extra lemony)
2 small garlic cloves or 1 large
220ml cold water 
7g agar powder 
Sea salt to taste (bear in mind this will be served cold so will need extra seasoning)
Chilli powder taste 
To serve: chopped pistachio nuts, chopped parsley, chilli powder, lemon zest
Method
STEP 1
Blend the almonds and pistachios until they are a fine breadcrumb consistency. Add in the parsley, lemon zest, salt, chilli powder, garlic and olive oil. Blend again. 
STEP 2
To heat dissolve your agar, place the 220ml cold water into the saucepan and sprinkle over the agar flakes (off the heat). Put the pan on the heat and bring to the boil (not stirring).  Then reduce to a simmer and stir occasionally for 5 - 10 minutes.  Make sure the crystals have dissolved before taking off the heat (you can check this by putting a wooden spoon in and then taking it out and use your fingers to feel for any crystals).
STEP 3
Now weigh the liquid that you have and top it back up so that it's 220ml again. Add to the blender and blend until very smooth. Now you need to work quickly as the pâté will begin to set. Check for seasoning at this stage and add more salt or chilli where necessary.
STEP 4
You can put the entire mix into one serving bowl or I think it's nice to serve individual portions. If you are using a ceramic mould then make sure to oil and line it with cling film and put on the plate you intend to serve it on.
STEP 5
Cover the pâté with cling film and leave in the fridge to set for at least 3 hours. Serve with more lemon zest, chopped pistachios, cracked black pepper and sprigs of parsley. 
---
By Iona Berry
Iona is our Development Chef, aka our go-to girl for developing, testing and tasting delicious dishes for you to all enjoy at home. When she's not in the kitchen, you'll find her either running or cycling, or trying out food markets and new restaurants around London. Continuous market research it would seem.
---
Let us take care of dinner
After getting creative in the kitchen, give yourself the weekend off by letting us take care of dinner. Check out our delicious meals here.