Recipes
Vegan Pumpkin Pie
5min read
It's not Autumn until the first pumpkin pie rolls out. This one has a rich, creamy and warming filling and a sweet and salty crumble crust. Best of all, the filling here comes together entirely in a blender, and the crust requires no chilling or rolling out. It's the pie we all need in our lives.
I don't typically like to mess with Thanksgiving tradition - and tradition calls for pumpkin pie to have a shortcrust pastry as its crust - but sometimes the rules are worth breaking. As a child, I believed graham cracker crusts were the best thing to ever be created. I would pick the crusts off cheesecake and ask for "crust" as a dessert at least once a week. Although my obsession has since mild down, I still think it's a pretty genius creation. It's crunchy, buttery and the perfect balance of just enough - but not too much - flavour to balance rather than overpower fillings. It's also perfect with pies which have soft creamy fillings, rather than solid fillings - as it provides a satisfying texture and bite to contrast all that creaminess. It also requires no rolling out, no fiddling with cold butter and no chilling. As I said, best thing to ever be created. As graham crackers aren't really a thing in the UK, I used plain digestives (which are now vegan) here which do the job just as well as good old grahams. I hope I've shed some light into the beauty of crumb/cookie crusts, but if you're a stickler for tradition, feel free to make the shortcrust pastry from this recipe instead!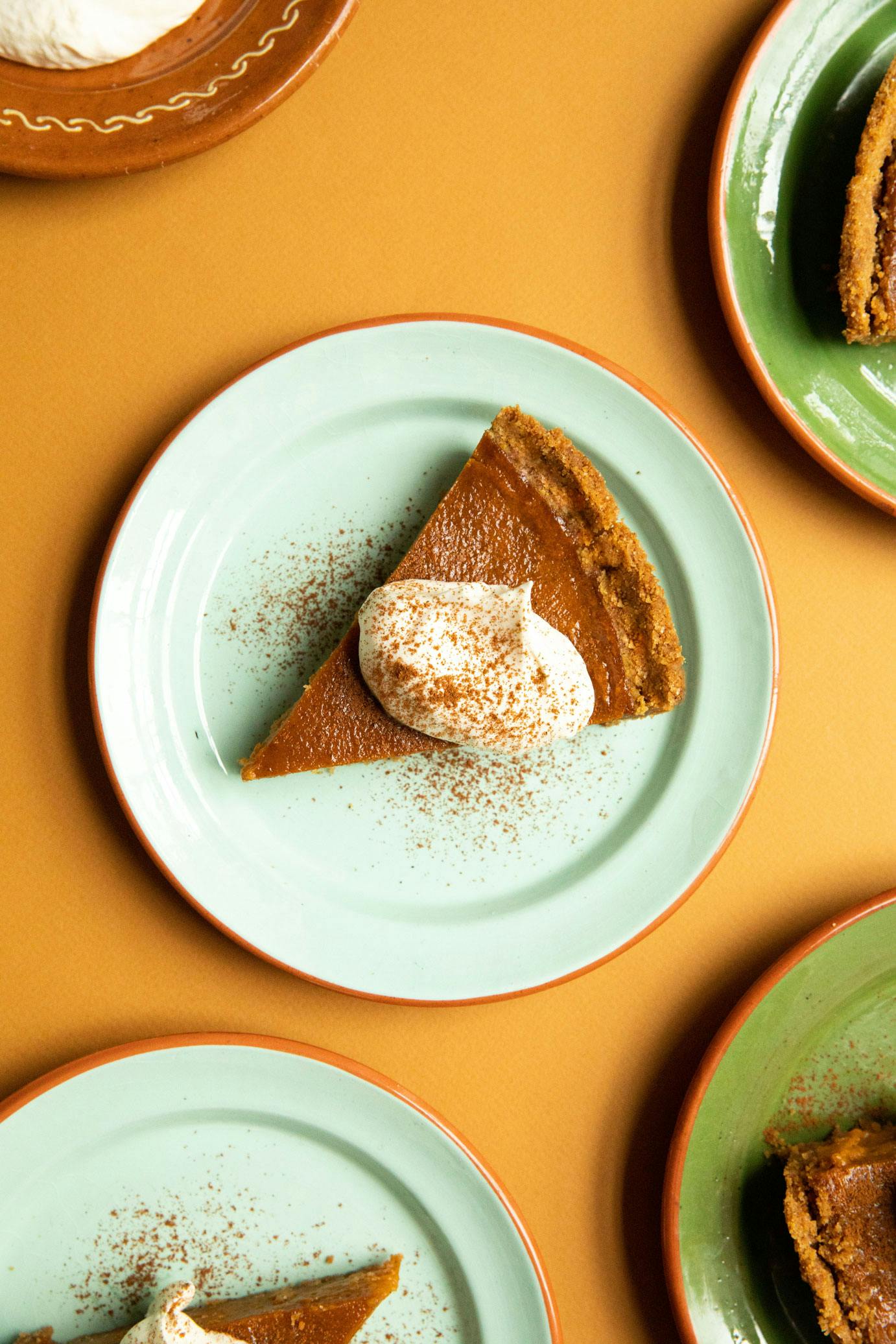 Ingredients
Crust: 
180g plain digestives 
30g caster sugar
70g plant based butter, melted 
1/4 tsp salt 
⅛ tsp nutmeg 
Filling 
2 425g tins pumpkin puree 
160ml plant based milk
2 tbsp olive oil (or melted plant based butter)
190g maple syrup
60g light brown sugar 
1 tsp cinnamon
¼ tsp nutmeg 
1/8 tsp ground cardamom 
⅛ tsp ground ginger
4 tbsp arrowroot powder or cornstarch

Topping:
200g oatly creme fraiche 
30g caster sugar
Method
STEP 1
Preheat the oven to 175˚C. 
STEP 2
Place the digestive biscuits into a food processor and pulse until finely ground. Transfer the ground digestives into a bowl, along with the sugar, melted butter, salt and nutmeg. Stir together with a spatula until the mixture is coarse and resembles wet sand. 
STEP 3
Grease a pie dish (mine was 26x26cm) lightly with butter. Transfer the crust mixture into the pie dish, and use a measuring cup to tightly press the crust into the bottom and up the sides of the dish. 
STEP 4
Place the pie crust into the oven and bake for 8 minutes. Remove from the oven. If the crust has puffed up slightly whilst in the oven, use the same measuring cup as before to gently press it back down.
STEP 5
In the meantime, prepare the filling. Add pumpkin puree, milk, oil, vanilla, maple syrup, light brown sugar and spices to a blender. Blend on high for 2-3 minutes, until smooth. Add the arrowroot (or cornstarch) and blend for 1 more minute.
STEP 6
Pour the filling into the baked crust. Bake for 60 minutes. It will still have a little jiggle at this point, but will set while it cools. 
STEP 7
Let the pie cool completely at room temperature, then place it in the fridge for anywhere from 2-24 hours. Remove the pie from the fridge 1 hour before serving. 
STEP 8
If you like your pumpkin pie warm, place it in a 145˚C oven - once it has already chilled and set - for 15 minutes before serving. 
STEP 9
To make the topping, place creme fraiche into a large bowl and whisk with an electric mixer for 1-2 minutes. Add the sugar, and continue mixing for another 3-4 minutes - until it has thickened and has soft peaks.
STEP 10
Serve the pie topped with a dollop of whipped cream and a sprinkle of cinnamon. 
---
by Valentina Concordia
Valentina is our Food Creative, who dreams up our tasty dishes and recipes for our social channels. She has loads of experience cooking up a storm in Italian kitchens, so it's no surprise she can't live without good-quality olive oil (don't come between her and her olive oil) and fresh pasta.
---
MORE GREAT READS