Recipes
Vegan Saffron Risotto
6min read
In exchange for a little love and attention in the form of stirring, you'll receive the creamiest, silkiest and most vibrant risotto. It's comfort food at its best.
Making risotto is basically the polar opposite of making paella. Whereas the secret to making good paella is to leave the rice completely unstirred whilst cooking it, the secret to making good risotto is to constantly stir it. There's a reason for that, which isn't that Italians are just demanding. Stirring and agitating rice granules allow for the starches to be released from the rice, giving risotto its creamy consistency. All risotto asks from you is to give it 30 minutes of your undivided attention, and in return you'll be rewarded with perfection. I actually find the process quite calming, as it forces me to not try to multitask, but rather just watch said perfection form.

Saffron is an expensive ingredient, but a little goes a long way. It's responsible for making this risotto delicate yet deeply flavoured, simple yet extremely special. I tend to buy saffron threads - rather than powder - and either get it at my local Spanish restaurant or at speciality shops. You can also easily find it online, but I sometimes find it hard to tell the quality of it when buying it online, and prefer the experience of buying it in person. In terms of vegetable stock, just like when making paella, I try to make my own or buy the best I can find for risotto. This is because the rice is absorbing flavour from the liquid it's cooking in - the more flavourful the stock, the more layers and flavour the dish will have.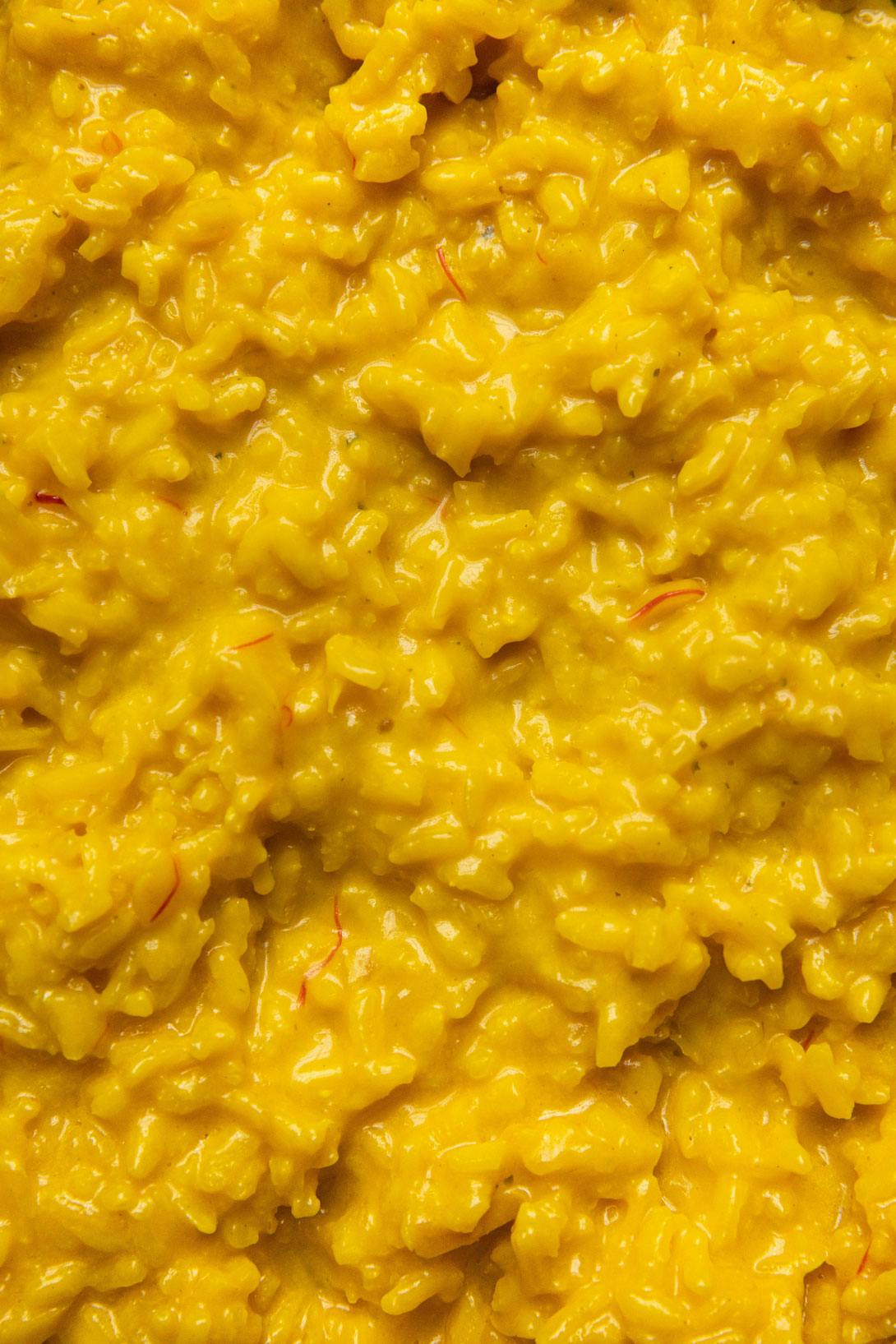 Ingredients
4 tbsp plant based butter
1 white onion, finely diced
2 garlic cloves, finely minced
½ tsp salt 
350g arborio rice
100ml white wine
½ tsp saffron threads 
1.2 litres vegetable stock
80ml oat cream 
50g vegan parmesan, optional
Freshly ground black pepper
Method
STEP 1
Heat 3 tbsp of butter in a large pot over medium heat. Add the finely diced onion and sauté for 6-8 minutes, until translucent. Add minced garlic and a pinch of salt and sauté for 2-3 minutes. 
STEP 2
Add the rice and stir well to coat in butter, onion and garlic. Cook the rice, stirring constantly, for 4-5 minutes - until the grains of rice are translucent around the edges. 
STEP 3
Add the white wine and another pinch of salt, and cook for 1-2 minutes, until the wine has fully evaporated. 
STEP 4
Reduce the heat to medium-low. To the pot, add enough hot vegetable stock to cover the rice along with the saffron threads. Stir the rice constantly while it cooks. When the liquid has fully been absorbed, add more hot vegetable stock. Repeat that process until the rice is tender - usually around 25 minutes.
STEP 5
Stir in the oat cream. You want to make sure that at this stage the risotto is creamy and loose, rather than thick and solid, so add a little more vegetable stock if necessary.
STEP 6
Remove from heat, test for salt and adjust to taste. Fold in 1 tbsp butter and vegan parmesan, if using. 
STEP 7
Serve topped with freshly ground black pepper and extra vegan parmesan, if using. 
---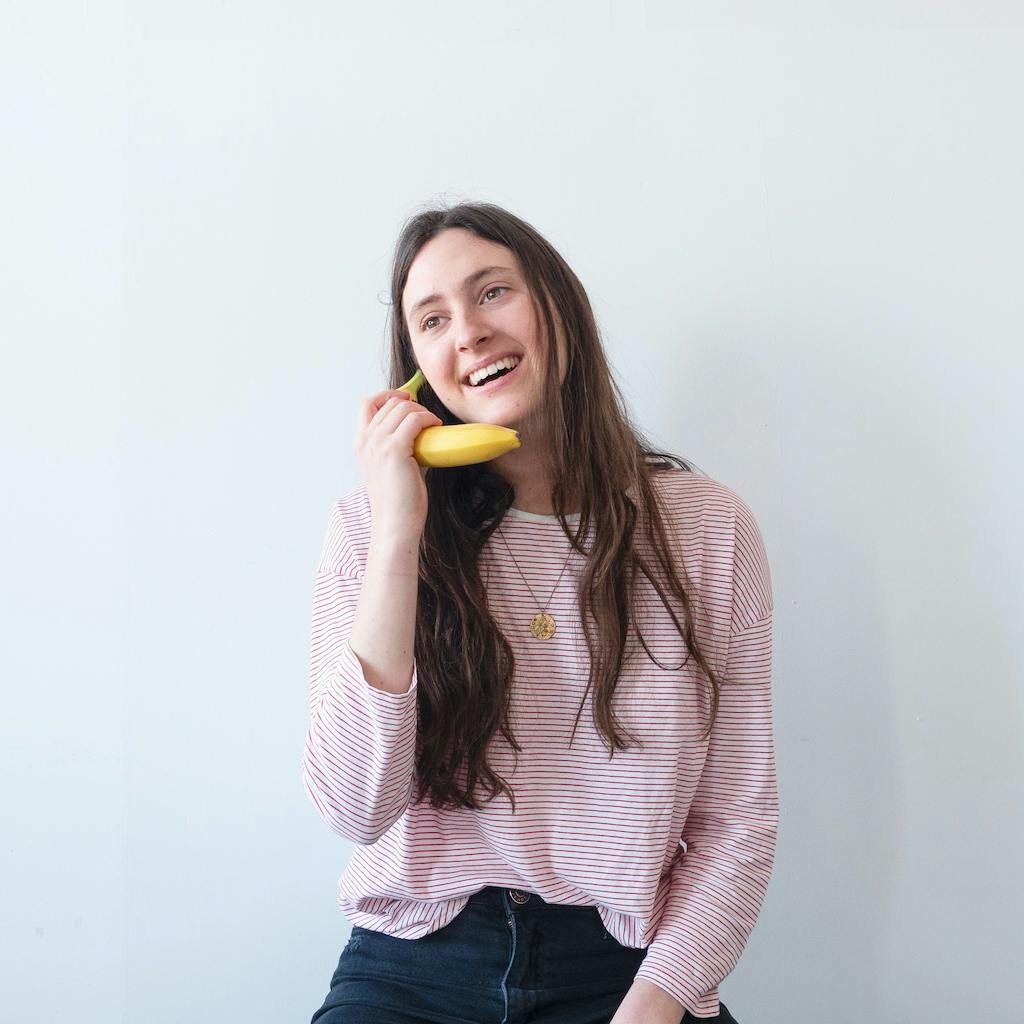 by Valentina Concordia
Valentina is our Food Creative, who dreams up our tasty dishes and recipes for our social channels. She has loads of experience cooking up a storm in Italian kitchens, so it's no surprise she can't live without good-quality olive oil (don't come between her and her olive oil) and fresh pasta.
---
MORE GREAT READS