Recipes
Vegan Smoked 'Salmon' Blinis
by Iona Berry
7min read
Get ready for our 100% vegan version of one of the most popular canapé combinations. Meet our vegan smoked 'salmon' and cream cheese blinis. Using roasted peppers mixed with nori seaweed for great depth of flavour and coloured with beetroot juice, these are pretty close to the 'real' thing.
I was originally inspired to work on making vegan salmon because, not only do I like a challenge, but I wanted to prove to myself and the world that you could make something just as tasty, more sustainable and more affordable than the 'real' thing.
This recipe has been a long time trialling. I was originally using carrots and marinating them over a few days but I found the process lengthy and the results not worth the effort. Once I started testing using peppers I knew I was on to a winner and I'm really excited to share the results. Roasting the peppers on a high heat with the nori seaweed gives great depth of flavour and really adds to the 'fish' aroma that you would expect from salmon. I recommend adding the beetroot juice to the infusion so that you get the vibrant pink colour which perfectly tricks the eye into thinking you are having the 'real' thing! Serve with the blini recipe below but also the 'salmon' works great on crackers, rye bread or on top of a sesame seed bagel. 
Top Tip: You can use the leftover infusion as a base for a ramen or a flavoursome soup for your weeknight dinners. The 'salmon' will last in the fridge for up to 4 days.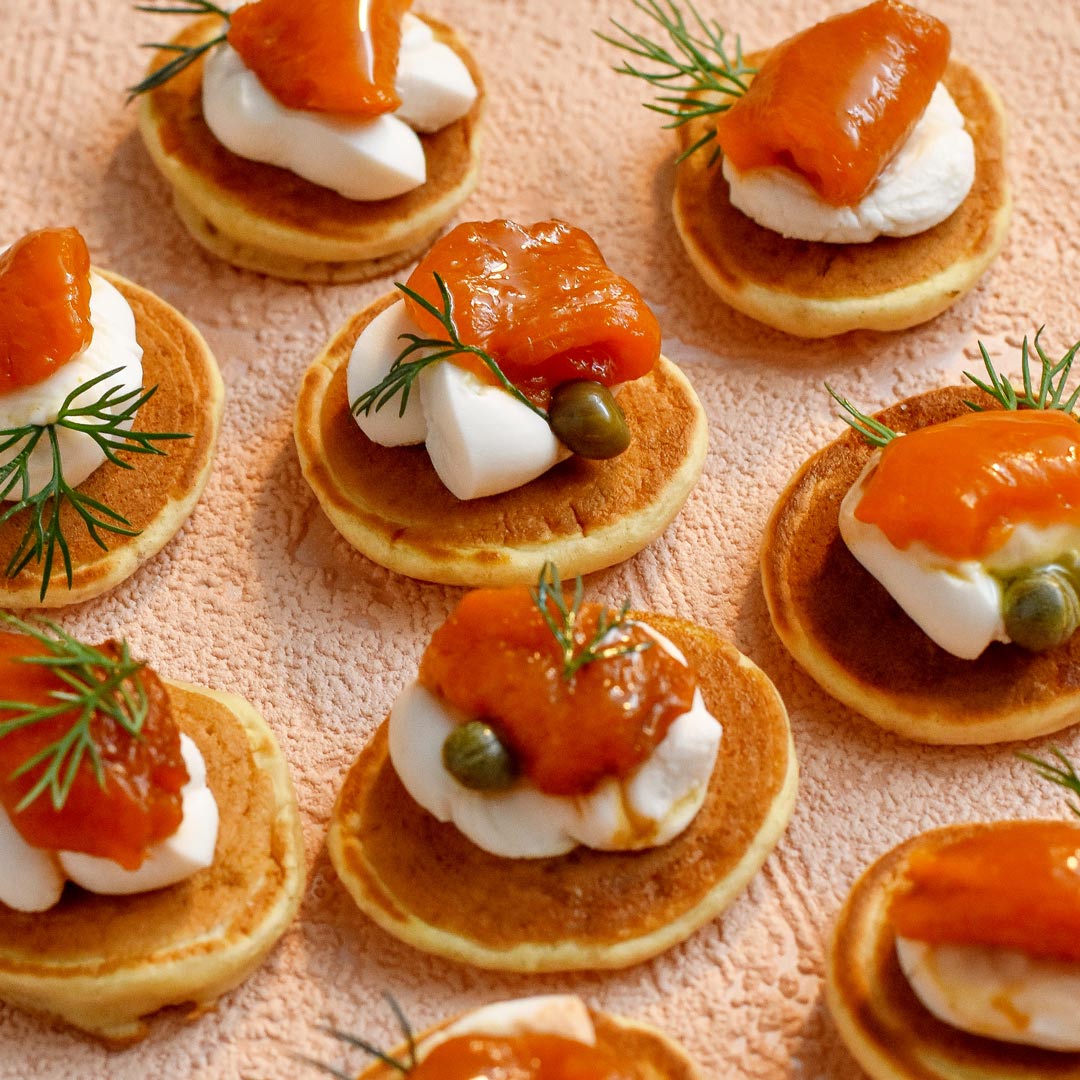 Ingredients
'Salmon'
3 orange bell peppers
2 sheets of nori seaweed (the same as you would use for sushi)
400ml water 
2 tbsp dried wakame 
2 - 3 tbsp liquid smoke (depends how strong you want the smoked flavour)
2 tbsp lemon juice 
2 tbsp tamari 
½ tsp salt 
5 tbsp beetroot juice 
Blinis
60g plain flour (you could also use buckwheat flour which gives a nuttier taste)
¼ tsp bicarbonate of soda
1 tsp baking powder 
A pinch of salt
100ml soya milk 
½ tbsp maple syrup
¼ tsp lemon juice 
Flavourless oil to grease the frying pan
To serve
Dill
Vegan cream cheese
Capers 
Lemon wedges
Method
STEP 1
Preheat the oven to 230C. Line a baking tray with foil or parchment and then put the two sheets of nori on top. Cut the peppers into roughly 3 pieces, making sure to remove the white part and seeds then lay them skin side up on the nori. Cook for 25 - 30 minutes until the skin of the peppers has gone black. Once the peppers have cooled slightly you can then remove the skin and set them aside.
STEP 2
To make the infusion you add the dried wakame, water, lemon juice, tamari, salt and beetroot juice into a medium sized saucepan. Add the roasted peppers to the infusion, bring to the boil and simmer for 30 minutes.
STEP 3
Leave the peppers to cool slightly before removing them from the infusion and place onto kitchen paper to absorb any excess liquid. Put into the fridge for a minimum of two hours before serving (this will help the texture firm up).
STEP 4
Make the blinis by weighing the dry ingredients into a bowl and make a well in the middle. Slowly whisk in the soya, lemon and maple syrup until you have a smooth batter.
STEP 5
To cook the blinis you will need to warm up a frying pan and grease it using a small amount of oil (kitchen paper works well for spreading it evenly across the pan). Use a tbsp or tsp (depending on the size you would like your blinis to be) to spoon the batter into the flying pan. Cook for 2 - 3 minutes on each side (you should see some bubbles start to form before you flip them). Cook them in batches and leave space in between in each blini in the pan. They will keep well at room temperature until you want to serve.
STEP 6
Time to assemble the canapes! Spread or pipe (to be extra fancy) some vegan cream cheese onto each blini and place a small piece of the pepper on top — I like to pull the pieces of pepper rather than cut them as it looks more natural but you could also chop with a knife. Use the dill and capers to garnish the canapes and serve with fresh wedges of lemon and cracked black pepper. 
---
by Iona Berry
Iona is our Development Kitchen Assistant, aka our go-to girl for developing, testing and tasting delicious dishes for you to all enjoy at home. When she's not in the kitchen, you'll find her either running or cycling, or trying out food markets and new restaurants around London. Continuous market research it would seem.
---
MORE GREAT READS