Recipes
Vegan Sticky Toffee Carrot Pudding
5min read
If a carrot cake had a child with a sticky toffee pudding, this is exactly what it would be. This vegan sticky toffee carrot pudding™ is as rich, buttery, and saucy as one could wish of a sticky toffee pudding, with the added benefit of having an ultra soft and moist interior (sorry, sometimes the world is called for), that's perfectly spiced and nutty.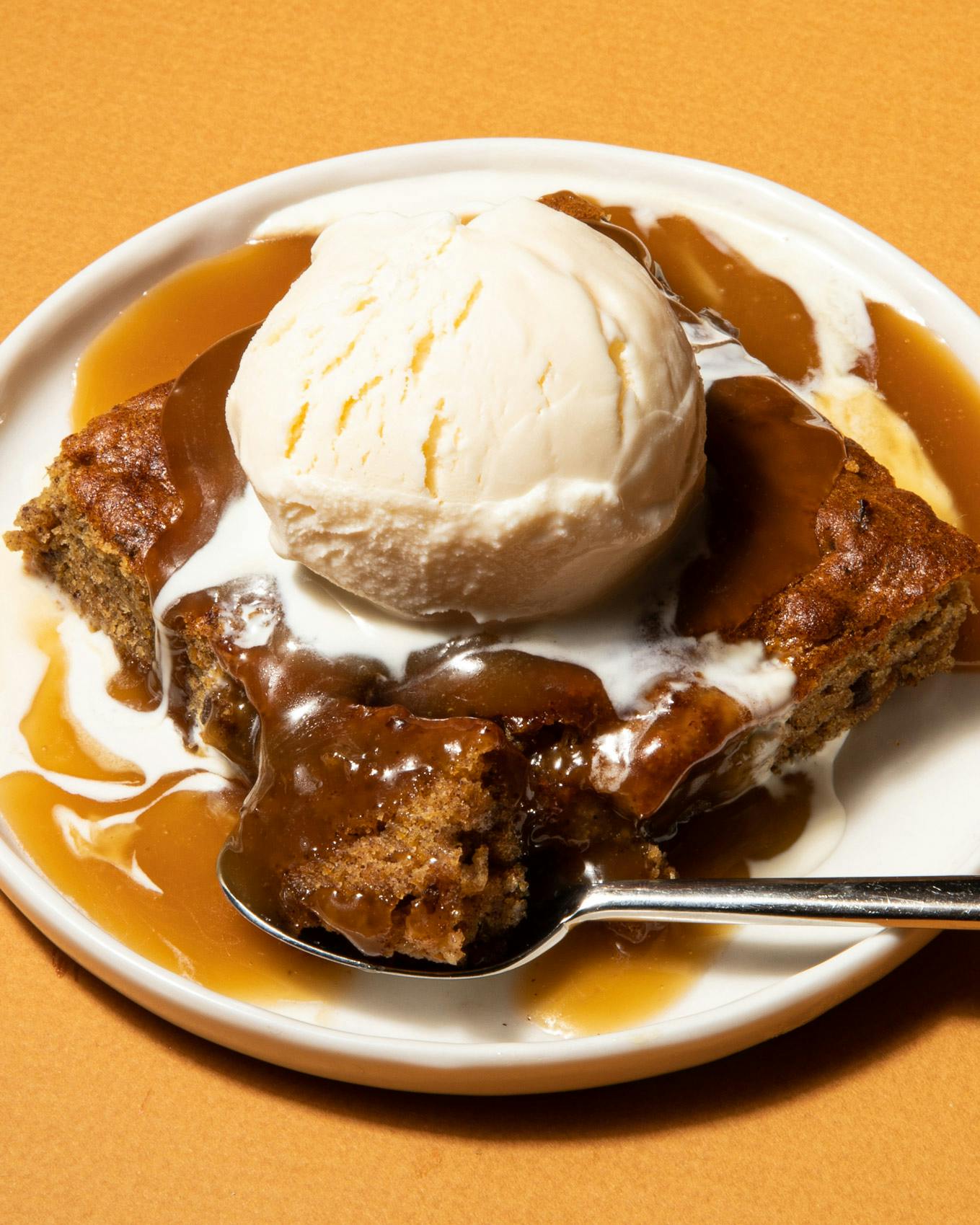 Ingredients
Pudding:
220g dates, pitted and chopped
250ml plant based milk
110g plant based butter, at room temperature
110g light brown sugar
230g plain flour 
1 tsp baking powder
1 tsp baking soda
¼ tsp ground cinnamon
¼ tsp ground ginger
½ tsp salt
2 carrots (around 130g), grated 
100g pecans or walnuts, finely chopped
Toffee Sauce:
160g brown sugar 
75ml plant based cream
110g plant based butter
¼ tsp salt
Method
STEP 1
Preheat the oven to 180˚C fan/200˚C conventional. Grease and line a baking tin. 
STEP 2
Add the chopped dates and plant based milk into a small saucepan. Heat the dates and milk over medium low heat for 3-4 minutes. 
STEP 3
When the dates have softened, mash them with a fork, until they've completely broken down. Set the mixture aside to cool slightly for 5 minutes. 
STEP 4
In the meantime, add the plant based butter and light brown sugar to a large bowl. Use an electric mixer or a wooden spoon to beat the butter and sugar together until light and fluffy - this can take anywhere from 2-4 minutes, depending on whether you're using an electric mixer or not. 
STEP 5
Stir the cooled date mixture into the butter and sugar mixture, until fully incorporated. 
STEP 6
In a separate bowl, whisk together the flour, baking powder, baking soda, spices and salt.
STEP 7
Fold the dry ingredients into the wet ingredients, until just combined. Last, fold in the grated carrots and pecans. 
STEP 8
Pour the batter into the prepared baking tin. Bake the pudding for 25-30 minutes, until it's golden brown and a toothpick inserted into the centre comes out clean. Let the pudding cool for 10-15 minutes. 
STEP 9
In the meantime, prepare the toffee sauce. In a small saucepan combine the plant based butter, light brown sugar and plant based cream. 
STEP 10
Stir the ingredients together and bring them to a boil over medium heat. Simmer the sauce for 8-10 minutes, until it has darkened in colour and thickened. Stir in the salt. 
STEP 11
Slice the carrot pudding and serve, topped with a spoonful of the toffee sauce and a dollop of cold plant based cream. 
---
By Valentina Concordia
Valentina is our Food Editor, who dreams up our tasty dishes and recipes for our social channels. She has loads of experience cooking up a storm in Italian kitchens, so it's no surprise she can't live without good-quality olive oil (don't come between her and her olive oil) and fresh pasta.
---
Let us take care of dinner
After getting creative in the kitchen, give yourself the weekend off by letting us take care of dinner. Check out our delicious meals here.