Recipes
Vegan Sun-Dried Tomato Dip
2min read
A creamy, smoky and rich vegan sun-dried tomato dip which is yoghurt, mayo and tofu free. Instead, it relies on cashews for its velvety consistency and mild sweetness. It also tastes delicious with anything you can think of - from veg, to crackers and toasted bread, you name it - but our favourite vessel to eat this dip with is Propercorn Sweet Sriracha Chilli Lentil Chips, for double the smokiness and spice.
When looking for sun-dried tomatoes for this dip you have a couple options. You can either look for them stored in oil, which is how I typically buy them, or fully dehydrated - which need to be rehydrated before being used. If you're using oil-stored sun-dried tomatoes you can directly chop them up and add them to the dip in step 4, but if you're using tomatoes that aren't stored in any sort of liquid and feel stiff to touch, make sure you soak them in hot water for 10-15 minutes and then squeeze them to remove excess liquid before chopping them and adding them to the dip. One more note on the little guys - they vary a lot in salt content depending on the brand and variety. Make sure to hold back on salting the dip until it's fully blended to make sure you don't over-salt it.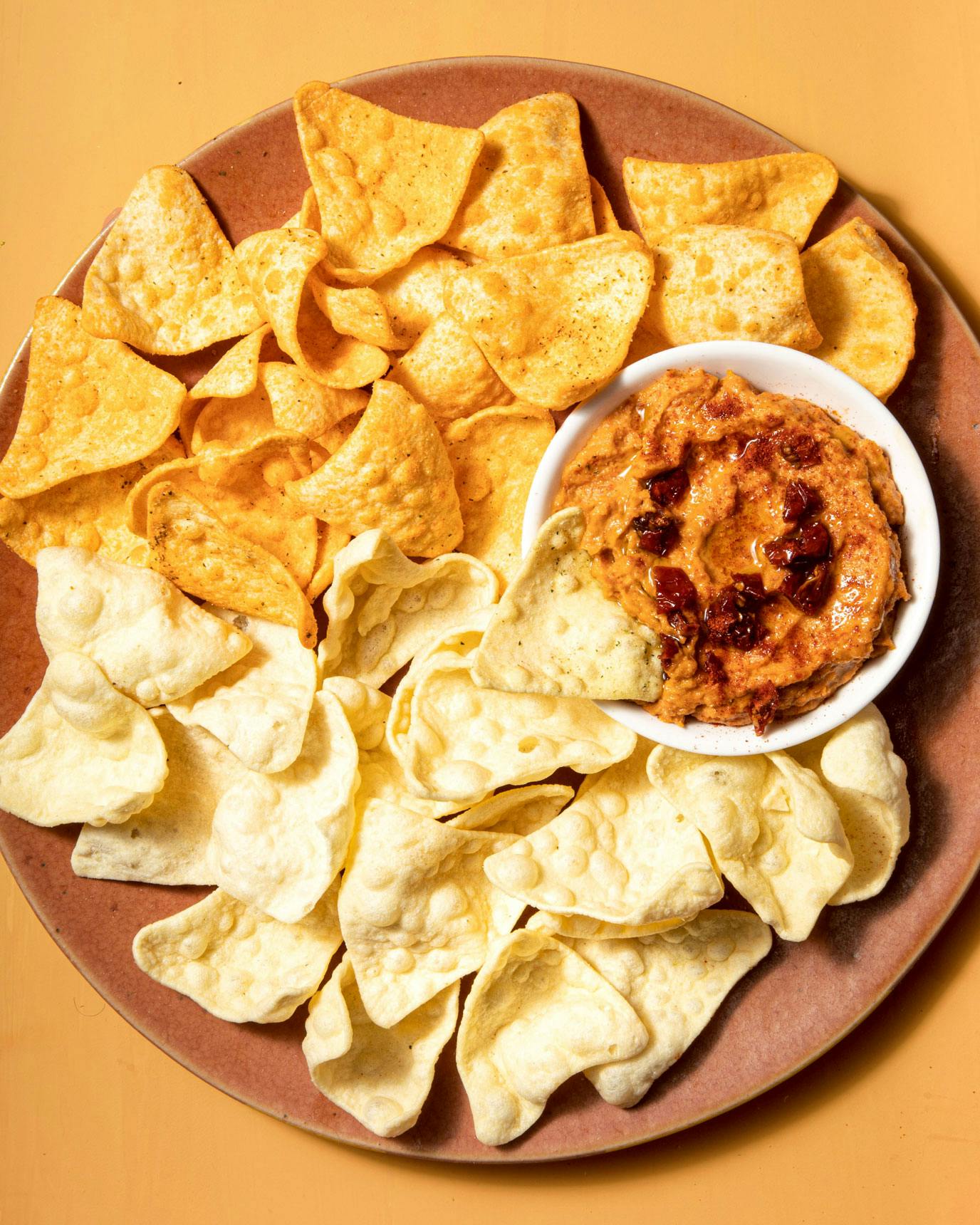 Ingredients
150g cashews
70ml plant based milk
1 tbsp olive oil
5g/1 tbsp nutritional yeast
1 lemon, juiced
70g sun-dried tomatoes (read intro for more info)
½ tsp smoked paprika 
⅛ tsp salt, to taste
80g propercorn chips, to serve
Method
STEP 1
Place the cashews into a heatproof bowl and cover them with boiling water. Let them sit for at least 30 minutes.
STEP 2
Drain the cashews and add them to a food processor. Blend the cashews for 2-3 minutes, until they start to form a ball inside the food processor.
STEP 3
Add the milk, olive oil and nutritional yeast and blend on high speed for 2-3 minutes, until the mixture is completely smooth and creamy.
STEP 4
Chop the sun-dried tomatoes, and add 65g of them to the food processor (reserving a few chopped pieces for serving) along with the paprika. 
STEP 5
Blend the dip for 3-4 minutes, until the sun-dried tomatoes are completely broken down and the dip is creamy, vibrant and red. 
STEP 6
Taste the dip for seasoning and add the ⅛ tsp salt to taste. Depending on the type of sun-dried tomatoes you're using, you might not need it. 
STEP 7
Serve the dip topped with the reserved sun-dried tomatoes, a drizzle of olive oil and an extra sprinkle of paprika. 
---
By Valentina Concordia
Valentina is our Food Editor, who dreams up our tasty dishes and recipes for our social channels. She has loads of experience cooking up a storm in Italian kitchens, so it's no surprise she can't live without good-quality olive oil (don't come between her and her olive oil) and fresh pasta.
---
Let us take care of dinner
After getting creative in the kitchen, give yourself the weekend off by letting us take care of dinner. Check out our delicious meals here.