Recipes
Vegan Tinola
2min read
Warm up with our veganised tinola, a savoury ginger-based broth soup, filled with sauteed oyster mushrooms, green papaya and nutritious chilli pepper leaves. Tinola can be enjoyed on it's own but locally in the Philippines, it is served with a warm side of white rice and fish sauce (can buy vegan ones in Asian shops) with a squeeze of lemon as a side sauce.
Tinola has always been a staple in most Filipino homes, normally enjoyed during cold weather season due to it's nutritious ginger-based broth with chicken, filled with other local veggies such as moringay or hot pepper leaves, and green papaya or chayote. It's cooked differently across the country, but for this veganised version, I've used my dad's own as inspiration, as it's one of my favourite dishes to request when I visit home.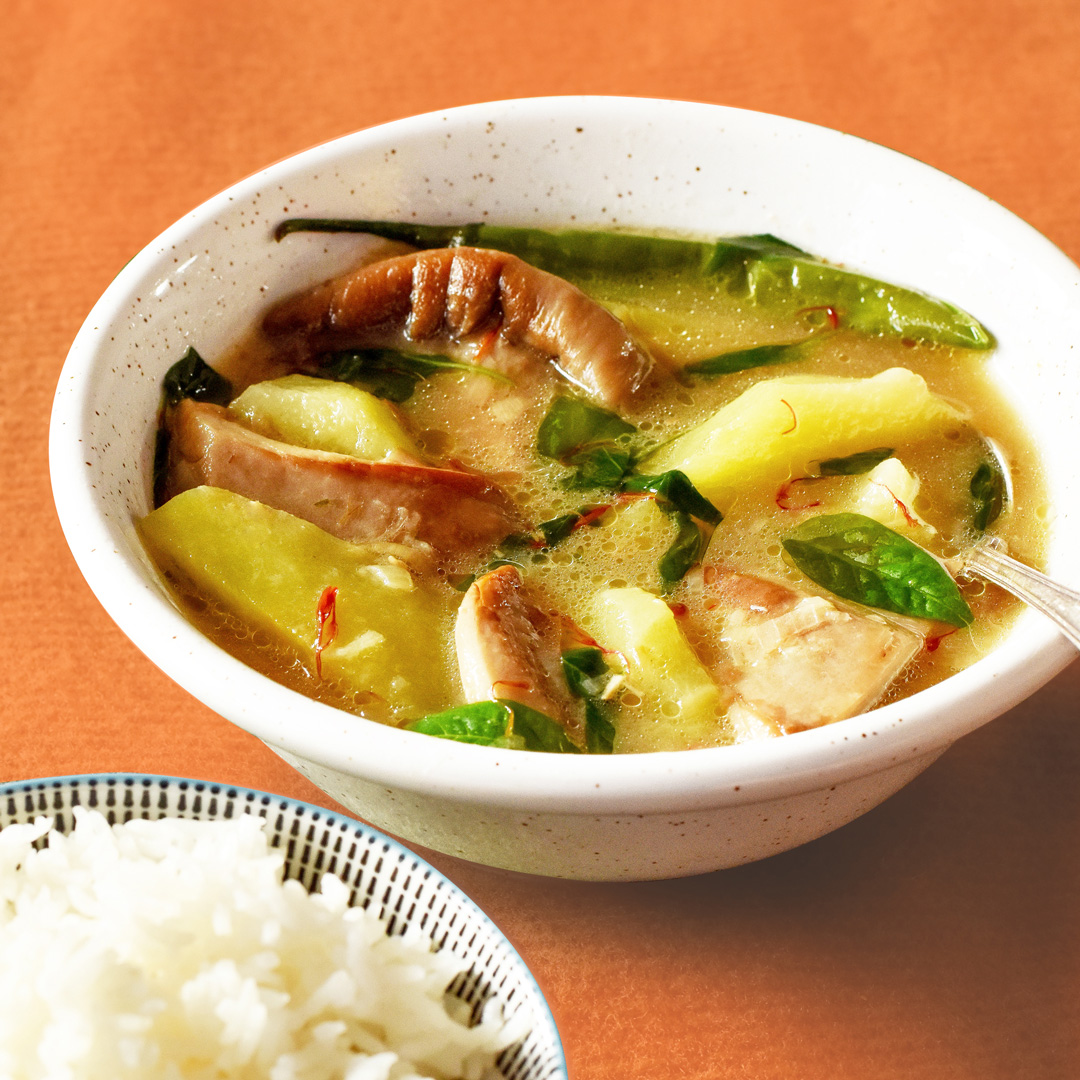 Ingredients
2 garlic cloves, minced
1 onion, minced
1 thumb ginger, strips
100g oyster mushroom, wedges
300g green papaya, wedges
1 veg stock
4 cups water (use rice washing if you cook your own rice)
150g hot pepper leaves/ spinach
1 green chilli
½ tsp safflower (optional, can be bought from asian shops or tea shops)
1-2 tbsp vegan fish sauce
1 tbsp neutral oil
Salt, to taste
Black Pepper, to taste
To Serve (optional but recommended)
White rice, cooked
Vegan fish sauce
Lemon, wedges
Method
STEP 1
In a big pot over med-high heat, sauté garlic, onion and ginger in oil until soft (for around 5-7 minutes).
STEP 2
When the onions are quite translucent, add in mushrooms and cook until you get some browning around the edges (around 7-10 mins). Stir every now and then to prevent them from burning.
STEP 3
Add water or rice washing if you're cooking your own rice to serve with tinola. Rice washing (starchy water you get when you wash the rice before cooking). Traditionally, rice washing is kept to serve as a base for soups (similar to how pasta water is kept and used in pasta sauces). And then add veg stock and vegan fish sauce. You can just add more salt if you don't have vegan fish sauce available.
STEP 4
Add in green papaya and simmer for around 5 minutes. Then add in safflower, hot pepper leaves (can use spinach as an alternative) and green chilli when it's nearly cooked. Put the lid back on to wilt the veggies and your tinola soup should be ready to serve! Enjoy on it's own or with a side of rice and fish sauce with lemon.
---
By Aliza de Lima
Aliza is our Junior Creative, in between running out for copious amounts of coffee and snacks (give her a biscuit and she's your best friend). On her day off you'll find her exploring an exhibition, and having a chat over our Mac & Greens.
---
Let us take care of dinner
After getting creative in the kitchen, give yourself the weekend off by letting us take care of dinner. Check out our delicious meals here.