Recipes
Vegan Tiramisu
5min read
It's here. The real deal, vegan tiramisu. It's surprisingly fuss-free, takes under an hour to put together, and tastes a rich as the classic.
This was a long journey, possibly the longest journey of any recipe on Planted. The start of the journey dates back to June, which was when my first attempt of vegan tiramisu took place. I knew it would be tricky, but that day was a complete disaster. The ladyfingers turned out thinner than crackers, and the mascarpone didn't have the right feel. The main problem laid in the fact that tiramisu is extremely egg heavy. Ladyfingers in themselves are around 60% egg, and mascarpone (a dairy heavy soft cheese) is traditionally mixed with egg yolks for the creamy filling. Eggs are what hold traditional tiramisu together and what give it its richness, so removing them felt impossible. I'm not proud of it, but after that failed attempt I gave up, and decided Tiramisu was one of those things that couldn't be accurately veganised.
As a child tiramisu was my vessel for sugary caffeination, and as a teen (with a tiramisu shop 20 metres from my school) it was my after school snack and sometimes lunch - so it's not a huge surprise that my expectations were high. Although I had put the idea of a vegan tiramisu to rest, we kept receiving requests for it - so many that I eventually realised I wasn't going to get away with simply ignoring them. I did hours of research and tried to figure out how to get around the whole egg issue. Most of the recipes for vegan tiramisu that I was seeing online were made up of a sponge, rather than sponge biscuits, and that didn't feel right. Ladyfingers/Savoiardi are iconic in tiramisu because they're soft enough to absorb liquid (coffee in this case), but crisp enough to not turn to mush - I was adamant on having ladyfingers in my tiramisu. After batches of failed ladyfingers, I eventually landed on these and I nearly cried when I saw them puff up rather than spread thin in the oven. The recipe is surprisingly fuss free, and just requires being precise with the ingredients and having everything at room temperature before starting.
Mascarpone wise, I had a couple of options. I saw a few recipes used a mix of cashews and coconut milk as the creamy filling, and although sceptical, I tried going down that route. I found the coconut aftertaste overpowering and didn't find the overall cream rich or tangy enough. I then tried a different route, where I strained soy yoghurt overnight until I achieved a greek yoghurt like texture, and mixed that with whipped milk and vegetable oil. The result was perfect - rich, tangy, creamy and no aftertaste. I felt like it was maybe too fussy to be made at home, however, and wanted to try one last route, using plant based creme fraiche. Creme fraiche isn't quite like mascarpone, in that it has around 30% less fat than mascarpone cheese. Oatly creme fraiche has always brought me luck in the past however, so I thought I would see what the result would be when mixed with sugar. You can probably guess the answer from seeing the recipe below - the result was perfect. It tasted similar to the whole strained yoghurt situation, minus the effort - so here we are.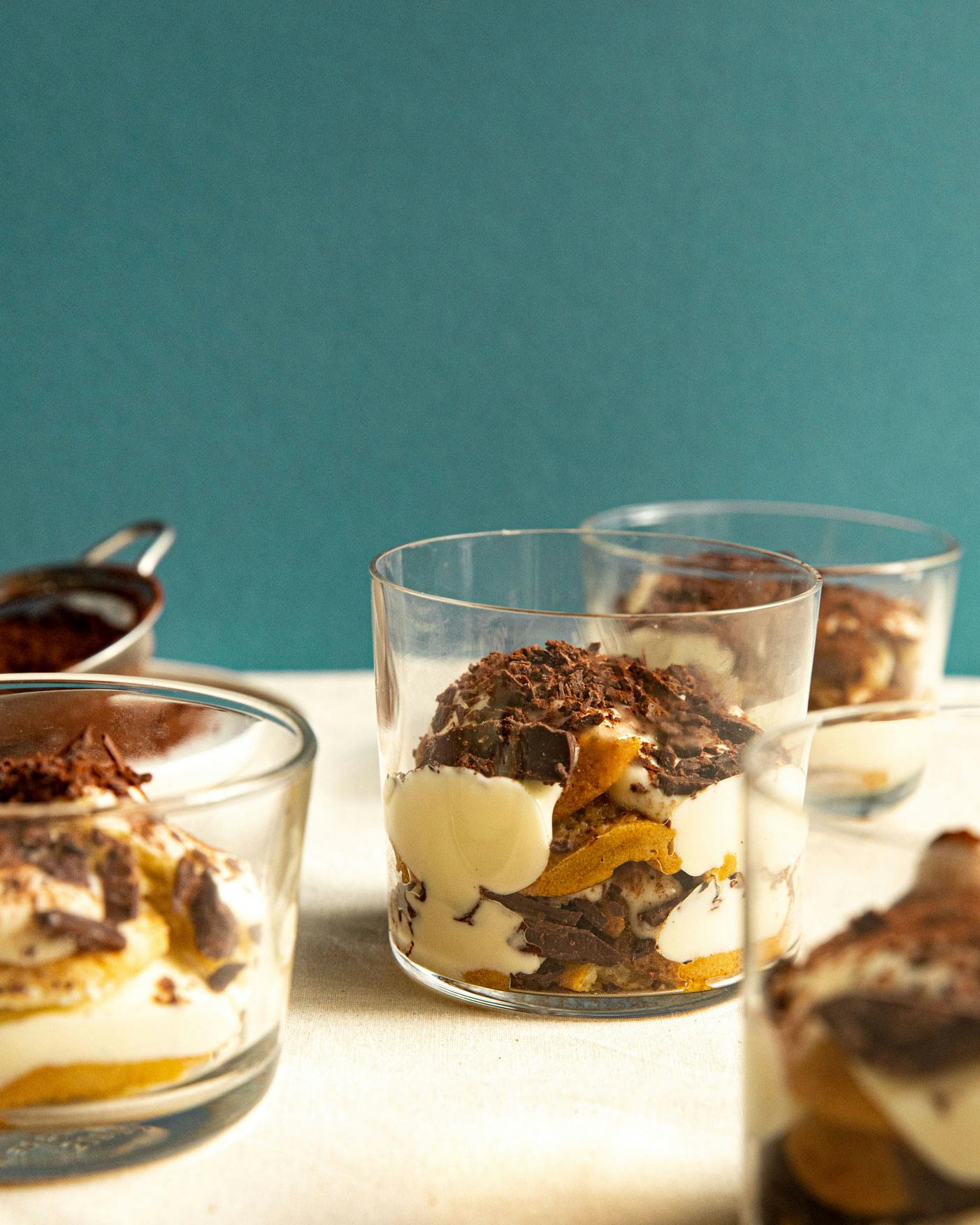 Ingredients
Ladyfingers: 
65g plant based butter block, at room temp 
110g caster sugar 
1 tsp vanilla extract
45ml aquafaba
140g flour
½ tsp baking soda
½ tsp baking powder
2 tsp cornstarch
¼ tsp salt
45ml plant based milk, at room temperature
Vegan Mascarpone: 
400ml Oatly creme fraiche 
80g caster sugar 
½ tsp salt 
To assemble: 
250ml filtered coffee
1 tbsp Marsala liqueur, optional 
3 tbsp cacao powder
100g chocolate, finely chopped
Method
STEP 1
Start by making the ladyfingers. Add butter and sugar to a large bowl. Use an electric mixer to beat the mixture until it's creamed together, 2-3 minutes.
STEP 2
Add the aquafaba and vanilla extract and beat the mixture with an electric mixer until smooth and creamy. In the first 1-2 minutes it will look split, but will come together after around 3 minutes. 
STEP 3
Combine flour, baking soda, baking powder, cornstarch and salt in a bowl and mix to combine. 
STEP 4
Sift half of the dry ingredients into the wet. Beat the mixture for 1-2 minutes until the dry ingredients have been incorporated. Sift in the remaining dry ingredients and beat again until fully combined. Add the milk and beat for 1-2 minutes, until smooth and creamy. 
STEP 5
Line one large baking tray or two smaller ones with parchment paper. Transfer the biscuit batter into a piping bag. 
STEP 6
Pipe the ladyfingers onto the baking trays to be 1.5-2cm wide and around 6 cm long. Place the trays in the freezer for 15 mins or in the fridge for 45 mins.
STEP 7
Preheat the oven to 180˚C. 
STEP 8
Remove the trays from the freezer/fridge and transfer directly into the oven. Bake for 13 minutes, until golden around the edges. Let cool for 25-30 minutes before attempting to remove them from the tray. 
STEP 9
In the meantime, make the mascarpone. Combine creme fraiche, sugar and salt in a large bowl. Use an electric mixer to whip the creme fraiche for 2-3 minutes - until it has soft peaks. 
STEP 10
Pour coffee into a shallow bowl and whisk in the Marsala (if using). 
STEP 11
To assemble, lay out 4 glasses/dessert pots. Dip the ladyfingers in the coffee, one at a time, for no longer than one second (they continue to soften as they sit).
STEP 12
Break the soaked ladyfingers up with your hands and into the pot/glasses, as you go - I like to use 2 ladyfingers per pot. Next spoon 2 tbsp of mascarpone onto the ladyfingers. Sprinkle with finely chopped chocolate. 
STEP 13
Repeat the process one more time, to make another layer of ladyfingers, mascarpone and chocolate. Sprinkle with cacao powder and serve. 
---
By Valentina Concordia
Valentina is our Food Editor, who dreams up our tasty dishes and recipes for our social channels. She has loads of experience cooking up a storm in Italian kitchens, so it's no surprise she can't live without good-quality olive oil (don't come between her and her olive oil) and fresh pasta.
---
Let us take care of dinner
After getting creative in the kitchen, give yourself the weekend off by letting us take care of dinner. Check out our delicious meals here.