Recipes
Tofu and Mushroom Gyoza
4min read
The secret to preparing vegetables that mimic how meat acts and tastes in a recipe is pretty straight forward: just treat it like meat. What we mean by that is to just adapt and replicate the processes typically associated with cooking meats, when cooking plants. Our new series, "How to Replace Meat in Everything" explores just how to do that in an easy, unfussy and delicious way. 
These tofu, mushroom and cabbage vegan gyoza rely on pan frying for a flavourful filling that has texture, bite and body. The secret is to pan fry the tofu and mushrooms separately, before combining them with the cabbage and spring onions, so that everything crisps and browns rather than overcrowding and releasing moisture. They're crispy, delicious, and make perfect freezing candidates for when take away cravings strike.
I know it's tempting to sauté everything together, but your patience will be rewarded if you don't take shortcuts here. What happens if you add uncooked mushrooms and tofu to the sautéeing cabbage is that they'll both release liquid rather than browning (which creates flavour) and will never achieve any sort crisp (which creates texture). The result would be soggy and lack body, so make sure you give your mushrooms and tofu the extra ten minutes they deserve for flavourful, crisp gyoza reminiscent of Pork and Cabbage gyoza. If you're new to gyoza filling and folding and are intimidated by the process I find this how-to very helpful. I follow the fourth technique in that guide, but you're welcome to keep it simple and use a less crimped and pleated folding technique.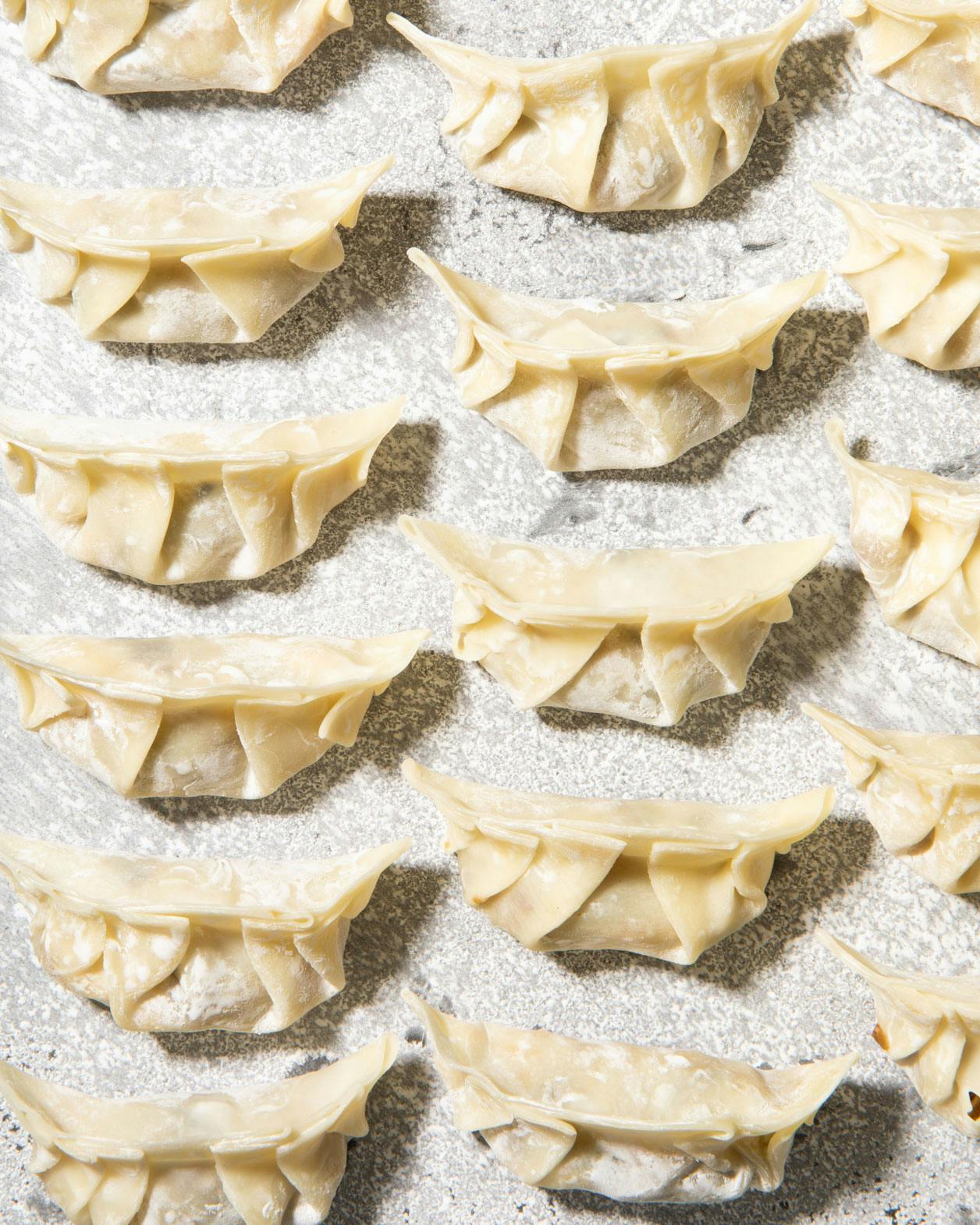 Ingredients
Gyoza:
¼ savoy cabbage (240g), finely chopped 
1 tsp salt
3 + 2 tbsp/75ml neutral oil, divided (such as rapeseed or sunflower) 
180g shiitake mushrooms, finely chopped 
300g firm tofu
4 spring onions (100g), finely sliced 
15g ginger (3cm piece), finely minced 
2 cloves garlic, minced 
2 tbsp/30g soy sauce/tamari 
1 tbsp/15ml sesame oil 
1 tbsp/15ml rice wine vinegar 
1 tbsp cornstarch or plain flour
24-26 gyoza wrappers 
100ml water, divided
To Serve:
1 tbsp/15ml soy sauce/tamari
1 tbsp/15ml chilli oil
1 tbsp/15ml rice wine vinegar
Method
STEP 1
Start by salting the cabbage. Place a colander in the sink and transfer the chopped cabbage into it. Sprinkle it with 1 tsp salt and use your hands to massage the salt into the cabbage. Let it sit for 20 minutes.
STEP 2
In the meantime, heat 1 tbsp of oil in a non-stick pan over medium heat. Once hot, add the chopped mushrooms and stir to coat them in oil. 
STEP 3
Let the mushrooms cook, untouched, for 4-5 minutes. Stir them and let them cook for 4-5 more minutes, until crisp.
STEP 4
Transfer the mushrooms into a bowl, and bring the pan back onto hob over medium heat. Add 1 tbsp oil, and once hot, use your hands to crumble the tofu into the pan. 
STEP 5
Let the tofu cook, untouched for 5-6 minutes, until browned and crisp on the heat facing side. Stir it and continue to let it cook, for 4-5 minutes, until crisp and browned throughout. 
STEP 6
Transfer the tofu to the bowl with the mushrooms, and bring the empty pan back onto the hob. 
STEP 7
Heat 1 more tbsp of oil to the pan and once hot, add the spring onions and ginger. Sauté them for 6-7 minutes until soft. Add the minced garlic, and continue to sauté the spring onions for 4-5 minutes.
STEP 8
In the meantime, use your hands to squeeze as much excess liquid from the cabbage as possible. Stir the cabbage into the spring onions. Cook the cabbage down for 5-6 minutes, then stir in the cooked mushrooms and tofu and cook for 4-5 more minutes. 
STEP 9
Stir in the soy sauce, sesame oil and rice wine vinegar. Taste the filling for seasoning and adjust to taste - adding more soy sauce or vinegar to taste. Remove the pan from the heat. 
STEP 10
Prepare a surface to fill and fold the gyoza. Dust a tray with cornstarch to place the gyoza once filled and prepare a small bowl of warm water to help with the folding. 
STEP 11
Place one gyoza wrapper in your non-dominant hand. Use a small spoon to scoop 1 tsp worth of filling and place it into the centre of the wrapper. Dip your fingers into the bowl of water and moisten the edges of the wrapper.
STEP 12
Use your dominant hand to fold the gyoza in half and pinch the middle together. You can either simply press all the edges together or try to make a few crimps. To make crimps, moisten the edges of the side of the wrapper that's facing you. Use your fingers to fold three pleats, starting from the middle and working your way to the right side. Then, repeat the process with the left side. (Read the intro for extra folding info). 
STEP 13
Repeat the folding process with the remaining filling and wrappers - you should have around 24-26 by the end. Transfer the filled gyoza onto the cornstarch dusted tray as you go.
STEP 14
Heat 1 tbsp of oil in a large non-stick pan (that has a lid) over medium heat. Add as many gyoza (flat side down) as can fit with a few cm of space between each - usually around 11-12. 
STEP 15
Cook them for 2-3 minutes, until the bottom of the gyoza are golden brown. Add 50ml of water to the pan, and cover it with a lid immediately. 
STEP 16
Let the gyoza steam for 3-4 minutes, until most of the water has been absorbed. Remove the lid and cook the gyoza uncovered for 2-3 minutes, until all of the water has evaporated and they're crisp at the bottom. 
STEP 17
Transfer the cooked gyoza onto a plate, and repeat the process with the remaining uncooked gyoza. 
STEP 18
Make the dipping sauce by combining 1 tbsp soy sauce, chilli oil and rice wine vinegar in a small bowl. Serve the gyoza warm with the dipping sauce. 
---
by Valentina Concordia
Valentina is our Food Editor, who dreams up our tasty dishes and recipes for our social channels. She has loads of experience cooking up a storm in Italian kitchens, so it's no surprise she can't live without good-quality olive oil (don't come between her and her olive oil) and fresh pasta.
---
MORE GREAT READS
Let us take care of dinner
After getting creative in the kitchen, give yourself the weekend off by letting us take care of dinner. Check out our delicious meals here.