Recipes
Vegan Tofu Fried Rice
4min read
A crispy, bright, and deeply savoury vegan tofu fried rice here to fulfil all of your take-out needs. Inspired by the fried rice at my favourite local Thai restaurant, which is deeply flavoured by spring onions, ginger and Thai basil and full of natural sweetness from vegetables like asparagus and red peppers. It comes together in around twenty five minutes and is extremely adaptable to whatever you have on hand. If you don't have any asparagus, sub it for sugar snap or regular peas, and as far as greens go, use whichever sturdy green you can find - kale, collard greens, and chard all work.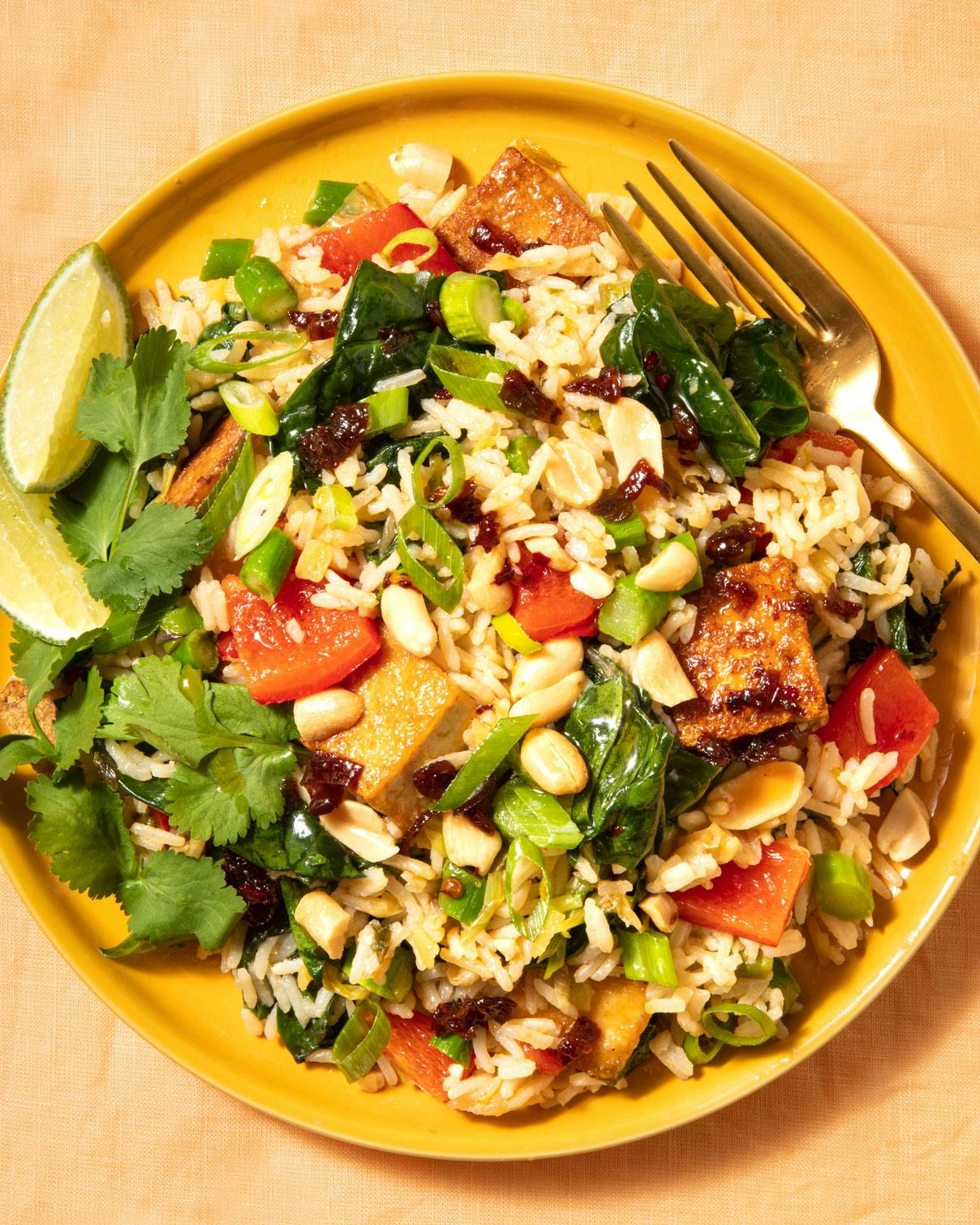 Ingredients
Fried Rice:
4 tbsp neutral oil, separated 
280g tofu 
100g spring onions, finely sliced
40g ginger, minced
2 cloves garlic, finely minced
¼ tsp salt
200g red pepper
300g asparagus
35g soy sauce/tamari 
15g rice wine vinegar 
1 tsp light brown sugar 
600g cooked rice (preferably a day or two old)
200g greens (like kale, collard greens or chard)
10g thai basil, chopped
To serve:
1 lime, sliced 
5g fresh coriander 
10g peanuts, chopped 
1 spring onion, finely sliced 
Chilli crisp, optional
Method
STEP 1
Chop the tofu into roughly 2x2cm cubes and pat them dry. 
STEP 2
Heat 2 tbsp of oil in a large non stick pan or wok over medium heat. Add the tofu pieces to the oil and fry them for 2-3 minutes on each side, until they're golden brown throughout. Use a slotted spoon to transfer the tofu from the pan to a bowl, leaving as much of the oil in the pan as possible. 
STEP 3
With the pan still over medium heat, add the spring onions and ginger. Sauté them for 5-6 minutes, until soft, then add the minced garlic and salt and cook them for 2-3 more minutes. 
STEP 4
In the meantime, prepare the vegetables. Chop the red peppers into roughly 1x1cm pieces, and the asparagus into 1 cm rounds. 
STEP 5
Add them to the pan and stir to coat them in the spring onions, ginger and garlic. Cook them for 3-4 minutes, until they're starting to soften. 
STEP 6
In a small bowl, whisk together the soy sauce, rice wine vinegar and sugar until combined. 
STEP 7
Add it to the pan, and stir to coat the vegetables in it. Cook the vegetables in the soy mixture for 2-3 more minutes. 
STEP 8
Move the vegetables over to one side of the pan. Add 2 tbsp of oil to the empty side of the pan, and once hot, add the cooked rice. Let the rice sit to crisp up for 3-4 minutes, untouched, and then gently stir it around. If the pan you're using is small and can't fit the rice and vegetables together, transfer the vegetables into a bowl while you crisp the rice, and then add the vegetables back into the pan. 
STEP 9
Continue to let the rice cook untouched for 2-3 more minutes. Next, stir the rice and vegetables together until the rice is evenly coated with vegetables and the soy mixture. 
STEP 10
Chop the greens and stir them into the rice along with the tofu and Thai basil. Cook the greens down for 2-3 minutes, then turn the heat off. 
STEP 11
Squeeze in the juice of half a lime and stir to combine. Taste the rice for seasoning and adjust to taste. 
STEP 12
Serve the fried rice topped with chopped peanuts, fresh lime juice, coriander and chilli crisp, if using. 
---
By Valentina Concordia
Valentina is our Food Editor, who dreams up our tasty dishes and recipes for our social channels. She has loads of experience cooking up a storm in Italian kitchens, so it's no surprise she can't live without good-quality olive oil (don't come between her and her olive oil) and fresh pasta.
---
Let us take care of dinner
After getting creative in the kitchen, give yourself the weekend off by letting us take care of dinner. Check out our delicious meals here.