Recipes
Truffle and Mushroom Pappardelle
by Iona Berry
5min read
A creamy and rich pasta dish which is the perfect meal to impress, with minimal effort. Aka, the best combination. It's a decadent meal for a special date night (for yourself or someone else), where you want to show off your cooking skills, without actually needing that many. The truffle does most of the work for you in this case. 
I can't believe I waited until my twenties to try something with truffle in. I remember being put off by the smell. But once you try a bowl of fresh pasta with truffle, you will not go back. I now order any dish on the menu which I know will give me my truffle fix. The earthy flavour of black or white truffle gives even the simplest of foods an intense richness that you just can't get with anything else. When I eat this pasta dish I am transported to the Amalfi coast in Italy, and to be honest, who doesn't want to feel like that at any point of the year. Technically this recipe serves 4, but who's counting right?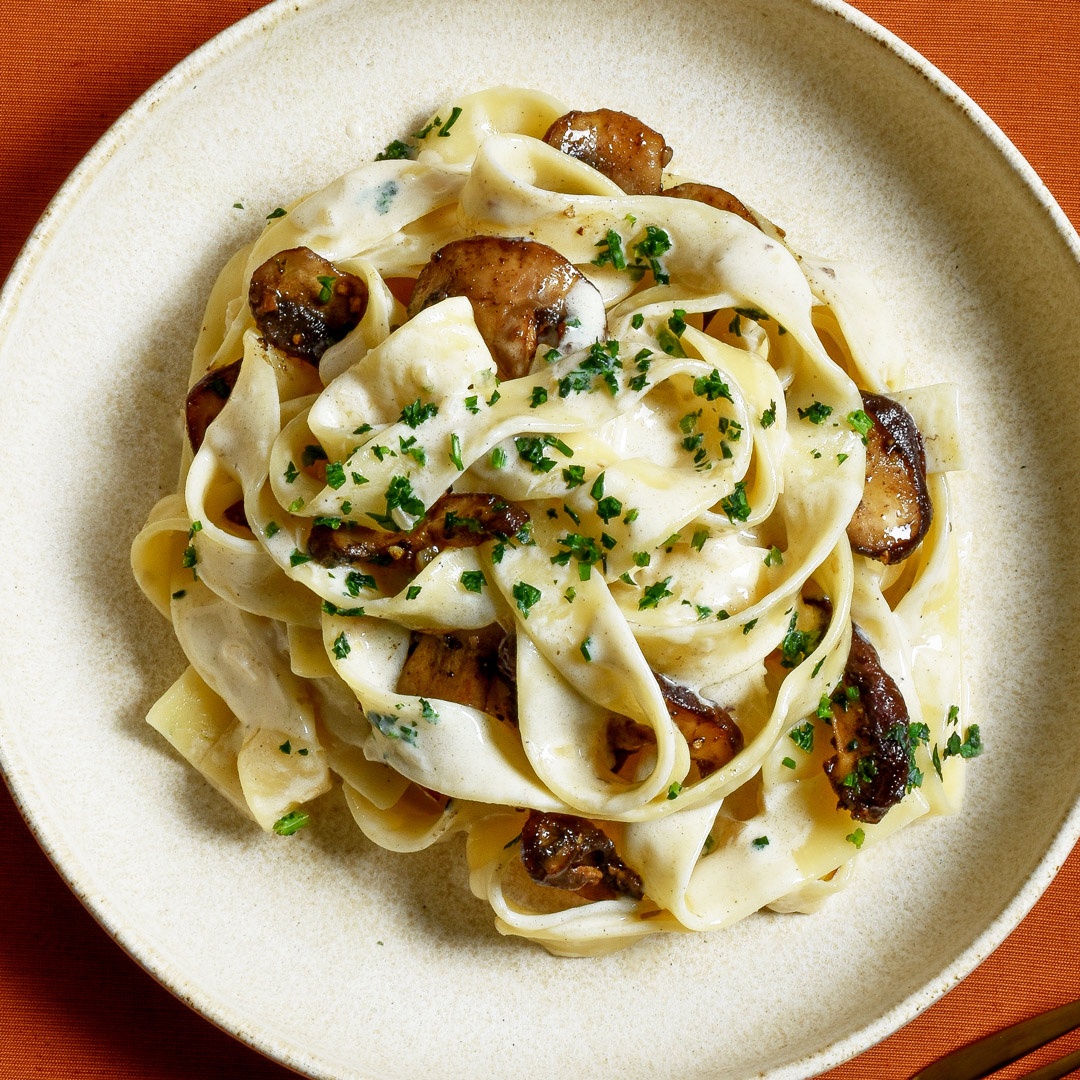 Ingredients
Sauce
3 tbsp olive oil 
2 shallots, finely diced
3 cloves of garlic, crushed
250ml plant based vegan cream 
A squeeze of fresh lemon juice 
Sea salt to taste (use truffle salt if you have some)
1 tbsp flat leaf parsley, finely chopped
Garlic truffle mushrooms
2 tbsp vegan butter
2 tbsp truffle oil 
300g of mushrooms of your choice, in this version I have used shitake and chestnut, thinly sliced 
1 tsp porcini mushroom powder 
2 cloves of garlic, crushed
Salt to taste
Pepper to taste
Pasta
Try our homemade pasta recipe here or use 320g of dried pappardelle pasta 
Method
STEP 1
Heat the olive oil in a frying pan, add the shallots and cook for 10 minutes on a low heat, stirring often. Add the garlic and porcini powder and cook for 2 minutes. Add the soya cream and cook the sauce for another 5 minutes (still on a low heat). Season with the lemon juice, salt and parsley. 
STEP 2
Start cooking your pasta and follow the instructions on the pack but make sure to keep the pasta al dente and add plenty of salt to the water. 
STEP 3
In a separate frying pan heat up the truffle oil and vegan butter and begin to fry the mushrooms with a pinch of salt. Don't worry if the mushrooms release a lot of liquid, at that stage it's important to turn the heat up so that they absorb the water they released. They will then caramelise and get a deeper flavour (about 10 minutes).
STEP 4
Strain the pasta but make sure to keep a couple of spoonfuls of the pasta water to add to the sauce. Mix the pasta thoroughly in the sauce and add half of the mushrooms to the pan.
Serve the pasta with the leftover mushrooms plated on top and if you like add some vegan parmesan and an extra drizzle of truffle oil. Scatter generously with parsley. 
---
by Iona Berry
Iona is our Development Kitchen Assistant, aka our go-to girl for developing, testing and tasting delicious dishes for you to all enjoy at home. When she's not in the kitchen, you'll find her either running or cycling, or trying out food markets and new restaurants around London. Continuous market research it would seem.
---
MORE GREAT READS