Recipes
Vegan Wild Garlic Gnocchi
2min read
These vegan wild garlic gnocchi have all of the best features of classic gnocchi, with the added benefit of punchy yet subtle fresh flavour in every bite. That punchiness means they don't need to be tossed with anything other than some plant based butter and sage before serving. Simple is best here (and always really).
If you can't get your hands on wild garlic, you could use spinach, kale or chard - to replicate its vibrant green colour - along with some herbs, to replicate its punchiness. As long as you keep the amounts the same, the process can be the same. Speaking of amounts, you'll notice the recipe includes a couple tips in terms of the weight of the potatoes and flour you're using. My general rule is to use a 1:4 ratio of flour to potato - which generally results in a dough that's neither too wet nor too dry - and to weigh the potato filling (out of their skins) after having roasted them and taking it from there.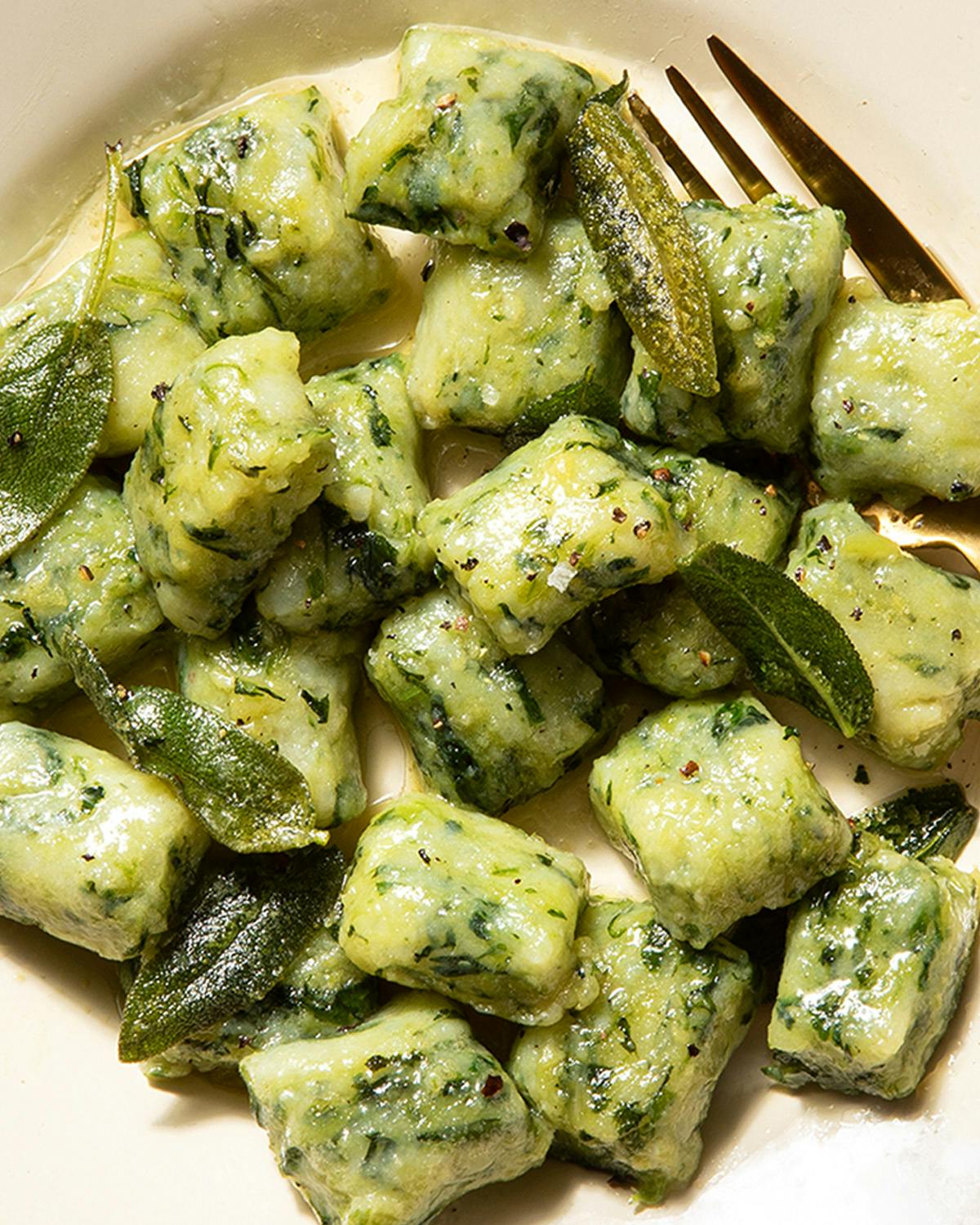 Ingredients
800g Maris Piper potatoes 
2 tbsp olive oil, divided
100g wild garlic
1 tsp salt 
150g plain or pasta flour 
4 tbsp plant based butter
20 sage leave
Method
STEP 1
Preheat the oven to 200˚C fan/ 220˚C conventional. 
STEP 2
Place the potatoes on a baking tray and bake them for 45-60 minutes, depending on their size. Large potatoes will take around the 60 minute mark, whereas smaller potatoes will take around 45-50 mins. 
STEP 3
Remove the potatoes from the oven, and carefully use a knife to slice them in half. Let them sit for 10 minutes, to let them cool and let the steam escape. 
STEP 4
While the potatoes bake, prepare the wild garlic. Heat 1 tbsp of olive oil in a pan over medium heat, then add the wild garlic along with a splash of water. Cook the wild garlic for 3-4 minutes, until it wilts. 
STEP 5
Transfer the wilted wild garlic into a colander, let it cool for a few minutes, then use your hands to squeeze out as much excess liquid as possible from the garlic. 
STEP 6
Transfer the garlic into a blender along with 1 tbsp olive oil and blend it into a purée. Alternatively, you could use a mortar and pestle and pound the wild garlic until it forms a paste. 
STEP 7
Once the potatoes have cooled, use a spoon to scoop out the fillings into a bowl. You should have around 450-460g of potato filling - if you have more or less than that, you can just adapt the amount of flour you're using later on. 
STEP 8
If you have a potato ricer, pass your potato filling through that and into a large bowl. If you don't have a potato ricer, place the potatoes in a sieve set over a bowl, and use a spoon to press the potatoes through the sieve. Doing this, rather than simply mashing the potatoes, ensures the gnocchi are fluffy and soft rather than gummy and tough. 
STEP 9
To the bowl with the potatoes add the wild garlic puree, 1 tsp salt and 150g flour. The ratio of flour to potato should be 1:4, so you can adapt that to the amount of potato filling you had after you removed it from the potato skins. 
STEP 10
Use a spatula or spoon to stir the potatoes, wild garlic, flour and salt together until they form a scrappy dough. Transfer that dough onto a surface and use your hands to gently knead it 5-6 times, until the dough comes together. Wrap up the dough and let it sit in the fridge to rest for 15-20 minutes. 
STEP 11
Once the dough has rested, transfer it onto a lightly floured surface. Use a knife to divide the dough into 4 parts. Roll each part into what look like very long sausages that are around 2.5-3cm thick.  Use a floured knife to slice them into 2cm-long gnocchi. 
STEP 12
Next, heat 4 tbsp plant based butter in a large frying pan over medium heat. Once the butter has melted and is bubbling, add the sage leaves, and cook them for 3-4 minutes until fragrant. 
STEP 13
In the meantime, bring a large pot of water to the boil. Add salt, and once the water is boiling, add your gnocchi in 2 batches, to avoid overcrowding them. Cook them for 1-2 minutes or until they float to the top. 
STEP 14
Use a slotted spoon to transfer the gnocchi into the butter and sage as you go, along with a small ladleful of the water the gnocchi were cooked in. 
STEP 15
Fry the gnocchi in the butter and sage for 2-3 minutes, then taste for seasoning and adjust to taste. Serve the gnocchi topped with freshly ground pepper and the crispy sage leaves. 
---
By Valentina Concordia
Valentina is our Food Editor, who dreams up our tasty dishes and recipes for our social channels. She has loads of experience cooking up a storm in Italian kitchens, so it's no surprise she can't live without good-quality olive oil (don't come between her and her olive oil) and fresh pasta.
---
Let us take care of dinner
After getting creative in the kitchen, give yourself the weekend off by letting us take care of dinner. Check out our delicious meals here.
Shop now