Lifestyle
A Guide To Cooking With Sumac: The Berry That Packs A Punch
4min read
Wondering what sumac is and how to cook with it? We've got you covered. Check out this guide for everything you need to know about this punchy and tart spice, complete with our favourite vegan recipe using sumac that we know you'll love.
What is sumac?
Sumac is widely used in Iranian cooking, where it is a key ingredient in a lot of traditional dishes, but is relatively under the radar outside the Arabian world. It's a spice made from berries, a plant known as Rhus coriaria. The berries are dried and ground up to create sumac. 
Sumac has a distinctly sour and earthy flavour that adds a citrusy note to lots of dishes. It's extremely versatile as a spice and has a tartness ideal in dishes that require a lemon or lime. It also has a coarseness to it that is textually interesting in lots of dishes, most similar to freshly ground peppercorns. If you know what za'atar is and have used it before, then you've probably had sumac before. Sumac is a key spice used in a za'atar spice mix, which is combined with sesame seeds, salt, and sometimes oregano. Known for its distinct crimson red colour, sumac makes a beautiful and worthwhile addition to your spice rack. 
Where to buy sumac
Despite being relatively underrated outside of the Arabian world, it is generally very easy to find in the UK. Major supermarkets like Asda, Tesco and Waitrose stock it in their spice aisles. You can also find it at your local continental supermarket or world food store.
How to cook with sumac
Sumac works amazingly well in a variety of ways when it comes to cooking. It works really well as a dry rub for vegan meats and vegetables that you want to roast. Combined with other herbs and spices, it can brighten up any veggies that you want to put under the grill. 
It is also delicious on its own though, and is an easy way to transform your food. In Iran, it is put at the table with salt and pepper as an extra condiment to add to dinners as you like. Just as you might add a wedge of lemon or lime to some of your dishes, sumac can be sprinkled on salads, soups, rice dishes and more for a hit of zing.
Vegan recipe using sumac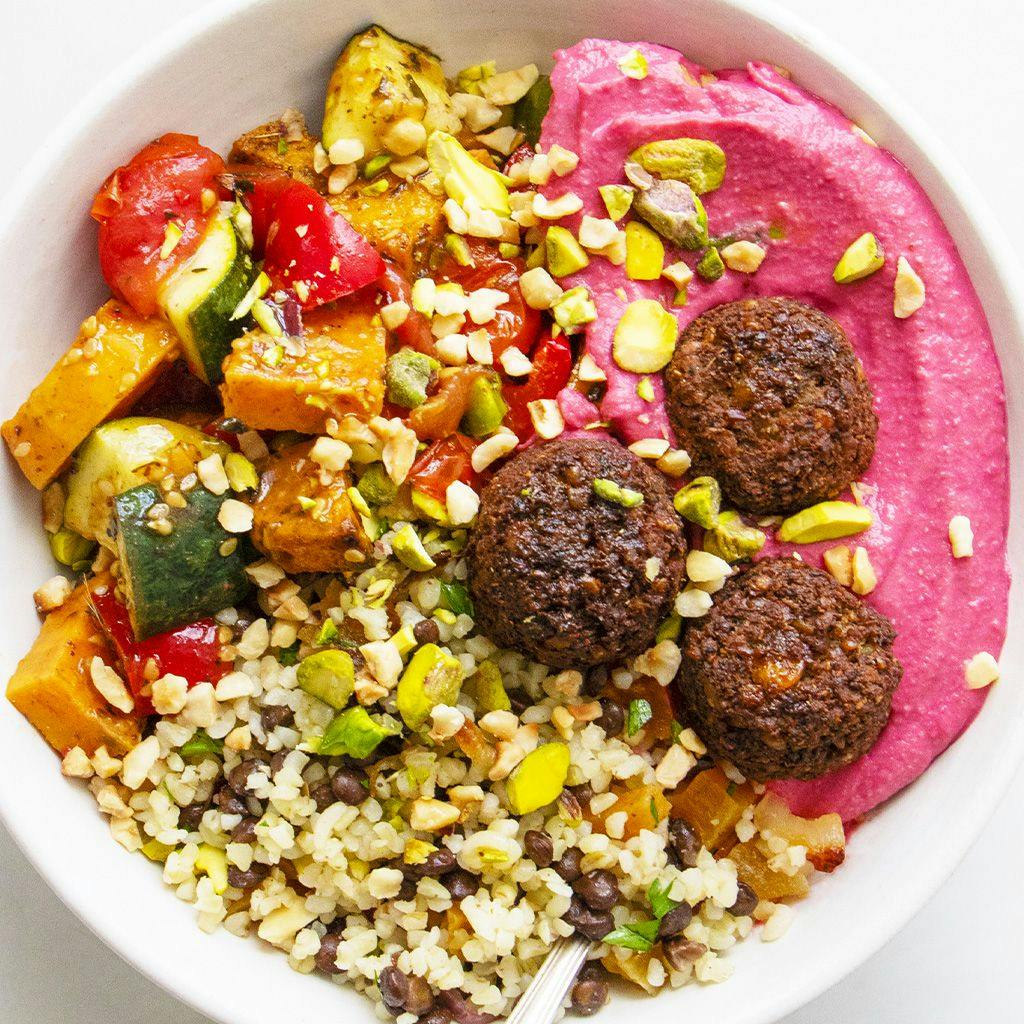 So, what to know what you can cook with it? Try our rainbow falafel mezze. Crispy falafel, beet hummus, juicy roasted veg and a fluffy bulgur wheat puy lentil salad form this excellent dish, and a teaspoon of sumac in the marinade adds an incredible tartness to the roasted vegetables. Have a go making it yourself for a colourful, flavourful and knockout dish.  
---
By Toni Olukiran
Toni is one of our lovely Content Marketing Assistants, and when she's not writing posts about everything from Jamaican cooking to vegan champagne, she's making a Spotify playlist (she was at 200, at her last count) or playing tennis in the park.
---
Let us take care of dinner
We help to make eating more plants easy and delicious. Fancy letting us take care of dinner? Check out our delicious meals here.
Shop now