Lifestyle
Find a michelin-starred vegan menu in the uk
10min read
We've trawled through this year's Michelin Guide so you don't have to. Here's our guide to the best British fine dining options to satisfy all your plant-based party needs.
Where to find Michelin Stars in London
London is a hub for fine dining; here are our tops picks in the capital:
Ikoyi, London SW1Y
Creating innovative West African cuisine using ingredients such as Grains of Selim (a smoky peppercorn that smells like eucalyptus) and ube, Ikoyi is definitely somewhere to go if you're looking to try something different. Its plant-based taster menu is simple yet enticing and definitely on our list.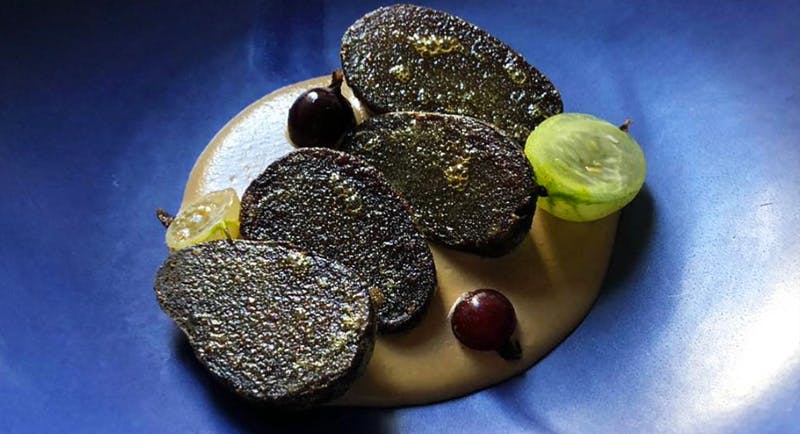 Photo credit: Ikoyi | Confit violetta potatoes with egusi sauce and gooseberry
La Chapelle, London E1
Awarded its first Michelin Star in 2011 La Chapelle the third restaurant-baby of chefs Chris and Jeff Glavin. They serve up French cuisine and pride themselves on providing a menu that has classical undertones finished with a modern gloss. They are also passionate about their plant-based food. You can find their vegan menu at the bottom of this page; £55 or £120 with wine.
Pollen Street Social, London W1S
Pollen Street Social — a self-proclaimed casual, contemporary and customer-oriented bistro — uses seasonal, British-grown produce and offers a Michelin-starred vegan tasting menu for £85 per person (with classic, fine or iconic wine flights available at an additional £91, £160 or £253 respectively).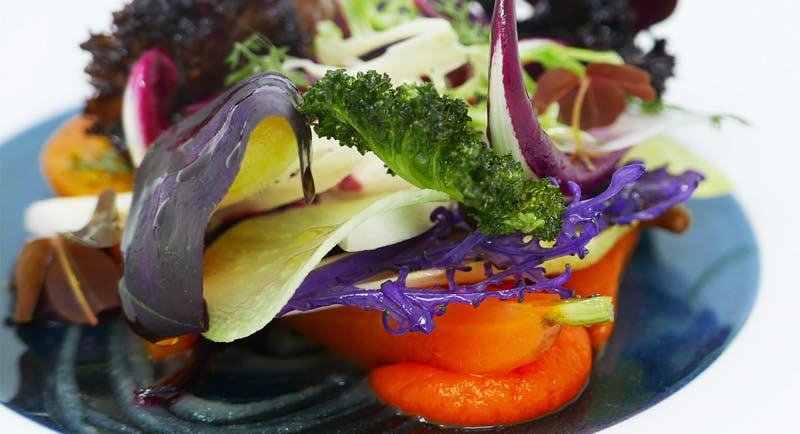 Photo credit: Pollen Street Social | British garden vegetable salad
Restaurant Gordon Ramsey, London SW3
Restaurant Gordon Ramsey does not offer a vegan sample menu but, if you have cash to splash and reserve your table well in advance, they will create a bespoke menu (a la carte or prestige) for £120 or £155 per person, based on your personal tastes.
The Ritz restaurant, London W1J
Similarly, The Ritz Restaurant offer a Michelin-starred vegan menu as standard and its as much about the decadent setting as the food itself.
Pied à Terre, London W1T
Retaining a Michelin Star since 1993, there are a range of plant-based options available at Pied à Terre. They provide gourmet Eurpoean-inspired food, and it's great value for money. Its ten course vegan tasting menu is £94 but they have lighter lunch, pre-theatre and a la carte options available too, starting £33.
Social Eating House, London W1F
In the heart of Soho, Jason Atherton's Social Eating House is a contemporary, informal bistro set above a speakeasy-style bar. Their a la carte vegan menu is reasonably priced with a three-course meal setting you back around £43. The cocktail menu is impressive too.  
Trinity, London SW4
Trinity, serving inspirational, seasonal and delicious Michelin Starred food, have vegan lunch and dinner menus that are available on request. Adam Byatt, Trinity's "truly British" chef and founder, has developed a divine vegan menu priced at £50 per person. Dishes may vary but seasonal ingredients might include: pumpkin, quince, bitter winter leaves and truffle.
Yauatcha, London W1F
Another Michelin-starred restaurant that doesn't offer a full plant-based menu but does offer a huge range of vegan-friendly dishes. Yauatcha is an internationally renowned Dim sum teahouse that offers contemporary Cantonese food. As well as an array of dim sum, options include: Crystal Dumpling Wrap with pumpkin and pine nut; Vegetarian Hot and Sour Soup with trumpet mushroom; Fried Vegetarian Duck and Three Style Mushroom Cheung Fun.
Where to find Michelin Stars elsewhere in the UK
However, Michelin Stars are not confined to the capital; if you're elsewhere there are still delicious options for plant-based fine dining. From Land's End to John o' Groats. Nearly.
The Olive Tree, Bath
Again, offering modern twists on British classics, Chris Cleghorn's The Olive Tree is one of Bath's longest-running eateries. It's Vegan Seven menu uses local, seasonal ingredients and is priced at £75 (add wine for £47.50. Why not?)
The Hind's Head, Berkshire
One of Heston Blumenthal's establishments, The Hind's Head in Bray is quintessentially British both in its setting and its take on Michelin-starred vegan food. While it doesn't offer a full plant-based menu, its options are plentiful and served on request. Choose from the likes of pea and mint soup, wild mushrooms on toast and roast cevenne onions; all with a Heston twist.
Adam's, Birmingham
Originally intended as a two-year pop-up and now rated by Trip Advisor as the best restaurant in Birmingham (and the 2nd best restaurant in the whole of the UK), Adam's is well worth a visit. They offer a vegan menu on request that includes seasonal dishes like salt baked baby carrots and celeriac with sea vegetables and charcoal. See a sample plant-based menu here.
Restaurant Nathan Outlaw, Cornwall
Renowned for seafood rather than vegan food, restaurant Nathan Outlaw prides himself on his simple, honest and sustainable approach to food. However, he does in fact offer up an impressive vegetarian menu (which also happens to be plant-based) for £90, with a matching wine flight for an additional £75.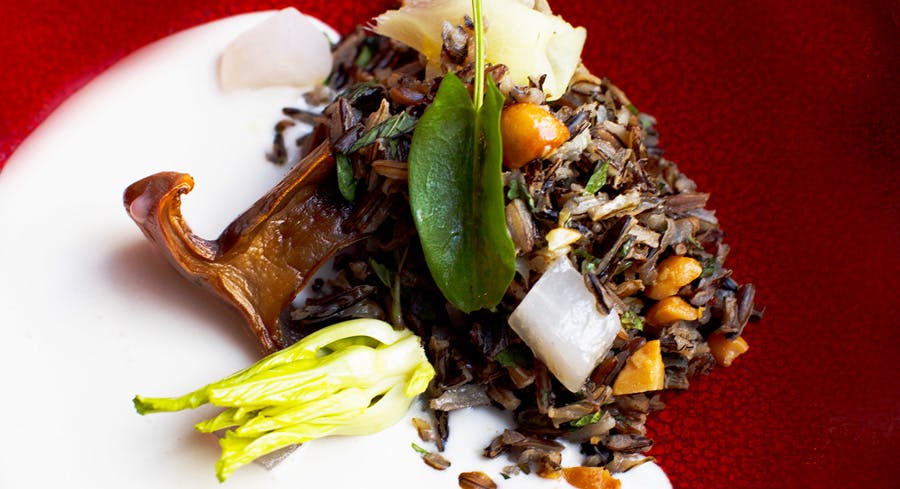 Photo credit: Texture Restaurant
The Northcote, Lancashire
Lisa Goodwin Allen's restaurant in Lancashire, offers traditional northern grub with a posh, modern twist and is all created using locally sourced produce. She offers a 6-course plant-based tasting menu for £67 (the accompanying wine flight is an additional £74.50) or a 4-course menu for £58.
Winteringham Fields, North Lincs
Winteringham Fields is probably the most inclusive Michelin-starred restaurant on the list; actively promoting its plant-based delights and including all sorts in the list of dietary requirement they are happy to accommodate for. Their food is prepared using homegrown ingredients so it is literally field to fork.  A sample menu from chef, Colin McGurran, can be found here.
The Pipe and Glass Inn, East Yorkshire
A family-run affair, the Pipe and Glass in was awarded its Michelin Star in 2010 and has retained it ever since. Their vegan menu is simple yet delicious with options like sautéed heritage potato served with pickled beetroot, autumn wild mushroom, watercress and walnuts on the menu for £16.
The Cross, Warwickshire
A two-course meal at the newly Michelin-starred pub in Kenilworth will set you back a reasonable £32. On offer are traditionally British-inspired meals, like caramelised roots and roasted hen of the woods mushrooms. A sample vegan menu can be found here.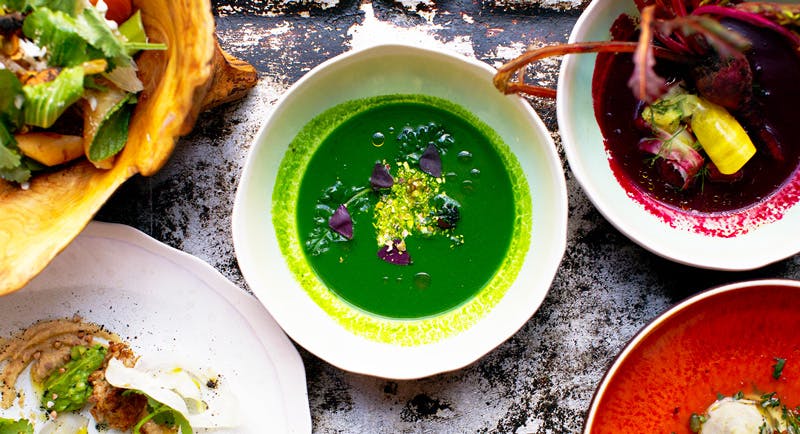 Photo credit: Texture Restaurant
Top Tip:
While many of these restaurants do offer vegan menus as standard, it's always best to call ahead to make sure; giving plenty of notice means they have more time to prepare something incredible.You can thank us after…
Are you lucky enough to have visited any of these restaurants? Know any other great places that offer posh plant-based nosh? If so, we'd love to hear about them.
---
By Munjeeta Sohal
MJ is a freelance writer, avid reader and habitual ruminator (and user of fancy words). She couldn't live without books and her cats. On her days off, you can find her cycling up and down the Lea Valley, searching for a great vegan recipe to cook, or, well, reading her book with her cats.
---
Let us take care of dinner
We help to make eating more plants easy and delicious. Fancy letting us take care of dinner? Check out our delicious meals here.