Lifestyle
Plant-based Sweets: The Ultimate Guide
10min read
Sweets can transport us back to our childhood but, as a more mindful eater, finding sweets that don't use gelatine or other animal products can seem like a bit of a minefield. The good news? There are actually loads out there.
From existing childhood favourites to newer brands creating deliciously health-conscious options, we've created the ultimate guide to finding the perfect plant-based sweets as well as a list of ingredients to look out for.
12 sweets you didn't know were vegan
Whether accidentally or not, we've done the research so you don't have to. The results: a lot of your sugary highs don't even need to be reconsidered.
Candy Kittens
Colourfully polka dotty and full of flavour. What's not to love? The Wild Strawberry, Blueberry Bliss, Peach Fizz and Sour Watermelon flavours are all made using their new vegan recipe. As well as their regular bags that can be found on the high street, they also do the cutest little sweet jars.
Haribo Rainbow Range
Most Haribo sweets do contain gelatine, but, if it's Tangfastics you're missing, you're in luck. There are a handful that don't and they are the ones that will make your eyes go squinty: Sour Rainbow Strips, Twists and Spaghetti are all suitable for vegans.
Jelly Tots
Yes. We know. The day we found out that Jelly Tots were accidentally vegan, our lives became exponentially better. You can thank us later.
Lemon Sherbets
One of our favourite vegan hard candies, lemon sherbets are 100% accidentally vegan. Also useful to fill the gap while you give your jaws a rest after all the jelly sweets.
M&S Own Brand
Not just sweets. These are M&S sweets… And they're streaks ahead of other supermarkets... Shower your vegan vibes in:
American Hard Gums
Fizzy Pop Sweets
Fizzy Whizzy Cola Bottles
Fruit Crumbles
Fruit Gums
Fruit Pastilles
Fruit Sherbets
Mixed up Meerkats
Red and Black Gums
Retro Summer Pudding Sweets
Veggie Colin the Caterpillar Fruit Sours, Fizzy Rainbows and Curly Berry Gums
Very Cherry Jellies
Wine Gums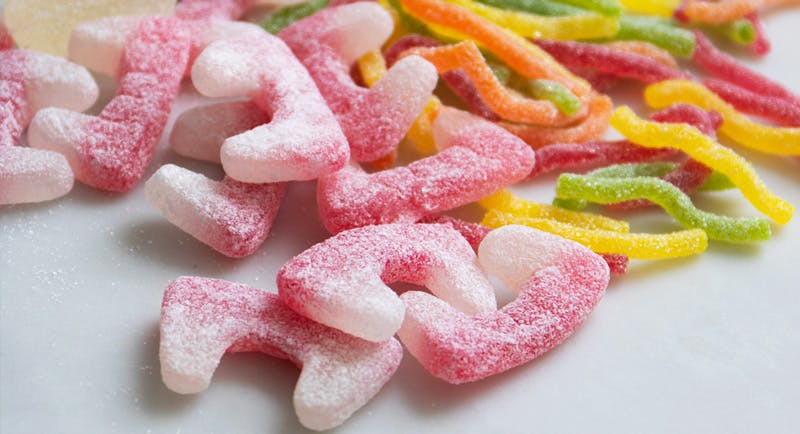 Millions
Yes: teeny, tiny, satisfyingly chewy and completely plant-based. All 9 flavours too, including the new Vimto ones.
Sherbety Snacks  
Sherbet Fountains, Sherbet Dib Dabs and Flying Saucers are all vegan-friendly. Even if these weren't your favourite option as a child, Sherbet might just be your sweet saviour.
Swizzels
Firm childhood favourites, Swizzels are a plant-based dream. So many of their products are suitable for plantivores. Choose from: Double Lollies, Fruity Pops, Love Hearts, Fizzers, Refresher Choos, Drumstick Choos, Rainbow Drops, Parma Violets and Vimto Chew bars.
Skittles
Both Skittles and the new Skittles Chewies are on our list. Decide if you want the traditional crunch of the shell or the softer texture of the shell-less Chewies. Yum.
Fox's Glacier Sweets
Hard-boiled sweets always remind us of aeroplane rides, so why not grab a packet and pretend you're on holiday?
Starburst
Both Starbursts and new Starburst minis are vegan-friendly. We love the minis: all the taste, none of the unwrapping and four flavours in one mouthful.
Tooty Frooties
Crunchy on the outside and chewy in the middle, Tooty Frooties are our go-to when we want something a bit chewier than Skittles but not quite as chewy as Millions.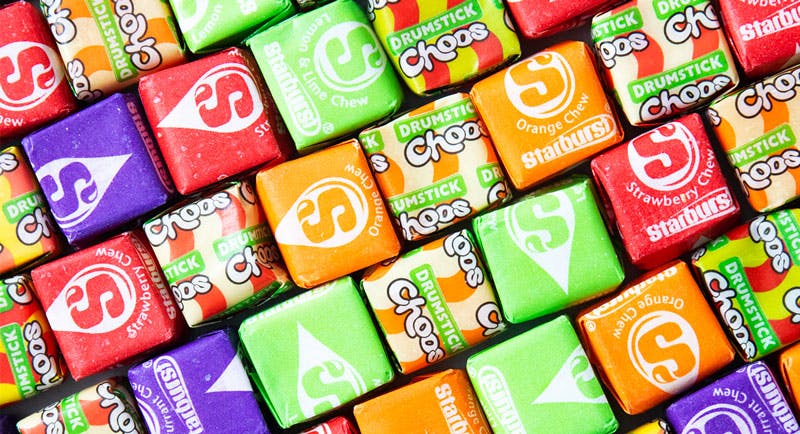 6 of our favourite completely vegan sweets
As eating more plants becomes more fashionable, new brands join the movement. Their spoils are just as good as our existing favourites and much more health-conscious.
Biona
Biona does sweets. Jelly sweets. And they are delicious, organic and free from almost everything. We didn't know either. Check out their amazing range.
Free From Fellows
Their entire range does exactly what they say on the tin. Free from everything, but full of flavour and chew.
Goody Good Stuff
9 varieties of vegan-friendly good stuff: berry mix, sour mix & match, gummy bears, cola, peach, fruit salad, strawberry cream and tropical fruit. Our favourites are the tropical fruit jellies and the gummy bears. Who doesn't love a gummy bear?
Just Wholefoods
Organic fruit jellies that are gluten and gelatine free, and made without artificial colours, flavours or sweeteners. They are less like gummy sweets and more jelly-like, think more along the lines of Bear Yo Yos: all the taste and all the goodness, but for grown-ups (and kids).
Strawberry Laces' Vegan Sweet Hampers
If you're planning something special, these Vegan Sweet Hampers are a treat. They contain: Fizzy Cola Bottles, Rhubarb & Custard, Flying Saucers, Fruit Jellies, American Hard Gums and Sherbet Lemons and are housed in a delightful corrugated cardboard box with organza ribbon. The cola bottles are a-mazing!
Yum Earth
Available online, Yum Earth offers a huge range of vegan candy: lollipops, liquorice, jelly beans, and some are even packed with Vitamin C.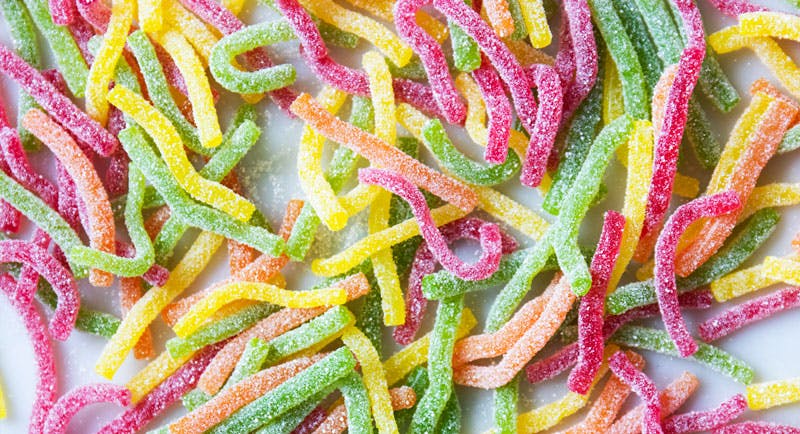 Navigating Pick n Mix...
This is the fussy sweet-eater's biggest challenge. As plant-based pros, we've tried our best to make this easy, but your striped bag of cinema-friendly snacks may need to be considered.
Candy King
Available in supermarkets and cinemas, Candy King's pick 'n' mix sweets are clearly labelled as gelatine-free. While there isn't a huge range of vegan-friendly sweets, some examples are: the red and rainbow Metres; blue raspberry bonbons and sour dracula teeth.
The Conscious Candy Co.
The Conscious Candy Co, though, is on a whole other level. Launched in November last year, it is your one-stop-shop for all things pick 'n' mix. You can order a 1kg box of 30 — yes, you read that right, 30 — types of randomly selected sweets to bag up and take on the road. Also on offer is a monthly subscription box or simply buy a selection of your favourites in 200g bags.
If you're trying to sweeten up, look out for:
In case you're not sure if your favourite sweets contain animal products, here are the most common ingredients to look out for:
Gelatine (E441)
Milk and milk derivatives, like: butter, whey and sodium caseinate (E469)
Beeswax (E901)
Shellac (E904)
Carmine (E120)
Have any questions about the sweets above? Or want to tell us about your favourite vegan sweets? We'd love to hear from you!
---
By Munjeeta Sohal
MJ is a freelance writer, avid reader and habitual ruminator (and user of fancy words). She couldn't live without books and her cats. On her days off, you can find her cycling up and down the Lea Valley, searching for a great vegan recipe to cook, or, well, reading her book with her cats.
---
Let us take care of dinner
We help to make eating more plants easy and delicious. Fancy letting us take care of dinner? Check out our delicious meals here.