Lifestyle
Toni Tries: Tabitha Brown's Carrot Bacon (and She's Obsessed)
3min read
Vegan chef and America's favourite mum made waves on the internet with her simple carrot bacon recipe via Tiktok. I decided to try it and see whether it was worth all the hype (SPOILER: It most definitely is).
Like lots of people, I decided to download Tiktok at the start of the March lockdown, getting inspiration for everything from funky eyeshadow looks to how to make your own plant milk (more on that in another blog post). I particularly love the food part of TikTok, where people around the world share their favourite comfort foods from the comfort of their own kitchen — a world away from studios and test kitchens that usually features on other platforms. 
Enter Tabitha Brown, who managed to get millions of users to follow her with a funny, endearing and just plain entertaining video of her making carrot bacon. It had the vibe of your favourite/coolest aunt sending you little videos or Snapchats about her food that day, which is why so many people loved the video and Brown's energy. There was absolutely nothing glamorous about it, nor did it particularly show off any impressive cooking skills — which is exactly why it became so viral. Brown explains how to make the snack without pretences and instead makes plant-based food accessible to the masses, which was absolutely a breath of fresh air. Say what you want about TikTok, but I think it's great to see diverse vegan chefs are getting a platform through the app. Though they make completely different content, Tabitha Brown and TheKoreanVegan are exceptionally popular vegan chefs on the app and I'm not sure I would've found out about them otherwise.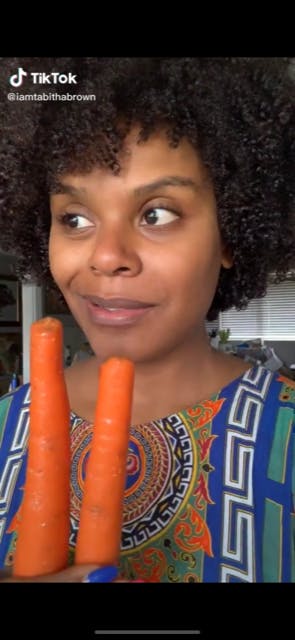 Tabitha Brown's viral tiktok
I saved the carrot bacon video initially because it made me laugh, and then because I did genuinely want to have a go at making the recipe. I will admit to being a bit sceptical at first — it just didn't feel plausible that carrots could in any way, shape or form emulate bacon, but I was open to being surprised. After all, it only takes six ingredients and 20 minutes. Bacon is one of the top foods that those on a plant-based diet can struggle without, as the flavour is pretty hard to replicate. In spite of that, Tabitha came through with this recipe that is simply delicious. 
Brown's carrot bacon recipe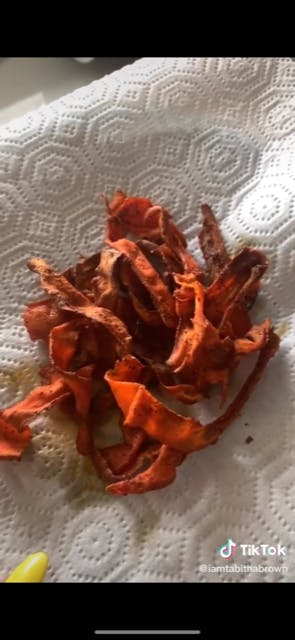 Brown's own carrot bacon
It's a super simple recipe, as Brown explains in the video: simply shave the carrots into thin strips using a peeler for a large surface area. These strips are then brushed with the bacon seasoning. Tabitha Brown's seasoning calls for:
Paprika 
Maple syrup
Garlic powder
Liquid smoke
Onion powder
Brown didn't say how much of each ingredient to use, so I eyeballed it in until there was enough to coat all of my carrot ribbons. I used around 2 tablespoons of the liquid smoke, 1/2 tablespoon of the maple syrup, and then a good few shakes of the spices. I felt them to marinate for around ten minutes (I am impatient!). She then put it in her air fryer, which I don't have so I used my oven, and baked them until they were crispy. I made two separate batches — one on a baking tray and one on a cast-iron skillet, and the skillet bacon ribbons were super crispy and took less time, too. I baked them for around 15 minutes, and as there was leftover marinade I spooned some of it on the bacon at the 10 minute mark for a lovely glaze.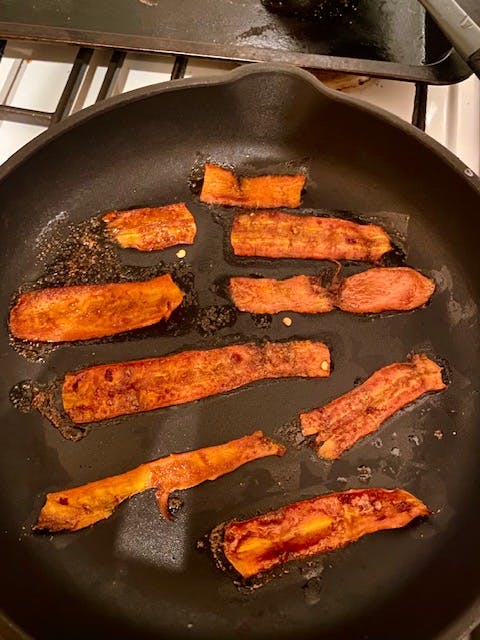 My carrot bacon, fresh out the oven
This stuff is game-changing. No, really. This marinade created smoky, crispy carrot bacon, and though it doesn't taste entirely like the real thing, it is truly delicious in its own right. The marinade is simple but I can also see the potential it has in other food, like to glaze aubergines with, or maybe even to marinate jackfruit in. I had never used liquid smoke before but it was honestly so great at giving the carrot a smoky and meaty quality to it that you expect from bacon. I could see myself making this whenever I have a craving for crisps, which is pretty often... 
Final thoughts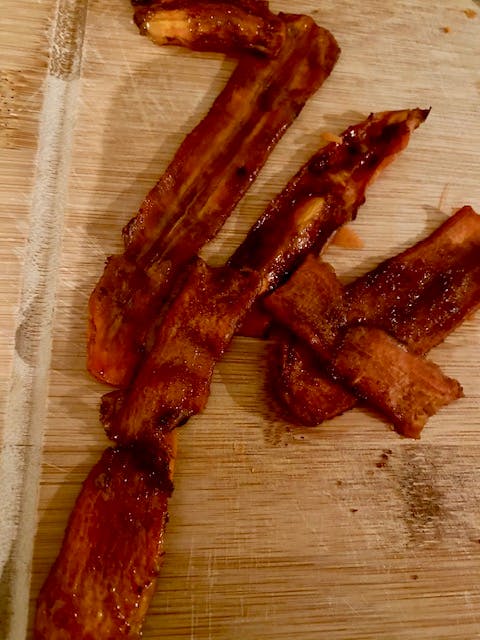 More poor quality but delicious-looking pictures of my carrot bacon
Though my bacon does not look like Tabitha's, can we just appreciate together how much like bacon mine looks?! I'm shocked. Tabitha truly deserves all the hype in the world for this one. So simple, but so, so delicious. It has potential for anyone following any diet to appreciate and enjoy, and I think it is largely due to the use of liquid smoke. I am eternally grateful that Tabitha Brown has revealed this hero product to me because I now seem myself chucking it in wherever I can. 
It's quick, it's easy, and it's cheap considering I already had almost all the ingredients in the cupboard anyway. One thing to note: as good as the liquid smoke is, it took a little bit of hunting down as it isn't sold at my local supermarket. I did manage to find it at Waitrose, and you can find it and order it online via places like the Vegan Kind Supermarket, however, these can be pricier than they would be in store. Liquid smoke appears to be quite an American thing, but I will say the investment towards buying a bottle is worth it. I will definitely be making a big batch of vegan carrot bacon with any leftover carrots that are on the verge of going off, and I will certainly eat them like crisps, as is my business.
Value for Money: 5/5
Good Quality: 4/5
Easy to use/make: 4/5 
Overall rating:  4/5
---
By Toni Olukiran
Toni is one of our lovely Content Marketing Assistants, and when she's not writing posts about everything from Jamaican cooking to vegan champagne, she's making a Spotify playlist (she was at 200, at her last count) or playing tennis in the park.
---
Let us take care of dinner
We help to make eating more plants easy and delicious. Fancy letting us take care of dinner? Check out our delicious meals here.