Lifestyle
Food Diaries: Max La Manna, the Zero-Waste Chef
by Emily Neill
7min read
Having been totally waste-free for just over 1000 days, we chatted to Zero Waste Chef, Author of More Plants Less Waste, and sustainability King, Max La Manna about his plant-based lifestyle. He shares some tips for how we can all make a few smaller changes to our plates each day to live a little more sustainably.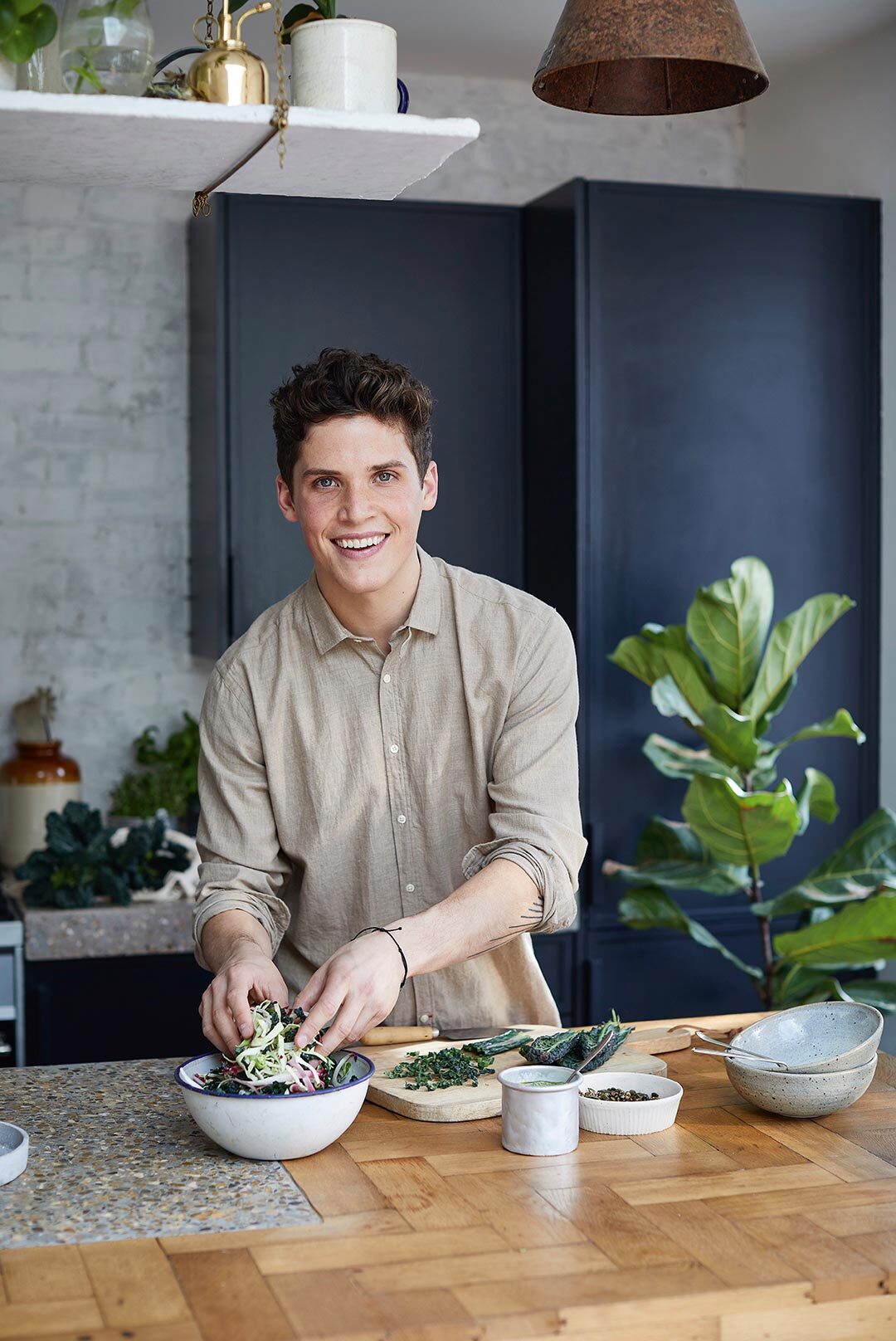 Food diary: talk us through what you eat in an average day
The very first thing I do when I wake up is drink some warm water to hydrate. I typically wait a few hours before I have my first meal, so I'd usually eat breakfast around 10 am.
Breakfast: My go-to is porridge. I love to have this with some coconut yoghurt, nut butter, cacao nibs, warm spices, fresh fruit, and some golden syrup. There always has to be a sprinkle of some sea salt too. The mix of sweet and salty is amazing. 
Lunch: At the moment, I'm loving chickpea 'tuna' with sweetcorn. This is a no-cook meal, and really is a one-bowl treat. I usually add whatever veg I have in the bottom drawer of my fridge; simply chop and grate your veg, add to mashed chickpeas, add some tahini, mustard, apple cider vinegar, capers and even some cornichons. I've been serving this on some of my fresh sourdough bread that I've been baking throughout lockdown. Topped with some fresh herbs, lettuce and tomatoes. 
Dinner: I love pasta, and my favourite at the moment is pesto pasta which my wife Venetia and I eat at least twice a week. I've been growing basil which I use for the pesto, then throw in some frozen peas, and add some more veggies. It really is a green monster of a pasta bowl. 
What made you make the switch to a plant-based lifestyle?
I was brought up believing that I should eat well, take care of my health and nurture my body; your body is a vehicle to take you to places, so wellbeing really has been the centrepiece to everything. I've also always been surrounded by food; my father had three fast-food restaurants, my mother had a veggie patch, and I've always worked in restaurants. 
I've been consistently vegan for four years now. The sustainability element of what we eat came into play around three years ago; I decided to research what actually happens to the food I was throwing away from my fridge whilst making a meal in New York. It was then that I realised the impact food waste was having, so I wanted to make a change. I've now spent a little over 1000 days food-waste-free, and am continually learning each day about this new way of living and cooking. 
What are your top tips for getting started with growing your own herbs and veg from home?
Growing herbs at home has been such a treat for me, especially during lockdown. With every herb, you're adding life to a dish. The easiest herbs to grow are the more leafy types, like basil, coriander and mint. Simply place the herb trimming in water (leaving the top 4 leaves on the trimming), in a cup or glass jar. Make sure your plant has some light, but you don't want any harsh light on it — especially not in the early stages when it's quite delicate.   
The name of the game here is patience. It might be 12-14 days before you see any growth! But once roots start to appear, you can plant it in soil and have endless herbs all year round. 
What would you say is the one thing that people waste the most?
The first thing that comes to mind is money. We over-buy as a nation. 1.3 billion tons of food is wasted every year, and that's before it even reaches the supermarkets. 70% of food that ends up in landfill is from people at home, and you've paid for that ingredient to come into your home. 
But there doesn't need to be this level of waste; the stale bread, tops of peppers, carrot tops, and broccoli stems that are seen as inedible or not useful can all be used. Food should never have to enter a landfill. All veg has come from soil, so can, therefore, go back to the soil; the last resort should always be compost. 
How can people reduce their food waste?
My tip would be to start small and shop smarter. Share food with friends, make your own vegetable-based stock or pickle the food you think you won't get to in time; pickle a jar of peppers, cauliflower, carrots. Next up, I want to can tomatoes, so I can have the flavour of fresh summer tomatoes throughout winter.
What are 3 things in your cupboard that you couldn't live without?
This is hard but it would have to be: some organic peanut butter (definitely crunchy), a really good olive oil, and nice finishing salt.
Thanks Max! Keep up to date with Max's plant regrowth journey on his Instagram @maxlamanna, and get your hands on Max's waste-free cookbook "More Plants, Less Waste" for plant-based recipes and zero waste life hacks here.
---
By Emily Neill
Emily is our Content and Community Assistant by day, and qualified PT by… later that day. She couldn't live without exercise (makes sense) so can usually be spotted in her favourite spin class, with our Three Mushroom Risotto for afters. 
---
Let us take care of dinner
We help to make eating more plants easy and delicious. Fancy letting us take care of dinner? Check out our delicious meals here.