What is the Keto diet?
Why follow a keto food plan?
What is vegan Keto?
Vegan Keto meal plan
Are there cons?
What is the Keto diet?
A keto food plan focuses on a high fat, high protein diet, whilst significantly limiting your carbohydrate intake. This macronutrient ratio forces your body into ketosis - a process by which your body burns fat, making things called ketones, which it uses for energy (as opposed to using glycogen from carbohydrate as its immediate energy source).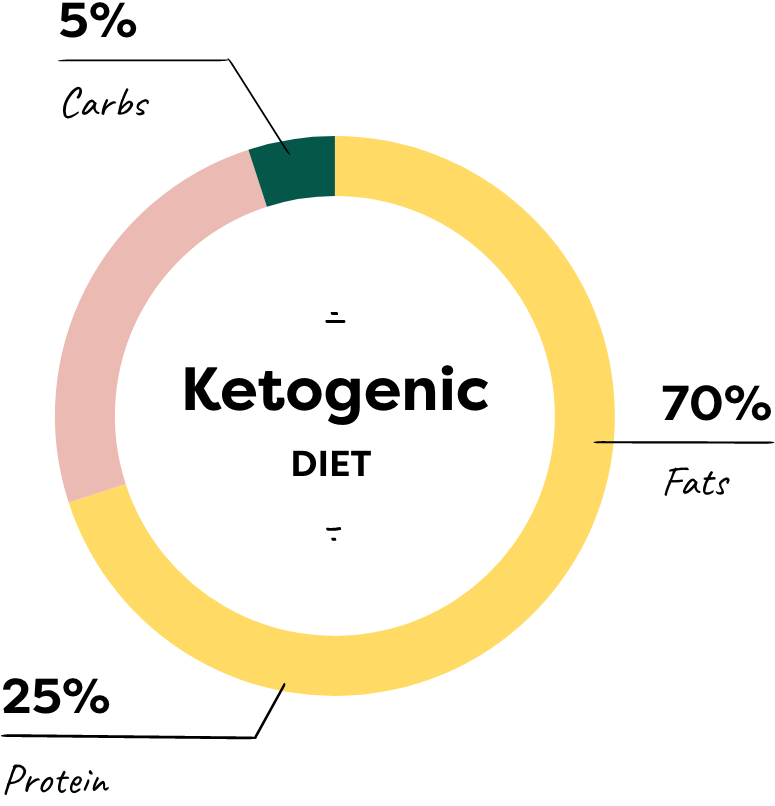 We run on two different types of fuel: glucose (from the carbohydrates in our food) and fat. Carbohydrates are readily broken down into glucose, and are the body's first source of fuel for the body. However, the reduction in carbs that the Keto diet entails eventually puts your body into a metabolic state called ketosis. When this happens our bodies switch to using fats as the principle source of energy, instead of carbohydrates. With less sugar available, our bodies start to convert fat in the liver into energy molecules called ketones that fuel the brain. 
Why follow a Keto food plan?

Epilepsy control – Keto was originally explored and developed as a treatment option for children with epilepsy as higher ketone levels are associated with improved seizure control. New studies have confirmed it as a successful treatment for some epilepsy patients and it's still prescribed today. 
Weight loss – The idea behind low-carb diets is that decreasing carbohydrates causes the body to burn stored fat for energy. Research showing positive impacts on BMI and cholesterol levels do in fact back up this theory. Carbohydrates are usually stored as glucose in your liver, muscles, and other cells for later use. Any excess is then converted to fat and stored in your body. The Keto diet is so low in carbs that, when followed, our bodies switch to burning fats for fuel. With time, even the brain can become fuelled by fat. And the next point explains why this is beneficial.
Less hunger – Due to the way that energy is released from fats as opposed to carbohydrates, blood sugar levels become stabilised on a keto food plan. This, in turn, reduces cravings for sweet foods and the urge for regular snacking (this is likely to contribute towards the diet's role in weight loss!). 
More energy – Many people report feeling more energised while on a keto food plan due to the consistent release of energy from foods that are low on the Glycemic Index (GI). This is directly compared to the peaks and troughs that can occur after eating simple carbohydrates as or sugary foods (such as baked foods and fruit juice). 
HEADS UP: it takes time for your body to adapt to the reduced reliance on sugars and won't happen overnight —sometimes  people experience reduced energy levels (known as keto flu) initially. But, once your blood sugar levels stabilise as a result of following the food plan, and your body adapts, this won't be the case. Skip to section four for more tips around the practical realities of the diet. 
A keto food plan has also been connected to reduced incidences of heartburn, the control of type II diabetes, fewer migraines and enhanced mental focus.
How is Keto different to Paleo?
Both of these diets aim to boost health, reduce intake of processed foods and aid weight loss but there are differences between the two: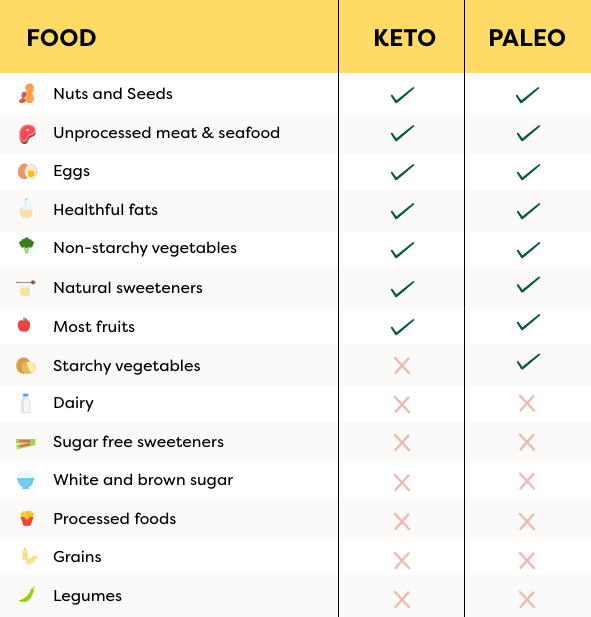 What is vegan Keto?

Just in case you were thinking that lowering carbohydrates and avoiding animal products was a little restrictive, we've provided the following list – which is just a sample – to show that those who follow a plant-based lifestyle still have plenty of choice when it comes to a vegan keto diet. 
With a little planning, vegans can absolutely reap the benefits of a ketogenic diet. And combined, the health benefits associated with a plant-based diet and those connected with Keto, provide plenty of reasons to give it a try!
What can you eat on a vegan Keto diet?
Protein + Fat Sources
Brazil nuts
Hazelnuts
Macadamia nuts
Pecans
Walnuts
Chia
Hemp
Pumpkin
Sunflower
Almond butter
Coconut butter/coconut manna ("meat" of the coconut)
Hazelnut butter
Macadamia nut butter
Peanut butter
Pecan butter
Sunflower seed butter
Tahini Walnut butter
Fat sources 
Almond oil
Avocado oil
Cacao butter
Coconut oil
Flaxseed oil
Hazelnut oil
Macadamia nut oil
MCT oil
Olive oil
Low carb veg
Artichoke hearts
Arugula
Asparagus
Bell peppers
Bok choy
Broccoli
Cabbage
Cauliflower
Celery
Chard
Cucumbers
Aubergine
Fennel
Garlic
Kohlrabi
Lettuce (all types)
Mushrooms
Mustard greens
Okra
Onion
Radishes
Rhubarb
Shallots
Spinach
Swiss chard
Turnips
Zucchini
Low carb fruits
Avocados (also fat source)
Coconuts (also fat source)
Cranberries
Lemons
Limes
Olives  (also fat source)
Raspberries
Strawberries
Tomatoes
Watermelon
Sauces + condiments
Chili sauce
Hot sauce
Mustard
Soy sauce/tamari
Salsa
Tomato sauce
Vinegar
Fridge staples
Apple cider vinegar
Pickles
Micro-greens (the seedlings of leafy herbs and edible plants) 
Sauerkraut
Sprouts (all kinds)
Tempeh  (protein source)
Tofu (protein source)
Cupboard staples
Almond flour
Artichoke hearts (tinned)
Baking powder
Baking soda
Coconut flour
Coconut milk (canned, full fat)
Cocoa or cacao powder
Dark chocolate (85% and up)
Jackfruit (green, canned in brine)
Nutritional yeast
Vanilla extract (most brands OK, but check for sugar)
Other low carb staple ingredients
Herbs and spices
Edamame
Kelp noodles
Kelp flakes
Shirataki noodles
Nori sheets
Roasted seaweed
Vegan Keto meal plan
If you're wondering how to follow a vegan version of Keto and you'd like to give it a go, here's a two day meal plan to get you started: 
Breakfast 
Chia pudding (can be prepped ahead as an overnight recipe for optimum efficiency!)
Lunch
Dinner 
Snack ideas
Mixed olives
Kale Chips
Roasted Nuts
Coconut yoghurt
Flax crackers + dip 
Nut butter (by the spoon!)
Are there cons?
One of the main cons is that you do need to reduce carbs to a significant amount to actually enter ketosis, so you've got to a) be prepared b) understand how to enter ketosis and c) be healthy enough to do. It's not a sustainable diet for everyone but if it is suitable for your lifestyle and you stick with it, you begin to feel more energised than before. The main challenge is maintaining the low carbohydrate intake. For a start, carbs taste great (right?) which makes avoiding them extra challenging. But the other challenge is getting past the initial energy slump. 
As with enjoying a plant-based diet, there's no risk of nutritional deficiencies if you're aware of what you're eating and follow a balanced diet. The good news for us is that whereas following a 'normal' ketogenic diet can lead to insufficient levels of fibre, because the plant-based options are higher in fibre, this isn't a concern for vegan keto-ers. 
The Keto diet isn't recommended for some groups of people, including those who are pregnant, breastfeeding or have:
Type I diabetes
gallbladder conditions
liver problems
pancreas problems
thyroid disorders