There's not much this city doesn't have to offer. Five universities, The Fab Four, The Three Graces, two world-famous cathedrals and one very hungry vegan. Here's our favourite vegan restaurants, cafes and bars in Liverpool. Don't spot yours below? Let us know over on Instagram. 
Best vegan food in Liverpool for... when you're craving something naughty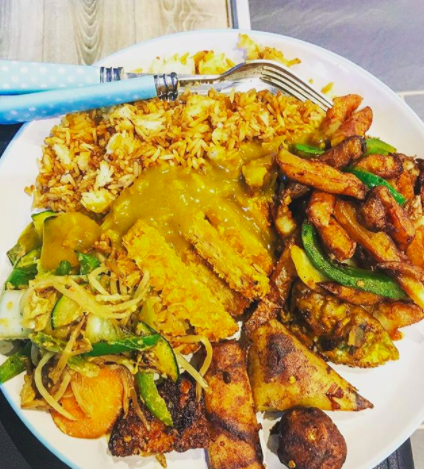 Photo credit: Wootan Scran
Where: 109-111 Lark Lane, L17 8UR
Ok, the award for the best restaurant name ever goes to the good people at Wootan Scran – Liverpool's famous vegan Chinese chippy. They serve up everything your heart desires from a chip shop with a delicious Chinese twist. From fried rice dishes, noodles, bao, burgers and a whole load of chips, you will not leave hungry. (Though sorry that you probably are right now).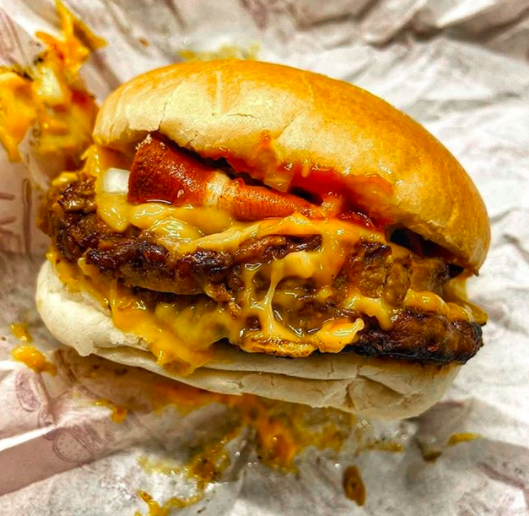 Photo credit: Frost Burgers
Where: 58 Wood Street, L1 4AQ
Vegan Insta addicts will recognise Monami Frost as one of the biggest influencers on the scene. Liverpool vegans are also lucky enough to know her as owner of Frost Burgers – a fully plant-based burger joint in the city centre. The menu bursts with delights such as the Bacon Free, Cheezburger and Fish Free options, and if you've got room, make sure you try the Frost Bites too. Consider your burger cravings cured.
Best vegan food in Liverpool for… when you need some vitamins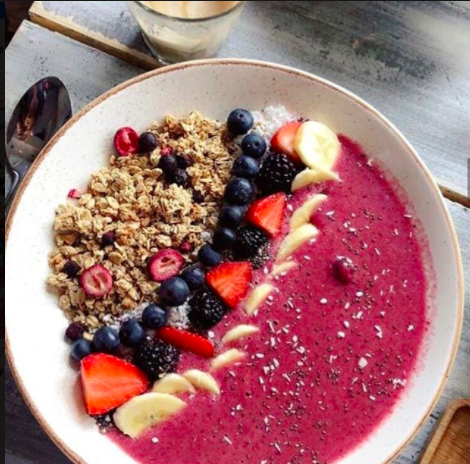 Photo credit: Love Thy Neighbour
Where: 3 Hatton Garden, L3 2EF
There's a reason this relatively new vegetarian spot has become a firm favourite for plant-based Liverpudlians. As well as being a great place to start a night out (their drinks menu is tasty) it's also a solid option to stock up on your fruits and veggies the morning after. We love their Buddha bowls (the sweet and spicy one is our fave) and recommend washing it down with a detox smoothie.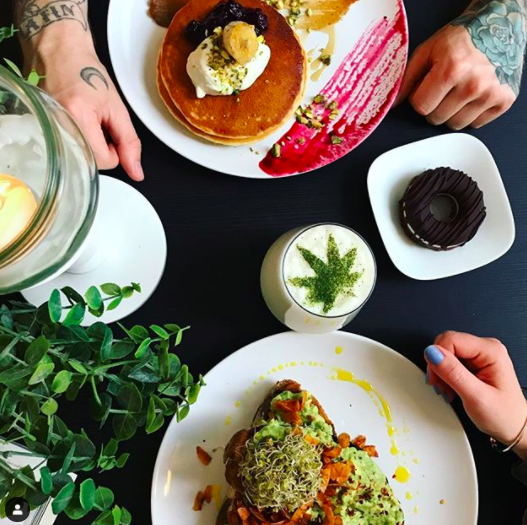 Photo credit: White Wolf Yoga and Kitchen
Where: 14 Cook Street, L2 9QU
Here you can live out your wildest vegan dreams by taking a yoga class and enjoying a nourishing treat afterwards (because some stereotypes are fair and awesome). The cafe and yoga studio is nestled in an old Victorian ballroom, making it the perfect place to get zen. We highly recommend refuelling with one of the hearty, wholesome salads and fresh juices for the best post-workout feast. 
Best vegan food in Liverpool for… when you're feeling fancy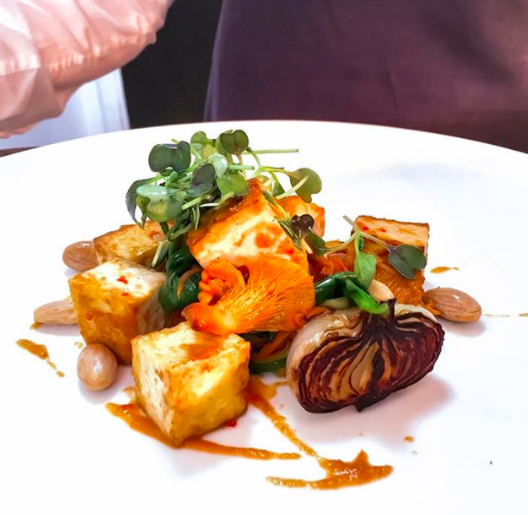 Photo credit: The Art School
Where: 1 Sugnall Street, L7 7EB
Sit back, relax and soak up the beautiful surroundings as you sample the vegan tasting menu curated by renowned chef Paul Askew. Delectable dishes include roasted celery hearts with pomegranate molasses, herb bulgur wheat, chickpeas, and sesame-wilted Swiss chard. Because there definitely is such a thing as vegan fine dining in the UK.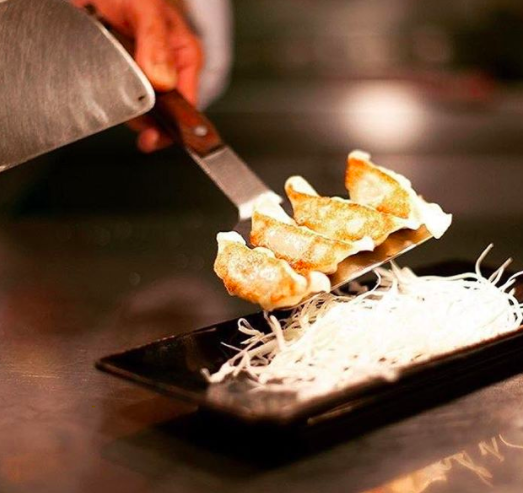 Photo credit: Sapporo Teppanyaki
Where: 134 Duke Street, L1 5AG
If you're looking for a dining experience with a show, look no further. A Japanese restaurant with an extensive vegan and vegetarian menu, Sapporo Teppanyaki's offers deliciously authentic Japanese cuisine with a western twist. As well as delicious food, the resident chefs provide a truly thrilling teppanyaki performance as they prepare your dishes right in front of you.
Best vegan food in Liverpool for... humble hipsters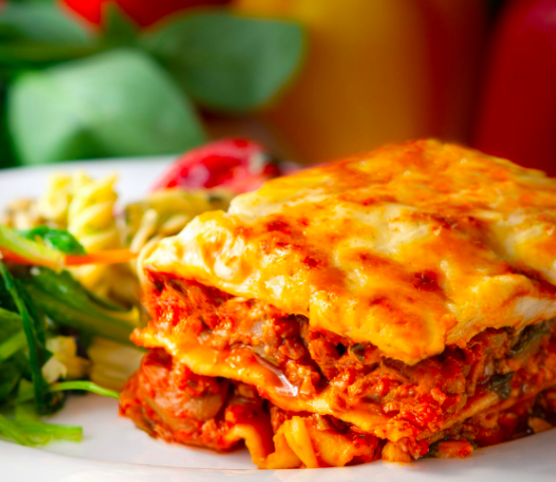 Photo credit: The Egg
Where: 16-18 Newington, L1 4ED
Are you even vegan or vegetarian if you don't take a trip to The Egg cafe? (No). The Egg is a creative, comforting refuge for the city's plant-based community and beyond. Expect stews, soups, pasta dishes and salads, with a slice of spoken word, life drawing classes and/or university society meet-ups. So take your notebook as you enjoy one of their tasty coffees and something sweet, as you just may get inspired.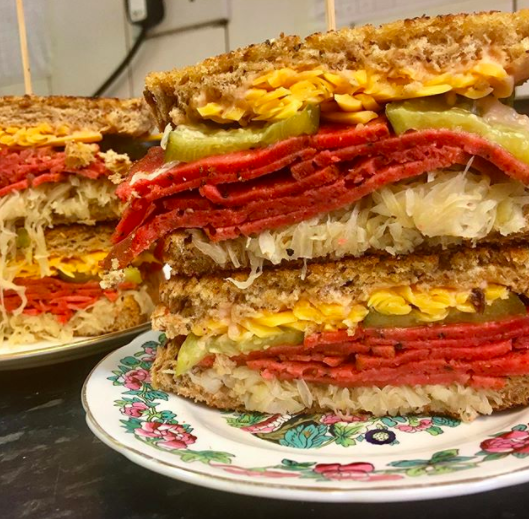 Photo credit: The Caledonia
Where: 22 Caledonia Street, L7 7DX
A firm favourite with students, this traditional English pub turned it up a notch when it went fully vegan in 2017. It's the perfect place to satisfy your pub grub cravings, in laid back surroundings. From corn dogs to ice cream cookie sandwiches, they put an interesting spin on the classics making sure that no vegan or vegetarian has to go without.