Lifestyle
What is Tempeh?
4min read
As the world becomes more curious about the realm of plant-powered food, the protein powerhouse tempeh is now cropping up in lots of restaurants menus and meal plans. Tempeh attracts the attention of vegans, vegetarians and the just the plain old plant-curious, and everyone asks the same question – what exactly is tempeh, and what is the difference between tempeh and tofu?
What is tempeh?
Tempeh is fermented soybeans that are cooked and packed to form a dense brick-like shape. It is traditionally from Java, Indonesia, and has been a staple of indonesian cuisines for somewhere between a few centuries to possibly even a couple thousand years. Jump back to present day, where one of Indonesia's most iconic street foods is Gorengan, translated to mean 'fried food', where tempeh is among the vegetables that gets given the fry treatment to make a lovely golden nugget topped with green onions. It's also traditionally used in gado-gado (meaning mixup-mixup), one of the most loved foods from indonesia. The dish consists of boiled long beans, spinach, potato, corn, egg and bean sprouts topped with cucumber and tempe, and finished with a classic peanut sauce. It's a staple in Indonesia.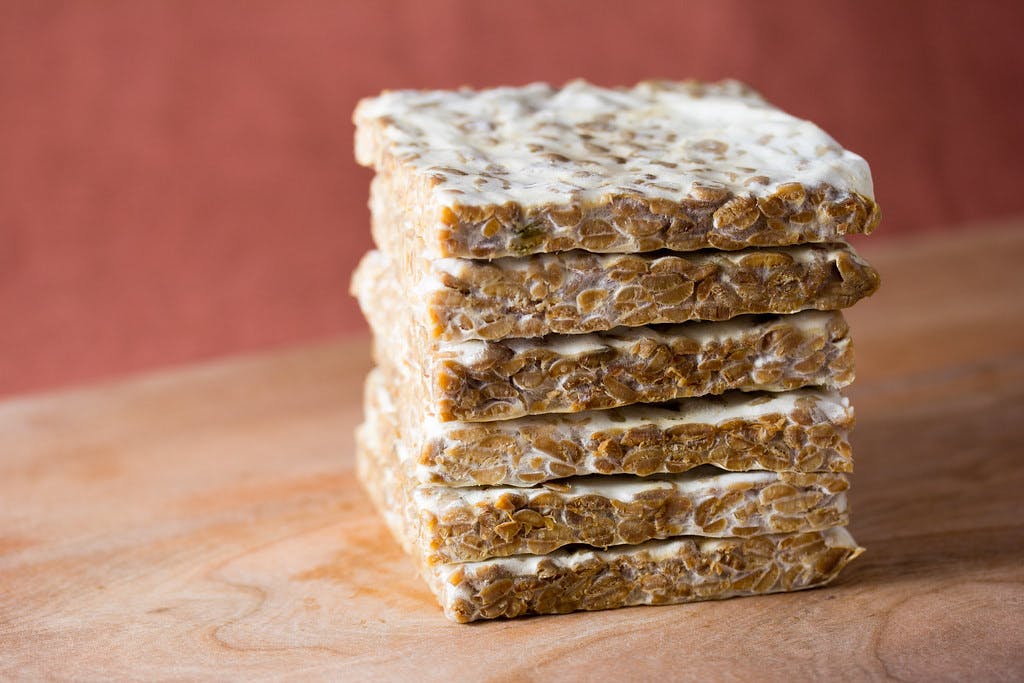 What does tempeh taste like?
Tempeh has a very subtle, savoury flavour that can be described as kind of similar to mushrooms. It also has a slightly nutty taste. This is good because, like tofu, it is great at picking up the flavours it is cooked and mixed with. People like to marinate tempeh before cooking it so that it soaks up flavours, but it also absorbs really well if cooked in curries and stews. 
What's the difference between tempeh and tofu?
While tempeh is made from fermented soybeans, tofu is made from condensed soy milk. The process of creating tofu is through coagulating soy milk which creates curds that are then pressed to form solid white blocks. The process of making tofu is different from tempeh as it is not a process of fermentation, but rather uses a method similar to cheesemaking!
Tempeh is higher than tofu in fibre due to the fact tempeh contains whole soybeans, and like tofu, it is a good source of iron. Tempeh is also higher in protein than tofu. 
A big difference between tofu and tempeh is also the texture. While tofu comes in different forms — silken, soft, firm, even extra firm — tempeh is consistently quite firm, which is great as it doesn't easily break down when cooked in sauces which people can find is an issue with tofu.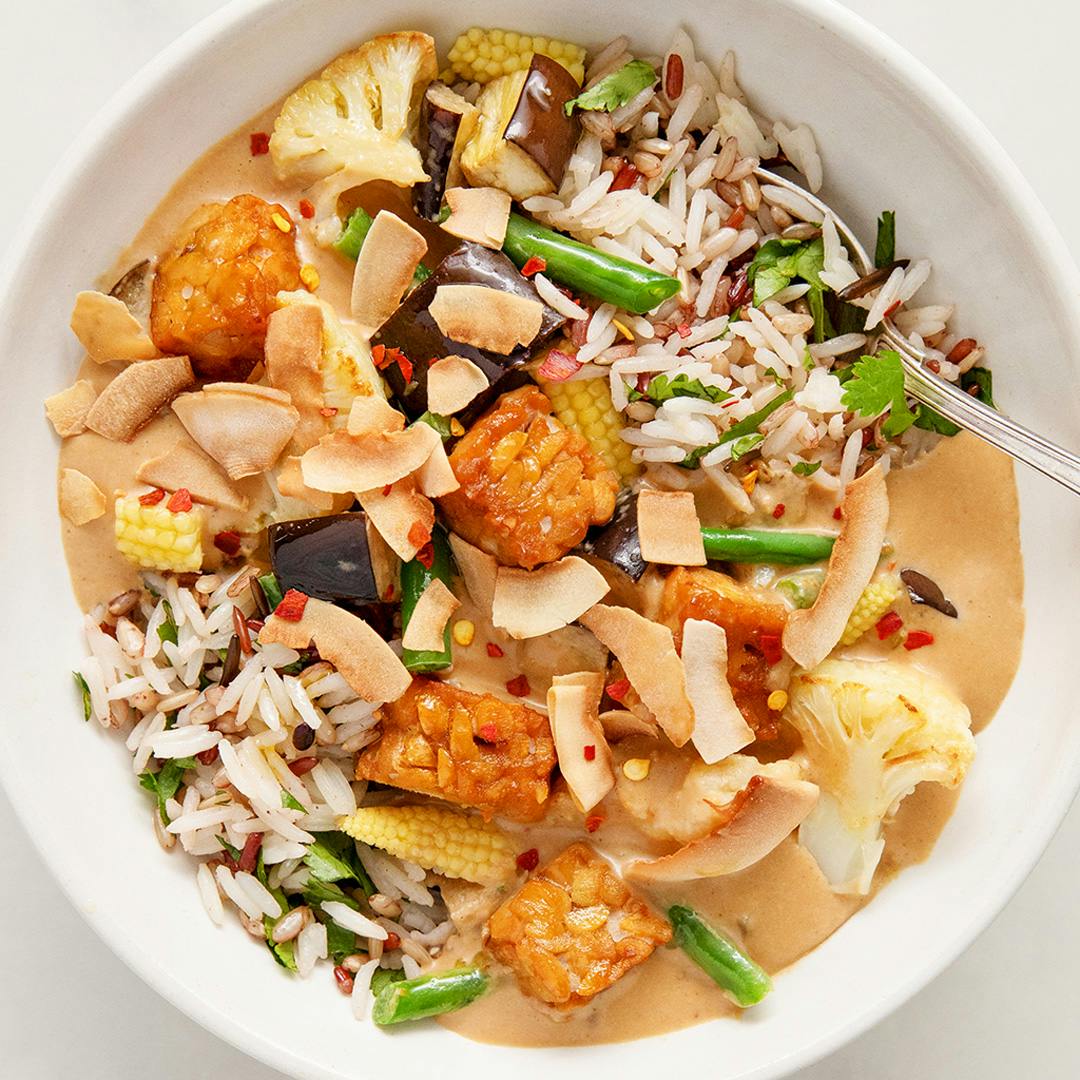 How do you cook tempeh?
Tempeh should be cut into desired pieces and it can be steamed, boiled or fried. It is versatile and can be used to create a fusion of different world foods. Just check out our recipe for crispy vegan tempeh bowls as proof. And for days that you don't feel like cooking, a lovely vegan tempeh rendang curry delivered straight to your door can save the day!
---
By Toni Olukiran
Toni is one of our lovely Content Marketing Assistants, and when she's not writing posts about everything from Jamaican cooking to vegan champagne, she's making a Spotify playlist (she was at 200, at her last count) or playing tennis in the park.
---
Let us take care of dinner
We help to make eating more plants easy and delicious. Fancy letting us take care of dinner? Check out our delicious meals here.