Recipes
Charred Spring Onion and Sesame Noodles
4min read
The secret to preparing vegetables that mimic how meat acts and tastes in a recipe is pretty straight forward: just treat it like meat. What we mean by that is to just adapt and replicate the processes typically associated with cooking meats, when cooking plants. Our new series, "How to Replace Meat in Everything" explores just how to do that in an easy, unfussy and delicious way. 
The whole idea behind this recipe was to create a stir fried vegan noodles dish that didn't require a lot of different vegetables, rather one powerful one that could hold its weight in flavour and texture, all on its own. Spring onions do just that - becoming deeply flavoured, sweet and jammy when charred. Once they're stirred into noodles along with a creamy sesame sauce, the result is a savoury, caramelised and umami packed noodle dish ready in around twenty minutes.
I love spring onions in any shape or form - grilled, roasted, fried, stir fried, pickled, raw - you name it, but charring them is the real game changer. As far as I'm concerned, charring and spring onions go together like peanut butter and jelly. Burgers and fries. Bonnie and Clyde. For real. If you're not entirely sure what charring actually is, head here for the low down. The reason why it suits spring onions so well is that charring naturally creates a deeply caramelised flavour, and when the starting base is an already sweet vegetable (or allium to be precise) like, spring onions, those sugars take on really deep and robust qualities. Spring onions also char extremely quickly - 8 to 10 minutes is all it takes for them to become simultaneously charred and jammy.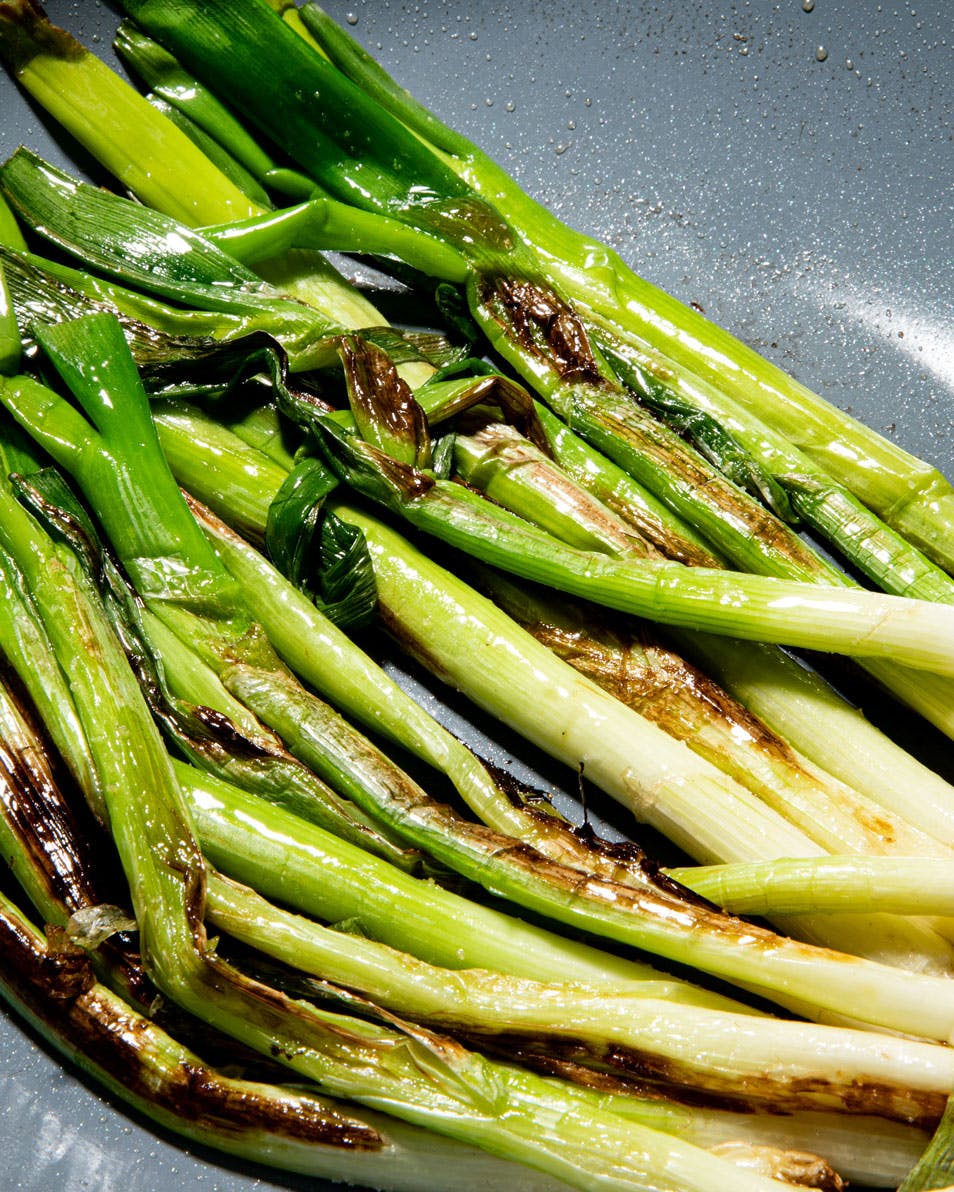 You'll notice the recipe below also includes a recipe for quick pickled cucumbers. Although it's not essential - the noodles taste delicious on their own - I always like to include a crunchy and element when making a deeply savoury dish like this one. Not only does it break up the flavours of the dish, allowing you to really taste everything, but it also gives everything a lot brightness and freshness. I've used cucumbers here, but I tend to use the same pickling liquid for any crisp vegetable I have on hand, from carrots and radishes, to red onions.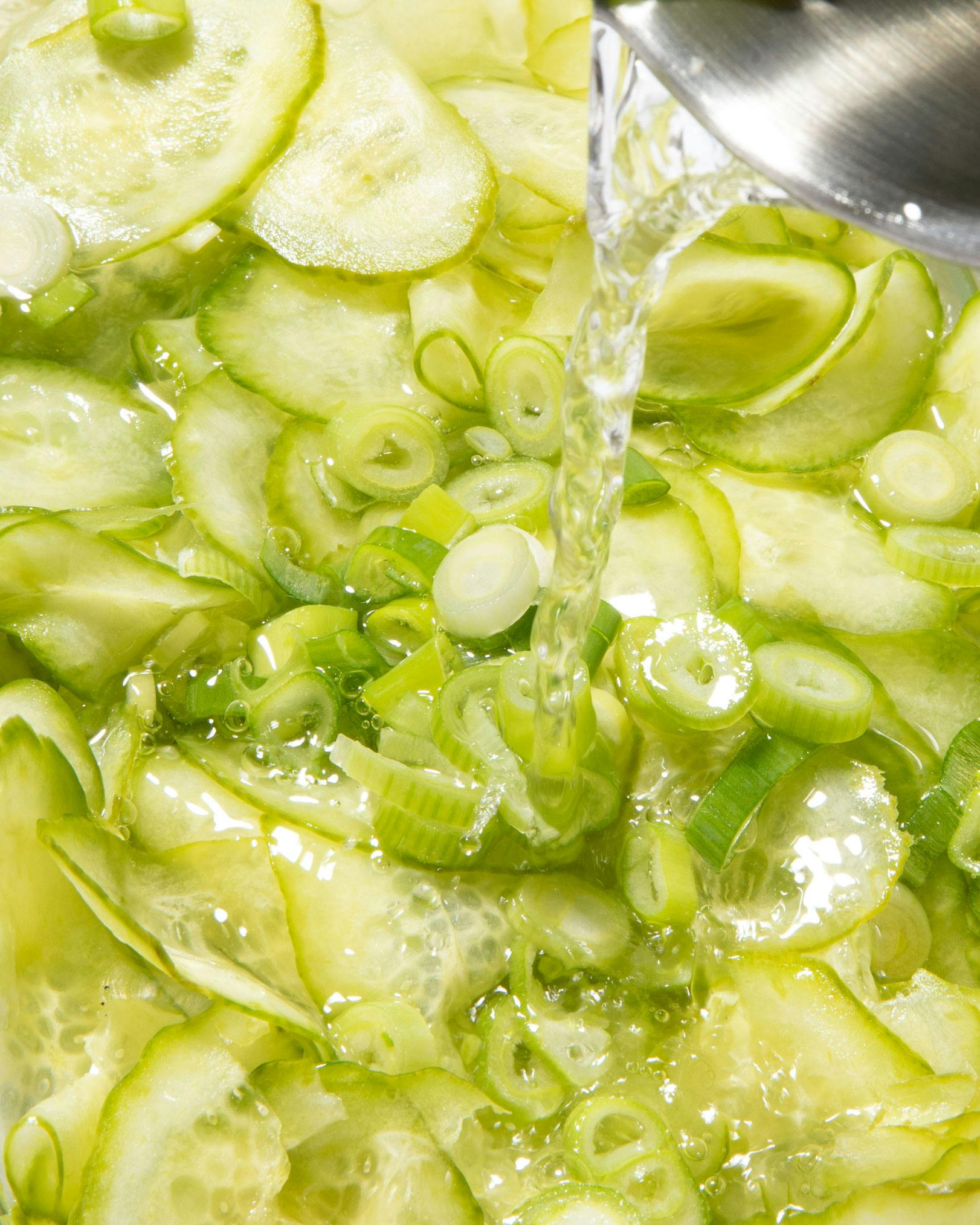 Ingredients
Sauce:
1 tbsp neutral oil
260g spring onions (around 2 bunches)
⅛ tsp salt 
4 tbsp/50g soy sauce 
2 tbsp/40g maple syrup 
4 tbsp/ 60g tahini
1 tbsp sesame oil
2 limes, juiced 
40ml water 
400g ramen noodles 
Quick Pickled Cucumbers: 
150g water
150g rice wine vinegar 
1 tbsp caster sugar
1 tsp salt
1 medium sized cucumber (around 250g) , finely sliced or shaven
1 spring onion, finely sliced
To serve: 
2 tbsp sesame seeds 
1 lime, sliced
Method
STEP 1
Start by making the pickled cucumbers. In a small saucepan combine the water, vinegar, sugar and salt and heat over medium heat for 2-3 minutes, until the sugar has dissolved.
STEP 2
Add the sliced cucumbers and spring onions to a tupperware and pour the liquid over them. Use a spoon to submerge the cucumbers in the liquid. Let the cucumbers sit while you prepare the noodles. 
STEP 3
Wash the spring onions and peel away any dirty outer layers. Heat 1 tbsp of neutral oil in a large wok or pan over high heat. Once the wok is very hot, add the whole spring onions and stir to coat them in the oil. Let the spring onions cook untouched for 3-4 minutes, until starting to brown on the heat facing side. 
STEP 4
Use a pair of tongs to turn them around, and continue to cook them for 2-3 minutes on each side - until they have charred spots all around and have softened. We're not looking to char the whole exterior, just parts of it, so if there are smaller spring onions that are charring all over, remove them from the heat while the larger ones cook. 
STEP 5
Sprinkle the charred spring onions with ¼ tsp salt and transfer them onto a chopping board. Chop off the ends and discard them. Next, chop the spring onions into roughly 4cm pieces. 
STEP 6
Transfer the chopped spring onions back into the wok, with the heat off.  
STEP 7
In a bowl, combine the soy sauce, maple syrup and lime juice and whisk it together. Spoon 2 tbsp of the mixture into the pan with the spring onions. 
STEP 8
To the bowl with the remaining sauce soy mixture, add the tahini, sesame oil and water. Whisk it together until combined and creamy. Depending on how thick your tahini is, you might need to add an additional 1-2 tbsp of water - the mixture should be similar to cream. Set it aside. 
STEP 9
Next, boil your noodles. While the noodles cook, heat the wok with the spring onions over medium heat. Stir the spring onions as the soy sauce mixture starts to bubble and thicken.
STEP 10
Before straining the noodles, reserve 200ml of the cooking liquid. Toss the cooked noodles into the wok and stir them into the spring onions. Add the tahini sauce and 100ml of the reserve cooking water, and raise the heat to medium high. 
STEP 11
Stir the noodles vigorously, for 3-4 minutes, as the sauce thickens and the noodles get coated. If the noodles become too thick, add an extra couple tbsp of reserved cooking water. If they're not thick enough, continue stirring them over heat. They should be loose, glossy and creamy.
STEP 12
Serve the noodles topped with a spoonful of pickled cucumbers, sesame seeds and extra lime juice. 
---
By Valentina Concordia
Valentina is our Food Editor, who dreams up our tasty dishes and recipes for our social channels. She has loads of experience cooking up a storm in Italian kitchens, so it's no surprise she can't live without good-quality olive oil (don't come between her and her olive oil) and fresh pasta.
---
Let us take care of dinner
After getting creative in the kitchen, give yourself the weekend off by letting us take care of dinner. Check out our delicious meals here.
Shop now