Recipes
Creamy Overnight Oats
5min read
This quick and delicious overnight oats recipe is our go-to for successful mornings, all week along. It's also extremely adaptable (the yoghurt can be swapped for for milk) and it comes together with minimal work. We paired it with one of our favourite flavour hacks here - seeds toasted in coconut oil and maple syrup - but it tastes delicious with anything you top it with - nut butter, cooked fruit and jam are all on our topping rota.
As the name suggests, overnight oats do best when they're left to sit overnight. Hours in the fridge give the oats the time to slowly absorb all of the liquid and become creamy and pudding-like rather than chalky and bit-y. If you're crunched for time, an hour will get you to the acceptable point of creaminess (decided by me) but any less will create an unexciting texture, so try not to rush it. If you're extremely crunched for time, try making this oat recipe that requires no chilling instead.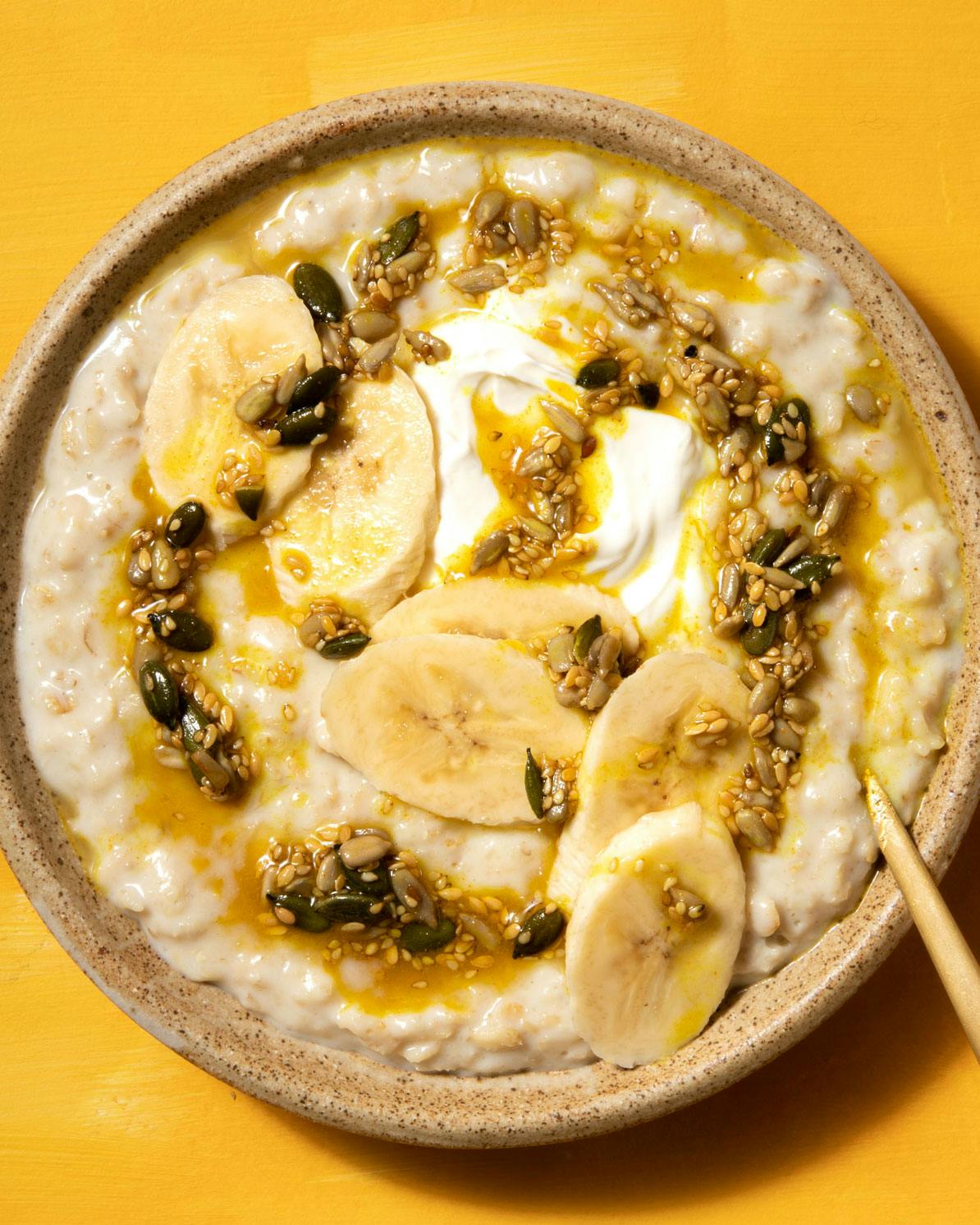 Ingredients
Base: 
100g plant based yoghurt
100ml plant based milk
2 tbsp maple syrup, optional
⅛ tsp salt 
140g oats 
Toppings: 
2 tbsp coconut oil
2 tbsp maple syrup 
30g mixed seeds (we used sunflower, pumpkin and sesame seeds)
¼ tsp ground turmeric, optional
¼ tsp salt 
2 bananas, sliced
50g plant based yoghurt
Method
STEP 1
Into a large bowl or tupperware, add the yoghurt, milk, salt and maple syrup and stir to combine. 
STEP 2
Add the oats and stir them into the yoghurt mixture until well combined. Cover the bowl or tupperware and let it sit in the fridge for at least one hour, but preferably overnight. For a looser texture, add 2-3 tbsp of milk to the oats before serving.
STEP 3
Prepare the topping when you're ready to serve the oats. In a small saucepan over medium heat, combine the coconut oil and maple syrup.
STEP 4
Add the seeds and turmeric, and stir to coat them in the oil. Toast the nuts for 3-4 minutes, until fragrant and sizzling. Sprinkle in the salt, and remove from the heat. 
STEP 5
Serve the oats topped with a drizzle of the toasted seeds, sliced banana and a spoonful of yoghurt. 
---
By Valentina Concordia
Valentina is our Food Editor, who dreams up our tasty dishes and recipes for our social channels. She has loads of experience cooking up a storm in Italian kitchens, so it's no surprise she can't live without good-quality olive oil (don't come between her and her olive oil) and fresh pasta.
---
Let us take care of dinner
After getting creative in the kitchen, give yourself the weekend off by letting us take care of dinner. Check out our delicious meals here.