Recipes
Crispy Smashed Potatoes
4min read
The secret to preparing vegetables that mimic how meat acts and tastes in a recipe is pretty straight forward: just treat it like meat. What we mean by that is to just adapt and replicate the processes typically associated with cooking meats, when cooking plants. Our new series, "How to Replace Meat in Everything" explores just how to do that in an easy, unfussy and delicious way. 
This recipe takes roasting to a new level. These bright, fresh and vibrant smashed potatoes are twice cooked for the perfect texture - creamy on the inside, but perfectly crisp and crunchy all throughout the exterior.
Thanks to the smashing, the crisp to creamy ratio is around 70/30 - something you probably don't realise you need in your life until you try it. Here's how it happens. The potatoes are first boiled in salted water (don't skimp on the salt - it's the only way to ensure your potatoes are seasoned throughout, and not just on the exterior) then pressed down with a glass or measuring cup, breaking them up and creating a whole lot of surface area to crisp up.

I like to top the roasty, crispy crunchy potatoes with chimichurri, which gives them an extra dose of vibrancy and flavour, in the same way that it typically does to meats. If you don't have any herbs on hand, you can also simply dip these in your favourite mayo or whip up a batch of tzatiki. Basically, you're just looking for something fresh to create a balance of saltiness and acidity.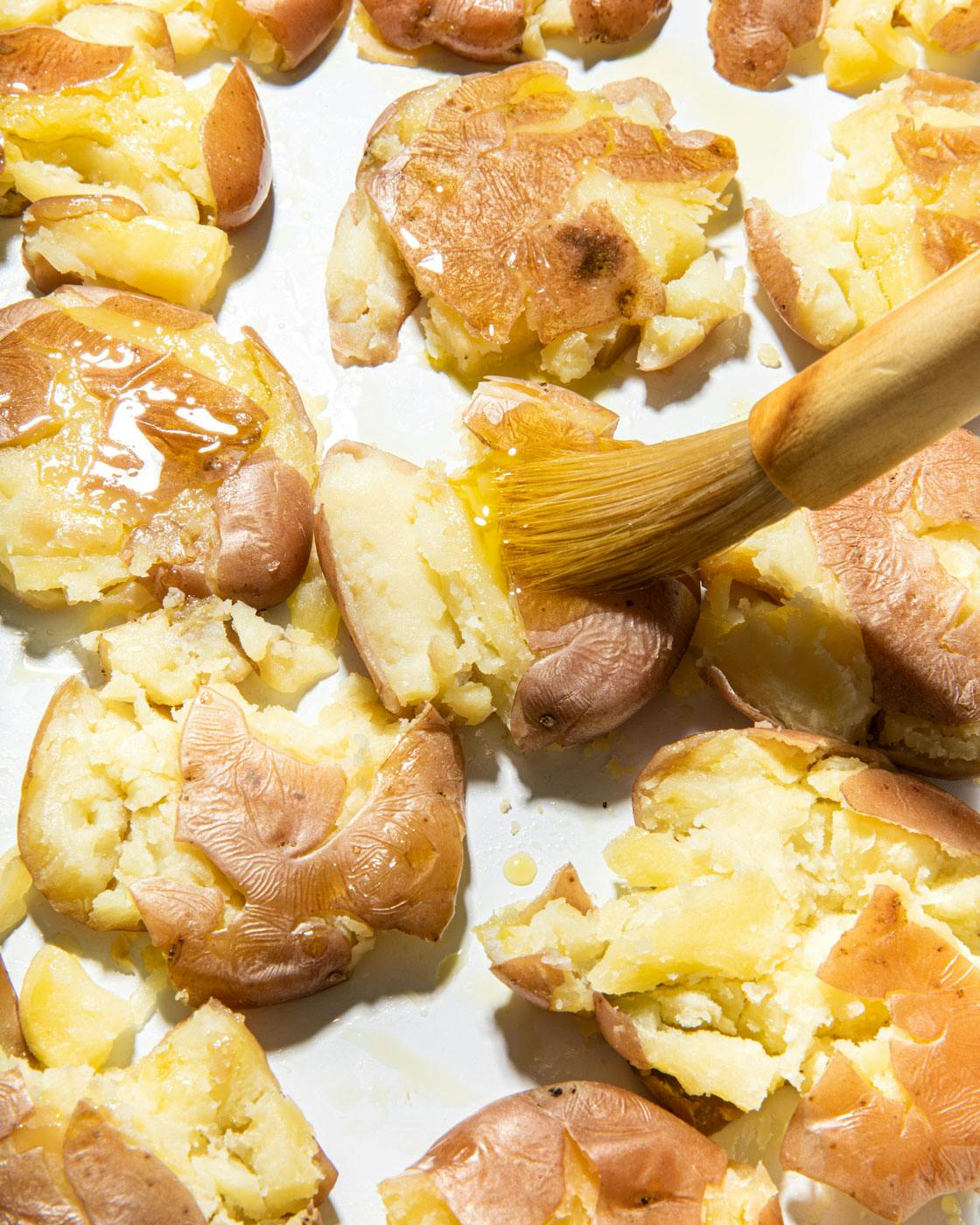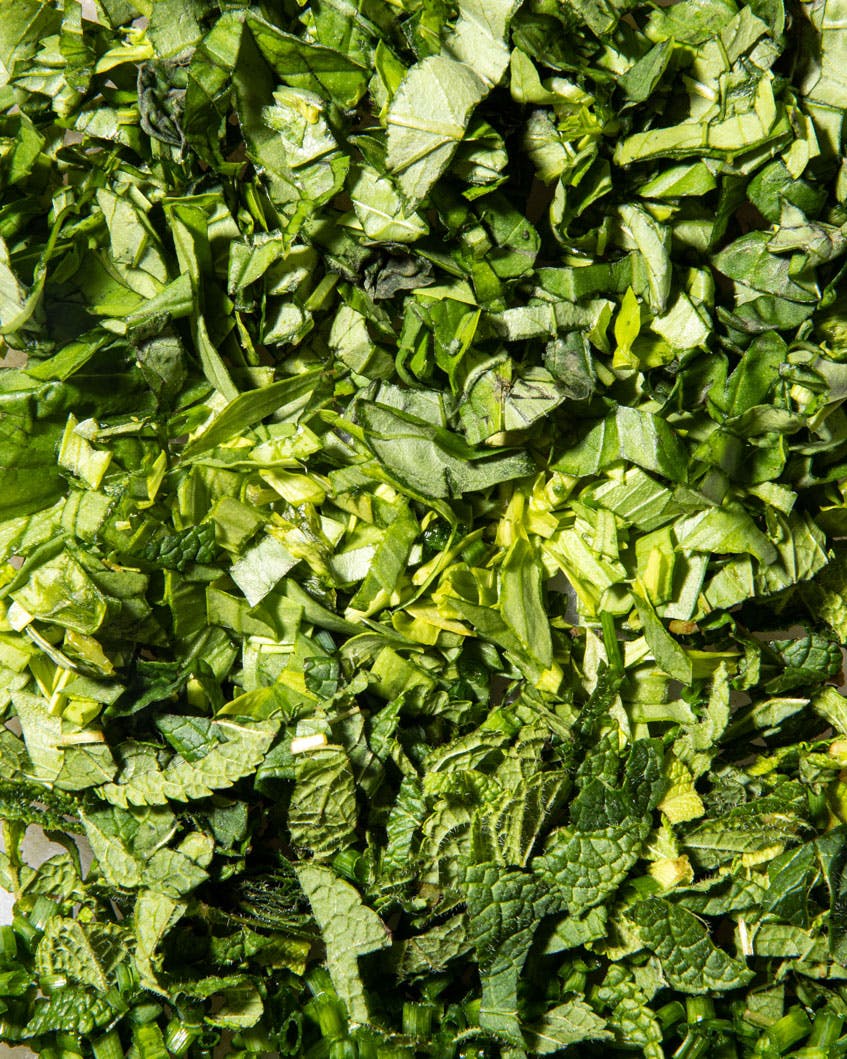 Ingredients
Potatoes:
700g new potatoes 
3 tbsp olive oil
1 tbsp + 1 tsp salt 
Freshly ground black pepper
Chimichurri: 
20g parsley, finely chopped
20g + 5g chives, finely chopped
10g mint, finely chopped
1 small red chilli, finely chopped
1 clove of garlic, finely minced
1 tsp salt 
5 tbsp olive oil 
2 tbsp red wine vinegar
To serve:
1 lemon, sliced
Method
STEP 1
Preheat the oven to 190˚C fan/ 210˚C conventional. 
STEP 2
Wash and scrub the potatoes, then add them to a pot and cover them with cold water. Next, add 1 tbsp of salt to the water. 
STEP 3
Bring the water to a boil over medium heat, then reduce the heat to a simmer. Cook the potatoes for 16-18 minutes, until they can be easily pierced with a knife. 
STEP 4
Drain the potatoes and let them sit for 5 minutes to let off their steam. 
STEP 5
In the meantime, drizzle 1 tbsp of olive oil into a large baking tray. Add the potatoes to the tray. 
STEP 6
Use the bottom of a glass or measuring cup to push down and smash each potato. Be gentle when lifting the glass/cup to ensure that the potatoes don't stick to it. 
STEP 7
Sprinkle the potatoes with salt and black pepper and use a brush to coat them with olive oil. 
STEP 8
Transfer the tray into the oven and bake the potatoes for 30-35 minutes, until they're golden brown and crispy throughout.
STEP 9
While the potatoes roast, prepare the chimichurri. Add the parsley, mint and 20g chives (reserving a few for serving), to a small bowl and stir them to combine. Next, add the chilli, garlic, salt, olive oil and red wine vinegar and stir to mix it together. Let the chimichurri sit for at least 20 minutes. 
STEP 10
Let the potatoes cool for 10 minutes once roasted, then transfer them to a plate. Top them with the chimichurri before serving, and sprinkle them with chopped chives. 
---
By Valentina Concordia
Valentina is our Food Editor, who dreams up our tasty dishes and recipes for our social channels. She has loads of experience cooking up a storm in Italian kitchens, so it's no surprise she can't live without good-quality olive oil (don't come between her and her olive oil) and fresh pasta.
---
Let us take care of dinner
After getting creative in the kitchen, give yourself the weekend off by letting us take care of dinner. Check out our delicious meals here.
Shop now