If you've visited the allplants instagram feed lately, you might have caught one of our instagram live cook-alongs which we've kicked off with a 4-part series on fermented foods. bunny
And whilst "fermented" and "bacteria" might not necessarily be top of your ingredient list, bear with us. Not only are fermented foods a delicious addition to your fridge (great as a finishing touch on pretty much every meal), they also have a whole host of gut health benefits.
Week three in our series of fermentation workshops saw us make vegan dill pickles. And let me tell you, these pickles are the real deal. Shop bought gherkins use super sharp vinegar to preserve baby cucumbers, and while there's nothing wrong with that (we love a tangy gherkin as much as anyone!), this recipe uses natural lacto-fermentation to sour the cucumbers.
What are dill pickles?
Old school gherkins, in a word (or two). They are cucumbers which have been fermented in a garlic and dill brine. They are the most well known example of the 'brine method' of fermentation. 
The brine method of fermenting is super straightforward, and once you have the basics mastered you can experiment with fermenting many different kinds of vegetables from carrots in a cumin infused brine, to beetroot with ginger and red chilli!
How do I eat dill pickles?
In your favourite sandwich… in a burger… in a vegan hot dog… as part of a 'mezze' style spread with your favourite dips and breads!
My top tip? Don't waste the brine. This is packed with flavour and teeming with beneficial live bacteria. Use it in place of vinegar when making your favourite salad dressings.
Let us know how you get on by tagging @allplants in your creations!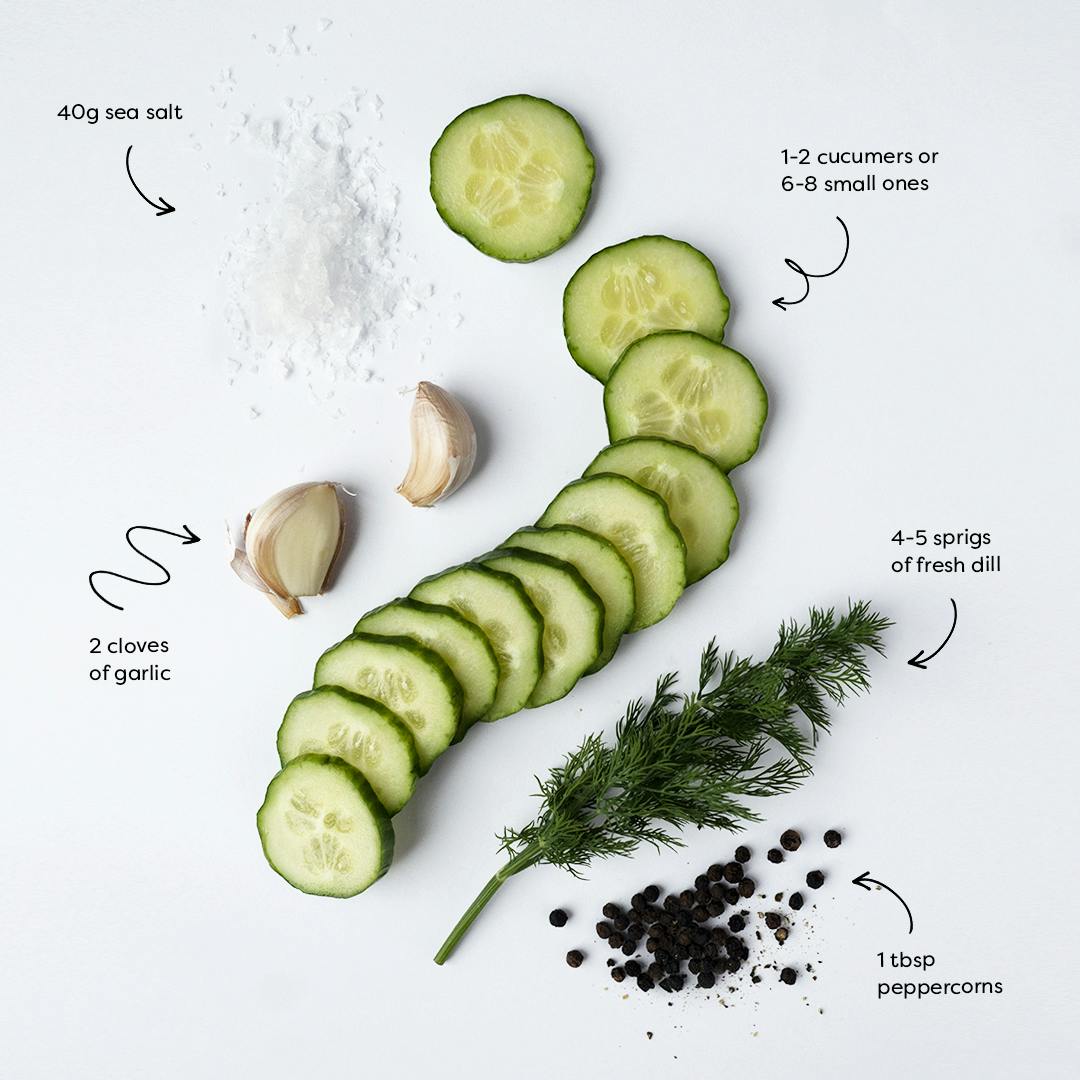 2 large cucumbers (or 6-8 baby cucumbers)
A small bunch of fresh dill
1 tablespoon of peppercorns
2 cloves of garlic
40g sea salt