Recipes
Kimchi 101
by Joey O'Hare
6min read
If you've visited the allplants instagram feed lately, you might have caught one of our instagram live cook-alongs which we've kicked off with a 4-part series on fermented foods. Second up was Kimchi.
And whilst "fermented" and "bacteria" might not necessarily be top of your ingredient list, bear with us. Not only are fermented foods a delicious addition to your fridge (great as a finishing touch on pretty much every meal), they also have a whole host of gut health benefits.
What is kimchi?
Kimchi is a fermented condiment from Korea which contains cabbage, carrots, and spring onions - and, as with sauerkraut, millions of lactic acid bacteria! It's extraordinarily flavoursome as the vegetables are marinated in a powerful blend of garlic, chilli and ginger, and the fermentation process adds a fantastic savoury tang to the overall taste profile.
The process here is a little more complex than that of sauerkraut, but the principles of fermentation are exactly the same.
How do I eat kimchi?
Errr straight out of the jar?! In a cheeze toastie, or on anything with tofu… or noodles. I love it, especially on fried rice. Check out Val's latest fried rice recipe which is fantastic!
Let us know how you get on - don't forget to tag @allplants in your creations.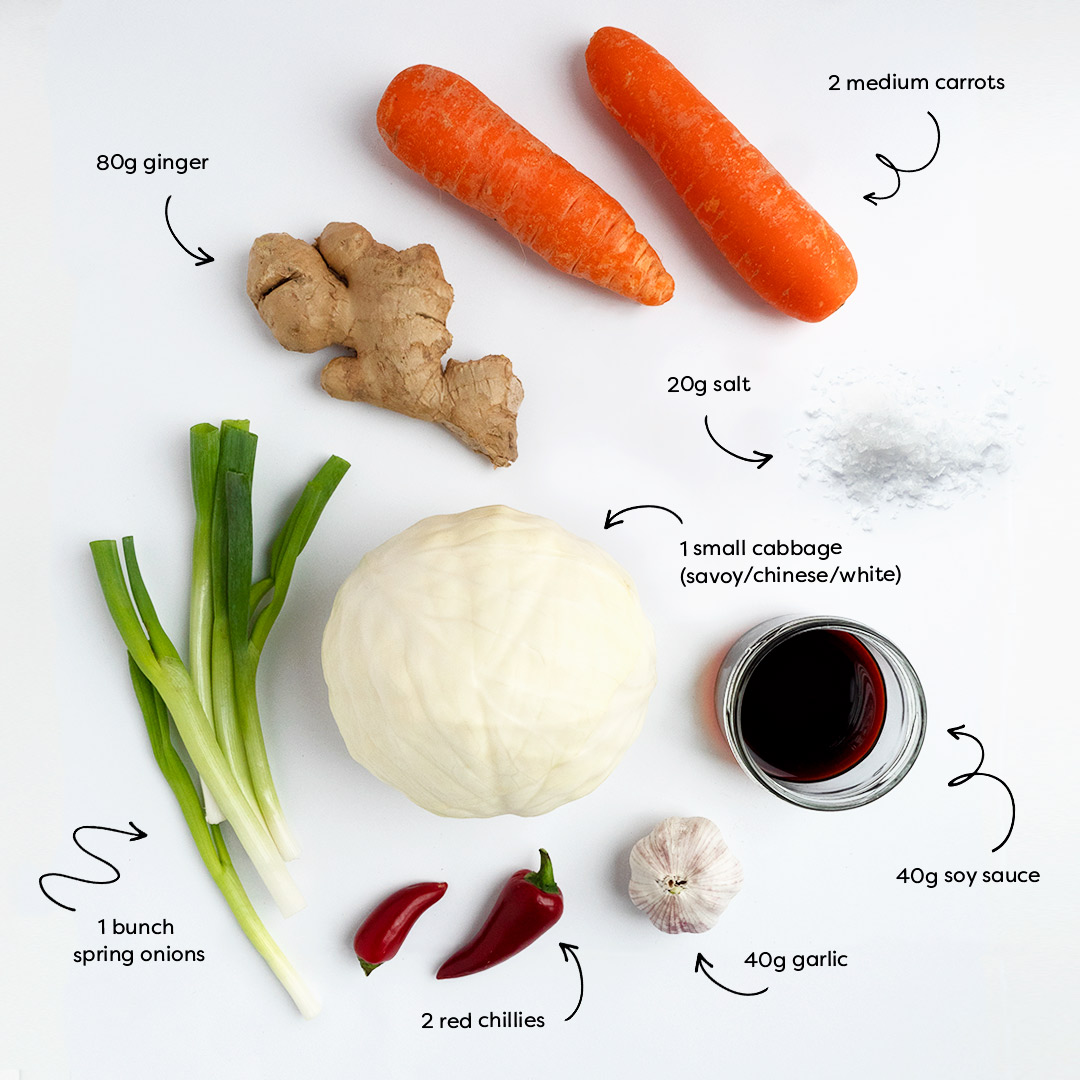 Ingredients
 I small/medium cabbage (savoy, chinese or regular)
2 medium carrots
1 bunch spring onions
80g ginger
40g garlic
2 red chillies (or 2 tablespoons chilli flakes)
40g soy sauce
40g water
20g salt (plus extra for soaking)
40g sugar
Method
STEP 1
Work clean! Wash your hands, cabbage, chopping board and knife really well. It's key that no harmful bacteria get involved from the beginning.
STEP 2
Sterilise your 1 litre flip-top container. Preheat the oven to 140 degrees, then wash and rinse your jar. Remove the rubber seal, then pop the open jar in the oven for 10 minutes.
STEP 3
Prepare your cabbage. Cut off the base of the cabbage and keep this to one side, it will become crucial later. Throw away the 2 external leaves, quarter the cabbage and cut away the hard central core, then roughly chop into 4 cm wide strips.
STEP 4
Soak your cabbage. Gather your prepped cabbage in a large mixing bowl, sprinkle with 2 heaped tablespoons of sea salt and cover with cold water. Give things a quick mix and squeeze to dissolve the salt, cover with a small plate to keep everything submerged, then pop in the fridge for 2-4 hours.
STEP 5
Rinse your cabbage. Drain the cabbage and rinse well of the salty water and any impurities.
STEP 6
Prep your veggies. Peel and finely slice the carrots, rinse the spring onions and chop into 1 cm chunks.
STEP 7
Weigh all your veggies! Aim for 1 kg of prepared vegetables - this is key for getting the right ratio of salt to vegetables. If you have more than 1 kg of vegetables use these in a salad!
STEP 8
Prepare your marinade: Peel and roughly chop the ginger, peel the garlic cloves, de-seed the chillies, and weigh out the soy sauce, water, salt and sugar. Combine these in a blender and whizz until smooth.
STEP 9
Scrunch! Pour the marinade over the vegetables, pop on some gloves (so you don't stain your hands) and gently massage it in until things are looking moist and juicy. This should only take a minute.
STEP 10
Pack your jar. Gradually transfer your kimchi into the sterilised jar, compressing it as you go to remove any air pockets.
STEP 11
Keep things submerged. Once the jar is full and compressed, pour over the excess kimchi marinade left in the mixing bowl. Wipe away any exposed bits of vegetable which sit above the water line.
STEP 12
Make a cabbage butt bung! Find the base of the cabbage from earlier and give it a good rinse. Trim this until it fits neatly in the neck of the jar. This will act as a 'bung' and will help to keep things in place.
STEP 13
Allow fermentation to kick in! Stand the jar in a bowl, and leave it at room temperature for 4-8 days before eating. Keep it away from central heating and out of direct sunlight too. It's super important to 'burp' your jar each day to allow the CO2 to escape. Kimchi is higher in sugar than sauerkraut which means fermentation will kick in quicker and more CO2 will be given off in early days… burp this one over the sink and do so each day!
STEP 14
Taste and enjoy! After 4-8 days, your kimchi will be flavoursome and tangy and the heat from the chilli and ginger will have mellowed a little. It will last in the fridge for up to 2 months; remember to use a clean spoon each time you take some!
---
By Joey O'Hare
Joey is our Head of Food Development, running our dishes' journeys from ideation to launch. (With lots of taste-testing in between). When she's not cooking up a storm in our kitchen, she's doing so in hers. After a trip to the local farmers market of course, for seasonal veg, and her swear-by-staples – extra virgin olive oil, Maldon sea salt and lemons. 
---
Let us take care of dinner
After getting creative in the kitchen, give yourself the weekend off by letting us take care of dinner. Check out our delicious meals here.
Shop now