Recipes
Spicy Asparagus Stir Fry
4min read
This spicy, fresh and deeply flavourful Thai-inspired stir fry comes together swiftly and magically in under 20 minutes. It relies on hefty amounts of ginger and garlic, along with chilli, soy sauce and lime juice which lightly caramelise the asparagus - making it sweet, vibrant and spicy. If you don't have any asparagus, you can give broccoli the same treatment by finely chopping it and sautéing it in the chilli and garlic for a few extra minutes.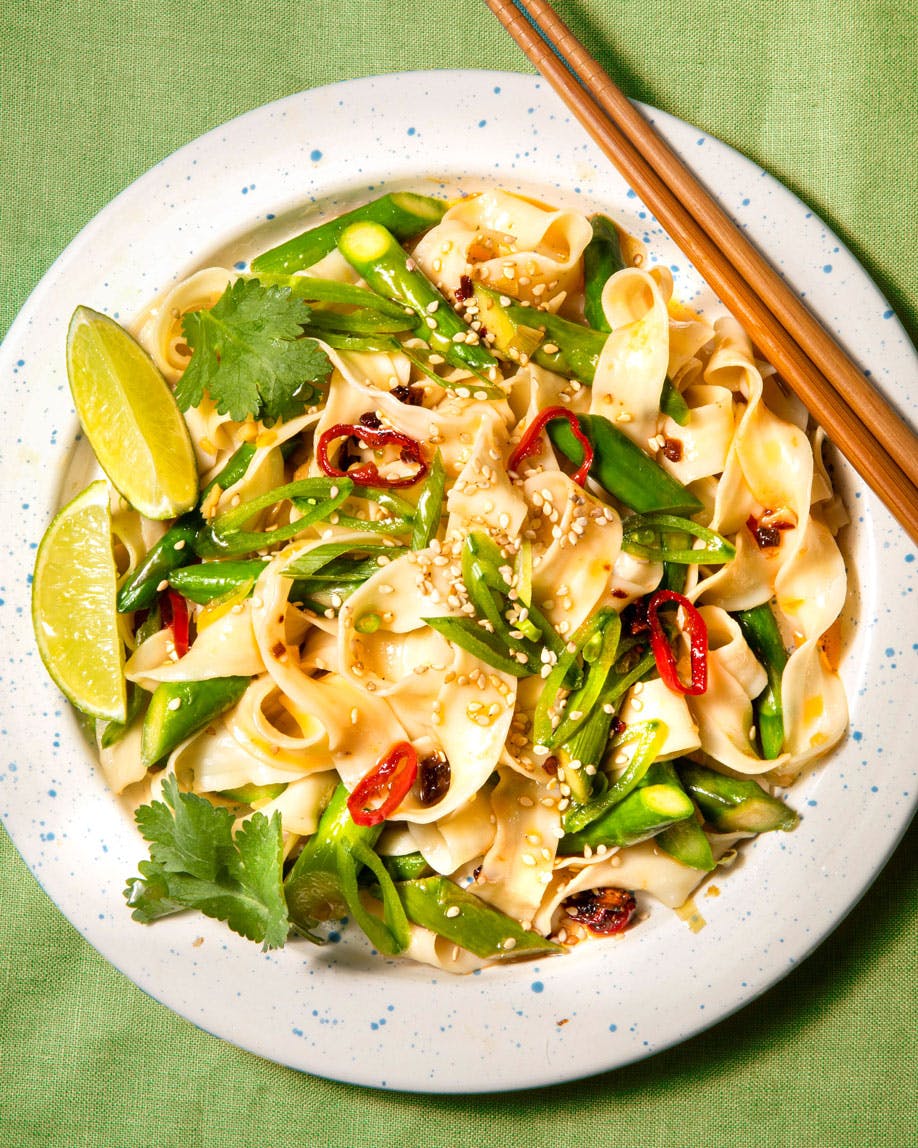 Ingredients
Stir Fry:
70g ginger (around a 4cm piece)
100g spring onion (around 5)
45g/3 tbsp neutral oil (such as sunflower or rapeseed)
500g asparagus (around two bunches)
3 cloves garlic, finely sliced
1 chilli, finely sliced 
45g/3 tbsp soy sauce or tamari
1 lime, juiced 
400g flat rice or wheat noodles 
To Serve:
1 lime, sliced 
1 tbsp sesame seeds, 
5g fresh coriander 
2 spring onions, finely sliced
Chilli oil, optional 
Method
STEP 1
Start by very finely chop the ginger and spring onions and add them to a heat-proof bowl. 
STEP 2
Heat the oil in a small saucepan over medium heat, for 2-3 minutes. To test if the oil is hot enough, drop a small piece of spring onion into it - it should sizzle immediately. If it doesn't, continue to heat it for another minute or so.
STEP 3
Pour the oil into the bowl over the spring onions and ginger. Let it sit for 5 minutes.
STEP 4
In the meantime, slice the asparagus into roughly 3cm pieces. 
STEP 5
Next, spoon 2 tbsp of the prepared oil in a wok or large pan and heat over medium heat. Once hot, add the sliced garlic and chilli, and cook for around 2 minutes, until the garlic is starting to become golden. 
STEP 6
Stir in the sliced asparagus, and cook it for 5-6 minutes, until tender.
STEP 7
Add the soy sauce and the lime juice, and cook it down for 3-4 minutes until the soy sauce thickens and coats the asparagus. 
STEP 8
In the meantime, bring a pot of water to the boil and cook your noodles. Reserve 50ml of cooking water before draining the noodles. 
STEP 9
Drain the noodles and add them to the wok, along with the 50ml of reserved water and the remaining infused oil. 
STEP 10
Stir the noodles over medium heat for 2-3 minutes, until they're coated in the spring onions, asparagus and soy. 
STEP 11
Serve the noodles topped with sesame seeds, extra lime juice, sliced spring onions, fresh coriander and chilli oil, if using.
---
By Valentina Concordia
Valentina is our Food Editor, who dreams up our tasty dishes and recipes for our social channels. She has loads of experience cooking up a storm in Italian kitchens, so it's no surprise she can't live without good-quality olive oil (don't come between her and her olive oil) and fresh pasta.
---
Let us take care of dinner
After getting creative in the kitchen, give yourself the weekend off by letting us take care of dinner. Check out our delicious meals here.