Recipes
Tofu + Fermented Black Bean Stir-fry
2min read
Enjoy this easy, flavour, protein-packed fermented black bean and tofu stir-fry. Packed full of umami, it's great to eat with a side of plain rice and veggies, or as a topping to your comforting rice porridge. This dish is made up of crispy tofu, wrapped in a  deep, salty and savoury flavour of fermented black beans. This stir-fry guarantees to add layers of flavours and texture to any meal, or enjoyed on it's own. Whatever floats your boat.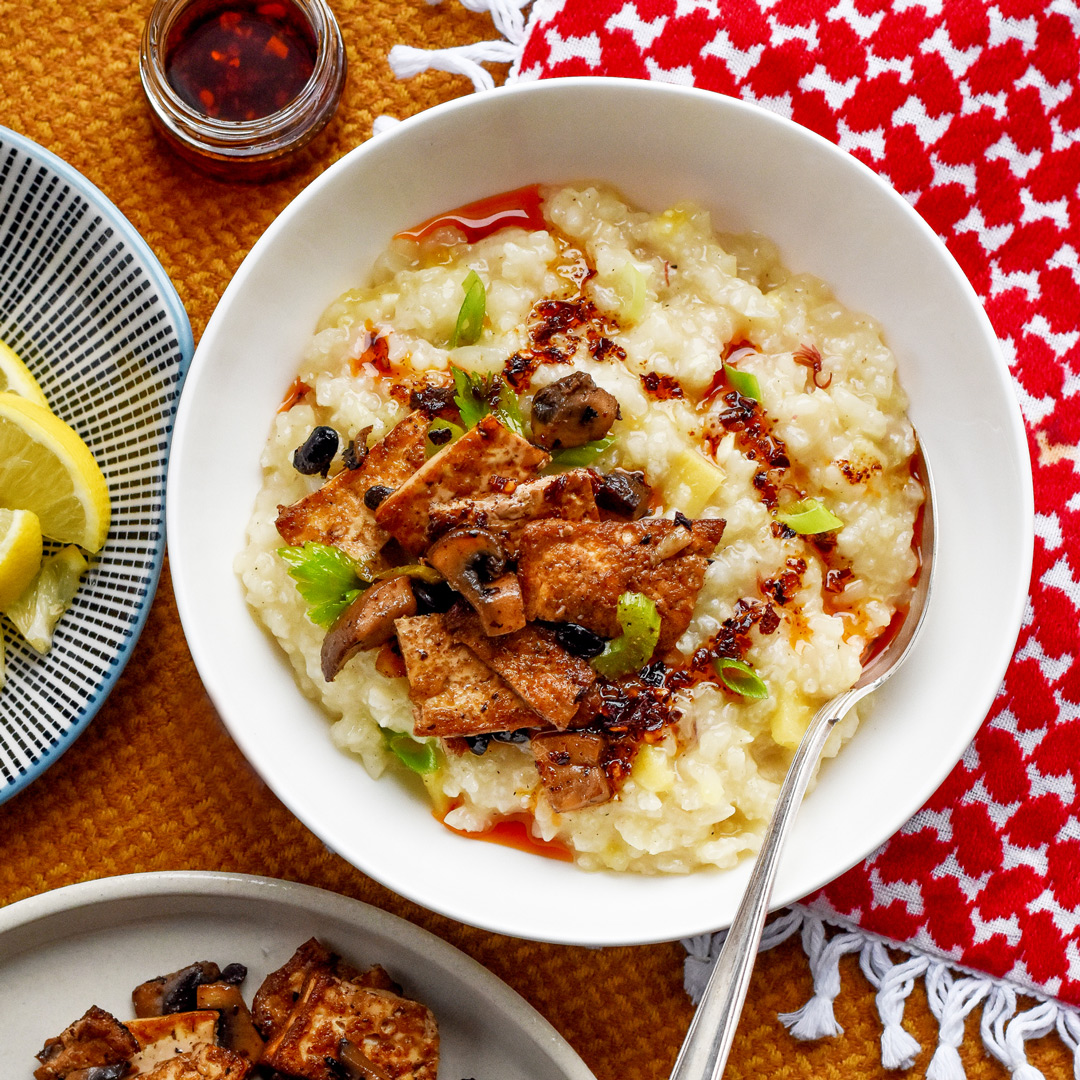 Ingredients
1 1/2 cups uncooked sticky/glutinous rice
500g extra firm tofu, cubed
250g mushroom, chopped
2 tbsp fermented black beans
2 celery sticks, sliced
1 shallot, chopped
2 garlic cloves, minced
2 tbsps soy sauce 
2 tbsp distilled vinegar/ lemon juice
Cooking oil, separated
1-2 tbsp water
Salt, to taste
Black pepper, to taste
Method
STEP 1
First cook the tofu. In a deep, wide pan, fry in oil (around an inch deep) for around 15 mins in med-high heat until all sides are crispy and golden brown. If you want more of a crispier tofu surface area, you can also cut tofu in a flatter, more rectangular prism instead of cube.
If you're not a massive fan of frying, you can also cook the tofu cubes in the oven at 200C for around 20 mins, (but might not be as crispy in comparison when you fry it).
STEP 2
As your tofu is cooking, sauté garlic, onion and celery in a different pan until soft (about 5-7 minutes).
STEP 3
Mix mushrooms into the sauteed veg as above, and cook until edges have browned and moisture has dissipated.
STEP 4
Add in cooked tofu, soy sauce and vinegar. Then mix in fermented black beans and cook for a couple more minutes to let the flavours seep in. Make sure to taste first before adding salt and pepper, as fermented black beans can be quite salty already.
STEP 5
Serve with plain rice, add topping to your arroz caldo (see recipe here) or snack on its own. Enjoy!
---
by Aliza de Lima
Aliza is our Junior Creative, in between running out for copious amounts of coffee and snacks (give her a biscuit and she's your best friend). On her day off you'll find her exploring an exhibition, and having a chat over our Mac & Greens.
---
MORE GREAT READS