Recipes
Vegan Arroz Caldo
2min read
Arroz Caldo is a savoury Filipino rice porridge dish (aka a bowl of comfort). It's renowned for its nutritious ginger-flavoured base, topped with spring onion and crispy garlic. Enjoyed on its own or as a base with a wider variety of toppings (see our tofu and fermented black bean stir fry recipe here), arroz caldo will be sure to make you feel better on any day.
Despite the Spanish name that translates directly to rice broth, arroz caldo is more of a Filipino adaptation of congee, brought to the Philippines by Chinese immigrants. There is a wide variety of rice porridges in the Philippines, varying in flavour bases and toppings per region. Locally, arroz caldo is distinguished for its ginger and chicken broth base, and served with classic toppings such as tofu, egg, chicken pieces, spring onions and fried garlic, with a side of chilli oil and soy sauce. It's a popular meal to have when you're feeling under the weather, but also readily available in food stalls consumed as breakfast or snack when you're out and about.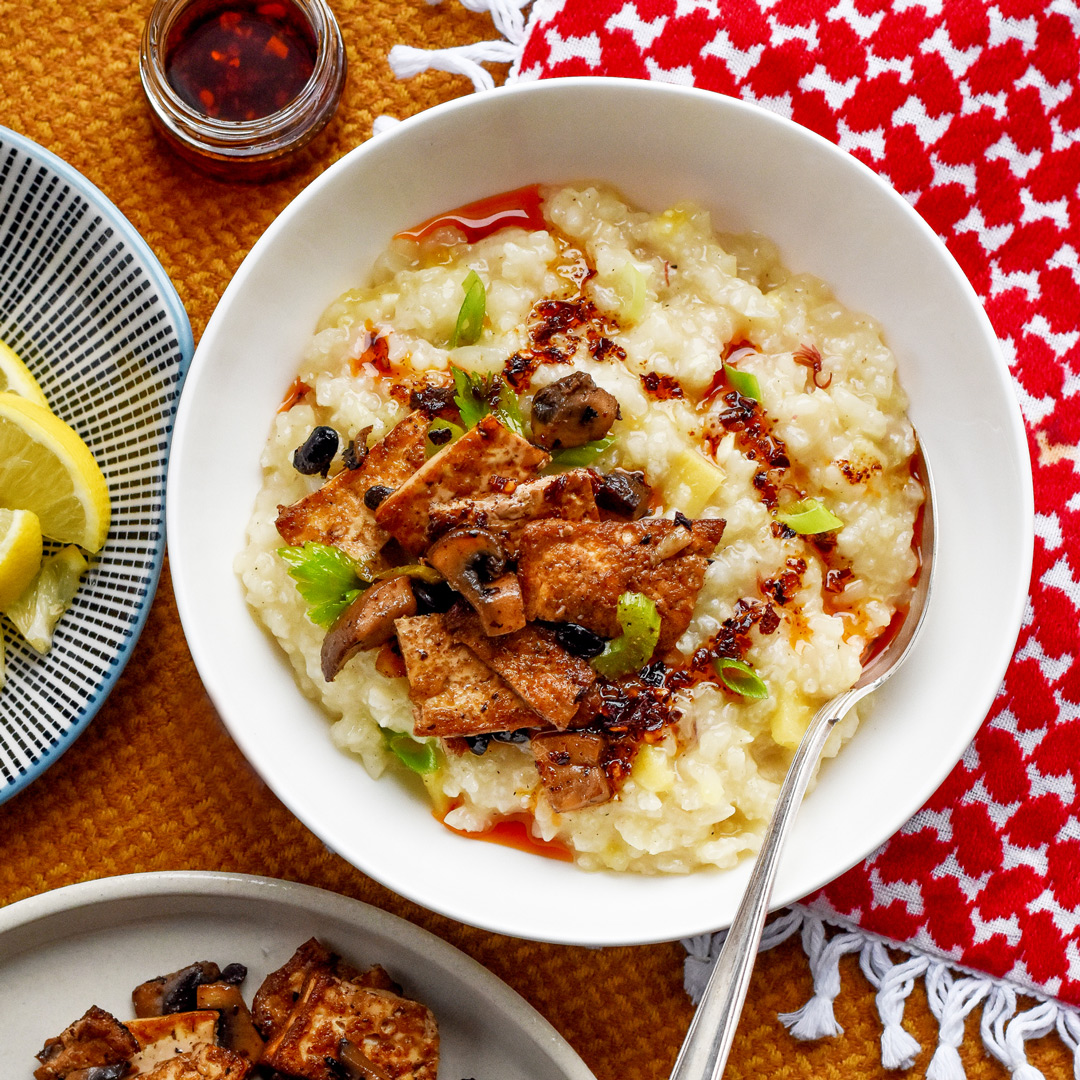 Ingredients
1 1/2 cups uncooked sticky/glutinous rice
1 onion, chopped
2 garlic cloves, minced
1 thumb ginger, strips
½ tsp safflower (optional, can be bought from asian shops or tea shops)
1 veg stock 
1 tbsp cooking oil
4 cups water
Salt, to taste
Black pepper, to taste
Toppings (optional)
Spring onions, chopped
Tofu + fermented bean stir fry (see recipe here)
Garlic chilli oil (see recipe here)
Method
STEP 1
In a big pot over med-high heat, saute garlic, onion and ginger until soft (around 5-7 minutes).
STEP 2
Add water and veg stock in the pot and mix in rice. Season with salt and pepper before putting the lid back on. Simmer to cook for around 30-40 minutes.
STEP 3
Stir in safflower (a local version of saffron in the Philippines used to add colour to dishes. Once cooked, you can enjoy arroz caldo on it's own, or serve with spring onions, garlic chilli oil (see recipe here) and tofu + fermented bean stir fry (see recipe here).
---
by Aliza de Lima
Aliza is our Junior Creative, in between running out for copious amounts of coffee and snacks (give her a biscuit and she's your best friend). On her day off you'll find her exploring an exhibition, and having a chat over our Mac & Greens.
---
MORE GREAT READS