I apparently take cake very seriously and when developing the recipe for this vegan black forest gateau I spent a couple of days making way too many cake sponges in order to find the perfect one. I wanted it to be chocolatey and rich, and for it to complement the whipped cream and jam rather than overpower it. I wanted it to be sweet, but to be able to handle the sweetness of both sweetened whipped cream and jam. I wanted it to be fluffy, but not so fluffy that it would fall apart when slicing. 
In the end I tried six different sponges. I based the ratio of the sponges on my recipe for chocolate Guinness cake and worked my way from there. One was made with plant based butter, one with oil, and one with a mix of plant based butter and oil. One was made with caster sugar alone, and one with a mix of caster and brown sugar. Some included espresso, some didn't. I probably gained some weight in the process but at least I found the sponge of my dreams - which was made up of oil only, caster sugar and espresso. Oil gave me the slight density I was after, caster sugar kept it light and espresso boosted the chocolate flavour by a mile. 
Black forest gateau is typically filled with whipped cream, but I also tried the sponges with a buttercream filling. For authenticity purposes, I went with vegan whipped cream as the filling in this recipe, but I think my favourite was actually vegan buttercream as I found it mingled best with the cherry jam and held up better over time in the cake. They were both delicious though and both pair really well with the rich chocolate sponge. Head here for the vegan buttercream recipe I used, and keep reading for the traditional vegan whipped cream recipe.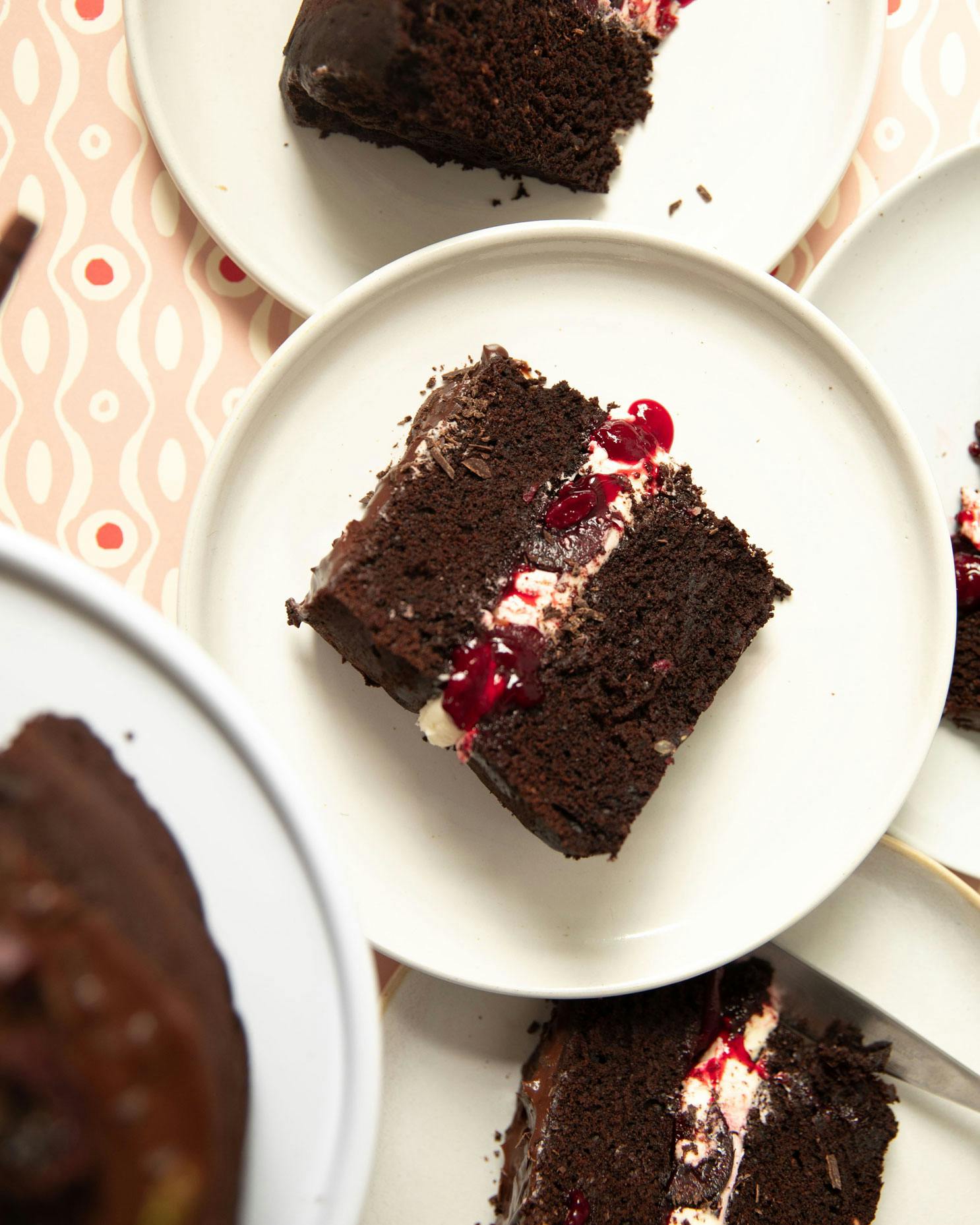 Cake: 
450g plain flour 
100g cocoa powder 
280g caster sugar 
½ tsp salt
½ tsp baking soda 
2 tsp baking powder 
525ml plant based milk
25ml espresso or ½ tsp espresso powder (or 25ml milk)
180ml neutral oil 
1 tbsp apple cider vinegar 
2 tsp vanilla extract 
Filling:
4 tbsp kirsch, optional 
1 400ml tin full fat coconut milk, refrigerated overnight
80g icing sugar 
80g morello cherry jam 
50g fresh cherries, halved 
Topping:
50g dark chocolate
50ml plant based cream
100g fresh cherries
50g dark chocolate, shaved