Recipes
Vegan Black Forest Gateau
8min read
Any day is a great day for a chocolatey, rich and fluffy sponge filled with vegan whipped cream and jammy cherries, and topped with vegan chocolate ganache - birthday or not.
I apparently take cake very seriously and when developing the recipe for this vegan black forest gateau I spent a couple of days making way too many cake sponges in order to find the perfect one. I wanted it to be chocolatey and rich, and for it to complement the whipped cream and jam rather than overpower it. I wanted it to be sweet, but to be able to handle the sweetness of both sweetened whipped cream and jam. I wanted it to be fluffy, but not so fluffy that it would fall apart when slicing. 
In the end I tried six different sponges. I based the ratio of the sponges on my recipe for chocolate Guinness cake and worked my way from there. One was made with plant based butter, one with oil, and one with a mix of plant based butter and oil. One was made with caster sugar alone, and one with a mix of caster and brown sugar. Some included espresso, some didn't. I probably gained some weight in the process but at least I found the sponge of my dreams - which was made up of oil only, caster sugar and espresso. Oil gave me the slight density I was after, caster sugar kept it light and espresso boosted the chocolate flavour by a mile. 
Black forest gateau is typically filled with whipped cream, but I also tried the sponges with a buttercream filling. For authenticity purposes, I went with vegan whipped cream as the filling in this recipe, but I think my favourite was actually vegan buttercream as I found it mingled best with the cherry jam and held up better over time in the cake. They were both delicious though and both pair really well with the rich chocolate sponge. Head here for the vegan buttercream recipe I used, and keep reading for the traditional vegan whipped cream recipe.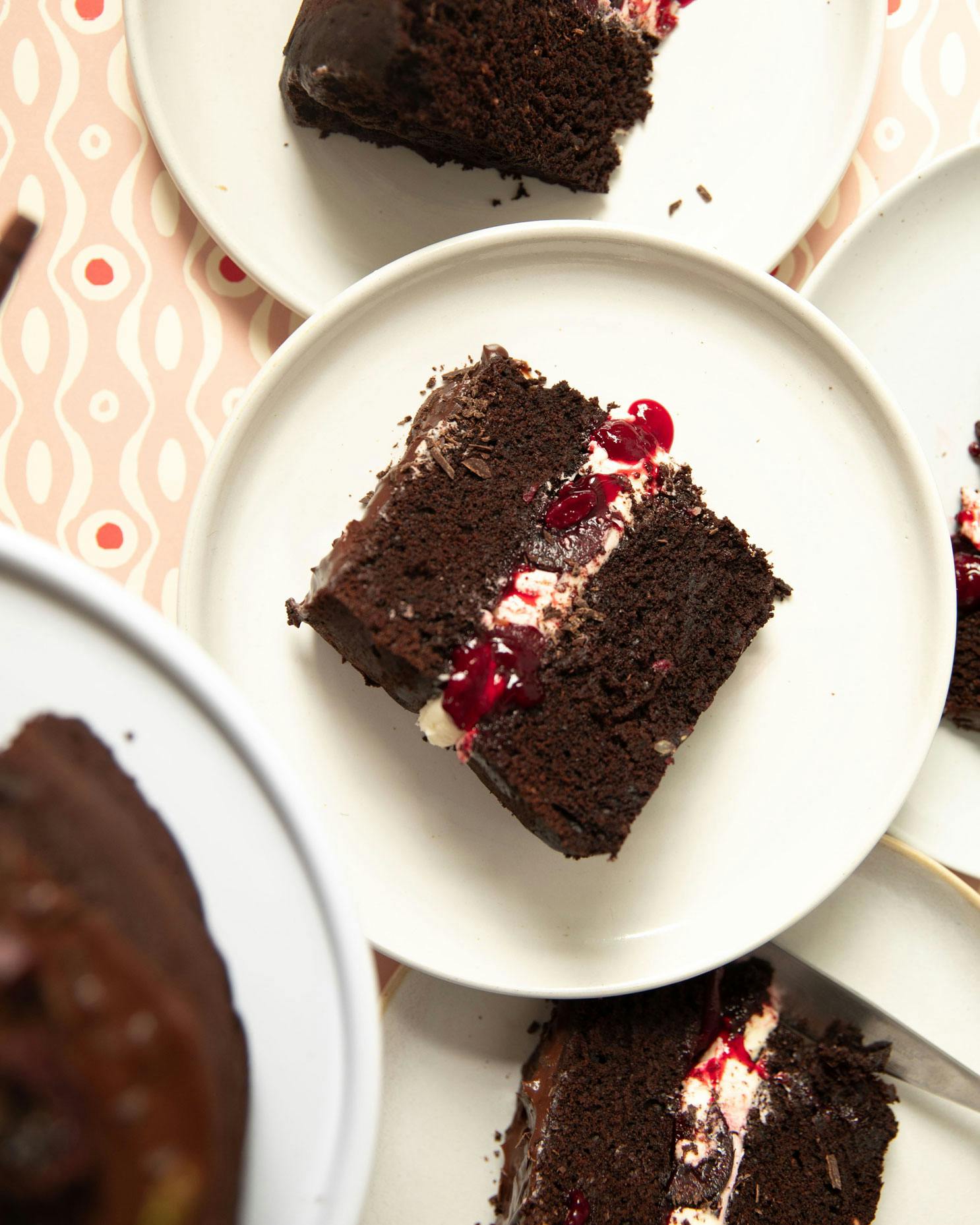 Ingredients
Cake: 
450g plain flour 
100g cocoa powder 
280g caster sugar 
½ tsp salt
½ tsp baking soda 
2 tsp baking powder 
525ml plant based milk
25ml espresso or ½ tsp espresso powder (or 25ml milk)
180ml neutral oil 
1 tbsp apple cider vinegar 
2 tsp vanilla extract 
Filling:
4 tbsp kirsch, optional 
1 400ml tin full fat coconut milk, refrigerated overnight
80g icing sugar 
80g morello cherry jam 
50g fresh cherries, halved 
Topping:
50g dark chocolate
50ml plant based cream
100g fresh cherries
50g dark chocolate, shaved
Method
STEP 1
Preheat the oven to 165˚C fan (or 185˚C conventional). Grease and line two 8-inch (20cm) cake tins, or three 6-inch (15cm) cake tins.
STEP 2
In a large bowl, combine flour, cocoa powder, sugar, salt, baking soda and baking powder. Whisk to combine and set aside. 
STEP 3
In a separate bowl, whisk together milk, oil, espresso (or espresso powder), apple cider vinegar and vanilla extract. Pour the wet ingredients into the dry, and stir to combine. 
STEP 4
Pour the batter as evenly as possible into the two lined cake tins. Bake the cakes for 30 mins, until a toothpick inserted in the center comes out clean. 
STEP 5
Let the cakes cool for 10 minutes, then remove them from their tins. Prick the cakes a few times with a skewer and while the cakes are still warm, drizzle each cake base with 2 tbsp of kirsch (if using). Let the cakes cool completely. 
STEP 6
In the meantime, prepare the ganache. Finely chop 50g of chocolate and add it to a bowl. In a small saucepan, heat plant based cream over medium heat until it's starting to bubble. Pour it over the melted chocolate, and let sit for one minute. Use a spatula to stir it, until it's smooth, creamy and glossy. Leave it to cool and thicken slightly while you prepare the filling.
STEP 7
Remove the tin of coconut milk from the refrigerator, and scoop out the cream from the top (leaving the water behind) into a large bowl or stand mixer. Use an electric mixer (or the whisk attachment of a stand mixer) to whip the coconut cream for 2-3 minutes.
STEP 8
Add the icing sugar and continue to whip the cream until it's fluffy and light. Cover the bowl and place in the fridge until assembling.
STEP 9
Last, prepare the cherry filling. In a bowl, combine cherry jam and cherry halves. 
STEP 10
Once the cakes have cooled, the fillings are prepped and the ganache has thickened, it's time to assemble the cake. If your cakes have slightly domed (risen at the centre), level the cakes using a large knife. 
STEP 11
Place the first cake, faced down, on a cake stand or large dish. Spread the coconut whipped cream evenly over the cake, then spoon over the cherry jam mixture. Stack the second cake, faced down, on top of the filling.
STEP 12
Spread the chocolate ganache over the top. Arrange the fresh cherries on top of the ganache, and sprinkle it with chocolate shavings.
STEP 13
Slice your cake and serve!
---
By Valentina Concordia
Valentina is our Food Editor, who dreams up our tasty dishes and recipes for our social channels. She has loads of experience cooking up a storm in Italian kitchens, so it's no surprise she can't live without good-quality olive oil (don't come between her and her olive oil) and fresh pasta.
---
Let us take care of dinner
After getting creative in the kitchen, give yourself the weekend off by letting us take care of dinner. Check out our delicious meals here.
Shop now