Recipes
Vegan Bourguignon
5min read
This vegan bourguignon follows the same method, tips and techniques as the original version. The result is a stew which is as rich, hearty and savoury as the classic and tastes like it's been slow cooking for hours on end.
The depth of flavour in this dish comes from a few processes and ingredients, which transform this from being a run of the mill stew to a bourguignon. For example, in the same way that beef is browned in the classic recipe, browning the mushrooms before starting to cook the stew allows for the mushrooms to crisp up and brown. This in turn creates layers of flavour once they mushrooms are added back into the stew later on. Choosing a mix of mushrooms is also important to in a vegan bourguignon, and the more are used the better. I like to use a mix of chestnut mushrooms, shiitake and oyster mushrooms, which contribute to a texture and flavour profile which would be missing if using chestnut mushrooms alone.
The amount of wine in the recipe might be more than you're used to using when cooking. It's a lot, I know, but this stew can take it. The flavours of the wine are toned down after being stewed with the rest of the ingredients, and completely balance out when let to rest for 15 minutes after cooking - don't skip that step!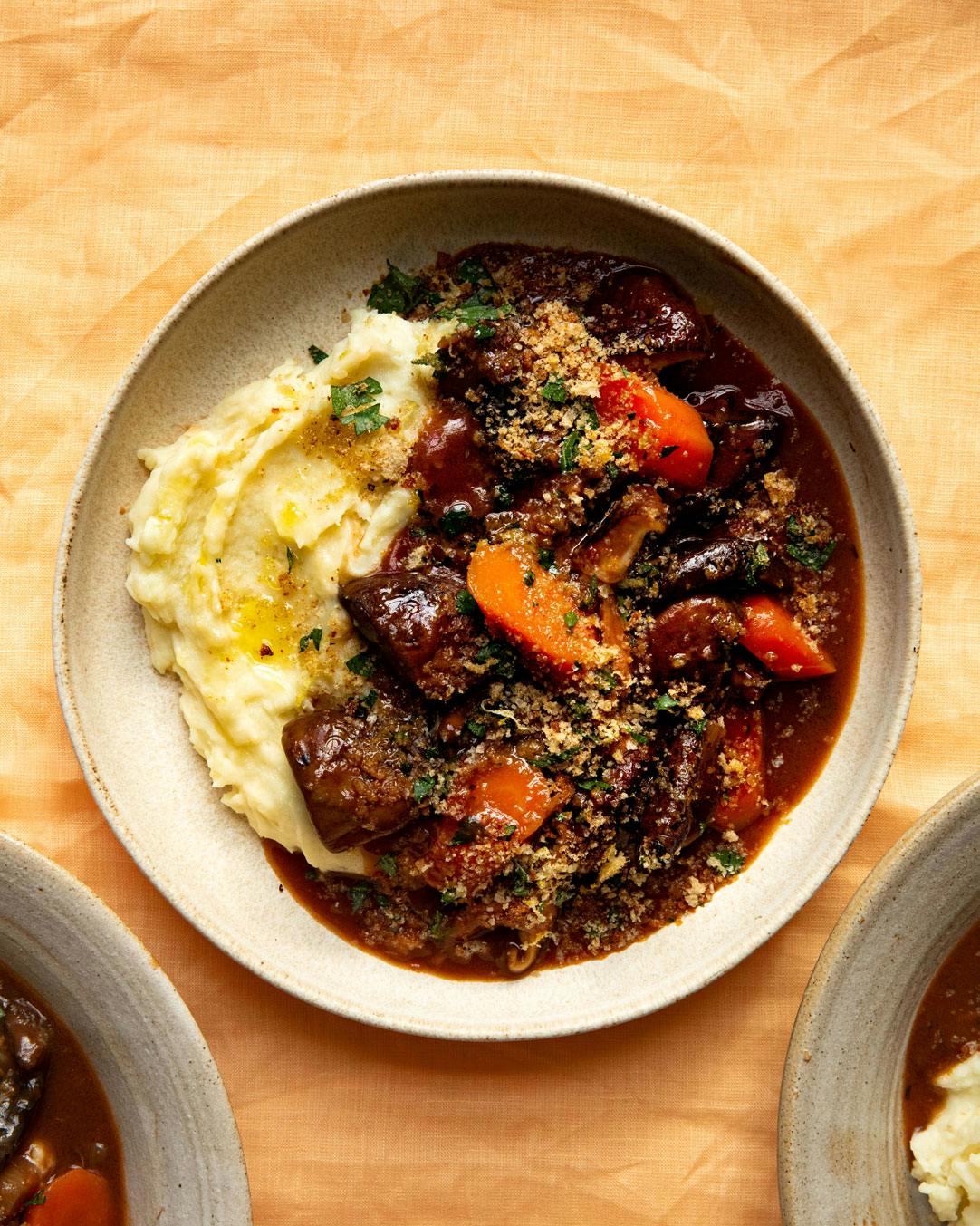 Ingredients
Stew:
5 tbsp olive oil or plant based butter
300g button or chestnut mushrooms, quartered 
300g mixed mushrooms, halved (such as shitake, oyster or chanterelle) 
4 shallots, quartered 
2 garlic cloves, smashed 
½ tsp salt
200g carrots, sliced 2cm thick
20g tomato paste
2 tbsp tamari
2 tbsp plain flour
200ml red wine
600ml good quality veg stock
2 bay leaves 
3 sprigs fresh thyme
1 sprig fresh rosemary 
⅛ tsp black pepper
Topping: 
40g coarse breadcrumbs (panko or homemade)
1 lemon, zested
¼ tsp salt
1 tbsp olive oil 
20g fresh parsley, finely chopped
To serve:
Mashed potatoes
Method
STEP 1
Heat 2 tbsp oil or butter in a large heavy set pot (like a dutch oven) over medium-high heat. Add the quartered button (or chestnut) mushrooms, and let cook untouched for 7-8 minutes, until golden brown on the heat facing side. Stir to flip the mushrooms and let them cook untouched for 5-6 minutes, until fully golden brown. 
STEP 2
Transfer the cooked mushrooms into a large bowl and sprinkle with salt. Heat 2 tbsp of oil or butter in the same pot, and add in the mixed mushrooms. Repeat the cooking process with these, letting them cook untouched until golden brown. Transfer them into the bowl with the rest of the mushrooms, and sprinkle with a little more salt.  
STEP 3
In the same pot, heat 1 tbsp of oil or butter. Add the shallots, stir to coat in oil, and let cook for 10-12 minutes, until soft and translucent. Add the smashed garlic cloves and a pinch of salt and cook for another 6-7 minutes, until the shallots are starting to brown.
STEP 4
Add the sliced carrots and stir to coat in the shallots and oil. Add the tomato paste, and cook down for 4-5 minutes, until the tomato paste is starting to brown and starts sticking to the bottom of the pot. Add the tamari and flour and stir it in until it forms a paste. 
STEP 5
Next, add the cooked mushrooms, red wine, vegetable stock, bay leaves, thyme, rosemary, black pepper and ¼  tsp salt. Let simmer for 35-40 minutes, until the liquid has reduced and become thick. Taste for seasoning and adjust to taste. 
STEP 6
While the stew cooks prepare the mashed potatoes and the topping. Toast the breadcrumbs in a small pan for 4-5 minutes until golden brown. Add to a small bowl along with lemon zest, salt, olive oil and chopped parsley. Mix to combine. 
STEP 7
Let the bourguignon stir for 15 minutes before serving. Divide it amongst bowls on top of mashed potatoes and topped with the prepared breadcrumbs. 
---
by Valentina Concordia
Valentina is our Food Creative, who dreams up our tasty dishes and recipes for our social channels. She has loads of experience cooking up a storm in Italian kitchens, so it's no surprise she can't live without good-quality olive oil (don't come between her and her olive oil) and fresh pasta.
---
MORE GREAT READS