A vegan, tangy, cheesy dip to end all your nacho-dipping woes. Serve at an upcoming dinner party, or enjoy to yourself on the sofa with your favourite bag of crisps.
100g raw (unsalted/unroasted) cashews
2 tsp tapioca starch (or you can use cornflour)
1 onion
2 garlic clove
2 tbsp light olive oil
1 tsp ground cumin
1 tsp smoked paprika
1/2 tsp - 1 tsp ancho chilli flakes (or use regular/chipotle)
1/2 tsp flaked sea salt
1tbsp nutritional yeast flakes
300mls water + extra for soaking
To serve:
Corn chips
Handful of pickled jalapeños (these add tartness to the dip, if you don't have them, use a squeeze of lime stirred through the tomatoes instead)
5 chopped cherry tomatoes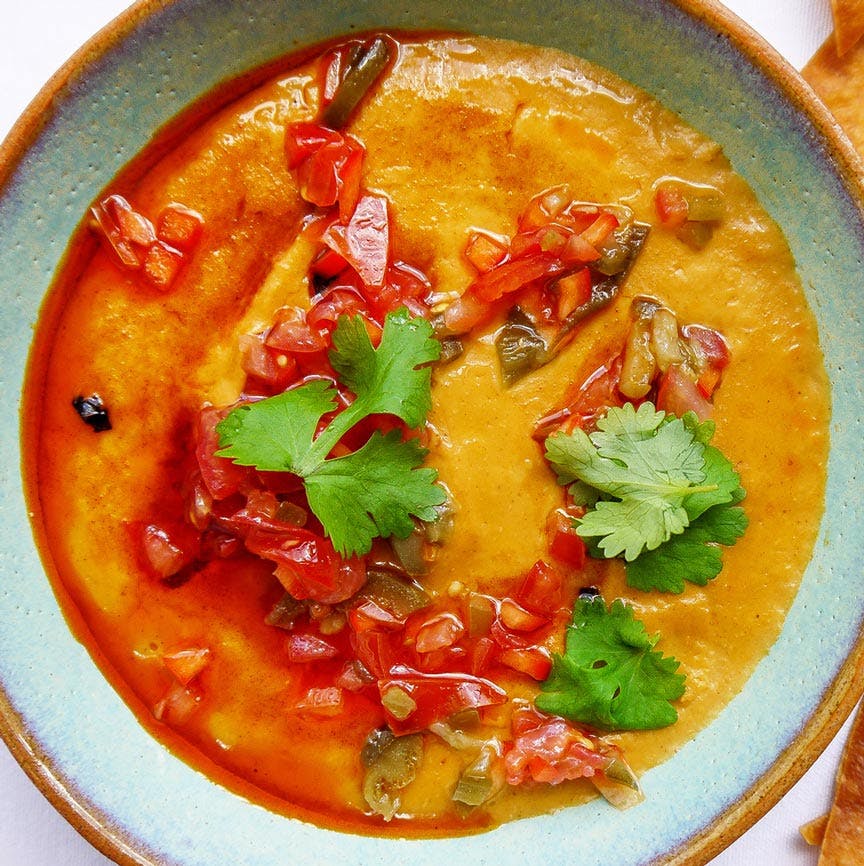 STEP 3
Drain the cashews, add to a high speed blender with the tapioca starch, half the water, yeast flakes and the spiced onion mixture. Blend until smooth, then put back into the pan the onions were in, and heat until bubbling, stirring constantly. Add the rest of the water, until the texture is to your liking. Taste for seasoning.
STEP 4
Serve warm with chopped jalapeños, chopped tomatoes, a drizzle of olive oil and sprinkle of paprika/chilli flakes. Dip with corn chips.
Alternative serving: to make nachos, drizzle the dip over tortilla chips, place under the grill for a few minutes until bubbling and serve with guacamole and tomato salsa.