Recipes
Vegan Chocolate Thumbprint Cookies
5min read
These deeply chocolatey, rich and salted double chocolate vegan thumbprint cookies come together in 30 minutes and are the cookie version of a chocolate fondant. Need we say more?
Aside from delicious, these cookies are also endlessly customisable. The chocolate ganache filling can be spiked with 2 tbsp peanut butter for a snickers-like cookie, or swapped entirely with this salted caramel or cherry jam (for black forrest vibes). The biscuit itself can be made plain, by subbing cocoa for extra flour and by adding an extra tsp of vanilla extract. Cinnamon, cardamom and nutmeg could also be added to plain bases, as well as almond essence for a marzipan feel.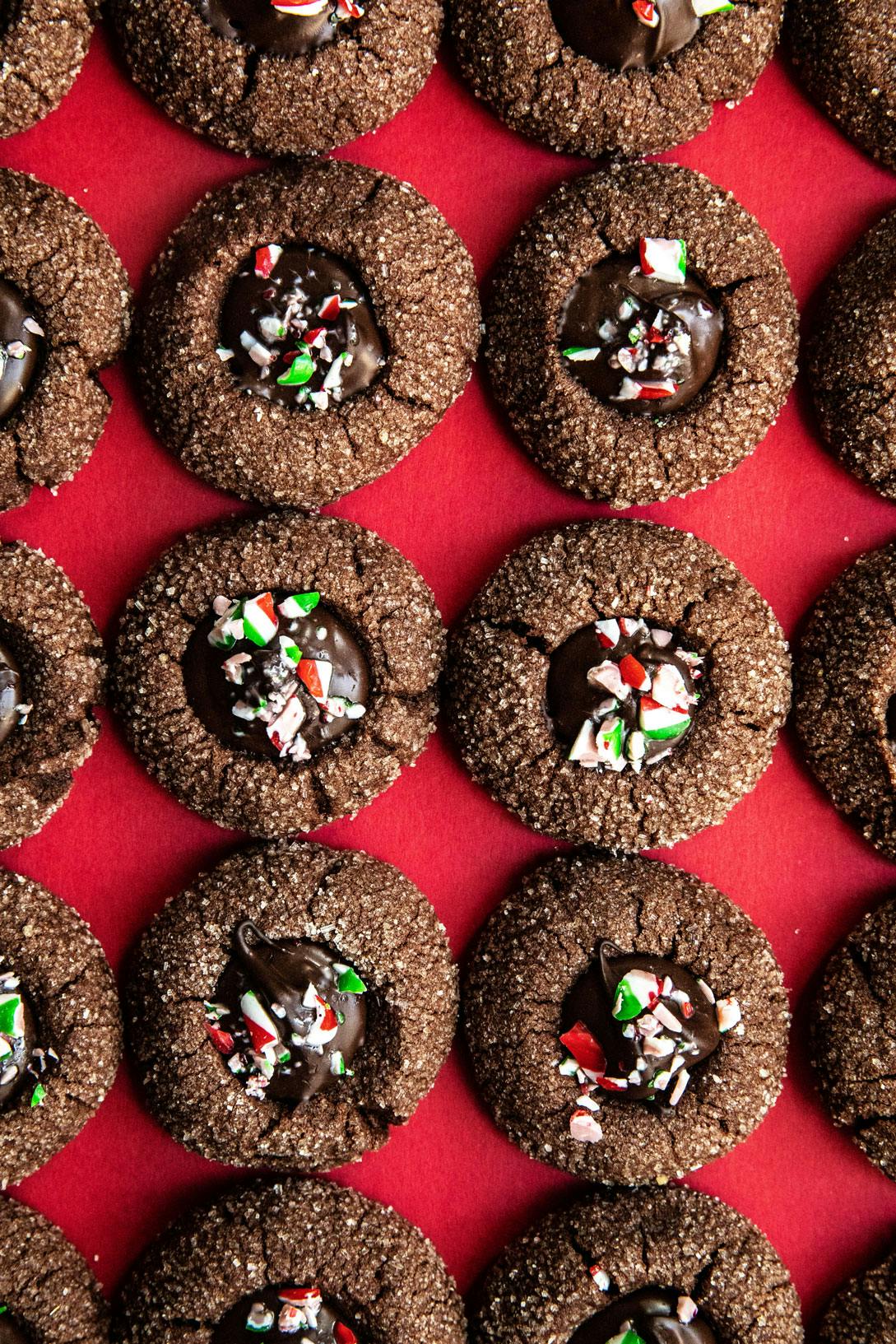 Ingredients
Cookies:
170g plant based butter block 
110g caster sugar
2 tbsp plant based milk 
1 tsp vanilla extract
200g plain flour
50g cocoa powder
½ tsp salt
½ tsp baking soda 
60g granulated sugar, for coating
Ganache Filling & Topping: 
100g dark chocolate 
100g plant based cream 
½ tsp salt 
4 candy canes, optional 
Method
STEP 1
Preheat the oven to 180˚ and line a large tray with parchment paper. 
STEP 2
In the bowl of a stand mixer or a large bowl, combine plant based butter and sugar. Mix on medium speed (either with a stand mixer or electric mixer) for 2-3 minutes, until the mixture is fluffy. Add the milk and vanilla extract and mix for 1 more minute. 
STEP 3
Into a large bowl, sift flour, cocoa powder, salt and baking soda. Mix to combine. 
STEP 4
Use a spatula to fold the dry ingredients into the butter mixture until just combined. 
STEP 5
Add granulated sugar to a small bowl. Use a spoon to scoop out a scant tbsp of cookie dough, and roll it in between your hands to form a ball. Coat the dough ball evenly in granulated sugar and place on the parchment lined baking tray.
STEP 6
Repeat with the rest of the dough, placing each cookie 4-6cm apart. Use a tsp or your thumb to press down in the center of each cookie, about half way in. 
STEP 7
Bake the cookies for 12-14 minutes, until crisp around the edges. Remove from the oven and let cool. If the centres of the cookies have risen slightly, use a small spoon to gently push them back down. 
STEP 8
While the cookies are baking, prepare the ganache filling. 
STEP 9
Finely chop the dark chocolate and place it in a heatproof bowl. Gentle heat the cream in a small saucepan over medium heat, until it starts to simmer. 
STEP 10
Pour the heated cream over the chopped chocolate, along with the salt, and let it sit for 30 seconds. Stir with a spatula, until the chocolate has fully melted and the mixture is smooth.
STEP 11
Let sit in the fridge for 10-15 minutes to thicken - it should be glossy and move freely, but not be runny.
STEP 12
Once the cookies have cooled and the ganache has thickened, use a small spoon or piping back to fill the middle of the cookies.
STEP 13
Finely chop the candy canes, or use a strong food processor to break them down. Sprinkle with candy canes and an extra sprinkle of salt.
---
By Valentina Concordia
Valentina is our Food Editor, who dreams up our tasty dishes and recipes for our social channels. She has loads of experience cooking up a storm in Italian kitchens, so it's no surprise she can't live without good-quality olive oil (don't come between her and her olive oil) and fresh pasta.
---
Let us take care of dinner
After getting creative in the kitchen, give yourself the weekend off by letting us take care of dinner. Check out our delicious meals here.