Recipes
Vegan Courgette Fritters
4min read
The secret to preparing vegetables that mimic how meat acts and tastes in a recipe is pretty straight forward: just treat it like meat. What we mean by that is to just adapt and replicate the processes typically associated with cooking meats, when cooking plants. Our new series, "How to Replace Meat in Everything" explores just how to do that in an easy, unfussy and delicious way. 
This recipe is for a fritter like no other - one that's crispy and crunchy whilst being airy, light and fluffy. Courgettes are both grated and sliced here for extra texture, and are mixed with potatoes for body and onion for flavour. If you want to change things up, you can also use carrots, corn or sweet potatoes in place of the courgette and potatoes as well as swapping the onion with ramps and spring onions.
Whereas I usually pan fry courgette fritters, I had a specific goal for this recipe which was to create an airy, uber crispy, and fluffy fritter, which meant creating a bubbly batter and a deeper fry. This batter uses sparkling water and baking powder for extreme airiness and includes cornstarch for crunch. The result is a fritter with extreme levels of crispness, but a texture that feels extremely light and fluffy. If you're after a pan fried or baked courgette fritter recipe, however, head here - they don't have the same mouthfeel or texture, but are delicious nonetheless.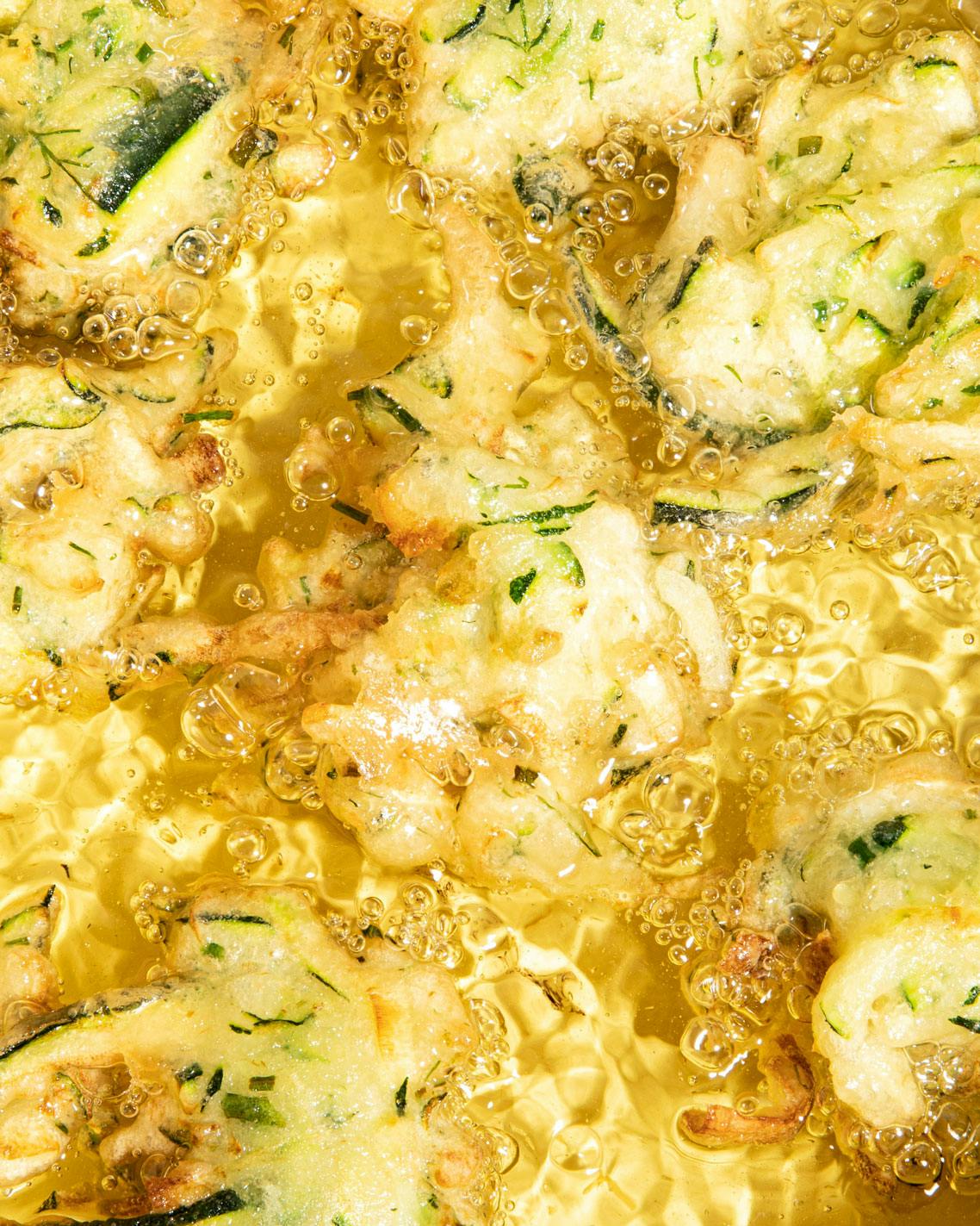 Ingredients
Fritters:
600g courgette (two large) 
150g potato (one medium)
90g white onion (one small) 
10g fresh chives, finely chopped
10g fresh mint, finely chopped
½ lemon, juiced
¼ tsp salt
⅛ tsp freshly ground black pepper 
190g plain flour 
30g cornstarch
1 tsp baking powder 
½ tsp salt 
260ml sparkling water 
1L vegetable oil, for frying 
To serve:
1 lemon, sliced
Tzatziki, optional
Method
STEP 1
Use the large side of a box grater to grate 300g courgette (one), the potato and onion. Add the grated vegetables to a colander and place it in the sink. 
STEP 2
Use a knife to julienne the remaining 300g courgette - this creates better texture in the final fritters rather than fully grating the courgettes. Add the courgettes to the colander. 
STEP 3
Sprinkle the vegetables in the colander liberally with salt (around 1 tbsp) and use your hands to gently toss them together. Let them sit for 20 minutes. 
STEP 4
In the meantime, add the vegetable oil to a deep heavy-bottomed pot (like a Dutch oven) and heat over medium heat until the oil reaches 175˚C - it takes around 15 minutes. 
STEP 5
Use your hands to squeeze the courgettes 6-7 times to release as much water as possible. Place them in a bowl, along with the chopped herbs, lemon juice, salt and black pepper. 
STEP 6
Next, prepare the batter. In a large bowl, combine the flour, cornstarch, baking powder and salt. Make a well in the middle, and pour in the sparkling water. Whisk it together until it's smooth and creamy. Fold the courgette mixture into the batter until it's evenly distributed. 
STEP 7
Frying time! Line a tray with kitchen roll and bring the batter over to the stove. 
STEP 8
Drop heaped tbsps of batter into the oil, leaving a few cm between each fritter, frying around 6-7 at a time depending on the size of the pot. 
STEP 9
Fry them for 8-9 minutes, flipping half-way through, until they're golden brown. Use a slotted spoon to transfer them from the oil onto the prepared tray. Sprinkle them with salt. Repeat the frying process with the remaining batter. 
STEP 10
Serve the fritters with a couple lemon wedges and tzatziki. 
---
By Valentina Concordia
Valentina is our Food Editor, who dreams up our tasty dishes and recipes for our social channels. She has loads of experience cooking up a storm in Italian kitchens, so it's no surprise she can't live without good-quality olive oil (don't come between her and her olive oil) and fresh pasta.
---
Let us take care of dinner
After getting creative in the kitchen, give yourself the weekend off by letting us take care of dinner. Check out our delicious meals here.