Recipes
Vegan Filipino Siomai
4min read
Get ready to get your dumpling party on. Enjoy these classic, flavourful, Filipino street food dumplings; filled with veggies, mushroom and vegan mince and served with garlic chilli oil, soy sauce and lemon. Whether you want to make a stash just for you or are having friends over, this siomai recipe deserves pride of place at your next dumpling party!
There's a lot of Chinese influence in Filipino food cuisine, and these dumplings are definitely a favourite. Siomai or shumai, is a type of traditional Chinese dumpling that is served in dim sum. There are a lot of different fillings depending on the season and region, but the most famous one would be the Cantonese pork, shrimp and mushroom filling that inspires the Filipino version. Having said that, Filipino siomai has its own individual flair; often served with calamansi (Filipino citrus similar to lemon or lime), garlic chilli oil and soy sauce. It's famed all over the country, not only is it served in restaurants, siomai often has its own designated stalls, whether out in the streets or in shoppings malls.

Siomai is one of my favourite street foods from growing up in the Philippines. We have a lot of street food stalls found outside of churches and schools, so street food became an integral part of my life when I lived there. My fondest memory of siomai would be eating it with friends after school, where we would buy freshly made, steaming-hot dumplings, bursting with flavour from our go-to stall before heading home.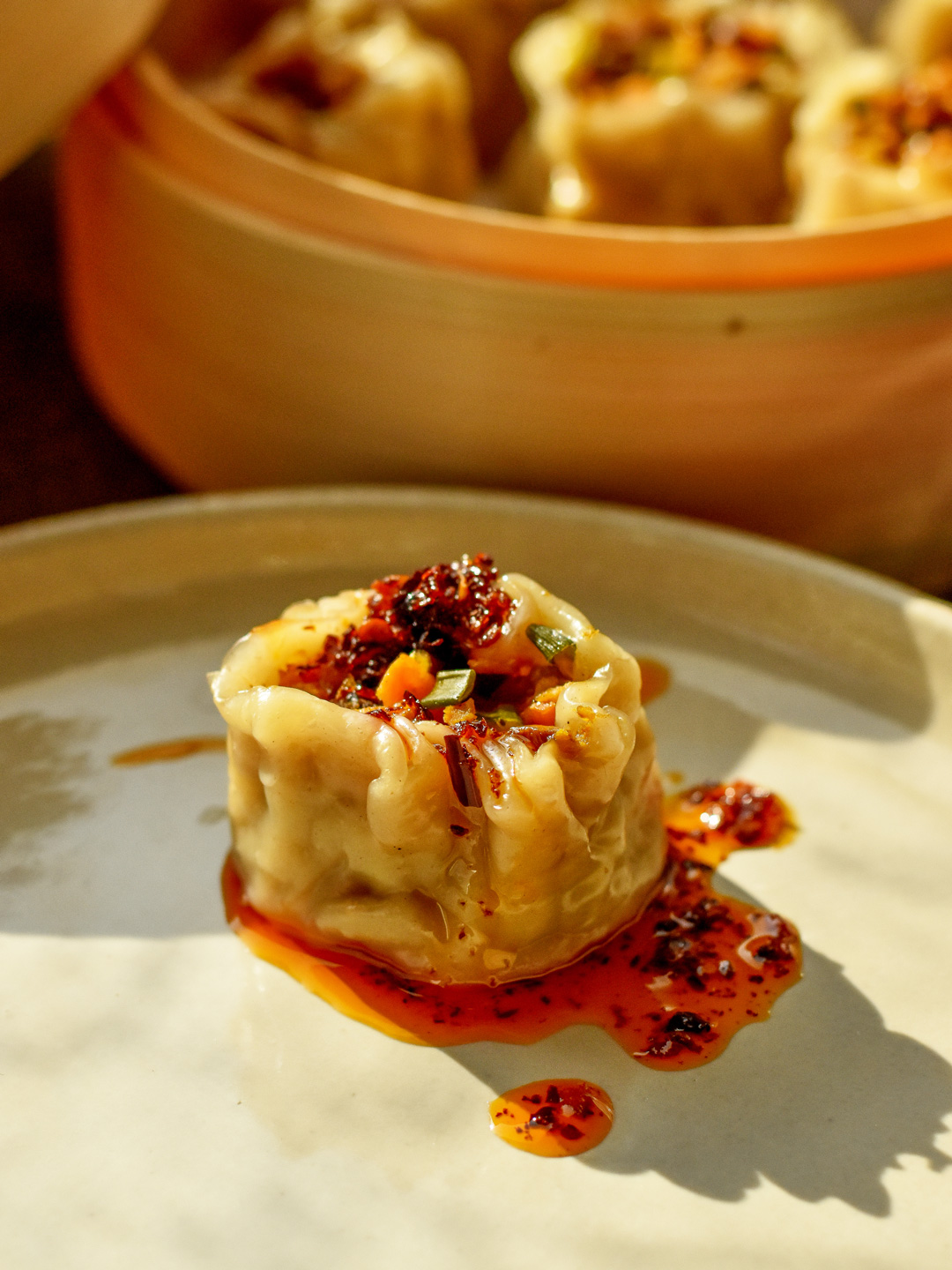 Ingredients
For the filling:
1 cup onion, minced
1 cups carrots, minced
4 spring onions, minced
1 cup rehydrated shiitake mushrooms, minced
1 cup vegan mince 
½ tbsp ground black pepper
1 tbsp sesame oil
½ tbsp salt
water, for steaming
For the dough:
1 ½ cups flour
½ cup water
cornstarch, for dusting
To serve: 
soy sauce
lemon, wedges
garlic chilli oil (see here for our recipe)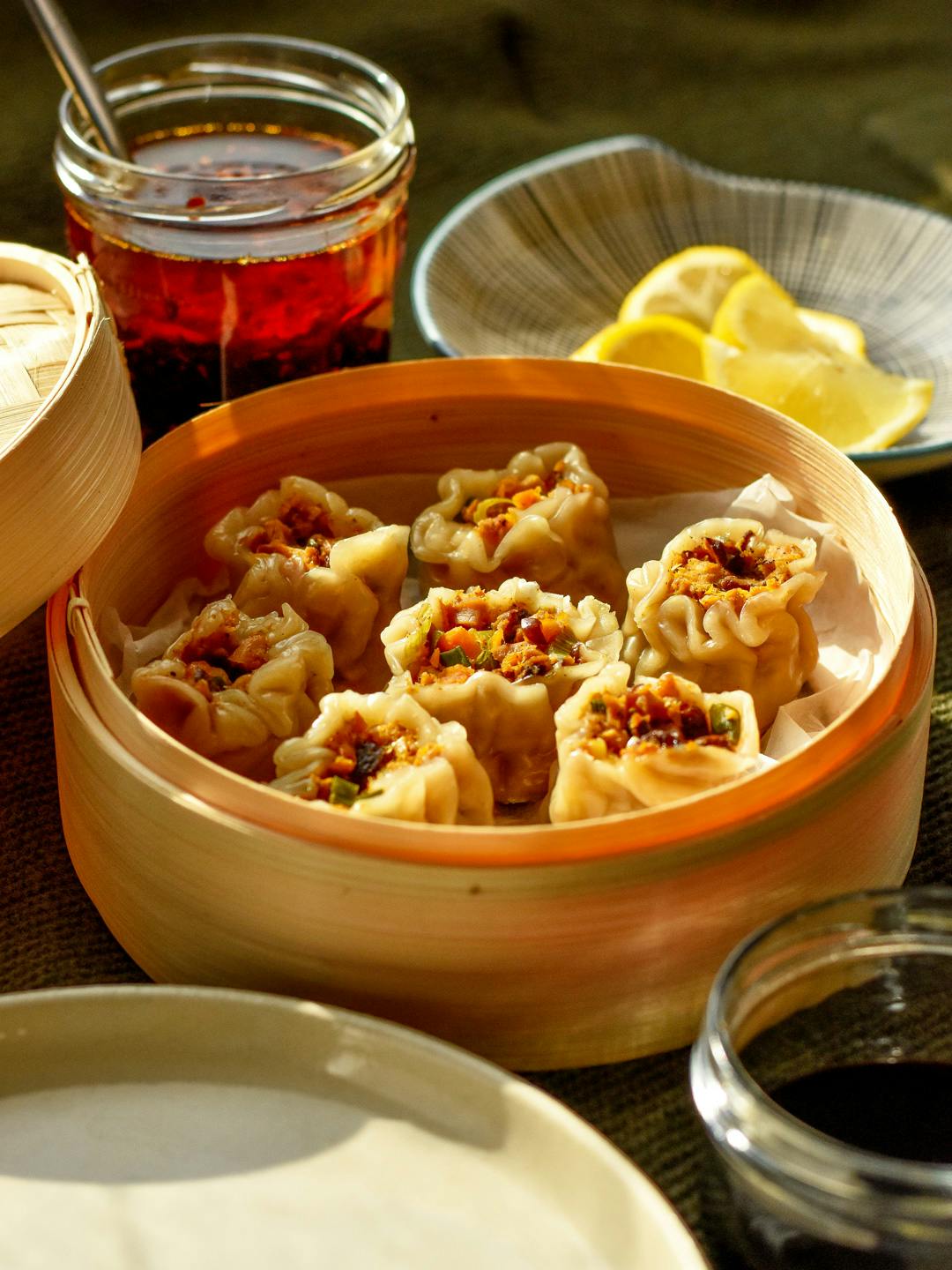 Method
STEP 1
Make siomai wraps. You can skip this step and buy ready to use dumpling dough or wonton wraps that don't contain milk or eggs. But if you're up for making yours from scratch, mix flour and water in a bowl. Once combined, knead for a couple of minutes on a surface dusted with corn flour. Place in an airtight container and rest in the fridge for 30 minutes.
STEP 2
Whilst your dough is resting, prepare the filling. Soak dried shiitake mushrooms in warm water for around 15 minutes until they are pliable. Then mince onions, carrots, shiitake mushrooms and spring onions. I tend to use a blender or food processor to give me more time for wrapping but you can do this manually as well. In a bowl, combine veggies, vegan mince (you can use your favourite vegan sausage for this as well), sesame oil, salt and ground black pepper.
STEP 3
Take your dough out of the fridge, back onto a floured surface. Cut in half and roll out to about 1-2mm. The thinner the dough, the more carefully you have to handle it when filling and moulding into shape. Keep dusting the surface and your rolling pin with flour to prevent your dough from sticking. Once all of the dough is rolled out, use a cookie cutter or drinking glass to cut out circles for wrapping.
STEP 4
To fill up your cut out dumpling dough, make a circle with your index finger and thumb and place the dough sheet on top. Scoop ½ of filling and place in the middle of the dough. Use your pinky finger underneath the dough as a support and pinch the outside circumference of the dough to make an open parcel/basket shape. Repeat step until you've filled every dough sheet.
STEP 5
Bring a pot of water to a simmer. Lay parchment in your steamer and poke holes to let steam circulate. Place your siomai in the steamer (with an inch distance from each other), cover with lid and steam for 20 minutes.
STEP 6
Take your siomai out of the steamer and serve with garlic chilli oil (see recipe here), soy sauce and lemon wedges. Enjoy!
---
by Aliza de Lima
Aliza is our Junior Creative, in between running out for copious amounts of coffee and snacks (give her a biscuit and she's your best friend). On her day off you'll find her exploring an exhibition, and having a chat over our Mac & Greens.
---
MORE GREAT READS