Recipes
Vegan Glazed Doughnuts
6min read
Fluffy on the inside, ever-so-slightly crisp on the outside. These vegan glazed doughnuts are almost too cute to eat. Almost.
The hardest part about making this recipe was choosing what flavour glaze to top the doughnuts with. My brain said chocolate, my stomach said thin vanilla glaze (Crispy Kreme style), but my heart wanted to make them pink like the Simpson's doughnuts. And you should always follow your heart, so here we are. A bonus of this pink glaze is that it's naturally coloured by fruit and glaze and can be adapted in so many ways - mango for an orange-coloured glaze or blueberries and blackberries for a purple glaze for example - just follow the method in step 11 and you're good to go.
If you do want a chocolate glaze rather than a pink glaze, I get it. Make a chocolate ganache following this recipe and follow from step 13. And last, if you're after a vegan Crispy Kreme style donut, then simply mix together the icing sugar with 6-7 tbsp tbsp of plant based milk and 1 tsp of vanilla (instead of the fruit) until you have a thin glaze. Dunk the doughnut in the glaze, then place on a cooling rack so the glaze can slide down the sides of the doughnut, coating it fully.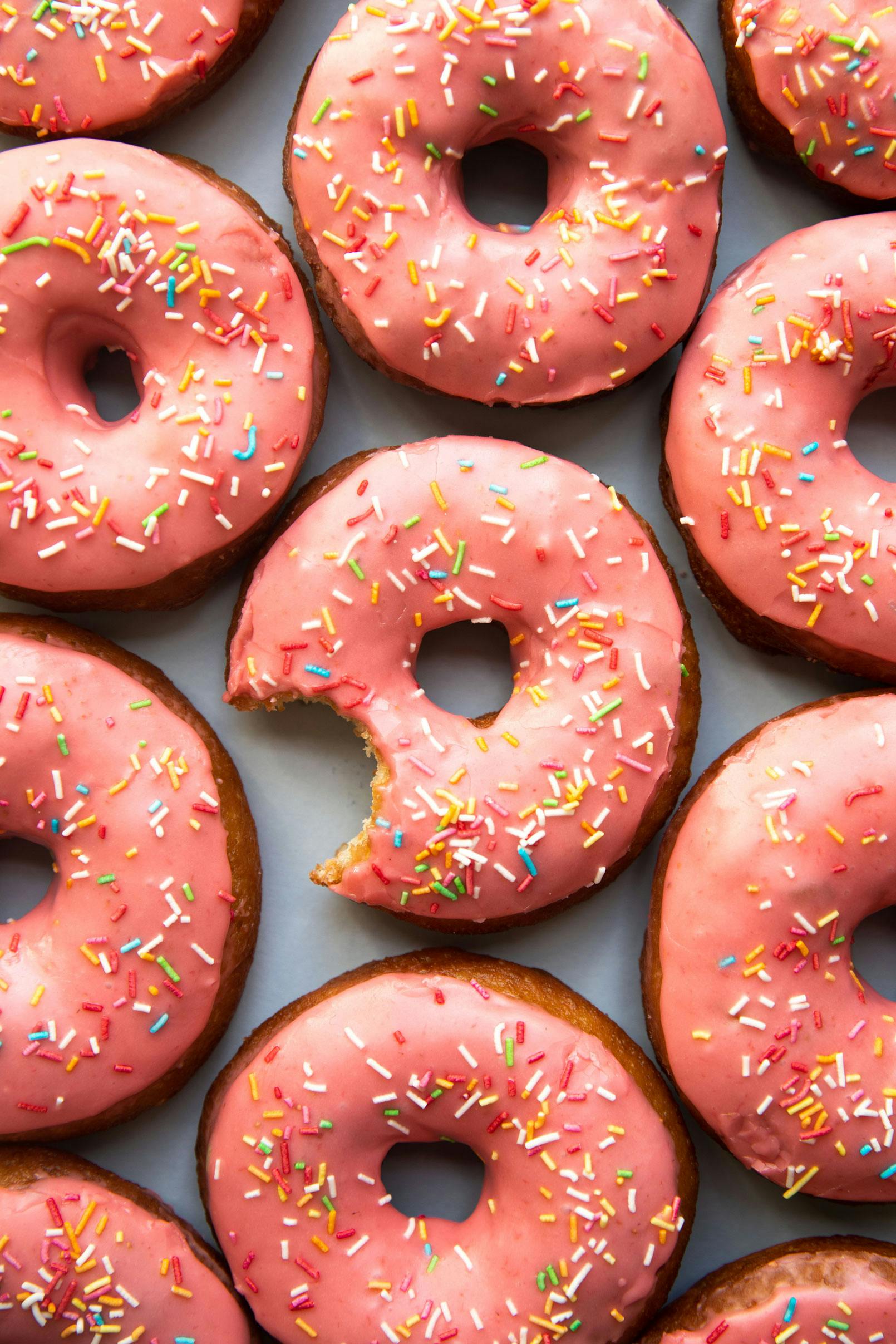 Ingredients
Doughnuts: 
515g plain flour 
2 ¼ tsp instant yeast 
½ tsp salt 
80g caster sugar 
285g plant based milk 
80g plant based butter, at room temperature
1 tsp vanilla extract 
Vegetable oil, for frying 
Icing: 
150g strawberries
150g raspberries
1 tbsp lemon juice 
200-240g icing sugar 
4 tbsp plant based sprinkles
Method
STEP 1
In the bowl of a stand mixer, combine plain flour, yeast, sugar and salt and mix to combine. With the mixer running on medium speed, add milk, butter and vanilla extract. 
STEP 2
When the mixture becomes too thick for the mixer, transfer the dough onto a lightly floured surface. Knead the dough for 5-6 minutes, until it's very smooth, soft and elastic. If the dough feels too wet and sticky, add 1-2 tbsp of flour and continue kneading until it's smooth. 
STEP 3
Lightly oil the large mixing bowl and place the dough back into it. Cover the bowl with a damp cloth or tea towel and let sit in a warm place until it has doubled in size - around 60 minutes. 
STEP 4
Line a large baking tray with parchment paper. 
STEP 5
Once the dough has risen, transfer it back to a lightly floured surface. Roll the dough out to be around 1.5-2 cm thick. 
STEP 6
Use a cookie or doughnut cutter to cut the doughnut into rounds. If using a cookie cutter, now use a small cutter to cut out the doughnut holes. Collect the dough scraps, form them into a ball and roll them out to cut out more doughnuts. Repeat until there isn't any dough left. 
STEP 7
Carefully transfer the doughnut rings and holes onto the lined baking tray. Cover the tray with a damp cloth or tea towel and let rise for another 60 minutes, until puffed. 
STEP 8
Fill a heavy bottomed pot, such as a dutch oven, with vegetable oil. Heat the oil to around 170˚C on medium-high heat.
STEP 9
Once the oil is hot, very carefully add one doughnut to the pot. Repeat with a second doughnut to cook two at the same time. 
STEP 10
Cook for 1-2 minutes each side, until golden brown. Use a slotted spoon to transfer the doughnuts to a baking tray or dish lined with kitchen roll. Repeat with the rest of the doughnuts and the doughnut holes. Let cool for at least 20-25 minutes. 
STEP 11
In the meantime, make the icing. Add strawberries, raspberries and lemon juice to a blender and blend on high for 1 minute. Strain the mixture through a sieve into a bowl. 
STEP 12
In a separate bowl, combine 200g icing sugar with 6 tbsp of the sieved fruit purée, and whisk to combine. The mixture should be thick but loose enough to run off a spoon. Add extra icing sugar or fruit purée 1 tbsp until you reach the desired consistency. 
STEP 13
Dunk the doughnuts whilst holding them, one at a time, in the glaze. Lift the doughnut out of the glaze, flip it so the glaze is facing upwards, and shake it lighty with your hands to help the glaze set. 
---
By Valentina Concordia
Valentina is our Food Editor, who dreams up our tasty dishes and recipes for our social channels. She has loads of experience cooking up a storm in Italian kitchens, so it's no surprise she can't live without good-quality olive oil (don't come between her and her olive oil) and fresh pasta.
---
Let us take care of dinner
After getting creative in the kitchen, give yourself the weekend off by letting us take care of dinner. Check out our delicious meals here.