Fluffy on the inside, ever-so-slightly crisp on the outside. These vegan glazed doughnuts are almost too cute to eat. Almost.
The hardest part about making this recipe was choosing what flavour glaze to top the doughnuts with. My brain said chocolate, my stomach said thin vanilla glaze (Crispy Kreme style), but my heart wanted to make them pink like the Simpson's doughnuts. And you should always follow your heart, so here we are. A bonus of this pink glaze is that it's naturally coloured by fruit and glaze and can be adapted in so many ways - mango for an orange-coloured glaze or blueberries and blackberries for a purple glaze for example - just follow the method in step 11 and you're good to go.
If you do want a chocolate glaze rather than a pink glaze, I get it. Make a chocolate ganache following this recipe and follow from step 13. And last, if you're after a vegan Crispy Kreme style donut, then simply mix together the icing sugar with 6-7 tbsp tbsp of plant based milk and 1 tsp of vanilla (instead of the fruit) until you have a thin glaze. Dunk the doughnut in the glaze, then place on a cooling rack so the glaze can slide down the sides of the doughnut, coating it fully.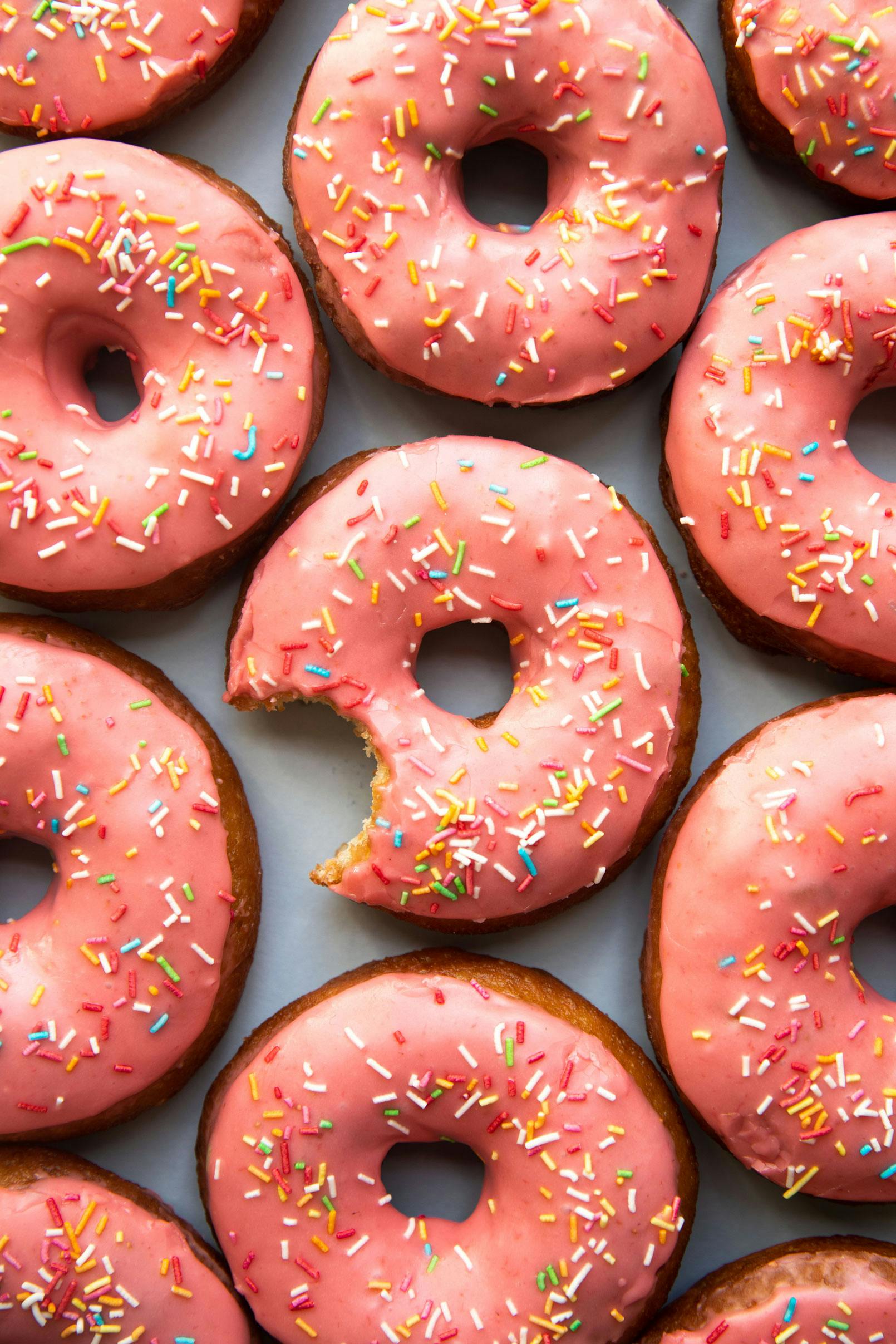 Doughnuts: 
515g plain flour 
2 ¼ tsp instant yeast 
½ tsp salt 
80g caster sugar 
285g plant based milk 
80g plant based butter, at room temperature
1 tsp vanilla extract 
Vegetable oil, for frying 
Icing: 
150g strawberries
150g raspberries
1 tbsp lemon juice 
200-240g icing sugar 
4 tbsp plant based sprinkles