These Swedish-inspired meatballs are what we're making every rainy and cold evening here on out. They're warming, packed with flavour and best of all, the perfect vehicle for gravy and mashed potatoes.
Apart from being delicious, these easy vegan meatballs are also gluten free. They use buckwheat flour to bind the mushrooms and lentils, but you could easily sub that with ground oats if that's all you have on hand. If you don't have either of those, feel free to sub them with spelt or plain flour if can eat gluten. You could also sub chestnut mushrooms with whatever type of mushroom you can find - portobello, button, white cup etc - but I wouldn't go in the direction of shiitake, porcini or oyster here. I like to save those for when they can really shine, and as the mushrooms here are blended into a paste, I find it's not the time to go all out with the best mushrooms you can find.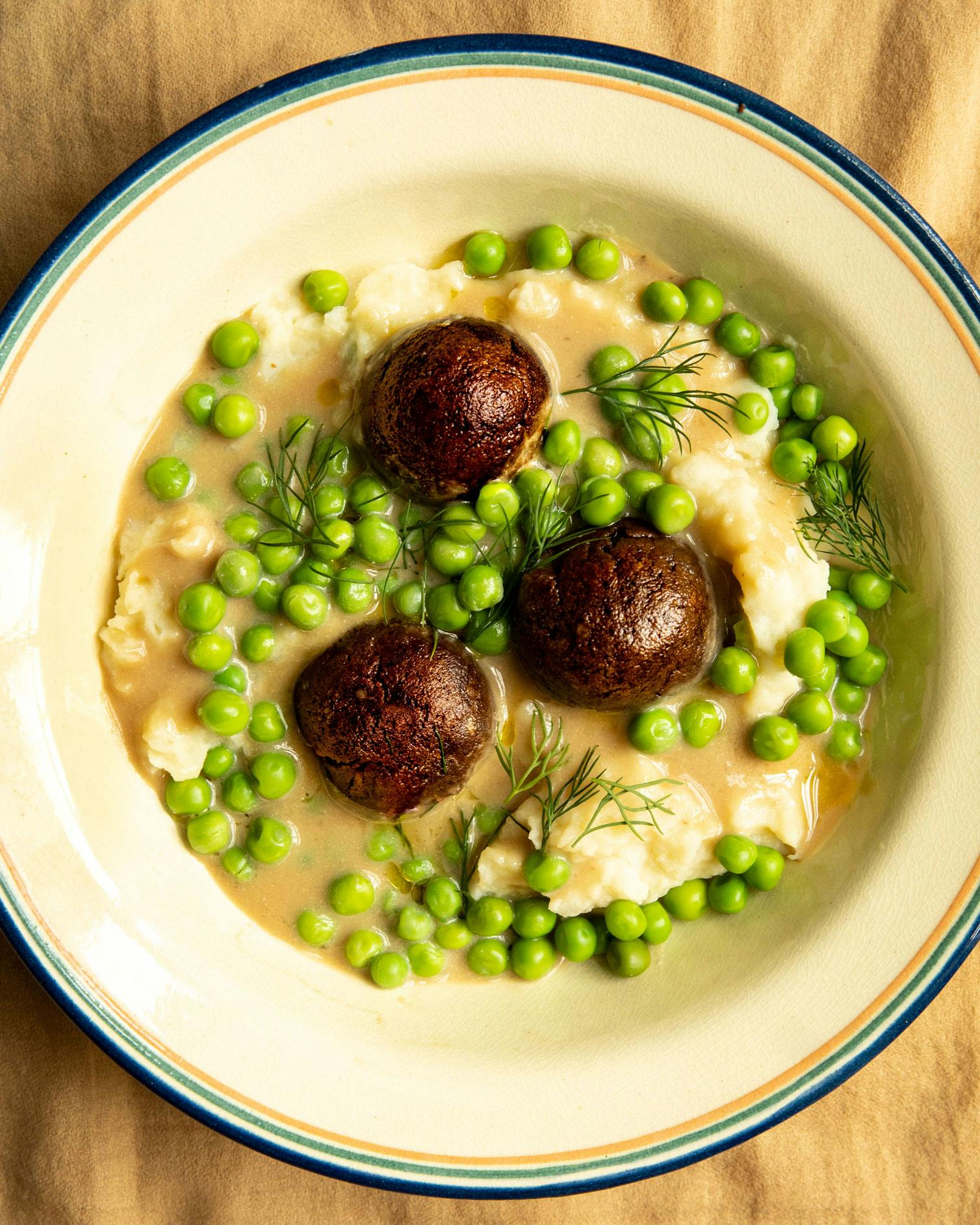 Meatballs
2 + 1 tbsp olive oil, divided
80g shallots (around 3 small), sliced
1 clove garlic, minced
250g chestnut mushrooms 
½ tsp salt
250 cooked lentils (green or puy)
70g buckwheat flour
1 tsp dijon mustard
1 tsp red miso paste
¼ tsp ground nutmeg
¼ tsp freshly ground black pepper
Gravy
2 tbsp oil
1 white onion, thinly sliced
1 clove garlic, minced
500ml plant based milk 
3 tbsp soy sauce or tamari
1 tsp dijon mustard 
¼ tsp ground nutmeg
2 tbsp arrowroot powder 
Freshly ground black pepper 
To serve:
Mashed potatoes 
Peas
Fresh dill
STEP 3
In the meantime, finely chop the mushrooms either by hand or using a food processor. Add the mushrooms to the pan, along with the salt, and stir to coat them in oil. Cook for 12-14 minutes, until any liquid has evaporated and the mushrooms have halved in size. Add the cooked lentils, stir to combine, and cook for 2-3 more minutes.
STEP 4
Add the mushroom and lentil mixture to a food processor, along with the flour, mustard, miso paste, spices and black pepper. Mix for 1-2 minutes, until a smooth paste forms. Let it rest for 10 minutes.
STEP 7
In the meantime, make the gravy. Heat 1 tbsp of olive oil in a saucepan over medium heat. Add sliced onion and a pinch of salt and cook for 10 minutes. Add the minced garlic and cook for 4-5 more minutes, until the onion is slightly caramelised. Add plant based milk, soy sauce, mustard, ground nutmeg and a pinch of black pepper and whisk together.