Recipes
Vegan Minestrone
5min read
This hearty, warming and flavourful soup is a saviour in disguise. It tastes delicious with whatever veg and beans you have on hand and it develops more and more flavour the longer you store it. Make the whole batch and enjoy leftovers, or double it up and freeze it for a rainy day.
Minestrone is a great meal to use up basically anything you have leftover on hand. It's the most customisable of the soup family, and can withstand endless swaps. If you don't have butternut squash, you can sub it for sweet potatoes, regular potatoes, pumpkin and any other starchy veg. If you don't have cannellini beans, you can sub them for butter beans, chickpeas or black eyed peas. The greens you choose to use are entirely up to you, and can even include leftover shaved brussels sprouts. The pasta shape you use is in your hands as well - aim to use something small like ditalini, conchiglie, maltagliati and orecchiette, but you can also crush spaghetti and lasagna sheets if that's what you have in the cupboard. You can also skip pasta altogether and add chunks of stale sourdough or a regular loaf for a ribollita vibe, which makes for an equally delicious and hearty soup.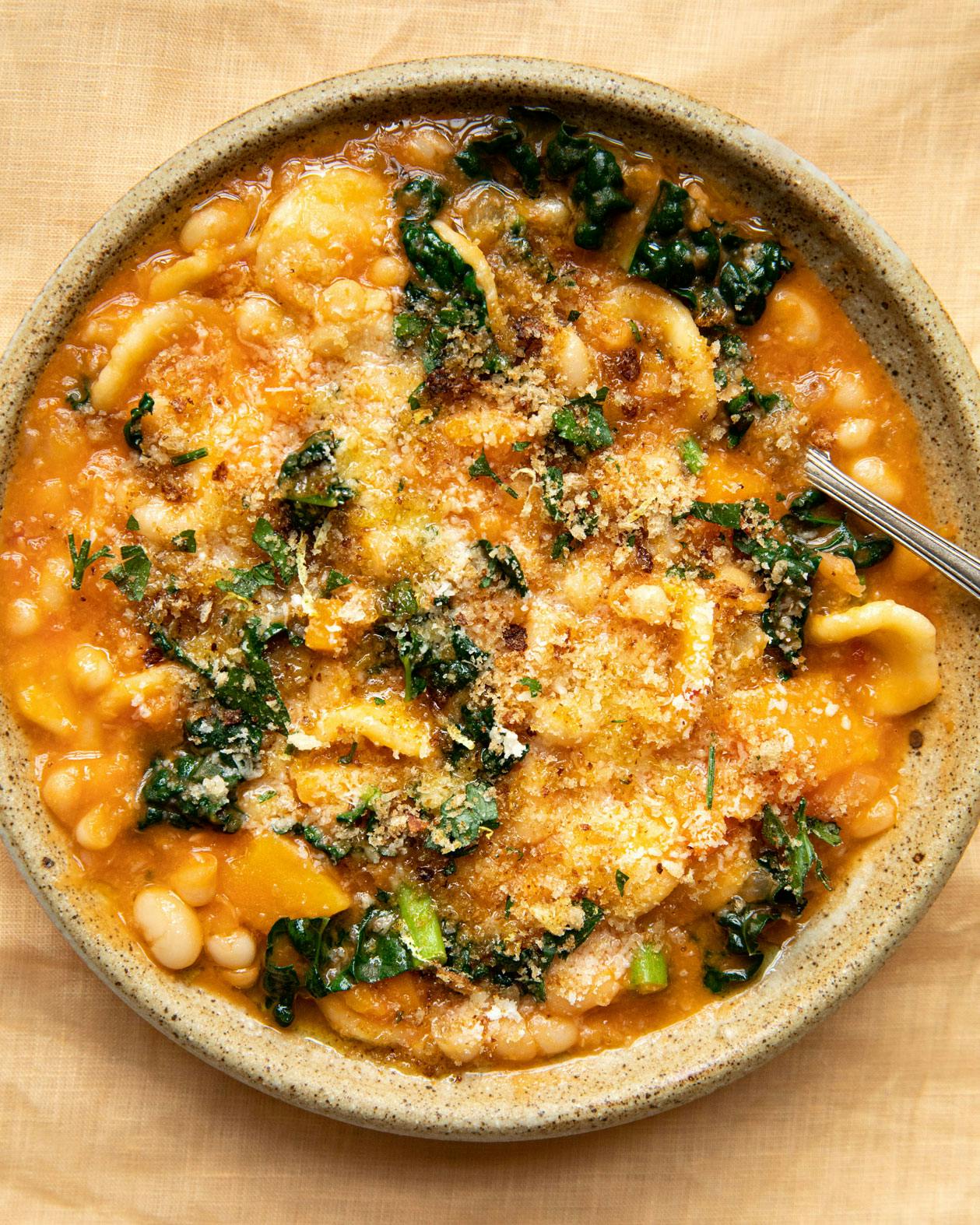 Ingredients
Minestrone:
3 tbsp olive oil 
300g white onion, finely chopped (1 large)
300g carrots, finely chopped (3-4 small)
300g celery, finely chopped (3 stalks)
2 cloves garlic, smashed
½ tsp salt
450g butternut squash
1 tin plum tomatoes 
600ml veg stock
800g/two tins cooked white beans
200g short pasta
200g greens (such as kale, spinach, shaved brussel sprouts)
To serve:
Olive oil
Vegan parmesan (optional)
Breadcrumb topping
Method
STEP 1
Heat olive oil in a large pot over medium heat. Add onion, carrots and celery and stir to coat in oil. Sauté for 14-15 minutes, stirring occasionally, until halved in size. Add garlic and salt and stir to combine. Continue cooking for 6-8 more minutes.
STEP 2
Peel and cube the butternut squash (or other starchy vegetable) and add to the pot. Stir to coat in oil and the cooked onion mixture. Stir in the tinned tomatoes, veg stock and beans.
STEP 3
Bring the soup to a boil, then lower the heat to a simmer. Cook for 15-20 minutes, until the butternut squash is tender. Add the pasta to the soup and cook for 15-16 minutes, until the pasta is al dente and the soup has thickened. 
STEP 4
Finely chop the green and stir them through the minestrone, until wilted. Remove the soup from heat, taste for seasoning and adjust to taste. 
STEP 5
Serve the soup topped with a drizzle of olive oil and breadcrumb topping (optional). 
---
by Valentina Concordia
Valentina is our Food Creative, who dreams up our tasty dishes and recipes for our social channels. She has loads of experience cooking up a storm in Italian kitchens, so it's no surprise she can't live without good-quality olive oil (don't come between her and her olive oil) and fresh pasta.
---
MORE GREAT READS