Recipes
Vegan Pumpkin Spice Doughnuts
6min read
These light, fluffy and crispy vegan doughnuts are filled with pumpkin spice and topped with a sweet and addicting maple glaze. In other words, they're our hero baked good of the season. Frying can seem intimidating, I know, but these doughnuts are here to show you how easy (and rewarding) it can really be. 
You might notice these doughnuts don't actually contain any pumpkin and are instead simply filled with the spices that make up pumpkin spice. Although I attempted a couple batches which incorporated pumpkin puree into the dough, the doughnuts were less fluffy and light, and didn't actually have a stronger and richer pumpkin flavour than those that just contained the pumpkin spice, which led to the recipe below. If you're not a fan of pumpkin spice in general, you can leave the spices out of the recipe and top them with the maple glaze nonetheless, or you can head to this recipe for strawberry glazed doughnuts.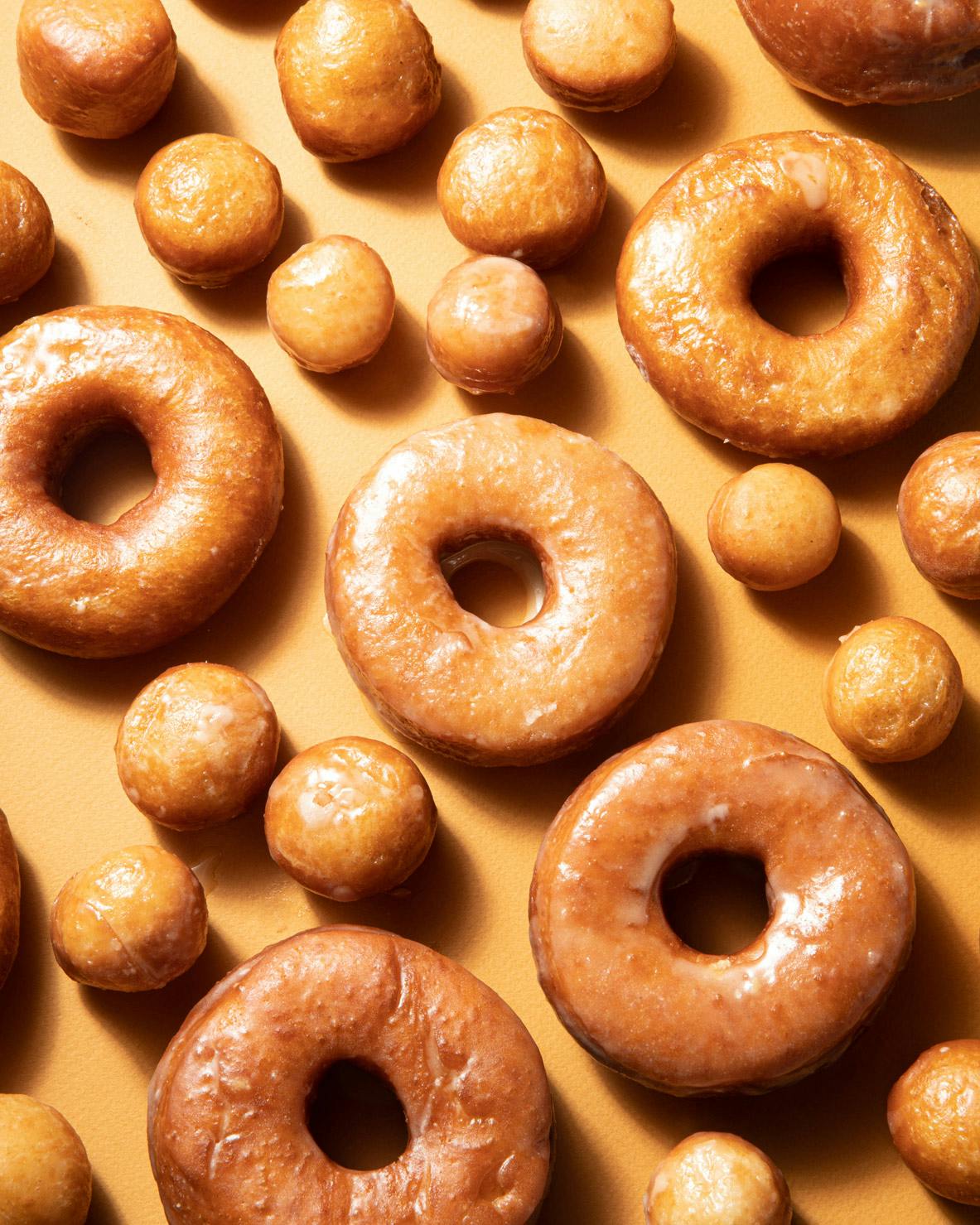 Ingredients
​​Doughnuts: 
515g plain flour 
2 ¼ tsp instant yeast 
½ tsp salt 
2 tsp cinnamon
⅛ tsp ground cloves 
½ tsp freshly ground nutmeg
¼ tsp ground ginger
100g caster sugar 
285g plant based milk, at room temp 
80g plant based butter, at room temp
1 tsp vanilla extract 
1L vegetable oil, for frying 
Glaze:
150g icing sugar 
50g maple syrup
½ tsp salt 
50ml water
Method
STEP 1
In the bowl of a stand mixer, combine the flour, yeast, salt and spices and mix to combine. With the mixer running on medium speed, add the milk, butter and vanilla extract. 
STEP 2
If the mixture becomes too thick for the mixer, transfer the dough onto a lightly floured surface. Knead the dough for 5-6 minutes, until it's very smooth, soft and elastic.
STEP 3
Lightly oil the large mixing bowl and place the dough back into it. Cover the bowl with a damp cloth or tea towel and let it sit in a warm place until it has doubled in size - this usually takes around 1 hour. 
STEP 4
Line a large baking tray with parchment paper. 
STEP 5
Once the dough has risen, transfer it back to a lightly floured surface. Use a rolling pin to roll the dough out to be around 1.5-2 cm thick. 
STEP 6
Use a cookie or doughnut cutter to cut the doughnut into rounds. If using a cookie cutter, now use a small cutter to cut out the doughnut holes. Collect the dough scraps, form them into a ball and re-roll them out to cut out more doughnuts.
STEP 7
Carefully transfer the doughnut rings and holes onto the lined baking tray. Cover the tray with a damp cloth or tea towel and let them rise for another hour, until puffed. 
STEP 8
Fill a heavy bottomed pot, such as a dutch oven, with vegetable oil. Heat the oil to around 170˚C on medium-high heat.
STEP 9
Once the oil is hot, very carefully add 2-3 to the pot.
STEP 10
Fry the doughnuts 1-2 minutes each side, until golden brown. Use a slotted spoon to transfer the doughnuts to a baking tray or dish lined with kitchen roll. Repeat with the rest of the doughnuts and the doughnut holes. Let cool for at least 20-25 minutes. 
STEP 11
While the doughnuts cool, make the glaze. In a bowl, combine the icing sugar, maple syrup, water and salt and whisk to combine.
STEP 12
Dunk the doughnuts and doughnut holes into the glaze and transfer them onto a wire rack as you go, so the excess glaze can drip off. 
---
By Valentina Concordia
Valentina is our Food Editor, who dreams up our tasty dishes and recipes for our social channels. She has loads of experience cooking up a storm in Italian kitchens, so it's no surprise she can't live without good-quality olive oil (don't come between her and her olive oil) and fresh pasta.
---
Let us take care of dinner
After getting creative in the kitchen, give yourself the weekend off by letting us take care of dinner. Check out our delicious meals here.