Recipes
Vegan Sausage Casserole
5min read
This warming, hearty and deeply flavoured vegan sausage casserole is easy to pull together and can be made both in the oven or on the stove. It's also extremely riffable: you can use pumpkin, potatoes or sweet potatoes in place of the butternut squash, and can swap the cannellini beans for chickpeas, butter beans or borlotti beans.
The world of plant based meats is varied and vast. When looking for the best plant based sausages to use in this casserole I went back and forth countless times between different supermarkets in search for the recommendations I had received from friends and colleagues. Moving Mountains' were proclaimed as being the best by a few, Beyond Meats' by others, and Linda Mccartneys' by another bunch. The verdict? The texture and flavour of all three are extremely different, but all work in creating the trademark depth and heartiness of a sausage casserole when balanced with butternut squash, white miso and wine. Moving Mountains were my favourite by a landslide, but Linda's came extremely close (and are also easier to find, so she might take first place after all).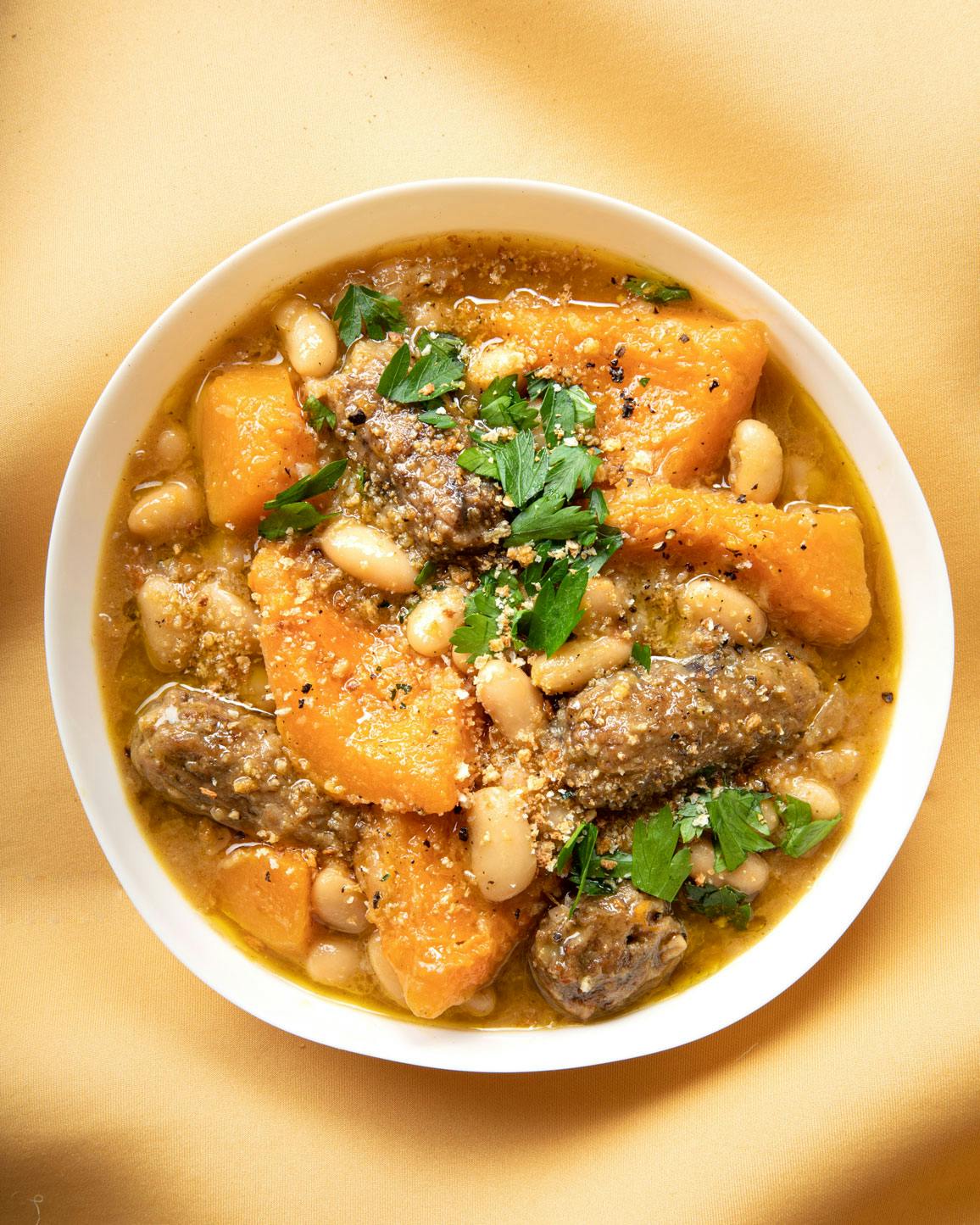 Ingredients
2 tbsp (30ml) olive oil
1 large white onion, finely sliced (around 200g)
2 cloves garlic, smashed 
270g plant based sausages
1 small butternut squash, chopped into 4cm wedges (around 500-600g)
½ tsp salt 
4 tbsp (60ml) white wine 
2 tbsp (30g) white miso
1 x 400g tin cannellini beans, drained and rinsed
500ml vegetable stock 
To serve: 
Fresh parsley, to serve
Breadcrumb topping
Method
STEP 1
If oven-cooking the casserole, preheat the oven to 180˚C. 
STEP 2
Heat oil in a large heavy set pot over medium heat. Add the sliced onion and sauté for 8-10 minutes, until soft. Add the smashed garlic and sauté for another 5-6 minutes, until the onion is starting to caramelise. 
STEP 3
Add the sausages to the pot, and let them cook untouched for 3-4 minutes on each side, until they're golden and crisp. Carefully remove the sausages from the pot and reserve them for later.
STEP 4
Add the butternut squash and salt to the pot and stir to coat in onions and oil. Stir in the white wine and miso, and cook down for 1-2 minutes.
STEP 5
Add the white beans and vegetable stock. Gently stir the butternut squash and white beans to submerge them in the stock. Bring the stock to a simmer. 
STEP 6
If oven-cooking the casserole, pop the lid on the pot and place it in the oven. Cook for 30 minutes, then use oven gloves to carefully remove the pot from the oven. Add the reserved sausages to the pot, and place back in the oven for 15 more minutes, until the butternut squash is soft and cooked through. 
STEP 7
If cooking the casserole on the stove, pop the lid on and let simmer for 20 minutes. Remove the lid, add the reserved sausages and simmer without a lid for 15 more minutes, until the butternut squash is soft and cooked through. 
STEP 8
Taste for seasoning and adjust to taste. Divide amongst bowls and serve topped with parsley and breadcrumbs.
---
By Valentina Concordia
Valentina is our Food Editor, who dreams up our tasty dishes and recipes for our social channels. She has loads of experience cooking up a storm in Italian kitchens, so it's no surprise she can't live without good-quality olive oil (don't come between her and her olive oil) and fresh pasta.
---
Let us take care of dinner
After getting creative in the kitchen, give yourself the weekend off by letting us take care of dinner. Check out our delicious meals here.