Lifestyle
Sundays Served With Feast Box: Hosting Tips
6min read
Sundays are reserved for good vibes, great food and spending time with your favourite people, so here's our guide to hosting with our Feast Box.
An allplants Feast Box means food on the table without the stress and pressure that comes with cooking for people. Instead, you can be in on the action at the dining table, chatting, entertaining, and best of all, enjoying a delicious sunday lunch. So, with the time a Feast Box gives back to you, you can really take your hosting to new heights. Decorations, playlists, games and more may be on your radar — so here are some tips and tricks to nail hosting. 
Set the table, set the mood
Table settings are important for creating ambience and a comfortable atmosphere for dinner; it's the little touches that can really make the meal feel special. This is especially true when you're feasting with family — you may spend meal-times with them every day, but Sundays are a special opportunity to come together and feast!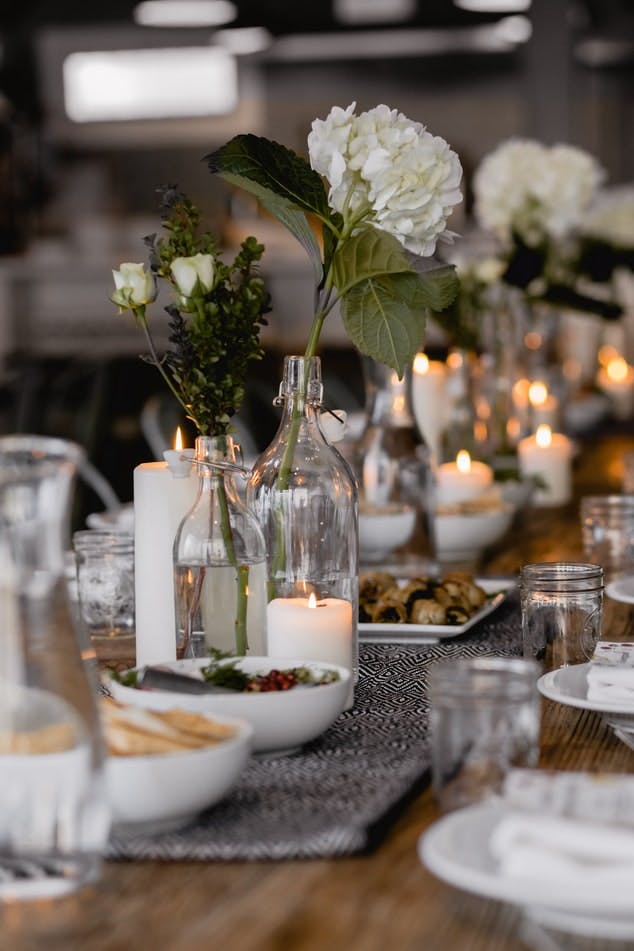 Table decorations
A vase of fresh flowers will always make any occasion feel that little bit more magical and will make a lovely centrepiece for your dining room table. Shorter, smaller bunches are best to ensure everyone can see one another around the table (we don't want to end the evening with stiff necks!). Lighting a few unscented candles will also achieve that warm, glowy effect to complement the tantalizing smells that will be coming from your kitchen. 
Table setting and homeware styling
This is the perfect opportunity to whip out your 'fancy' plates and crystal glasses. You can mix and match different styles of your homeware for a casual, rustic look, or use matching sets to keep things classic. A nice table-cloth or runner will also do the trick in making Sunday roasts separate from your weekly meals, and can complement your table settings nicely. Our Creative Recipe Developer Val loves table-cloths and accessories from H&M and Zara Home for bright centrepieces.
Sparking conversation and entertaining your guests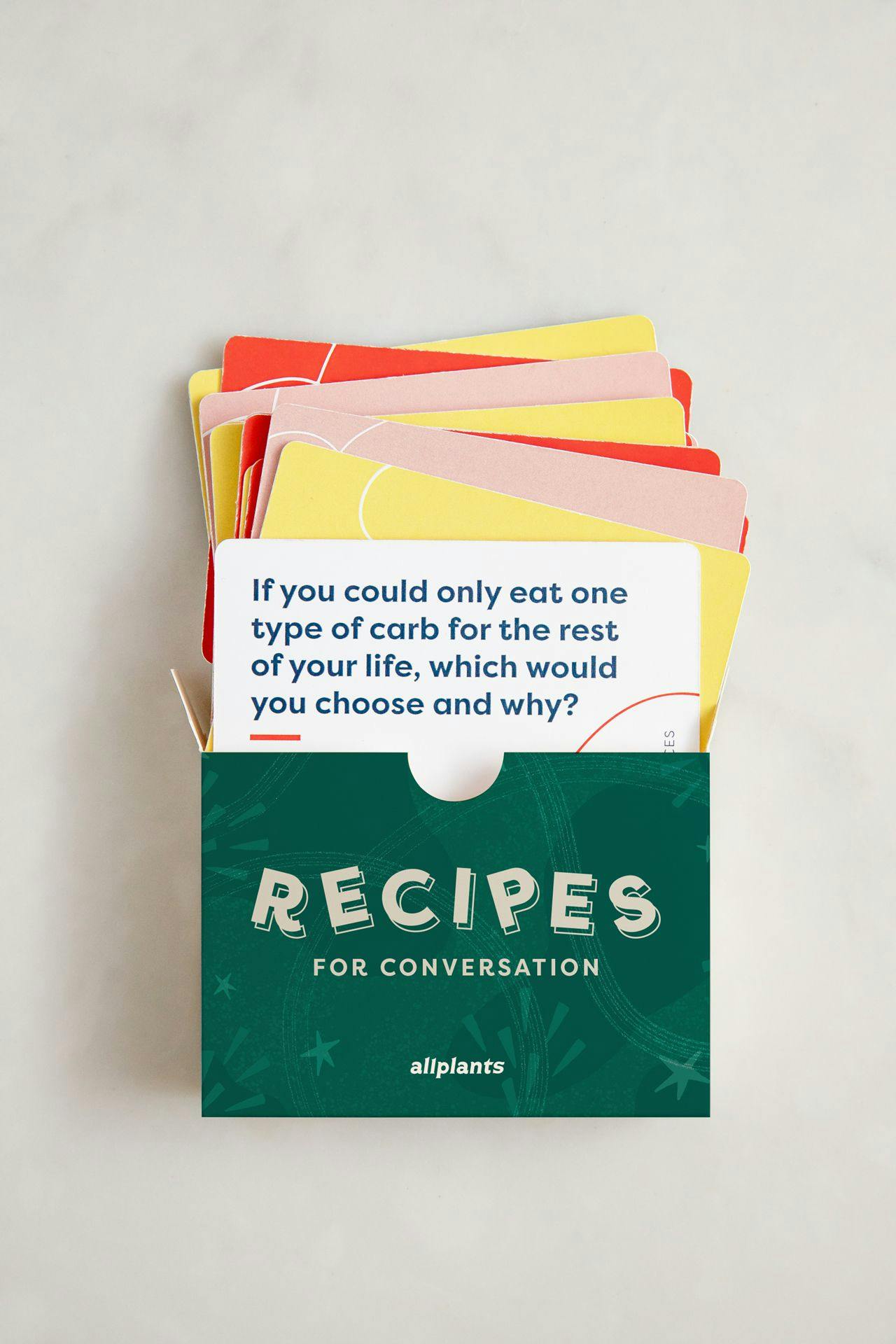 A meal shared provides the opportunity to sit down and catch up, so creating conversation and activities for everyone at your table to get involved in is a great way to make a true occasion out of a Sunday roast.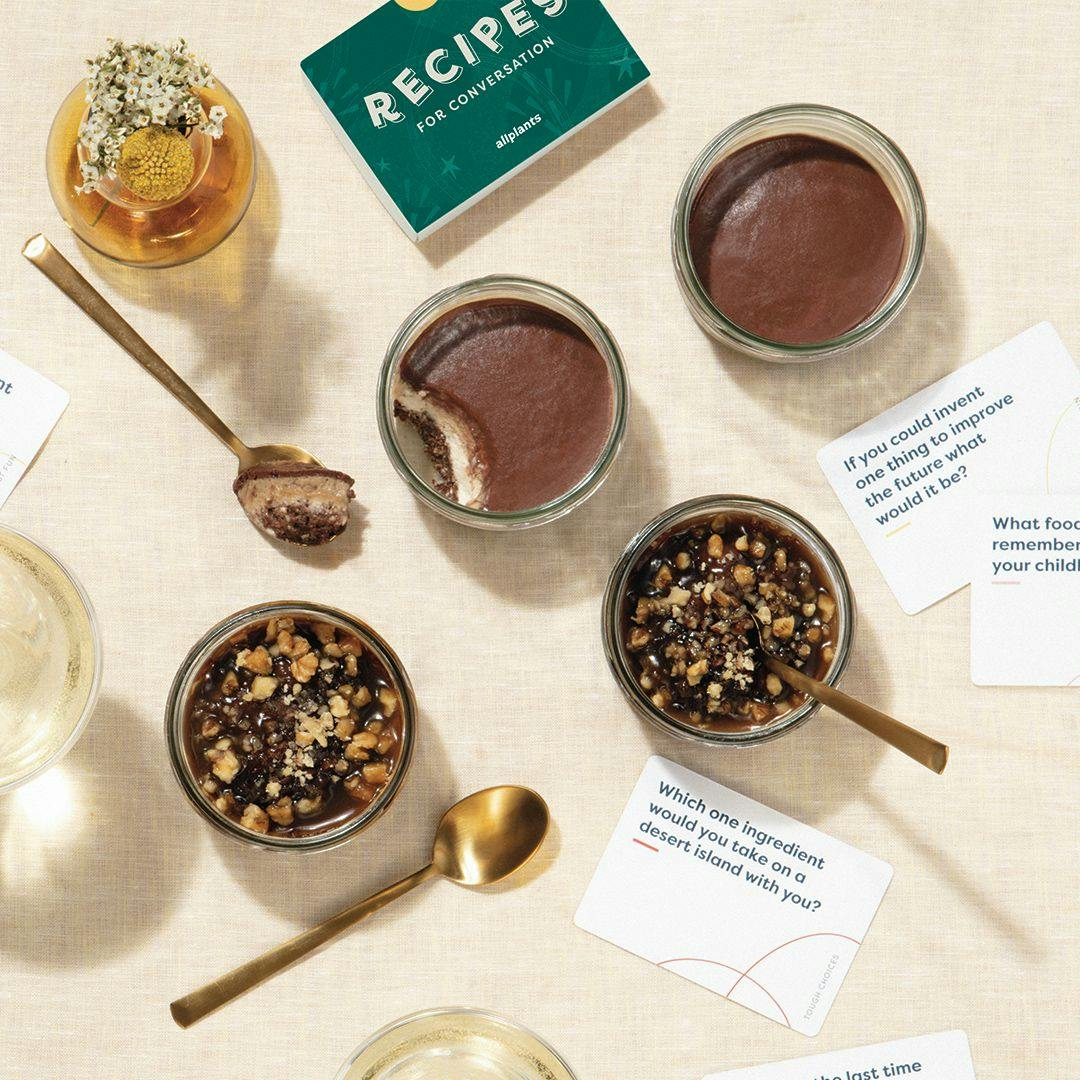 Conversation starters
Included in the Feast Box are our Recipes for Conversation cards, perfect to get the conversation flowing freely. These cards are designed with prompts to encourage those around the table to share funny anecdotes and unearth wholesome forgotten memories. Expect thought-provoking questions like 'If you could invite any person from history for dinner, who would you choose?' and even more serious questions such as 'Would you rather have bananas for fingers or bananas for toes?'. Whether you're swapping stories with old or new friends, or reminiscing with the family, you'll create a lovely atmosphere and share moments that will be remembered long after the meal ends.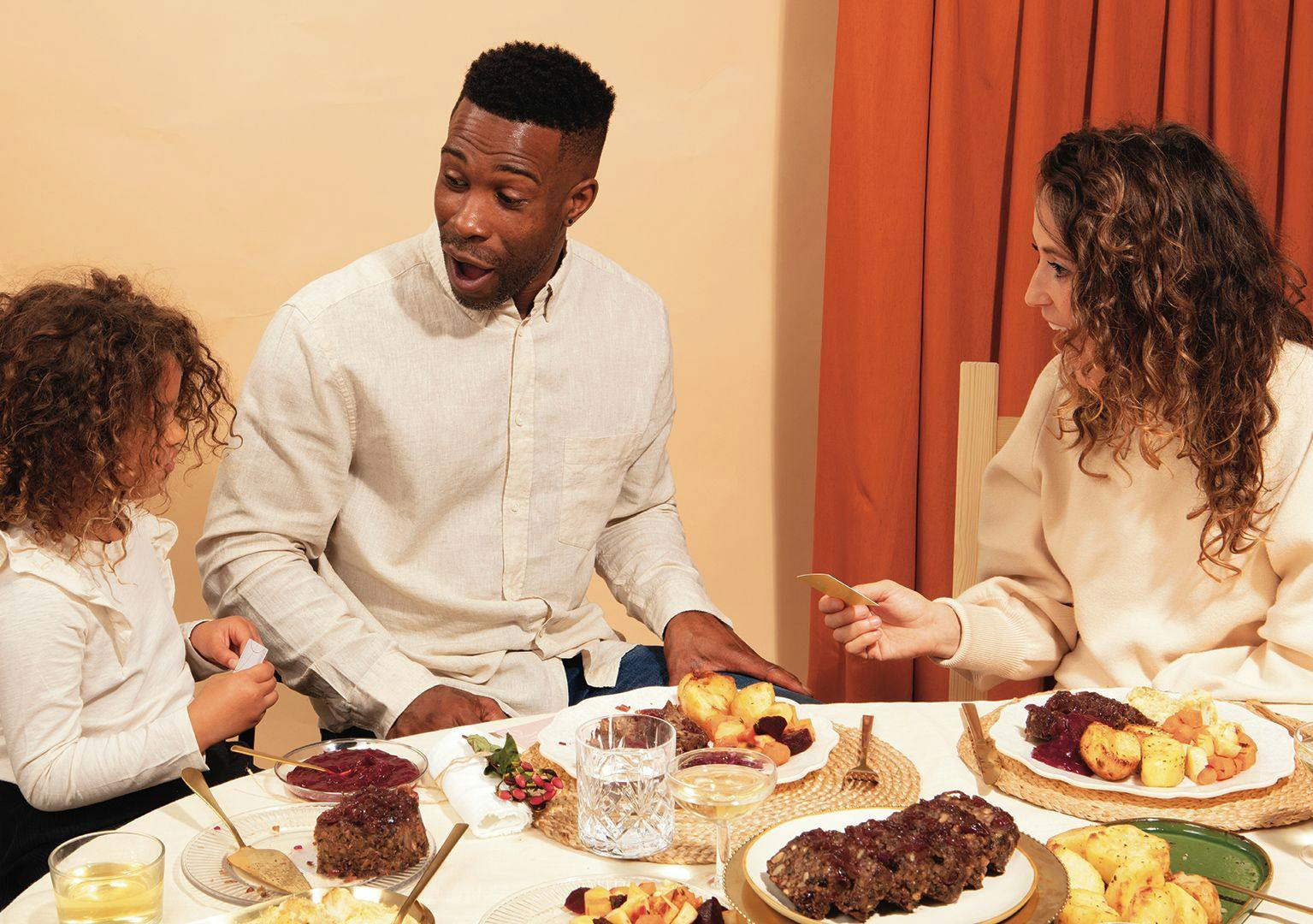 Dinner party games
Dinner table games are a great way to shake things up and keep everyone entertained. Simple and lighthearted games are ideal (we've all played Monopoly enough times to know that it may not always end well). If you want to keep things old school, try playing:
Who Am I? Each player writes on little slips of paper a name – anyone  from celebrities, to mutual friends to TV and film characters, then folds them up and puts them in a bowl. Depending on the size of the group, each guest should write between 5-10 people. Then, split guests into two or three groups, and players take it in turns to describe as many of the names in the bowl in 45 seconds. The team that guesses the most names in the end wins. A great one for the grown ups at the table.
Guess who? Yes, the names are similar, but the games are slightly different, promise. Everyone writes on a sticky note the name of a famous person and sticks it onto another player without them seeing. Everyone then takes turns asking yes or no questions to determine who is the famous person stuck to their head. If the answer to one of your questions is yes, you get another turn to ask a question until the answer is no and you move on to the next person. 
For those who are more tech-savvy and don't mind the phones coming out at the dinner table, download these games:
Psych! Psych is a nifty app to have on your phone, providing a range of free games to play with friends and family at the table. Highlights include 'The Truth Comes out', where the app asks a question about someone in the group (eg. What would you find in X's pocket right now) and everyone has to write their funniest answers. It's especially great for groups who have a lot of inside jokes. Another one that's great for the grown-ups.
Heads up! Made by the same creators as Psych (Ellen DeGeneres, random but true) it's effectively a digital version of charades— except you can choose from a range of different categories: TV shows, films, pets, accents and more. You won't run out of topics with this one. A fun one for all ages!
Perfect the playlist
There's nothing like the gift of a good playlist to ensure a good time at any occasion. Chilled, funky and ultimately feel-good music makes for perfect listening on a Sunday roast playlist. We think there should be a mix of old and new songs to suit every taste, which is why we've created a Spotify playlist perfect for feasting.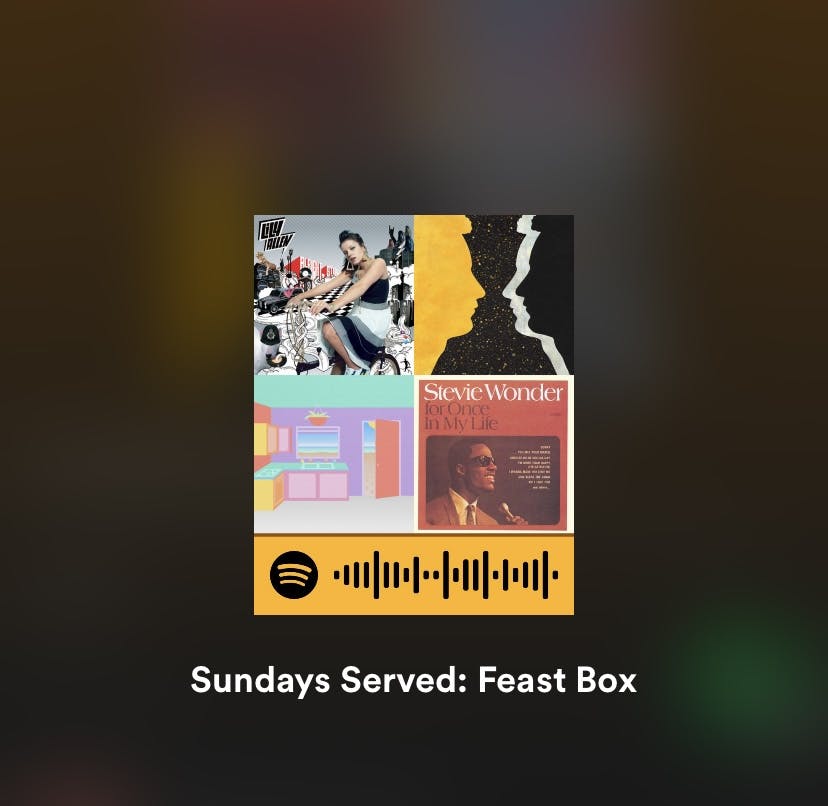 There are also some cool features of Spotify that you can utilise for great music during the meal.
Collaborative playlists
If you want to make your own playlist you can make a playlist collaborative so that everyone in your group can add some songs they like. Simply make the playlist public, make it collaborative and send the link to the group. That way, you can curate a playlist with everyone's input so there are no (ok, less) dramas about dodgy song choices. 
Group sessions
If you know there will be people fighting for a chance to play their new favourite tunes rather than stick to a playlist, keep things democratic by using the Spotify group session feature. Up to five people can scan a link from your phone and after this, they can freely add songs to the playlist queue. That way, everyone has live control of the music. Say goodbye to the days of someone hogging the aux cord. 
For tips on the best drinks and nibble pairings with Feast Box, check out our article Sundays Served With Feast Box: Tasty Accompaniments.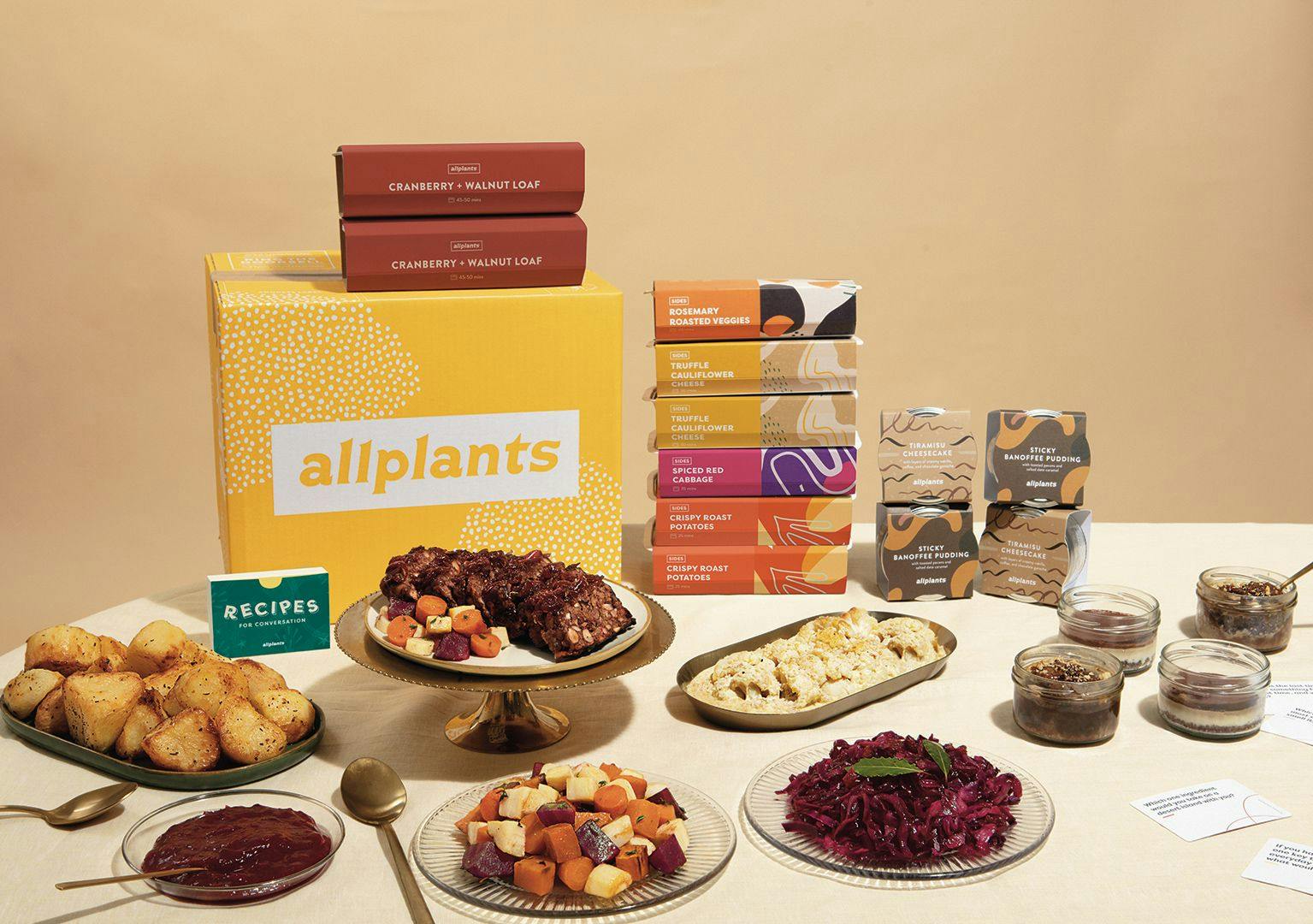 Order the Feast Box at the allplants shop for a delicious vegan Sunday roast delivered to your door.
---
By Toni Olukiran
Toni is one of our lovely Content Marketing Assistants, and when she's not writing posts about everything from Jamaican cooking to vegan champagne, she's making a Spotify playlist (she was at 200, at her last count) or playing tennis in the park.
---
Let us take care of dinner
We help to make eating more plants easy and delicious. Fancy letting us take care of dinner? Check out our delicious meals here.
Shop now