Lifestyle
Sundays Served With Feast Box: Tasty Accompaniments
9min read
Consider this your comprehensive guide to the best plant-based canapés, nibbles and drinks to accompany your Feast Box: helping you make this your first of many ultimate feasting Sundays.
Whether you're going to be dressed to the nines or wearing your smartest comfies; your Feast Box is going to be the ultimate Sunday soulmate that you didn't know that you were missing. 
Here are a few things to think about ahead of time so that when it comes down to it, you can relax and enjoy your feast along with your guests. 
Vegan canapés and nibbles to keep your Feast Box company
All great things are even better with a warm-up. Our Feast Box has been designed to include everything you need to your Sunday special – but we love going all in. Why not kick things off with an aperitif of some delicious plant-based nibbles and canapés? 
Make sure you leave room for the vegan cheese course!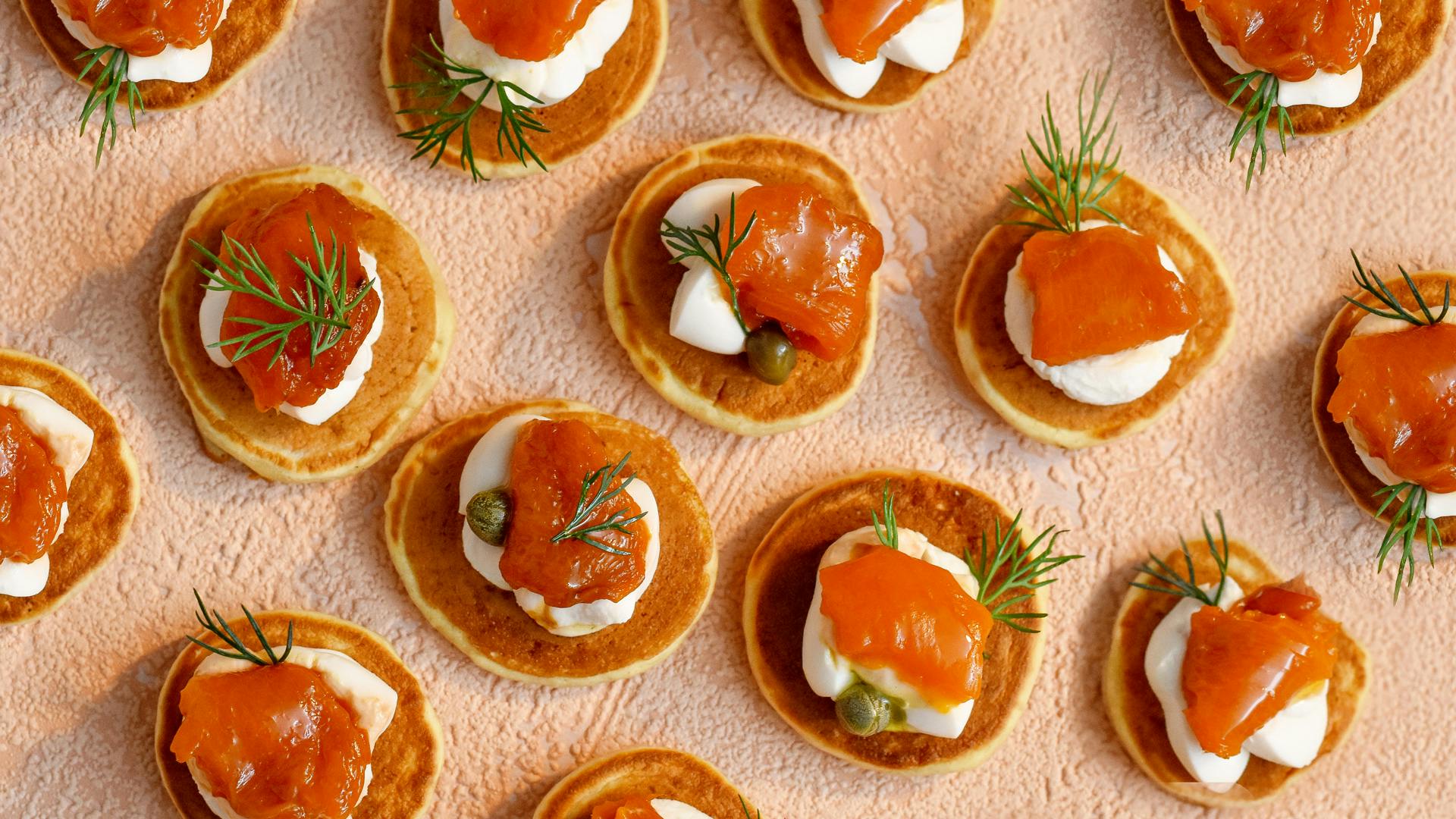 Serving vegan canapés at your Sunday Feast
Whether you're hosting guests or hoping to impress your housemates, preparing vegan canapés is a sure-fire way to achieve ultimate indulgence.  With these simple plant-based recipes, you'll achieve maximum dinner party impact with minimal effort – AKA quick and decadent, our favourite kind of cooking
There's nothing quite like nibbling away on endless tasty morsels and knowing that your Sunday feast has well and truly started on the right note.
Vegan canapé recipes
Here are some of our favourite plant-based canapé recipes that are sure to win over even the toughest crowds. These recipes are all about prepping in advance, so all that's left to do is simply assemble and enjoy.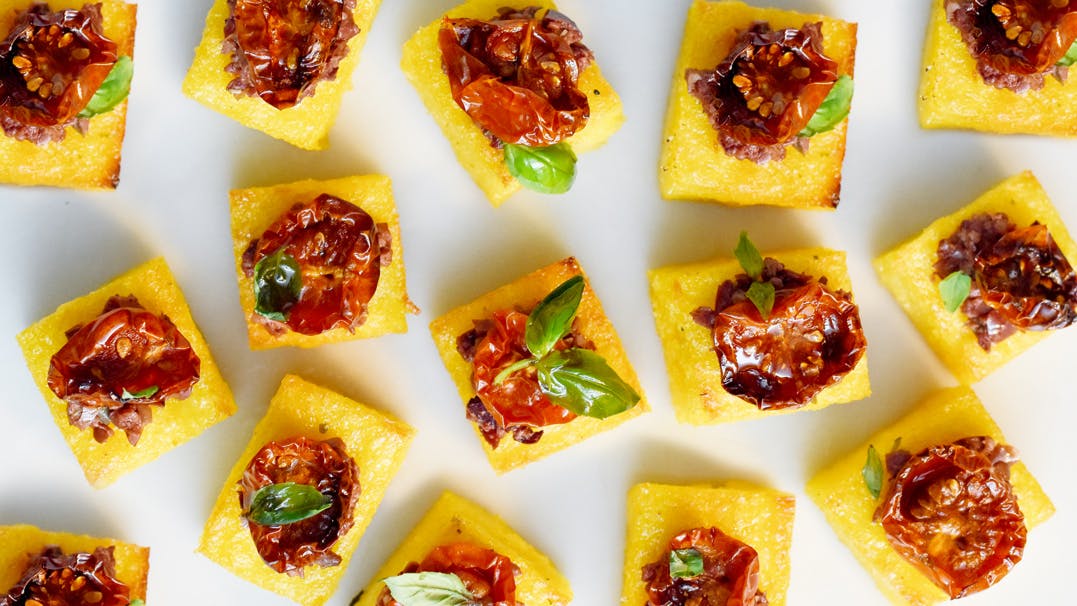 If you're looking for a mouthwatering gluten-free idea, then our Development Chef, Iona's, recipe for crispy vegan polenta bites are just the ticket. This is the ultimate finger-food that's crunchy, sweet and tangy and (most importantly) will leave space for the main event. 
Nothing gently sings appetiser as well as these wild mushroom palmiers with green olive and truffle tapenade. This irresistible recipe from Great British Chefs is another great example of how half an hour's work beforehand is totally worth it. They're nutty, fragrant and utterly moreish.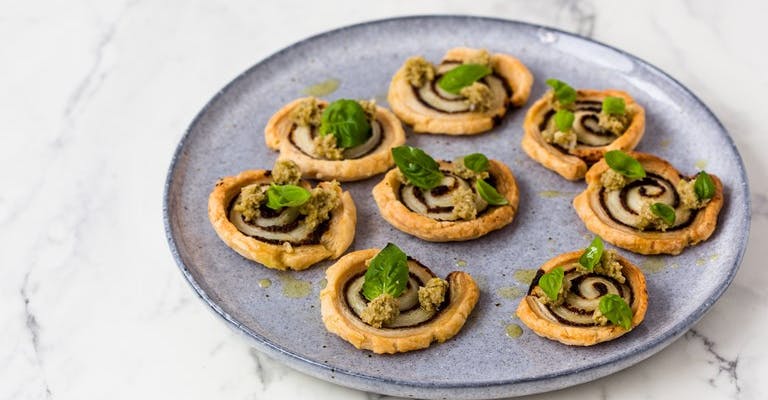 Photo credits: Great British Chefs
What would an ultimate plant-based feast be without the iconic amuse-bouche that is vegan smoked 'salmon' blinis? We can't get enough of this recipe from Iona; it champions slow-roasted peppers that have been mixed with nori seaweed for a great depth of flavour and beetroot juice for subtle colour. Sitting on top of plant-based blini with vegan cream cheese is a sprig of dill and a dash of lemon juice.
Dinner party nibbles
Sometimes canapés go down so well that they disappear before you can say 'aperitif'. We love to keep some great vegan nibbles to hand for just such times.
The best vegan nibbles
Everyone has their preferences when it comes to snacks, but here are some of our favourite go to's:
Vegan cheese boards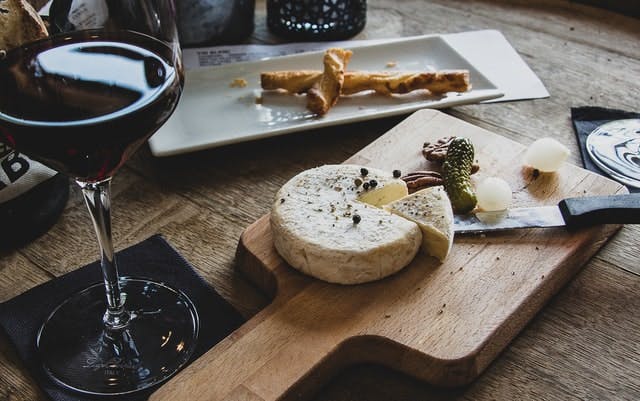 The time will come when you and your guests have merrily worked your way through the contents of your Feast Box, but did you remember to save room for a vegan cheese course? Surrender to indulgence and close things off with some of the finest plant-based cheeses. 
Our favourite vegan cheeses
If you're new to the colourful and diverse world of plant-based cheeses, here are some great places to start:
For more ideas, have a look at our guide to the best vegan cheeses, here.  
We love to present our vegan cheese course on a rustic wooden board with a selection of grapes and any other fresh fruit we have to hand. It's great to have a few knives so no one has to wait too long to get a second slice (and these don't have to be cheese knives, we're not fussy). 
Let your guests have the option of crackers and don't be offended if they're ignored in favour of going directly for your plant-based cheeses. Our go-to vegan crackers include: 
Vegan drinks and cocktails to set the tone for your Sundays Served Feast Box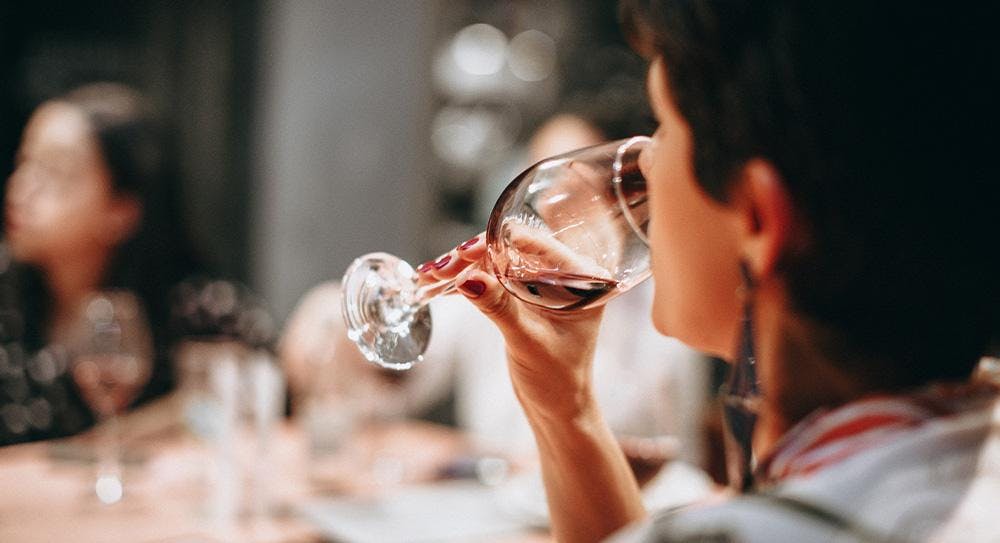 What does every feast need? Plenty of tantalising and refreshing beverages. 
To help you enrich your Sunday we've put together an ultimate guide to all of our favourite vegan-friendly beers, wines, cocktails and more so all you've got to do is write a shopping list – apologies in advance if you decide you want one of everything.
Vegan cocktails 
One of the finest pleasures in life must be sitting with loved ones, fresh cocktail in hand, with Feast Box smells gently wafting in towards you from the kitchen, cartoon-style. 
Vegan cocktail recipes 
Here are a few of our favourite plant-based recipes to help glow-up your Sunday to be the finest it can be. 
Not too long ago we were lucky enough to collaborate with Mixologist and Beverage Manager for The Clove Club Group, Rob Simpson, in designing three 'cocktails from the cupboard'. Our drink of choice from the series has to be his Lemon Drop. It's short but very sweet and zesty; ideal for guests who love a cocktail with an extra bite.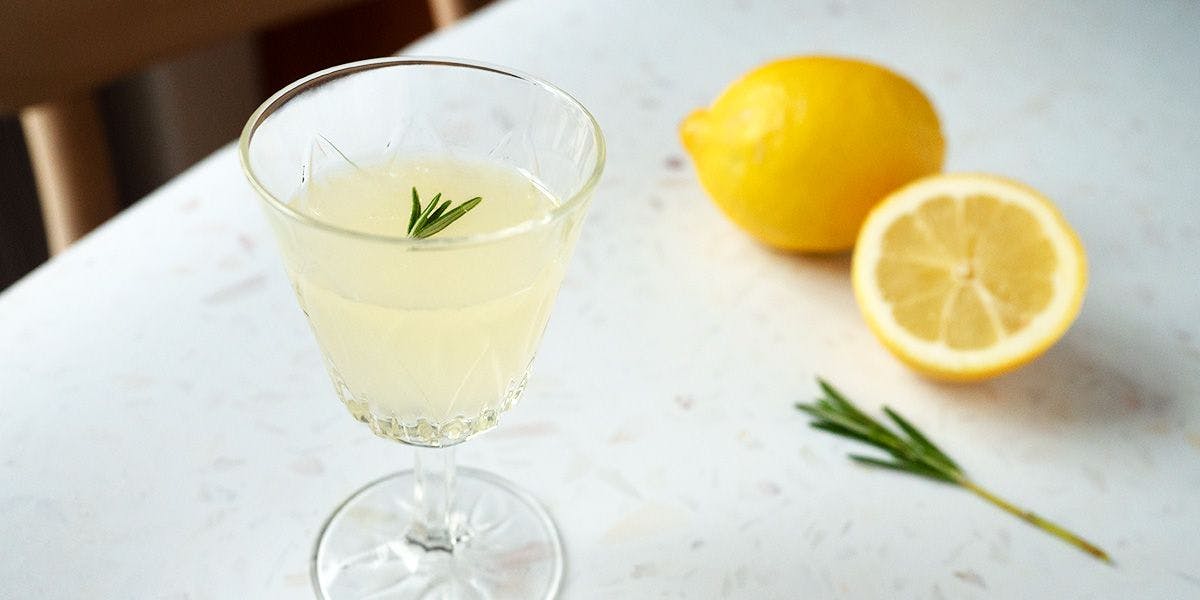 We love this plant-based recipe from The Edgy Veg. It uses aquafaba (chickpea water) instead of egg whites. Before you ask, we're not giving you a cocktail recipe that will taste like a tin of chickpeas. Quite the opposite, this drink is silky, tart and easy to drink.
Alcoholic vegan drinks 
Here are some of our favourite vegan-friendly beers and wines to keep your guests' glasses topped up with. Lots of popular beer and wine is already accidentally vegan; but unfortunately, some vinting and brewing processes do still rely on non-vegan methods. But, as we said, fear not – we've got your back.
Festive drinks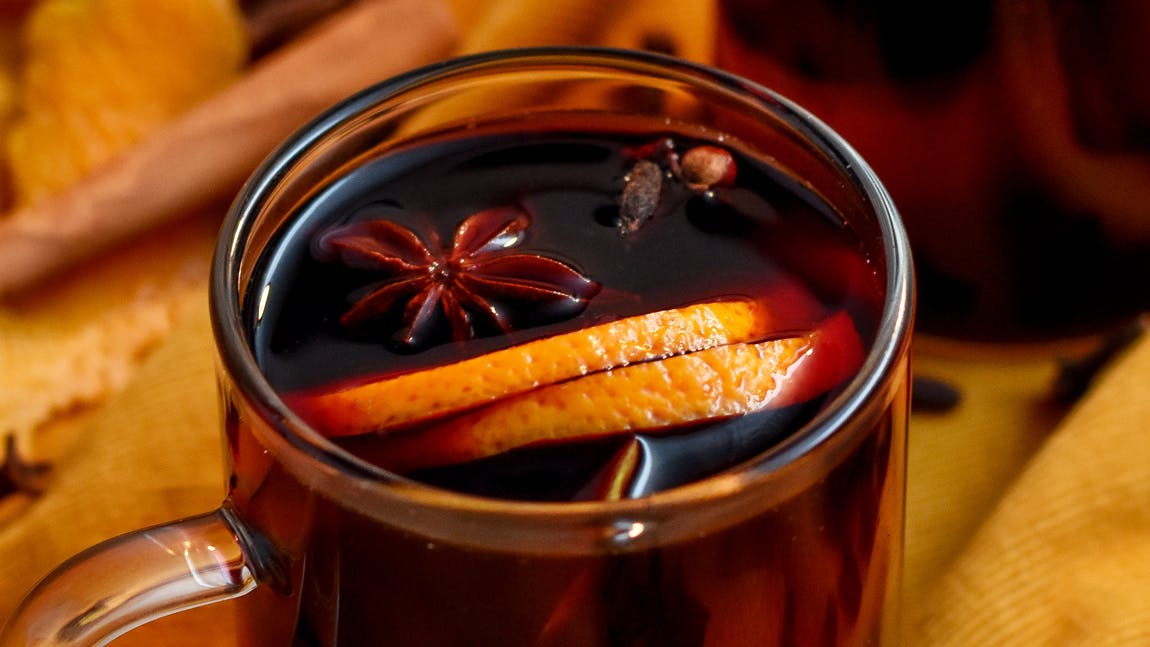 We're here for the festive season and all that it brings with it, especially sensory reminders like the nostalgic aromas that emanate from pans of gently warming mulled wine. Iona's recipe will produce a cosy and familiar drink, the perfect tipple for a more festive affair – having said that we wouldn't turn down a glass at any time of year. 
Why not indulge in a decadent tipple of vegan almond Baileys at some point during the night?  
Vegan Wine 
If you prefer your wine un-mulled, then don't worry, we've got some great suggestions for you too. From a chilled glass of Chenin Blanc to a full Cabernet Sauvignon; check out our guide to the best vegan wines here. Some of our favourites from the list include: 
Vegan Beer  
Not a wine drinker? No problem, we're fans of plant-based beers here too. From IPAs to stouts, ales, lagers and everything in between have a read through our guide to vegan beer, here. We love: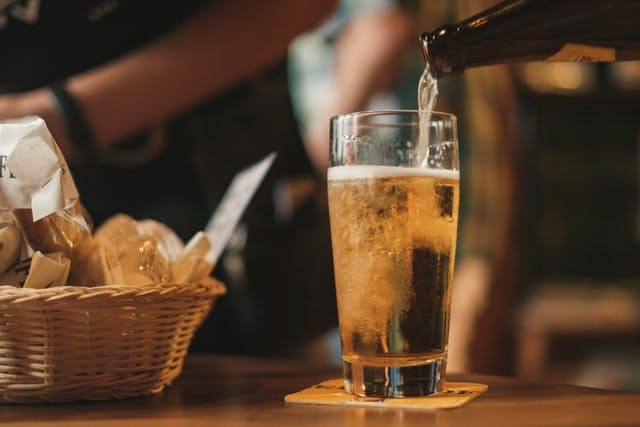 Alcohol-free vegan drinks
Sometimes searching non-alcoholic drinks that are vegan-friendly can seem like a relentless task; we understand, so that's why we've done the leg work for you. We don't believe that our choices should be limited here and we know you'll agree – here's our rundown of the best alcohol-free and plant-based beverages out there. Our personal favourites include:  
Now, all that's left to do is decide which of these great, plant-based offerings has tickled your fancy the most and enjoy them alongside your allplants Feast Box and have the perfect Sunday Served. For all you need to know on 'how to serve your feast box' guide - read here. 
Or read Sundays Served With Feast Box: Hosting Tips for a comprehensive guide to Sunday hosting
Let us know how you feast – we'd love to hear from you in the comments or on Instagram.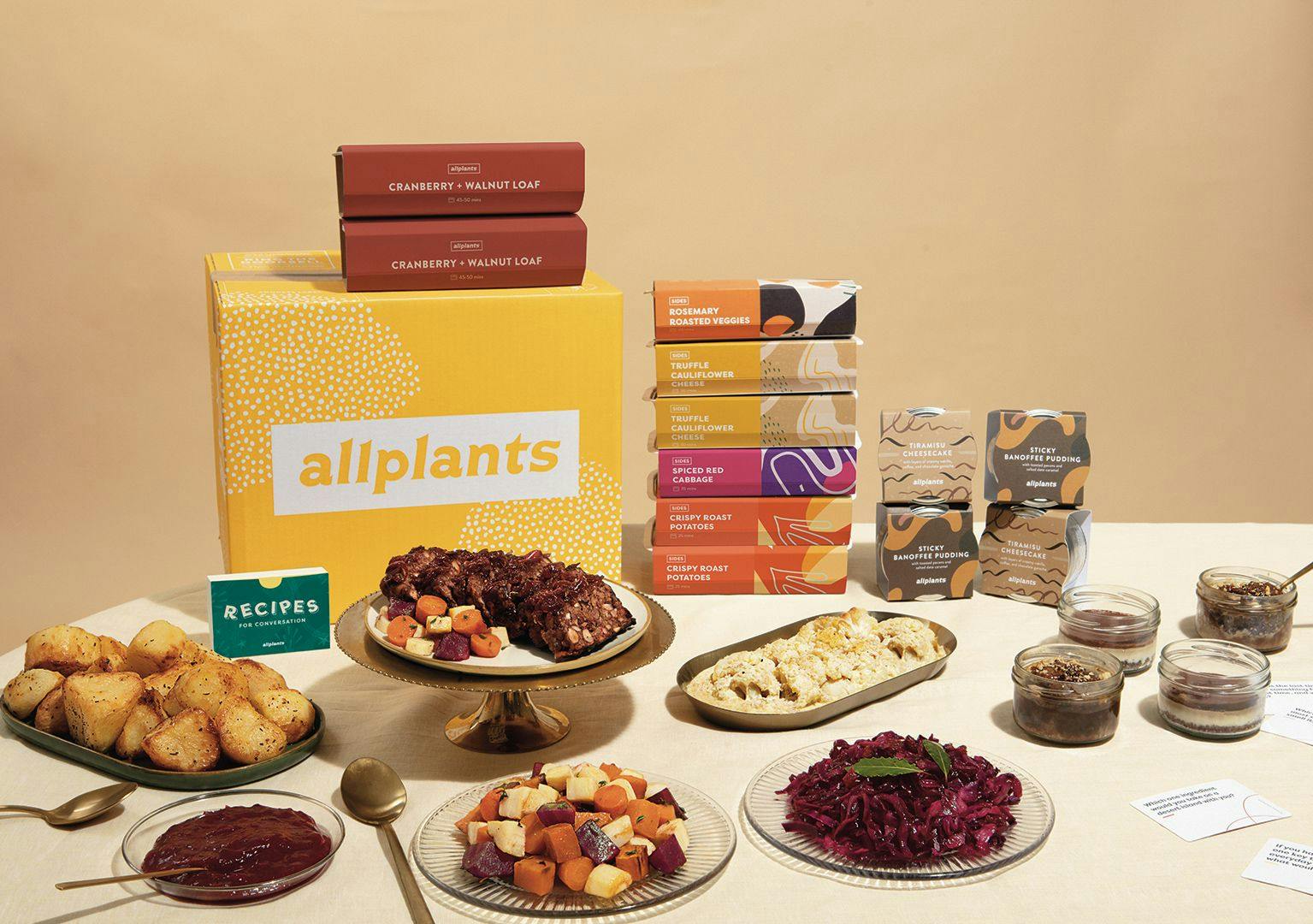 Order the Feast Box at the allplants shop for a delicious vegan Sunday roast delivered to your door.
---
By Fabian Jackson
Fabian is one of our lovely Content Marketing Assistants who loves writing almost as much as he loves coffee, old episodes of Escape to the Country (no judgement here), and cooking up a storm in his kitchen.
---
Let us take care of dinner
We help to make eating more plants easy and delicious. Fancy letting us take care of dinner? Check out our delicious meals here.
Shop now