Lifestyle
The Best Vegan Cakes
10min read
Vegan baking has a reputation for being tricky and, let's be honest, "Vegan Week" on The Bake Off did nothing to dispel those rumours. The good news? This doesn't have to be the case. In fact, from personal experience, the vegan cakes I've baked have been more successful than their non-vegan counterparts.
If you have the time and inclination to experiment with veganising an existing favourite, scroll down for some top tips from Rebecca Seal — food writer and author of Leon Fast Vegan — on how to do just that.
However, for the rest of us, here are some of my favourite plant-based cake recipes. Ranging from the most indulgent of treats to the raw, lower sugar option, there's something here for everyone.
The All-Time Favourites
Perfect for family parties to workplace treats, here's where to head for the failsafe favourites.
Chocolate Cake
You really can't go wrong with a chocolate cake. Easy to make and deep, dark and decadent, Nigella's comes out top every time.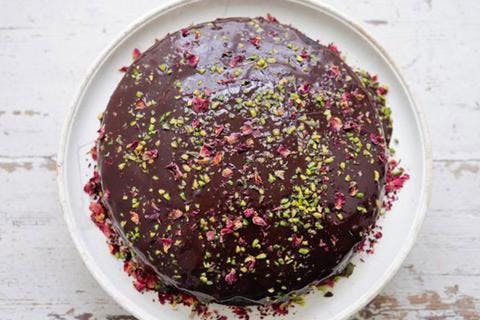 Baked Cheesecake
A good plant-based version of another favourite, baked cheesecake, wasn't something I realised I needed until I stumbled across Minimalist Baker's. As an added bonus, it's also gluten-free.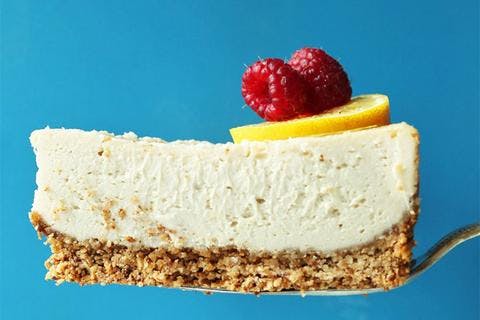 Carrot Cake
Carrot cake — and the cream cheese frosting that's its faithful partner in crime — was something I loved in my pre-vegan days. This recipe, which mimics the familiar combination perfectly, has become a staple.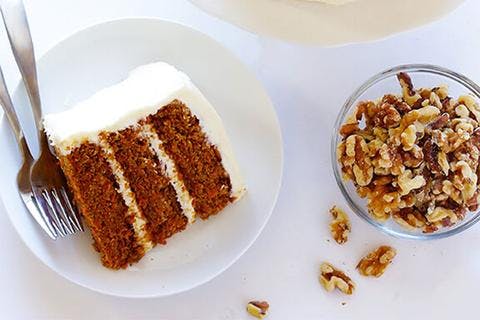 Peanut Butter Blondies
Brownies are a plant-based dream and easy to whip up at short notice. For something off the beaten brownie track, try our own recipe for peanut butter blondies. Deliciously crumbly on the outside and satisfyingly gooey in the middle they're always a win.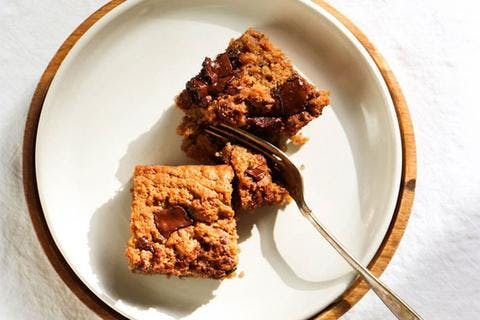 The (Slightly) Healthier Options (Maybe)
Still devilishly indulgent, raw desserts can be lower in fat and sugar and, therefore, a more healthy option for those trying not to overindulge.
Raw Cheesecake
Vegan raw cheesecakes recipes are a dime a dozen. So, to save you searching, here are my top three:
Pineapple Coconut Cheesecake
This recipe is completely nut-free (coconuts are actually classified as, "one-seeded drupes." Who knew?) and about as close to a piña colada as one can get. Here's to lying on a lounger in a tropical paradise, sipping a cocktail… Or the next best thing.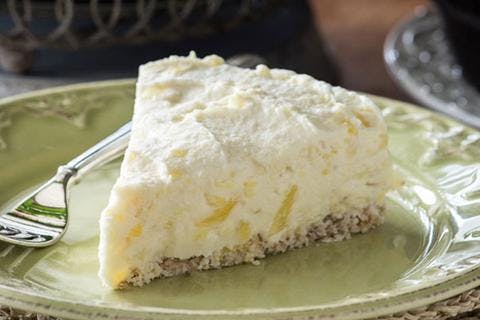 Lemon Lime Cheesecake
Beautiful to look at and satisfyingly citrusy, this vibrant, layered cheesecake is for lovers of Key Lime Pie.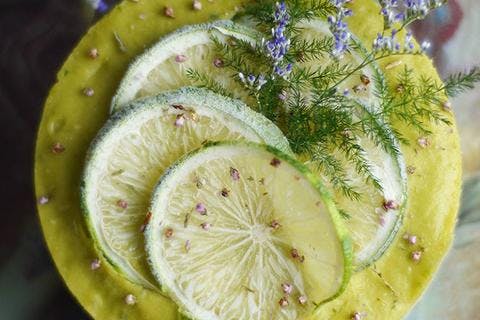 Snickers Cheesecake
Let's be real here… This one is NOT a more healthy option. It's here because, well, who doesn't need a Snickers cheesecake in their life?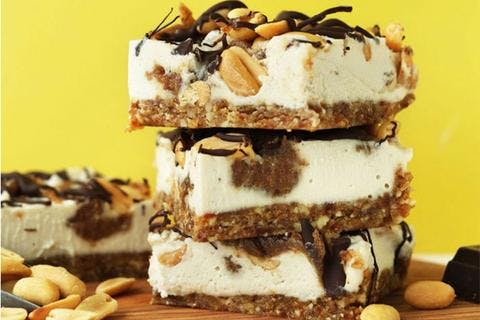 Something Different
Sometimes, the occasion calls for something a little more quirky: a post-life drawing snack, or something to refuel after a swing dance session perhaps... Here are my favourite recipes to take you off the beaten track.
Almond, Orange and Cardamom Cake
Shared with us exclusively from her new Leon Fast Vegan book, her is Rebecca Seal's recipe for her Almond, Orange and Cardamom cake. Spicy, sweet and warming, it is the perfect afternoon treat on a day when something slightly different is needed - for whatever reason!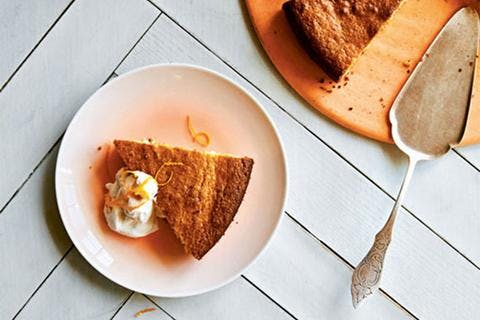 Mint Choc Chip Ice Cream Cake
Ice cream cakes are making a well-deserved comeback amongst fully grown humans, and about time too. What better way to rekindle memories of childhood parties in between full-on adulting tasks? This mint choc chip cake is the bomb.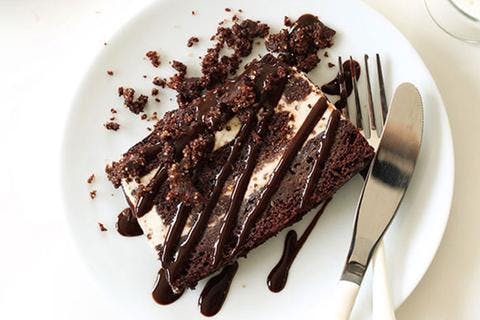 Rainbow Cake
Finally, when adulting is just too much to handle, the only sensible thing is to go way, way back. Get all the food dyes out and brighten up even the dullest of days with this impressive rainbow cake. However, if your inner child is too impatient, use the same batter recipe just swirl the colours around instead to make a gorgeous marble effect.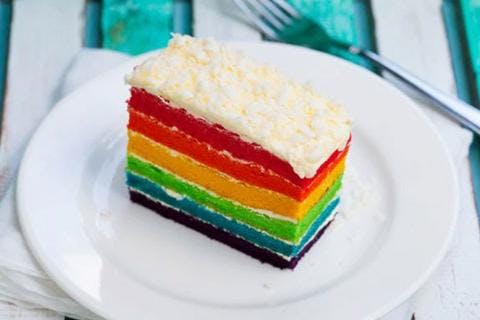 Top Tips for Plant-based Replacements
If none of the above quite hit the spot and you're desperate to veganise an existing favourite, then here are Rebecca's tips to replace those pesky animal products.
Replacing Milk
In theory, cows' milk can be replaced with any non-dairy milk. However, Rebecca suggests choosing a high-fat milk, which is more likely to mimic the baking behaviour of whole dairy milk. Her preference is oat milk, due to its rich, creamy consistency.
Replacing Butter
Again, butter can often be swapped, like for like, with a non-dairy margarine; do check the packet to make sure it can be used in baking. Another option is refined coconut oil, which is less coconutty in flavour than virgin coconut oil. Like butter, coconut oil is high in saturated fat, so it works well as a substitute. For the perfect crumble, replace the butter with refined coconut oil and a pinch of salt.
Replacing Eggs
Eggs are often the most tricky ingredient to replace as they play a very specific role in baking. Rebecca's top egg replacements are:
Ground Flaxseed or Linseed
Flaxseed and linseed are rich in nutrients that plant-based foods often lack, such as omega 3. Soak 1 tablespoon of ground seeds in 2-3 tbsp water to replace 1 egg.
Aquafaba
Aquafaba — the water left when you drain a can of chickpeas — mimics the binding properties of egg very well although can take a bit of getting used to. Whip it into a mousse to make a light, airy batter for cakes and pancakes, or use it to make great meringues and dairy-free chocolate mousse. Once mastered, aquafaba is so versatile it can be used to make anything: from cookies and muffins to pavlova and meringue to the kind of icing that sets on biscuits.
Do you have a successful vegan baking story to share? If so, we'd love to hear about it. In fact, why not also share your baking disasters to make us all feel better…
Any recipes you think we've missed? Feel free to leave those with us too!
---
By Munjeeta Sohal
MJ is a freelance writer, avid reader and habitual ruminator (and user of fancy words). She couldn't live without books and her cats. On her days off, you can find her cycling up and down the Lea Valley, searching for a great vegan recipe to cook, or, well, reading her book with her cats.
---
Let us take care of dinner
We help to make eating more plants easy and delicious. Fancy letting us take care of dinner? Check out our delicious meals here.