Lifestyle
The best vegan restaurants in London
20min read
If you're trying to eat more, mostly or all plants, you might not know where to start. How do you find a restaurant that doesn't compromise on flavour and gives you the standard of dining you are used to?
Read on for our top 13 vegan restaurants in London. We've included where to find the best: brunch options; burgers; fish and chips; Indian food; junk food; pies; pizza; best Sunday roast and best sushi. For something that bit more special, you can always check out our Michelin guide.
Whatever the occasion, we've got you covered.
Our top ten vegan restaurants
Ethos, W1W
There is always a huge range of dishes to choose from at Ethos, and it's beautifully decorated (with trees), which all adds to the experience. They offer self-serve, pay-by-weight lunch, dinner and Sunday brunch menus as well as an individually priced breakfast menu and a £25.00 afternoon tea too. They pride themselves on their zero waste policy and use of locally sourced ingredients, and we agree that those are pretty great. Our favourite dishes: the cassava fritters (well, all the fritters, actually) and the pesto pasta with turmeric tofu.
Farmacy, W2
In the heart of Notting Hill, Farmacy does what it says on the tin: provides a menu that is free from dairy, refined sugars, additives and chemicals, but not lacking in the flavour department. Another option for any time of the day, their menus are pretty unique. Everything is built around nourishment — think chickpea flour protein "omelettes" and sprouted grains galore — but with lashings of decadence too — waffles and sticky toffee pudding. They offer high tea as well as medicinal CBD truffles and drinks. We love their Middle Eastern bowl and their popcorn cauliflower is delish.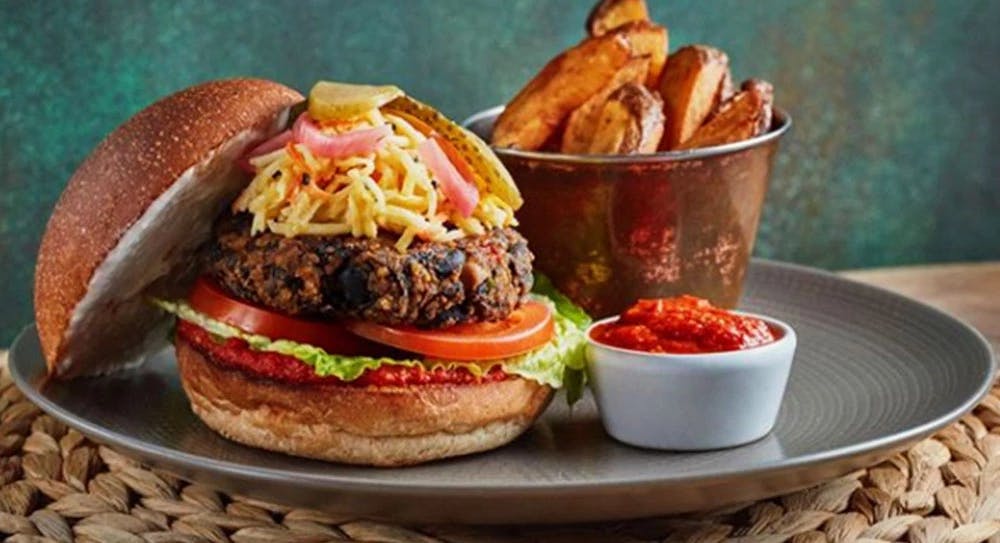 Photo credit: Farmacy Restaurant
Friends of Ours, N1
A great option if you're looking for something a little different and/ or eating with people at various stages of their plant-powered journeys. Friends of Ours has something for everyone but their seasonal vegan options are always particularly delightful. Their winter menu offers up mango porridge, charred broccoli steak, a Japanese buddha bowl and — our favourite — Dashi (which includes vegan bacon, kimchi, bok choi, oyster & chestnut mushrooms and soba noodles). We can't wait to see what Spring brings.
Gauthier Soho, W1D
Gauthier's founder and award-winning chef, Alexis Gauthier, has been a trailblazer in bringing plant power to fine dining by moving towards a plant-focused menu way back in 1997. There is something for everyone and the vegan options — like: salsify & Brittany seaweed served with sautéed wild mushrooms and toasted Chestnuts; stuffed Hispi cabbage and Mango & Malibu Soufflé — are inventive and intriguing. Exactly what you'd expect from such a highly-praised, and Michelin-starred, establishment.
Tofu Vegan, N1
If you want to get a fixing of wontons from anywhere, make it Tofu Vegan. Serving up delicious fare from across different regions of China, Tofu Vegan has created a dining experience that is a veggie or vegan's dream — all plant-based, and all vibrant and packed with flavour. Between the aforementioned wontons (this is a non-negotiable, you really do have to try them), the 'twice cooked 'fisc'' (a delicious vegan fish) and Cantonese-style sweet and sour chik'n, vegans and non vegans alike are sure to enjoy everything this spot has to offer.
Manna, NW3
One of the oldest vegetarian restaurants in London, Manna has been serving a plant-forward menu for over 47 years. Their basic menu is pretty constant but their daily specials depend on whatever's fresh and in season at the local Farmer's Market. They do a mean Sunday roast and their sausage and mash isn't just any sausage and mash: the organic fennel and pumpkin seed sausages are incredible and the garlic potato, dill and carrot mash is complemented perfectly by the leek & thyme jus. Their dessert menu alone is also worth a trip.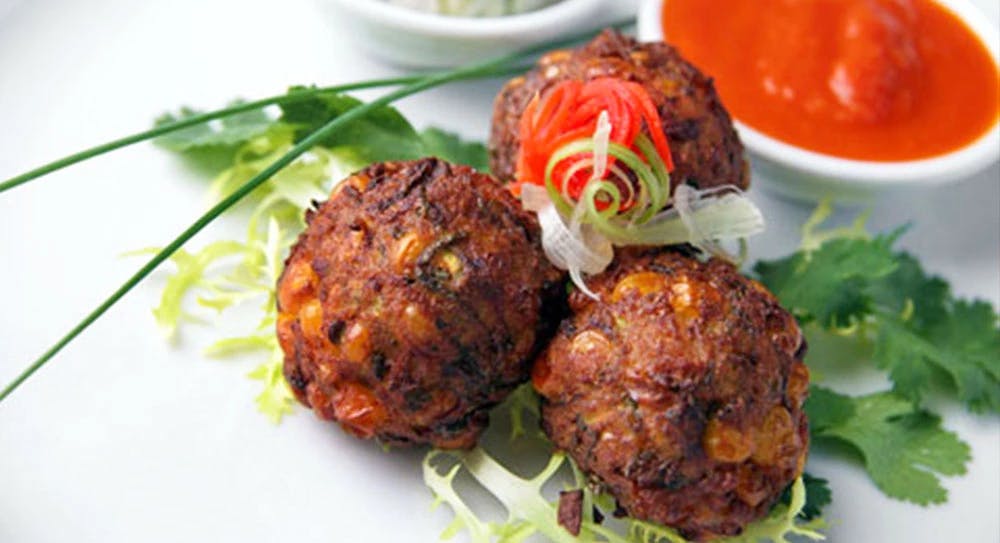 Photo credit: Manna Restaurant
Mestizo, NW1
Mexican food in London isn't always the greatest, and that's why we were so pleased to find Mestizo: not only is the food super authentic, Mestizo's also a Tequila bar so that's a win in our eyes. Their vegan menu is extensive and definitely not an afterthought. As well as the usual offerings of guacamole, tacos and enchiladas, there is a huge range of less well-known treats to try. We love the sope de tortilla and the Chile rellenos de flor de calabaza (or poblano pepper stuffed with courgette flower, sauteed in a tomato broth).
Stem and Glory, EC1A
Voted the best restaurant in Cambridge, Stem and Glory opened their London restaurant in January this year and it's proved a hit. Again, offering up breakfast, brunch, lunch and dinner menus, it's a great option for any time of day. Catering for a paleo diets too, the food is varied, vibrant and influenced by a range of global cuisines. Their cauliflower gratin is about as creamy and comforting as anything and (surprise surprise!) we adore the kimchi pancakes too.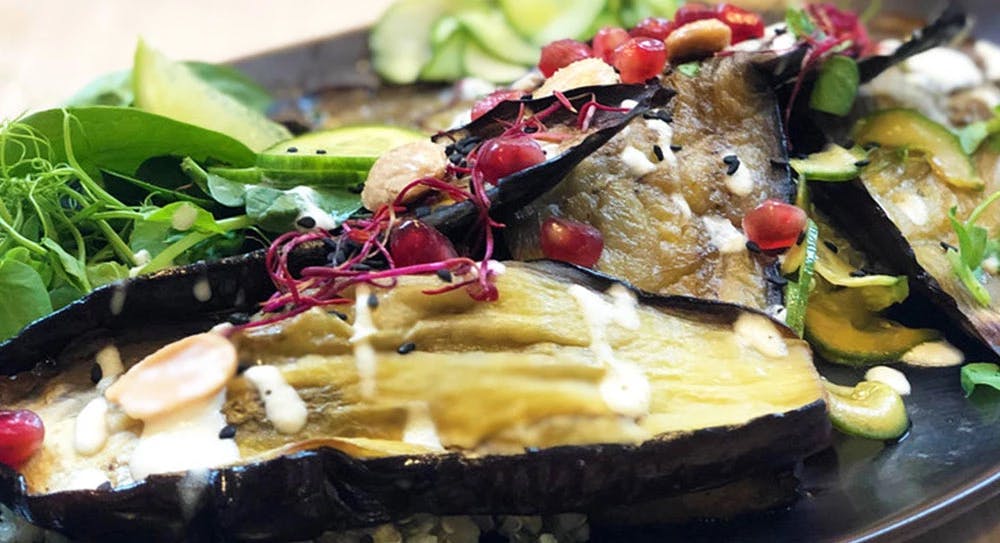 Photo credit: Stem and Glory Restaurant
The Gate, W1H/ EC1V/ W6 9QL (coming soon: NW8 )
Something of an institution, The Gate first opened in 1989 and now has three restaurants across London with a fourth due to open in April this year. The Marylebone branch is home to a secret vegan supper club (5 courses with wine pairing for £49.50 per person) while in Hammersmith and Islington you can get an incredible Sunday roast. The vegetarian A La Carte menu serves up a range of predominantly European dishes, many of which are plant-based, including an artichoke terrine and a wild mushroom risotto cake.
Vanilla Black, EC4A
Another veggie London institution, Vanilla Black serves up some really innovative plant-based nosh. Their 5-course tasting menu is £55.00 per person (with an additional £32.00 for wine pairing) and boasts delights such as a Cauliflower Croquette served with endive, cocoa, pickled cauliflower and purée. The A La Carte menu doesn't disappoint either, the dishes are adventurous, beautifully presented and — most importantly — taste divine. Try their fried shiitake, pine nut purée and crispy Enoki with marsala and pine salt and the liquorice panna cotta with bergamot curd and fennel pollen for dessert.
Best for vegan breakfast or brunch
Sadly, plant-based breakfasts can often be a little on the disappointing side, especially if you're looking for something a bit more decadent than avocado on toast. If none of the options above appeal, be sure you're getting something delicious by trying one of the following:
Miranda Cafe, N8 
Let's be honest, anything with kimchi on the menu is great in our books, although perhaps not for breakfast… While Miranda Cafe's lunch menu is incredible, it's their breakfasts we're really into: they serve vegan eggs after all. Our favourite is their Latin American Breakfast (cornbread arepas, latin style beans, scrambled vegan eggs, fried plantain and guacamole served with salad) although their Vegan Eggs Rancheros comes a close second.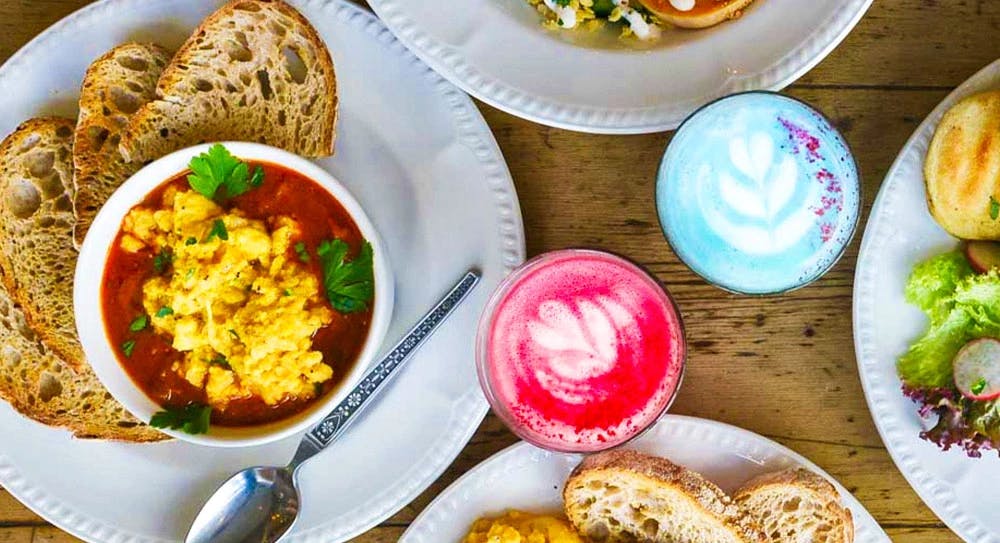 Photo credit: Miranda Cafe
My Old Dutch Pancake, WC1V/ SW3/ W8
My Old Dutch is a bit of an anomaly on the vegan breakfast scene but it's not one to be overlooked: the menu is mainly non-vegan but their plant-based options are incredible. They use a gluten-free pancake mix and replace cow's milk with soy milk, offering both sweet and savoury options including vegan cheese (cheddar and mozzarella) and vegan ice cream (vanilla or chocolate and coconut). We loved the Vegan Volcano and followed up with the apple and cinnamon for pudding (we were not disappointed).
Tell your Friends, SW6
The brainchild of Made in Chelsea's Lucy Watson, Tell Your Friends has a simple but delicious menu of completely plant-based dishes. The main meals are hearty and nutritious, ranging from buddha bowls to burgers. But we put it here because we love the brunches the most. The pancakes (chocolate spread and banana) and the scrambled ackee are enough to make even the most cynical believe they're not eating plants.
Mallow, SE1
From the team behind Mildred's is Mallow, a top spot in Borough Market that provides the great brunch and chilled ambience that is perfect for a catch up with friends over a cocktail or two. It's completely plant-based, with lots to choose from in the brunch menu; Sweet or savoury, pancakes or fancy topped toast? Good luck picking between all of the delicious offerings here.
Best for a vegan burger
Burgers were definitely the most divisive food topic in the allplants office. Here are our top three so you can make up your own mind (because we couldn't):
Beyond Meat ® 
Hailed as the first plant-based burger to bleed (don't worry, just beetroot blood) The Beyond Meat ® burger is still only available in limited locations across the UK and is, therefore, highly covetable. We've done the dirty work and wolfed it down in Honest Burgers (served with smoked vegan gouda, chipotle mayo mustard and salad) and All Bar One (also with vegan cheese, mayo and salad) and it's good. But don't take our word for it, go forth and conquer.
Mooshies, E1 
Nestled amongst the curry houses in the middle of Brick Lane you'll find Mooshies; we dare you to be disappointed. Their sides (think loaded nachos and cheese sticks) are worth the trip on their own and the Pulled Mooshie burger (BBQ jackfruit) is about as satisfyingly tasty and messy as a burger can be. Our favourite though? The (limited edition) Magic Mushroom burger: spicy panko fried oyster mushrooms, hash brown, salad and sriracha. Yum.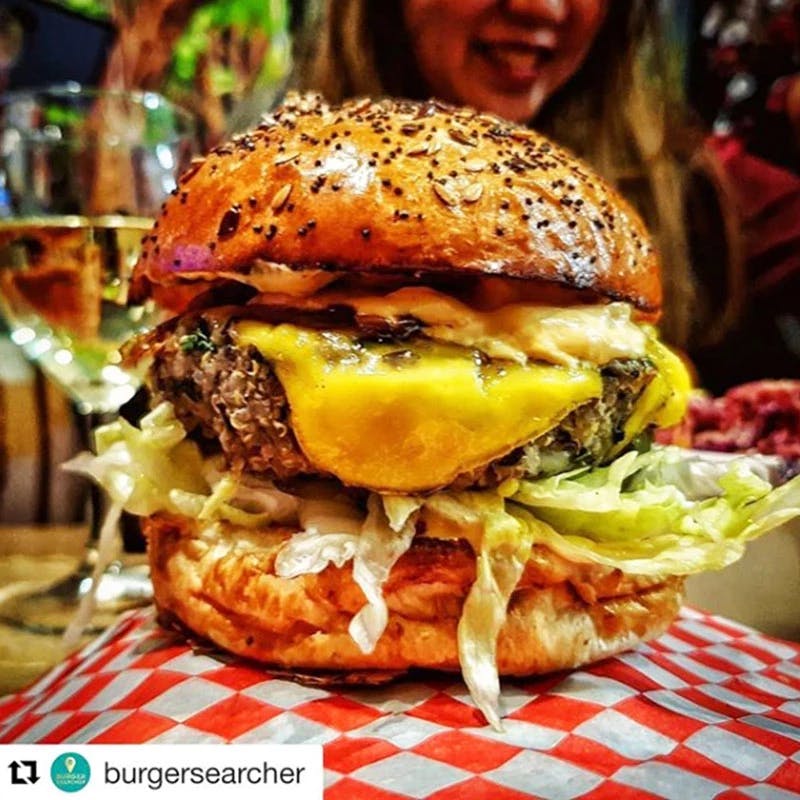 Vurger Co., E1/ E14 
If you're looking for a veggie burger (as opposed to a meat-replacement burger) The Vurger Co. is a great choice. They offer 4 plant-based patties (black bean, chargrilled red pepper, chickpea and corn; aubergine, chickpea, red onion and Tabasco chipotle; roasted mushroom, borlotti bean and parsley; and a spicy corn fritter) and extras like slaw, house burger sauce and vegan cheese. Their range of shakes is pretty fabulous too; we always have one with our burger and it's normally the Biscoff one.
Best for vegan alternatives to fish (and chips)
Fish alternatives took a bit longer in the making than plant-based meats but now they're here, they just keep getting better and better.
Spread Eagle, E9 
One of the oldest pubs in East London, The Spread Eagle bucked tradition and went completely vegan in January 2018. Their kitchen is currently run by Club Mexicana and is absolutely more than just vegan fish, for example: Carnitas, Mexican fried "chicken", Pozole (a Mexican-style soup), the list goes on. However, it's included here because we love their tofish — both the Baja and beer-battered versions — and we love accompanying said tofish with triple fried potatoes. So that's technically fish and chips. Right?
Sutton and Sons, E8
For a more traditional take, Sutton and Sons (Hackney branch) is London's first and only (to date) completely vegan fish and chip shop. It's also the bomb. They offer vegan versions of everything you would expect to find at your local chippy: prawn cocktails; fish cakes; scampi; battered sausage; burgers; and steak and ale pie; not to mention the usual curry sauce/ pickled onion trimmings. Their banana blossom fried fish is our go-to, though. It flakes just like a fish fillet and, because it's marinated in seaweed and samphire, it tastes pretty fishy too. In a good way.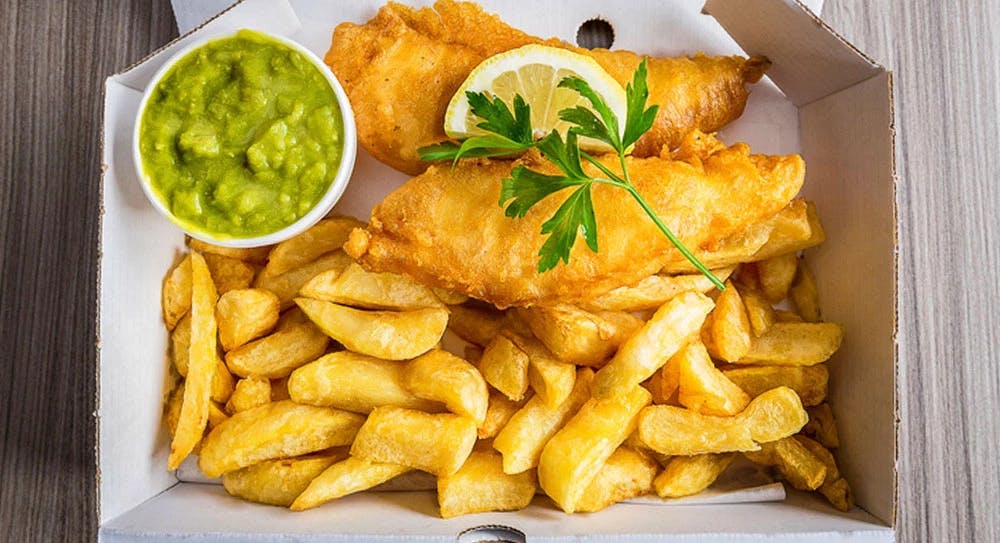 Photo credit: Vegan Food and Dining
Best for vegan Indian food
Dishoom, W8/ E2/ N1C/ W1B/ WC2H
Whenever you walk past Dishoom, there is a queue; this is due to the fact that they don't take bookings for less than 6 people for their evening service. However, the wait is absolutely worth it. Alongside their main menu, they offer dairy-free, gluten-free and fully vegan menus. We love the okra fries, the gunpowder potatoes and the Chole Puri (because puris are not something you get at your average Indian restaurant) and we always have a vegan lassi too. But, if you don't fancy waiting for dinner... Why not pop along for lunch, or even breakfast: when there's plant-based black pudding on the menu, why would you not?
Sagar, WC2B/ W6/ W1T/ HA2
Sagar is a vegetarian South Indian restaurant who serve up the best dosas in the city (and f you don't know what a dosa is, you're absolutely missing out: pay them a visit and find out). Alongside said dosas and their uthappam (lentil pizzas, don't knock them till you've tried them) you'll find a huge range of veggie curries, breads and rice and — we promise — you won't even notice the lack of meat.
Spicebox, E17
A relative newcomer to the London curry scene, SpiceBox is fast becoming a firm favourite of ours. Providing "veg with edge", their brunch menu offers traditional brunch options with an Asian twist: dosa waffles (aka doffles) served with chai-spiced bananas or 'Keralan Fried Chick'n'. Dinner is a little more traditional, but not completely: the loaded onion bhaji and jackfruit jalfrezi do indeed give their veg some edge. We loved the korma, which was satisfyingly sweet and creamy, and the garlic naan too.
Best for vegan junk food
Here at allplants we're huge advocates of a whole food diet — 95% percent of the time. The rest of the time, we eat this:
Temple of Seitan, N1C/ E9
Temple of Seitan caused quite a stir when the first branch opened in Hackney back in January 2017: London had its very own vegan fried chicken shop. And now we have two (the second — Camden — branch opened the following year). Their vegan answer to KFC remains pretty high up our list (along with their mac and cheese. A controversial opinion but we think it's the best in London...) But, actually, it's the ¼ pounders that really get our juices flowing: they taste just like a Big Mac.
What the Pitta! E1/ NW1  
Situated in Boxpark (in Shoreditch and Croydon) as well as Camden, What the Pitta! is there solely to offer up the best kebabs you'll ever eat. No biggy. They do a great falafel wrap but, let's face it, we're not really there for falafel. Their Vegan Döner (plant-based döner meat served up in fresh bread with mixed salad, soy tzatziki homemade hummus and lashings of chilli sauce) is life but our favourite is the Dönor & Chips Box: all of the above but with chips instead of bread, (nothing against bread, we just love dipping chips in hummus).
Best for vegan pies
Young Vegans, NW1/ E8
There isn't too much competition where vegan pies are concerned but that doesn't mean we're settling; we created this category specifically so we could include Young Vegans on the list. Situated in Camden Market, they're a great on-the-go option and the pies are absolutely delicious. Choose from: steak and ale, chicken parmigiana, chicken katsu curry, all day breakfast and cheeseburger. Yes, that's a cheeseburger pie. Also available, but online only, is their mac and cheese pie. We'll try anything once.
Best for vegan pizza
Cesar's pick: Purezza, NW1 
Purezza is basically the plant-based version of Pizza Express and, well, everything on the menu is pretty darn good. They have meaty pizzas, spicy pizzas, plain pizzas and pizzas topped with everything but the kitchen sink. Except pineapple, actually, so it's pretty clear to see where they land on the, "Does pineapple belong on a pizza?" debate… The garlic bread is perfect and our favourite sourdough pizza, the Season.4 Pizza.1, has beetroot carpaccio and micro herbs on it.
Best for vegan Sunday roast
The Dove, E8
A number of the options already listed do great Sunday lunch menus but our favourite plant-based roast is The Dove on Broadway Market. And, if you want to try a plant-based option but don't fancy a roast, you're in luck. Also on offer: plant-based satay chicken, beer battered 'fish' and chips, a roasted portobello mushroom burger and a Guiness mushroom and mixed bean pot pie. Spoiled for choice.
Best for vegan sushi
Itadaki-Zen, WC1X
The only completely plant-based sushi restaurant in London, Itadaki Zen is a tiny, beautifully-decorated gem of a place. The ethos is based in the Far Eastern tradition of food as medicine and this is reflected in the name itself: Itadaki is loosely translated as 'to receive' (specifically food) and is likened to saying grace before a meal and Zen means 'to mend'. Their menu is pretty much everything you'd expect from a traditional sushi place: miso soup; spring rolls; noodles; tempura; and, of course, just about every type of sushi roll you can imagine. They offer a range of set menus and bento boxes as well as individual dishes, like bibimbap. We love their policy on waste too: they encourage you to eat up and take what you can't finish home with you.
We're obsessed with eating plants, and the huge impact this has on us and our planet. we believe. The world (and everyone on it, including us) would be better off if we ate more plants. Our chef-made dishes contain the tastiest, most exciting plant-based ingredients we can find and they're not just for vegans.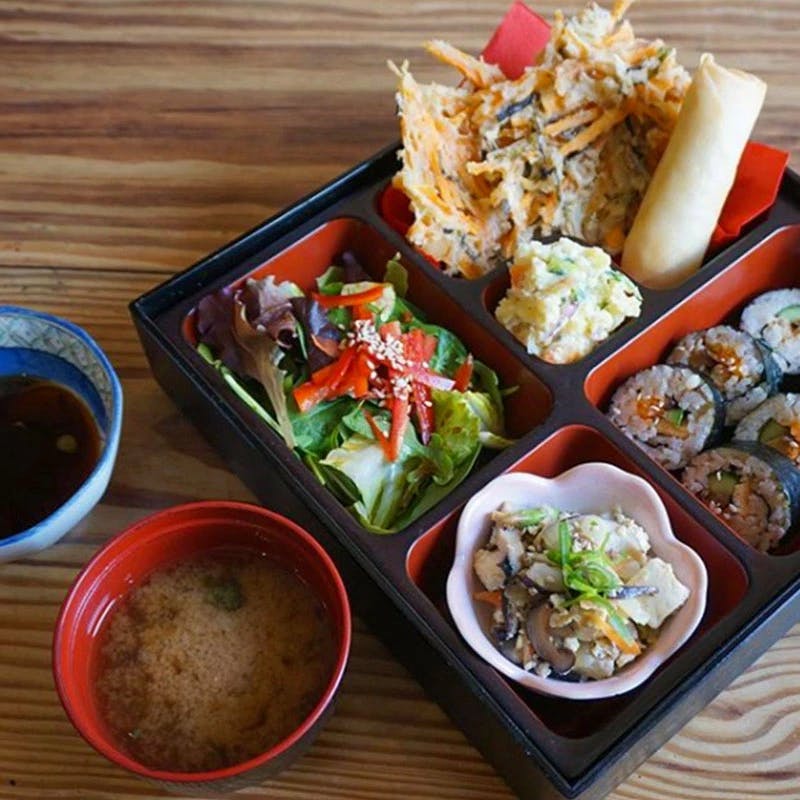 ---
By Munjeeta Sohal
MJ is a freelance writer, avid reader and habitual ruminator (and user of fancy words). She couldn't live without books and her cats. On her days off, you can find her cycling up and down the Lea Valley, searching for a great vegan recipe to cook, or, well, reading her book with her cats.
---
Let us take care of dinner
We help to make eating more plants easy and delicious. Fancy letting us take care of dinner? Check out our delicious meals here.