Lifestyle
How to Train For a Marathon Fully Plant-Based
by Emily Neill
6min read
Ok, I won't lie to you. Training for a marathon is hard. It's both physically and emotionally draining. BUT it is without a doubt also one of the most fulfilling challenges I've ever set myself. So (weirdly) I would recommend others to sign up for one!
Aside from the actual running part of the training (disclaimer: say bye to your chilled Sunday mornings, and hello to waking up before 7am to eat breakfast before your long run of the week), fuelling your body correctly is critical to your training. I've rounded up my top tips for training for a marathon fully plant-based, so keep on reading if you want to hit that sub two-hour time…(just kidding):
Give yourself time to test what works for you
It's so important to recognise that everybody is different. There's really no 'one box fits all' when it comes to fuelling your marathon training. Of course everyone needs to get in the essentials (carbs carbs and more carbs?), but the food that works well for my body won't necessarily be the same for you. So my number one tip is to give yourself enough time to test what works well for you. Typically a marathon training plan is 12-16 weeks long, so plenty of time to try plenty of variations!
Eat nutrient-dense foods
When you're training for a marathon, food = fuel. So, you want to make sure you're fuelling yourself with nutrient dense whole-foods. Sure, eating a bag of your favourite vegan biscuits (check out our favourites here), will give you a quick burst of energy, but that won't sustain you through a 10 mile training run. Opt for whole-grains and complex carbohydrates where you can (think brown rice, sweet potatoes, oats), and pair this with a ton of veggies for added fibre and fullness. 
Where do I get my protein from?
Any plant-based athlete will tell you their number one question from people is "but how do you get enough protein?!". Protein is essential for muscle recovery and repair so it is incredibly important to have as part of your diet when training for a marathon. But, contrary to popular belief, protein is found in a whole host of foods. Load up on your legumes (lentils, chickpeas, beans), nuts (almonds are great) tofu, tempeh and beans (soya beans are packed with protein!), and you're sure to hit enough protein each day. 
If you do feel you need a little help though, check out our post on the best vegan protein bars on the market, or our favourite vegan protein powders for an easy protein addition. 
Don't overeat 
It's very easy to think that because you're suddenly doing more cardio than you have since your school days, you suddenly need to double your food intake an hour before you're set to run. Running on a very full stomach is tough, so I'd recommend eating little and often to keep your energy levels topped up and insulin levels balanced.
Adding in an extra snack pre-run (rice cakes and peanut butter are my go-to), and having an extra 1-200 calories with your post run meal to refuel will likely be enough. 
Keep hydrated
This may seem like an obvious one, but it's really easy to get complacent when it comes to your water intake. We lose so much water when we sweat, so it's vital to keep both your hydration and electrolyte levels topped up throughout the day, both pre and post run. Electrolytes are essentially the things that help to balance the amount of water and minerals in your body. You can buy electrolyte tablets from most shops or on amazon, but coconut water is a great, natural alternative!
Food prep
When it comes to training for a marathon, plant-based or not, food prepping is the answer to all your hungry-woes. Spend a few hours on Sunday afternoon to set you up for your week ahead to make sure your fridge is ready for that pre or post-run fuel. Need some help? Check out our blog post on how to meal prep like a pro to get you started, or why not get a box of allplants delivered to make sure you've got some tasty, nutritious, protein-packed meals at your fingertips.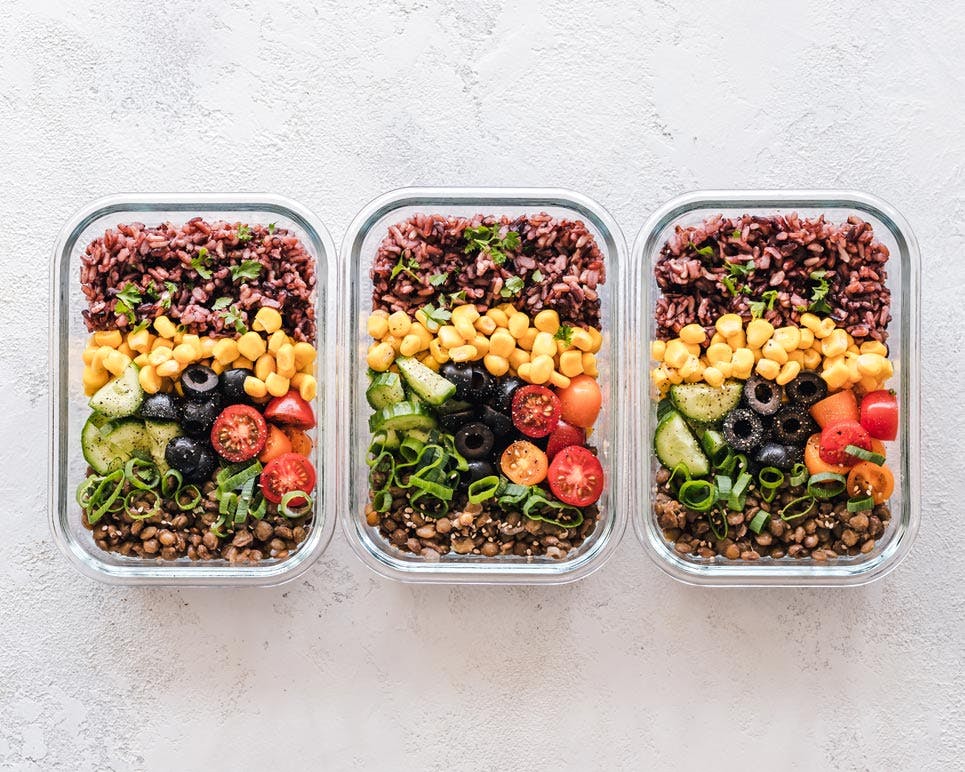 A typical food day for me when I'm training:
Breakfast: 
Porridge with almond milk, a drizzle (a big spoon) of peanut or almond butter and topped with some berries.
Lunch:
Usually a rice / veggie / tofu bowl. I love Val's crispy tempeh bowl recipe - super easy to make and great to batch cook in advance.
Snack:
Normally rice cakes topped with peanut butter (I'm obsessed) and sliced banana.
Dinner:
Pasta and potatoes are my life. I love a big bowl of brown-rice spaghetti with all the veggies, or a jacket potato topped with a ton of vegan cheese and baked beans. Simple but oh so great. 
If I do feel hungry throughout the day, I often make myself a smoothie packed with chia seeds, oats, and soya yoghurt for an added protein boost, or snack on some of these energy balls!
---
by Emily Neill
Emily is our Content and Community Assistant by day, and qualified PT by… later that day. She couldn't live without exercise (makes sense) so can usually be spotted in her favourite spin class, with our Three Mushroom Risotto for afters. 
---
MORE GREAT READS
Let us take care of dinner
We help to make eating more plants easy and delicious. Fancy letting us take care of dinner? Check out our delicious meals here.