Recipes
Peanut Butter Millionaire Shortbread Bites
by Joey O'Hare
5min read
After the success of our first IG live cook-alongs, we're back! This time, we're here with some no-bake, freezer sweet treats for you to try at home.
First up were our chewy chocolate chip cookies. Next up, are these little bites of heaven. Think a little bit Reeses Pieces… a little bit classic Millionaires Shortbread. This recipe is creamy-peanut-butter-chocolate like you've never experienced. Once you've made one batch, there's no going back.
Grab your ingredients and cook along with our Senior Development Chef Joey!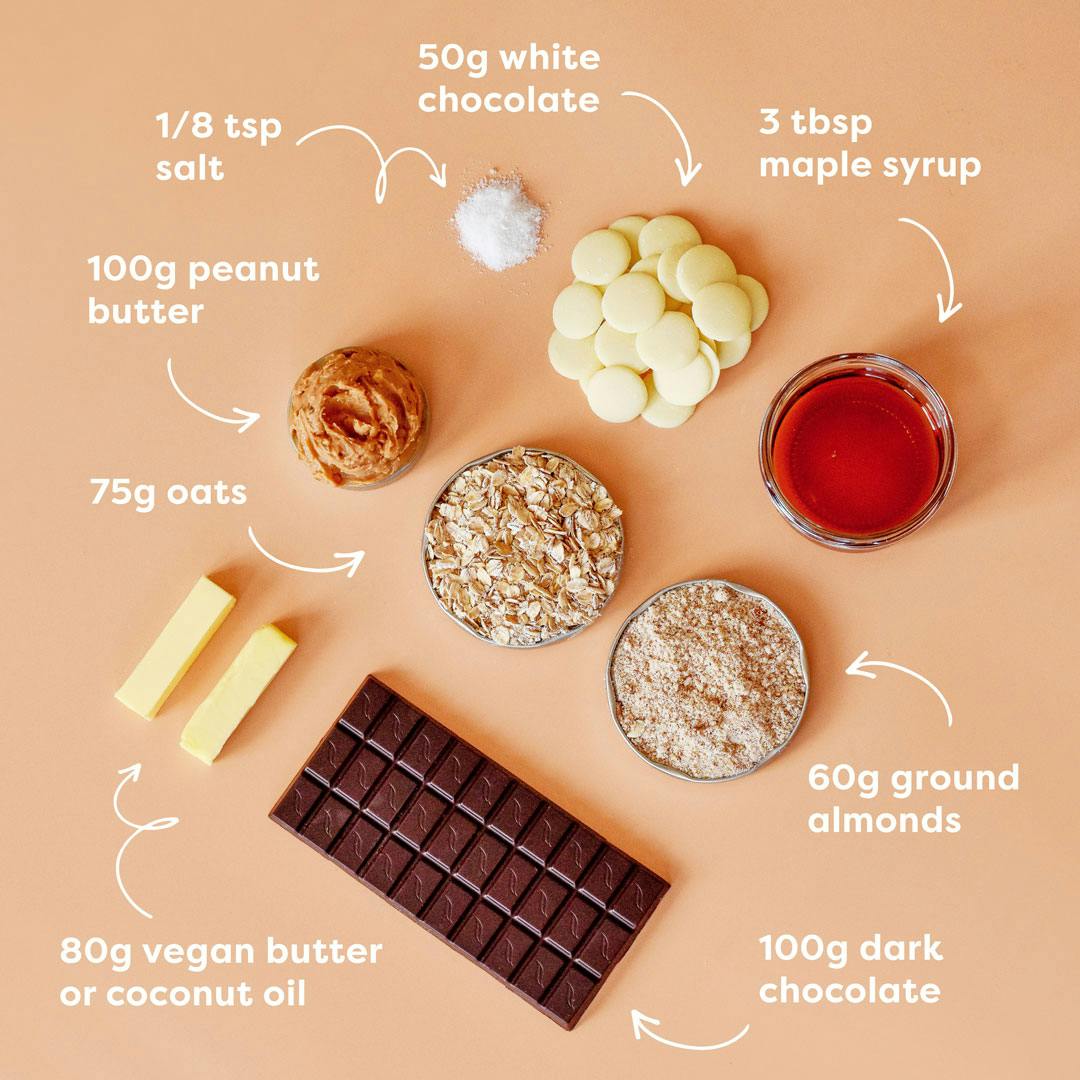 Cook Time
20mins (+2hrs chilling time)
Ingredients
For the shortbread:
75g oats (¾ cup)
60g ground almonds (½ cup)
1 tbsp of maple syrup or light brown sugar
2 tbsp (30g) coconut oil/vegan butter, melted or softened
pinch of sea salt
For the peanut caramel layer:
50g coconut oil/vegan butter (¼ cup)
30g maple syrup (2 tbsps)
100g peanut butter
pinch sea salt
For the topping:
100g dark chocolate
50g white vegan chocolate
Method
STEP 1
To make the base layer: Line a loaf tin with parchment paper. Preheat the oven to 180 degrees, and once hot, lightly toast the oats and ground almonds for 6-8 minutes, just until golden and smelling toasty. Meanwhile melt the coconut oil in a small saucepan or in the microwave.
Stir together the toasted oats, ground almonds, melted coconut oil, 1 tbsp of maple syrup and a pinch of salt.
Tip this base layer into your lined loaf tin, and spread it evenly to flatten it out. Press it down firmly to encourage the base to stick together. Pop this in the fridge for an hour.
STEP 2
Now make the central peanut butter layer: Melt 50g of coconut oil and 30g of maple syrup in the small saucepan. Once melted, turn off the heat and whisk through 100g of peanut butter and a pinch of sea salt. Pour this glossy peanut fudgy caramel mixture onto the oaty base layer and return your loaf tin to the fridge to set for a few more hours (can place in the freezer if you want to speed up the process!).
STEP 3
For the topping: Break the dark chocolate into a large glass or metal mixing bowl. Set this bowl over a pan of very gently simmering water and stir to melt. Make sure the base of the bowl does not come into contact with the simmering water. For a fancy finish, melt the white chocolate in a separate bowl at the same time.
Now pour the dark chocolate over the set peanut layer - it should spread itself evenly and look very glossy.
For a fancy finish, use a teaspoon to drizzle lines of white chocolate across the dark chocolate surface. Then, using a toothpick or wooden skewer, drag 'feathering lines' back and forth across the top of your millionaire bars in the opposite direction to the white chocolate lines!
Pop back in the fridge to set before enjoying.
STEP 4
Allow this to set in the fridge for 2 hours, before slicing and enjoying. It will last in the fridge for 1 week in a sealed container.
---
By Joey O'Hare
Joey is our Head of Food Development, running our dishes' journeys from ideation to launch. (With lots of taste-testing in between). When she's not cooking up a storm in our kitchen, she's doing so in hers. After a trip to the local farmers market of course, for seasonal veg, and her swear-by-staples – extra virgin olive oil, Maldon sea salt and lemons. 
---
Let us take care of dinner
After getting creative in the kitchen, give yourself the weekend off by letting us take care of dinner. Check out our delicious meals here.
Shop now