Recipes
Vegan Popcorn Mushrooms
4min read
The secret to preparing vegetables that mimic how meat acts and tastes in a recipe is pretty straight forward: just treat it like meat. What we mean by that is to just adapt and replicate the processes typically associated with cooking meats, when cooking plants. Our new series, "How to Replace Meat in Everything" explores just how to do that in an easy, unfussy and delicious way. 
These vegan fried mushrooms are inspired by smoky, sweet, tangy Chinese popcorn chicken - with its crunchy edges and bursts of flavour. The secret to maximum flavour here is to season the dish at every stage, starting with a quick marinade that infuses mushrooms and keeps them juicy once fried, and continues with a spiced coating and batter. The fried mushrooms are then topped with lime juice and zest, which gives them an extra pop of brightness and freshness.
If you're a little intimidated by frying, I feel you - it feels like there's a lot that can go wrong. But the good news is that when you remember to follow a few key steps, like using a thermometer to ensure the oil is at the right temperature (guaranteeing crispiness rather than greasiness), and have your station set up rather than trying to wing it at the last minute, it's totally smooth sailing. In fact, I'd say that setting yourself up right is the secret for an easy and mess-free fried anything, so when the recipe below suggests to lay your coating and battering bowls out and to line your tray with kitchen roll ahead of time, try to follow through - it's life changing! Head to the intro in this recipe for a little extra frying info.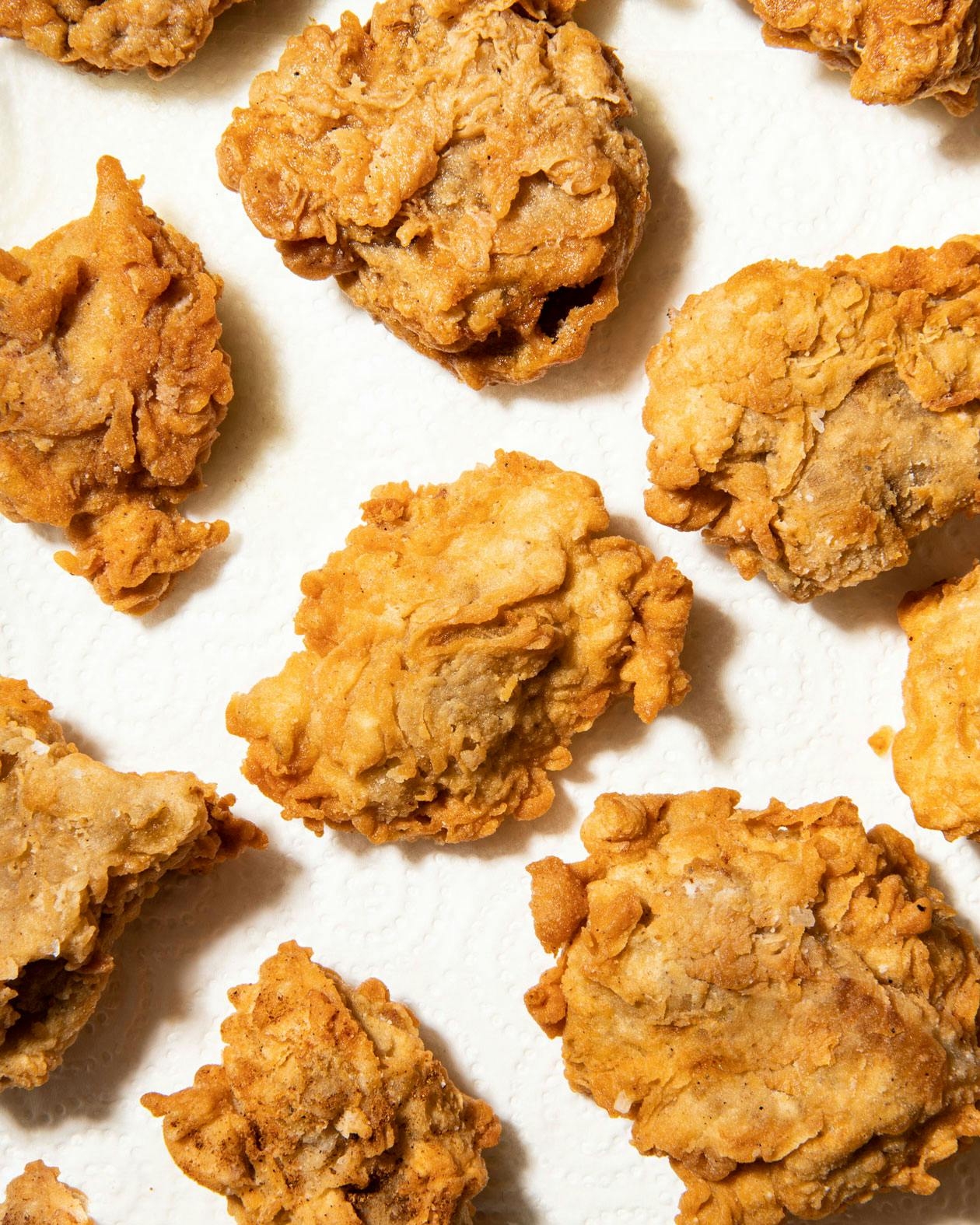 A little note on the mushrooms in this. I typically like to give options to substitute ingredients to make recipes as accessible as possible, but oyster mushrooms do carry a lot of weight here. They have an extremely chicken-like texture when cooked and welcome coatings and batters like no other. If you can only get your hands on King Oyster mushrooms, I'd suggest making this fried mushroom recipe instead. The recipe also calls for Chinese five spice, which gives these a deep, rich, slightly sweet and spiced flavour. I've found it in most supermarkets before, but if you're having trouble buying it, you can simple grab star anise, fennel, cinnamon, Szechuan peppercorns and cloves instead and add around 1/4 tsp of each in place of the five spice.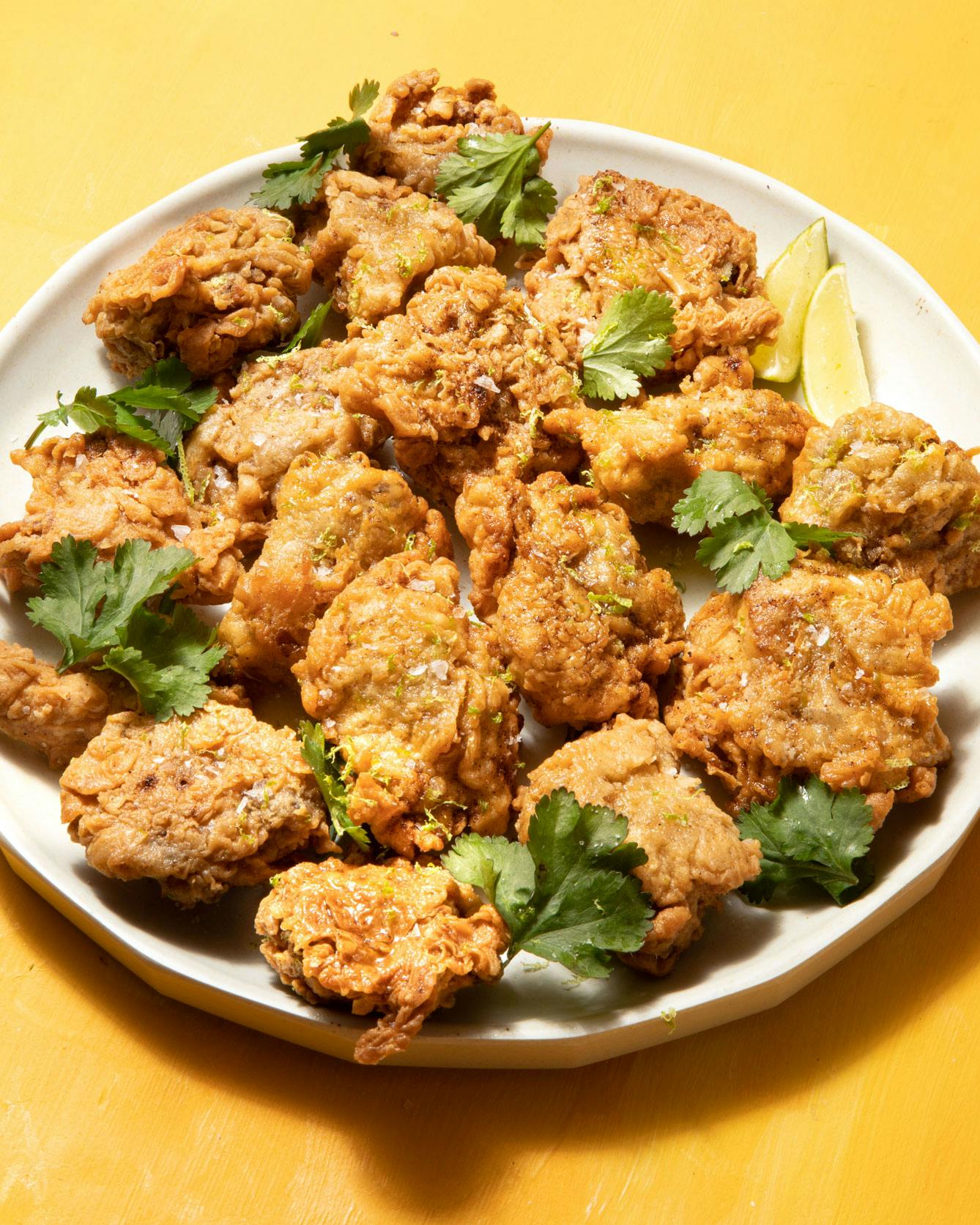 Ingredients
Base:
2 tbsp/30g soy sauce
1 tbsp light brown sugar
1 tsp rice wine vinegar (sub with lime juice) 
1 tsp Chinese five spice
400g oyster mushrooms
1L vegetable oil, for frying 
Batter: 
125g plain flour
1 tsp onion powder
1 tsp garlic powder
1 tsp salt  
110ml plant based milk
75ml water
Coating:
160g plain flour 
70g cornstarch 
1 tsp salt
1 tsp Chinese five spice
To serve: 
5g fresh coriander
1 lime, juiced and zested 
Plant based mayo (we used Ruby's chipotle mayo)
Method
STEP 1
In a large bowl, whisk together the soy sauce, light brown sugar, rice wine vinegar and Chinese five spice. Add the mushrooms and stir to coat them in the soy mixture. Let the mushrooms marinate for 10 minutes. 
STEP 2
In the meantime, add the vegetable oil to a deep heavy-bottomed pot (like a Dutch oven) and heat over medium heat until the oil reaches 175˚C - it takes around 15 minutes. 
STEP 3
Next, prepare the batter. In a large bowl, combine the flour, onion powder, garlic powder and salt and whisk to combine. Stir in the plant based milk and water and whisk to combine. Set the batter aside. 
STEP 4
Next, prepare the coating. In a large bowl, combine the flour, cornstarch, salt and Chinese five spice. Add half of this mixture to a tray. That's because we're going to dip the mushrooms in the coating before and after being dipped in the batter, and having two separate flour mixtures helps to keep everything tidy. 
STEP 5
Now, set yourself up for the coating and batter. I like to have my bowl of mushrooms to one side, followed by the bowl of flour, then the bowl of batter, then the tray of flour and finally a chopping board to place my coated mushrooms onto. It sounds like a lot, but it makes the process a lot smoother and cleaner. 
STEP 6
Coating time! Grab a few mushrooms from the bowl and squeeze them together - both so they stick to each other making for a fuller fried bite and so we can remove excess liquid. 
STEP 7
Place those mushrooms into the first bowl of flour and gently turn them around to coat them. Next, dip them into the batter for a couple seconds, until they're fully coated. Shake them lightly to remove any excess batter, and finally, dip them into the tray with the flour until they're fully coated. Place them onto the prepared chopping board. 
STEP 8
Repeat the process with half of the mushrooms. The second half will be battered while the first half is cooking. 
STEP 9
Frying time! Line a tray with kitchen roll, where the mushrooms will be placed after they're cooked to remove excess oil.
STEP 10
Carefully place the coated mushrooms into the oil, without overcrowding the pot (around 6-7). Fry them for 10-12 minutes, until golden brown - turning them half way through. Use a slotted spoon to remove the mushrooms from the oil and place them onto the lined tray. Sprinkle them with flaky salt. 
STEP 11
While the first batch cooks, coat and batter the remaining mushrooms. Fry them repeating the same process as with the first batch. 
STEP 12
Serve the mushrooms topped with the juice and zest of a lime, fresh coriander along with spicy mayo. 
---
By Valentina Concordia
Valentina is our Food Editor, who dreams up our tasty dishes and recipes for our social channels. She has loads of experience cooking up a storm in Italian kitchens, so it's no surprise she can't live without good-quality olive oil (don't come between her and her olive oil) and fresh pasta.
---
Let us take care of dinner
After getting creative in the kitchen, give yourself the weekend off by letting us take care of dinner. Check out our delicious meals here.