Lifestyle
Toni Tries: KVD Vegan Beauty's Recyclable Palette, And It'll Convince You You're A MUA
3min read
KVD Vegan Beauty disrupted the world of beauty with the launch of the first-ever recyclable palette. I had a look at why this is so significant, why it is the first of its kind, and of course, test whether or not it lives up to the long-lasting pigment it promises.
2020 was a strange year, to say the least, and 2021 is bound to be an extension of this. With many of us around the world staying at home every day, we might expect the beauty world to be on somewhat of a hiatus. But despite stay at home orders and fully embracing the joggers and sweats combos, many of us have still found any excuse to execute some fun makeup looks. I hope I'm not the only one who has traded loungewear for the classic jeans-and-a-nice-top combo and put on a bit of makeup for a five-minute trip to the post office… right?
And as far as beauty trends go, eyes are the most important feature this year — probably now more than ever. After all, whenever we do get the rare opportunity to leave our houses, half of our faces are covered by masks. Graphic eyeliner looks and bold, bright eyeshadows are set to have their moment in 2021, as hopefully more opportunities to leave the house and socialise will present itself after a year of putting on makeup and dressing up for nothing other than lockdown Zoom quizzes. This, paired with an ever-growing awareness of the environment and sustainability, means KVD Vegan Beauty's Edge of Reality palette deserves your attention. 
KVD Beauty and sustainability in the industry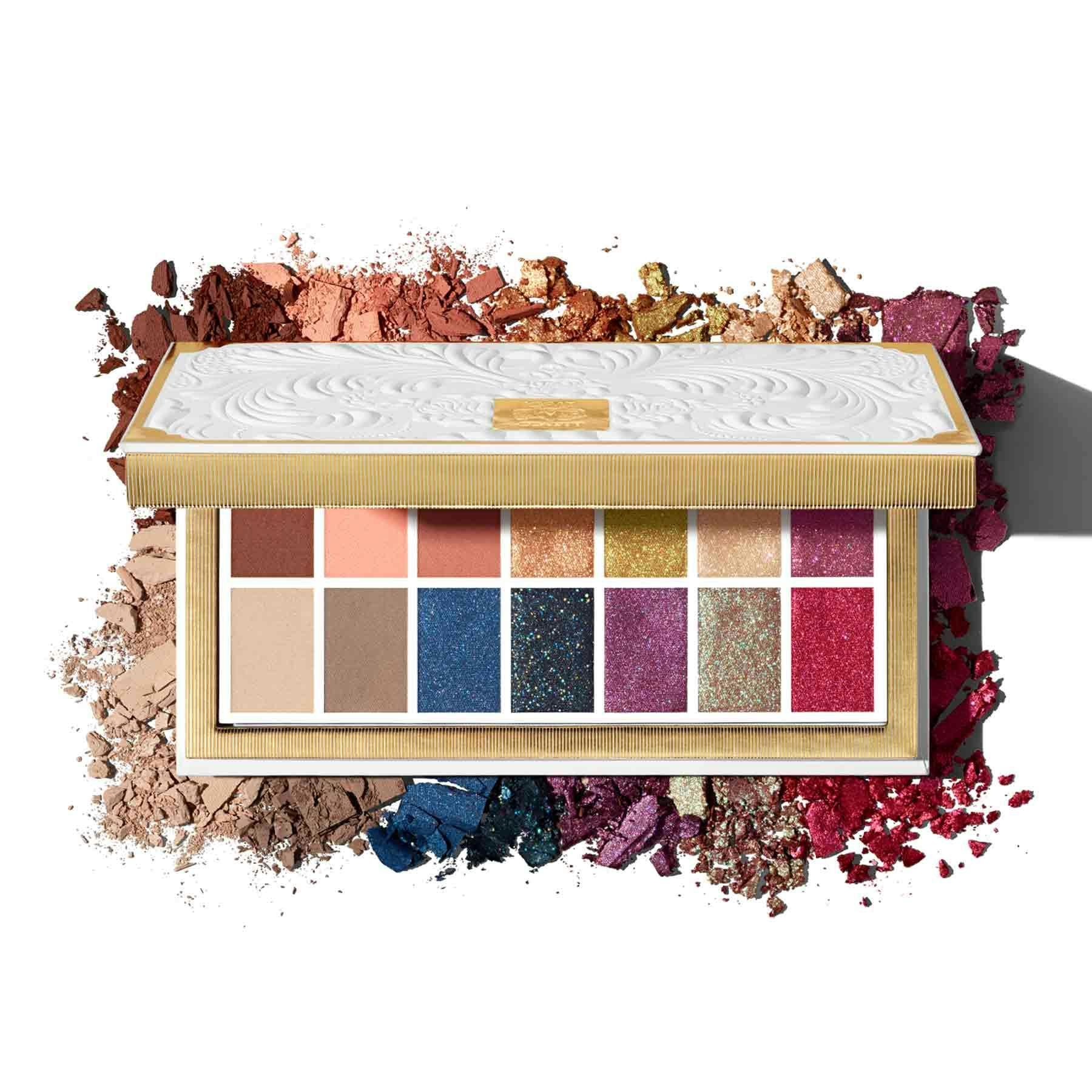 Source: KVD Vegan Beauty
KVD are the go-to for many living the plant-based life, as they are have been cruelty-free and vegan from the very beginning and it's a pretty well-known brand thanks to the initial founder, the famous, if not controversial, Kat Von D. Having left the company at the start of 2020, the brand changed its name from Kat Von D Beauty to KVD Vegan Beauty, and aimed to stand out above the rest for its animal welfare and environmental efforts. Many brands are rising to the demand for there to be more environmentally-friendly products out there, and the norm for newer brands, in particular, is to use vegan formulas and ensure they are 100%cruelty-free. In the way of vegan beauty, KVD does have quite a bit of competition, which is a great thing. Brands like E.L.F. and Milk are also big beauty brands that are 100% vegan, and there are many others where the majority of their products have vegan formulas. And when it comes to eyeshadows, there may be other brands you think of for a vegan palette, particularly some of Urban Decay products, who dominate the world of eyeshadow palettes with its Naked range. But a palette that is vegan and recyclable? KVD Vegan Beauty has made something that is at the moment one-of-a-kind, which is pretty exciting.
The beauty industry has a pretty terrible track record when it comes to sustainable packaging — according to Forbes, '120 billion units of packaging are produced globally every year by the cosmetics industry, contributing to the loss of 18 million acres of forest annually'. Not to mention, according to Beat The Microbead, 'when it comes to beauty packaging, 95% of it is thrown out after just one use'. While other areas of the beauty industry are working towards plastic-free packaging, such as hair products, deodorants and skincare, the world of makeup seemed far away from these pursuits — until now. 
Unboxing and Swatching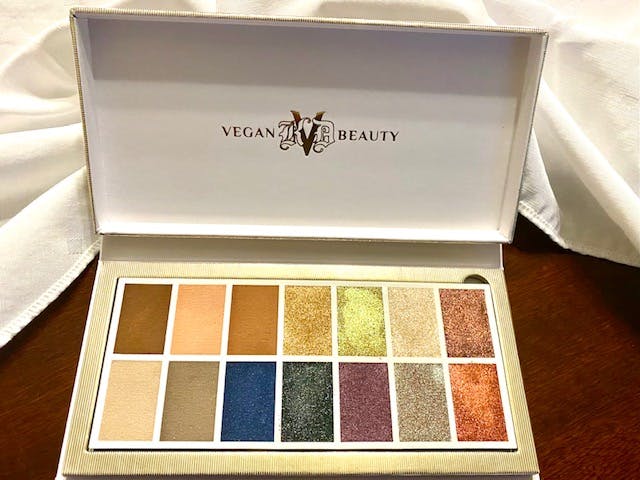 The Edge of Reality palette itself is pretty simple — no glass, no random tiny screws for hinges, no mirrors. One gripe I already had with it though is the fact it is white. While it looked nice whilst unboxing, it definitely wouldn't stay that way considering when I'm in a rush to do my makeup my hands often end up looking like a smudgy abstract painting. It would inevitably look like a child had gotten a hold of it with incriminating fingerprints, but otherwise, there was nothing else about the physical packaging — including the lack of mirror — that bothered me. 
Now came the million-dollar question: is the palette any good? I believe there are few things more painful or frankly disrespectful in this world than an eyeshadow that seems to just disappear into your eyelid. A pigmented eyeshadow is essential — especially for people of colour, otherwise, the colour simply gets lost. Having swatched all the colours, I can say pretty confidently that it's great. I was really surprised to see just how pigmented most of the colours in the palette are, without having to use lots of product for each swipe. This is especially true for the shimmery colours — shoutout to the dark blue and purple shades, which in other palettes get lost in translation on darker skin but held their own here. The matte colours were slightly more underwhelming, though this is to be expected given the shimmers they were up against, and they were still creamy enough that the pigment was buildable.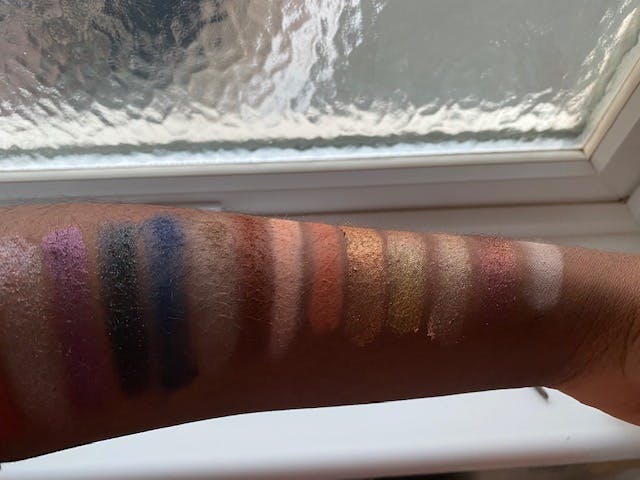 With a range of jewel-toned colours, it's a palette that yields itself to going-out looks rather than everyday wear since it doesn't have many neutral tones. But if you're the kind of person that treats every trip to the shops as a fashion show, I'm sure you can get a lot of use out of this palette. The Urban Decay palettes are good and all, but you've got to admit most of them have the same neutral shades to them. So if you're looking to push the boat out a bit more and get more adventurous with your eye looks, this may be the palette for you. Just as importantly, it is very blendable and easy to use; I love an eyeshadow look but it's not the strongest suit in my makeup routine, however, these were easy to blend without lifting too much either. 
Overall thoughts
Ultimately, there's not much you can fault about this palette. It isn't cheap, but then not many genuinely good palettes are. The price point (I got my palette for £38) does mean that it is still somewhat of an investment despite the environmental positives, but for anyone already buying palettes from other brands of a similar price point, it is 100% worth picking this up. It is also in a sense pretty accessible as it's sold in big retailers such as Boots and Superdrug, which always has some discounts (at the time of writing, the palette is £25 at Boots).
I love makeup, but I'm one of the many people out there that have two makeup looks that have the same routine: a quick makeup look for work or general meetups and errands, and a slightly more glam routine for more dressy occasions with the same gold eyeshadow. But this palette has inspired me to try different makeup looks, and you can bet I'm ready for the days where we'll have places to be again. Until then, yes, I will continue to put an unnecessary amount of effort into my makeup for my daily state-mandated walks, and yes, I will refuse to feel bad about it. 
Value for money: 3/5
Good quality: 5/5
Would I recommend this to family/friends? Yes. I can't wait for Zoom quizzes or drinks where someone says 'I love your eyeshadow!' and in the same way people say 'thanks! It has pockets!' when they are complimented on their dress or jumpsuit, I will respond, 'Thanks! It's the KVD Vegan beauty palette! It's fully recyclable!'
Would I buy it again? Definitely 
Overall rating: 8/10
---
by Toni Olukiran
Toni is one of our lovely Content Marketing Assistants, and when she's not writing posts about everything from Jamaican cooking to vegan champagne, she's making a Spotify playlist (she was at 200, at her last count) or playing tennis in the park.
---
MORE GREAT READS
Let us take care of dinner
We help to make eating more plants easy and delicious. Fancy letting us take care of dinner? Check out our delicious meals here.