We've rounded up some of our favourite Easter eggs; all of which are 100% plant-based (HINT: leave them on your neighbours' doorstep and win quarantine brownie points.) And if you're looking to get creative in your kitchen at home this weekend, we've got you covered too. 
Doisy & Dam
Rich almond butter, coated in ethical dark chocolate...Need we go on? Probably not but we will – this dark chocolate Easter egg comes with two packs of Almond Nuttercups filled with all of the almond goodness. Doisy & Dam have put together an 'Easter Bundle' so that there's something for everyone this year. Have a look in Boots, Whole Foods, Holland & Barrett, Sainsburys and Ocado.
Green & Black's 
Pioneers of the organic chocolate world, you can't go wrong with Green & Black's Organic Dark Chocolate Egg. There's the Mint Dark Chocolate Egg too which is a great choice for friends who love dark, mint chocolate. All of Green & Black's chocolate is fair trade, organic and delicious...Maybe buy both(??). 
Tony's Chocolonely 
Bringing chocolate as delicious as this into the world makes you a 'good egg' in our eyes and we love this chocolate maker. The inviting box of chocolate eggs below offers something for everyone. Including two vegan eggs, it's perfect for sharing with your favourite people; saving the scrumptious dark chocolate almond sea salt and classic dark chocolate for the plant-based amongst you. 
(Just leaving the inspiring Chocolonely story here if you wanted to read it over a cup of tea). 
Divine
If you and your pals enjoy fruity flavours, this is the egg for you. Made with 70% fairtrade cocoa, the chocolate shell is deliciously rich and smooth, featuring occasional bursts from real raspberries. A party for your tastebuds! And if you're looking for a table present or a smaller chocolate gift-to-self, you can also try Divine's Dark Chocolate Mini Eggs. 
Love Cocoa 
We don't know who thought to add sea salt to chocolate but we love them. Made from organic, Columbian dark chocolate, this Easter egg is fair trade and garnished with flakes of sea salt that were harvested by hand. Basically, a match made in chocolate heaven. Packaged in a plastic-free box, it makes for a tasty AND sustainable Easter treat. Winning. 
A lot of dark chocolate is dairy-free and the other great news is there's absolutely no need to rule out milk chocolate either. There are vegan options for both if you're celebrating a plant-based Easter. Milk chocolate lovers, the last three brand recommendations on this list are especially for you...
Moo Free
Moo Free introduced us to rice milk chocolate and we're so grateful. Just the sight of the Organic Sea Salt & Caramel Egg is getting our mouths watering as we speak…These Easter eggs are made from a delectable chocolate that's dairy-free and organic. You can find Moo Free chocolate in most supermarkets – scout out your nearest Moo Free stocker here or try Amazon and your usual food shops online. 
Hotel Chocolat
Made with their 'more cocoa, less sugar' mantra in mind, Hotel Chocolat's vegan Easter chocolate range comes with absolutely zero compromise on taste, bringing all kinds of mouth watering flavours to the table. Whether you fancy creamy milk chocolate, rich dark chocolate or zingy flavours like fiery ginger, you're in for a truly decadent Easter. And there's more - all of their vegan eggs are playful, stylish in appearance and unashamedly 'punny'. We quote, "a vegan Easter egg is no yolk". That's it, we're done. 
Montezuma's 
Montezuma's Like No Udder range uses an organic alternative to milk chocolate that's just as smooth and creamy and contains the same amount of cocoa as regular milk chocolate. Choose between 'Hannah Hen' for milk chocolate and 'Harriet Hen' if you're a dark chocolate fan.
Supermarket Own Ranges 
A lot of supermarkets are catching up with the plant-based trend, and their own ranges contain some hidden gems. TIP: Look out for 'free from' ranges and check the ingredients in dark chocolate eggs too because these are often dairy-free.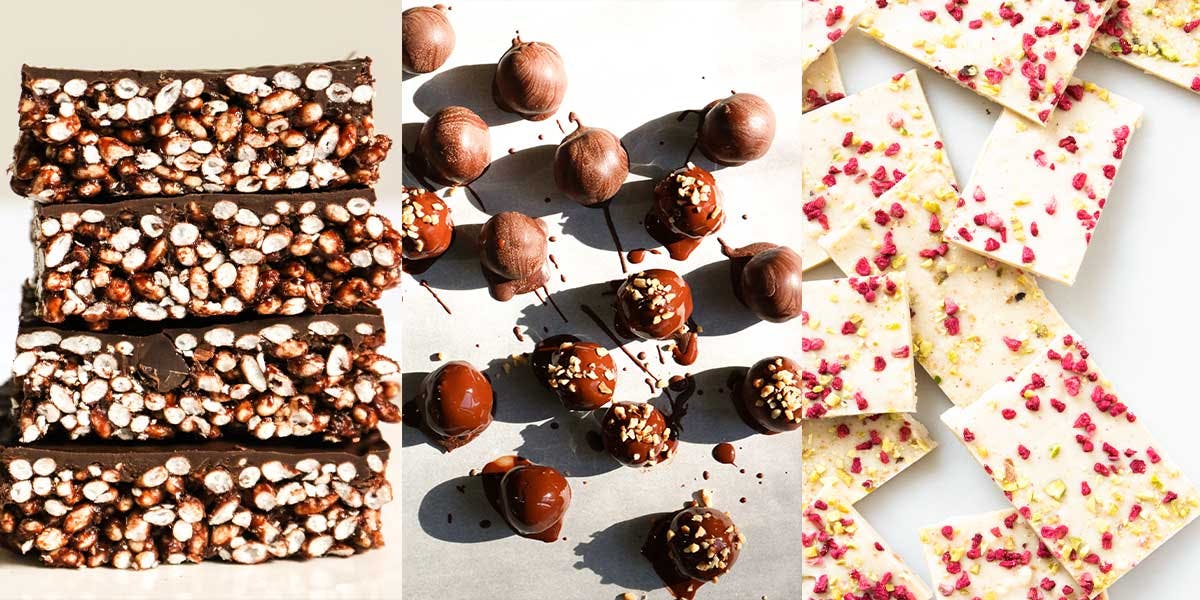 Before we go, a few more treats from our kitchen to yours. Being at home for the Easter Bank Holiday brings more time to get creative in your own kitchen. Why not see what twists you can bring to the Easter classics? The trio of chocolatey recipes we're sharing below can be decorated with a seasonal element to give you mega Easter feels. And if you make too much for your household, you can always leave some on your neighbour's doorstep.
Enjoy!