Lifestyle
Rough and ready - why fibre is good for us
by Aly Findlay
8min read
Standfirst: It really is true what they say about 'an apple a day'! Find out why fibre is our friend and how to get fierce with fibre!
Today we're giving a shout out to the huge health benefits of dietary fibre. Fibre is defined as nondigestible carbohydrates and is found exclusively in plants. And this isn't just your standard fruits and veggies – as you can see all over our blog, the possibilities that come from eating plant-based ingredients are almost endless. 
What's so great about fibre? 
Fibre helps to keep our digestive system healthy and its benefits don't end there! It promotes healthy cholesterol and blood sugar levels and there's also research suggesting that it assists in preventing a number of health conditions. For example it's connected with cardiovascular health, reducing the risk of type 2 diabetes and certain types of cancer. You can find out more here. 
Fibre also leaves us feeling full and satisfied for longer after our meals so it's great for anyone trying to cut down on snacking. In short, fibre gets a big thumbs up from us!
Fibre and good bacteria
The role that fibre plays in our digestive health is intimately linked to the importance of our gut microbes, also known as good bacteria. Gut microbes help our bodies to absorb energy and nutrients from food by breaking down complex molecules contained within it. Without them, all of the goodness contained in these foods is indigestible. Fibre literally feeds our gut bacteria, helping them to thrive, and they look after our gut health and functions, so that we thrive too. Fun fact: most microbes are around 1 micrometre in size, which is one millionth of a metre!!
How much fibre do we need?
Gender (age)
Female (18+) - 25g per day
Male (18+) - 30g per day
Female & male (6-17) - 20-25g per day
Female & male (2-5) - 15g per day
Source: NHS Live Well 
At the moment most adults eat 18 grams of fibre a day on average, and incorporating more plants into your meals is the best – and in our opinion the most delicious – way to increase this to hit your recommended daily amount. 
Is it possible to have too much fibre?
Yes, but you're unlikely to, and there's no need to worry if you do. You'll know if you have too much, and the consequences aren't serious (mainly bloating). Aside from reducing the amount of fibre you eat if this happens; any side effects from too much of it are easily relieved by drinking lots of water and exercising. 
Most adults would need to eat more than 70 grams of fibre a day before they encounter any down sides. You'll probably find you're eating less than this (remember, the average is 18g) but a lot of packaged foods list the fibre values under the mandatory nutrition information displayed on their labels – so you can check if you're interested. 
Vegan fibre sources 
The brilliant news is that you'll be giving yourself plenty of fibre, simply by eating more fruit, veg, nuts, seeds and grains. Choose from oats, lentils, black beans, broccoli, fig, sweet potato, brussel sprouts, nuts, bulgur wheat, banana, pepper, seeds, quinoa, whole wheat bread, carrot, tofu and the list goes on! 
You can buy fibre supplements to give you a small boost too, but the benefits in fibre from whole foods are much greater – fibre is fabulous au natural Plus with whole foods you're also reaping the additional nutritional benefits that come as part of the package. 
So there you have it! If you're enjoying a largely plant-based diet, you have a fantastic array of natural fibre sources to choose from, all of which make delicious and healthy meals. Is it just us or is talking about all of this plant-based goodness making you hungry too? Why not try one of our delicious plant-based meals?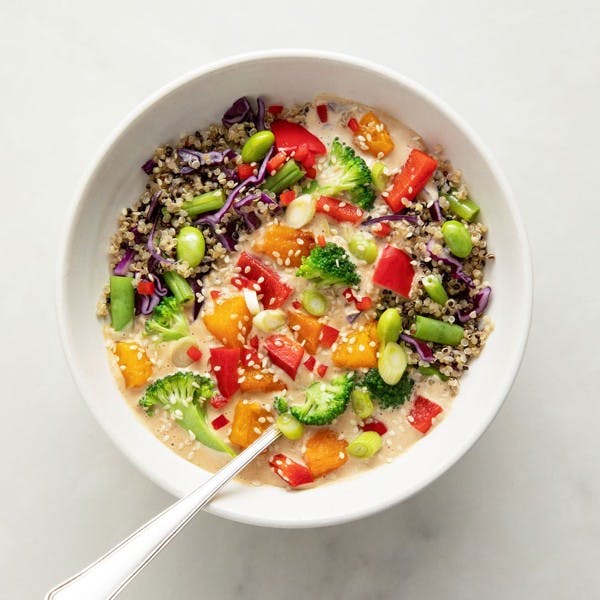 High fibre vegan meals: 
For more plant-based nutrition and health inspiration, head to the health section of our blog. Or if you'd like to give allplants delicious meals a try, why not build your box of plant-based goodness today?
---
By Aly Findlay
Aly is our go-to nutrition hero as she studied Human Nutrition at uni (makes sense, right?). She's also always on hand to help our customers, and provide our team with coffee. Lots and lots of coffee. 
---
Let us take care of dinner
We help to make eating more plants easy and delicious. Fancy letting us take care of dinner? Check out our delicious meals here.